5 Ways an International PEO manages your offshore remote teams
Explore the different ways an International PEO aligns its services to your business goals and helps manage remote teams outside your country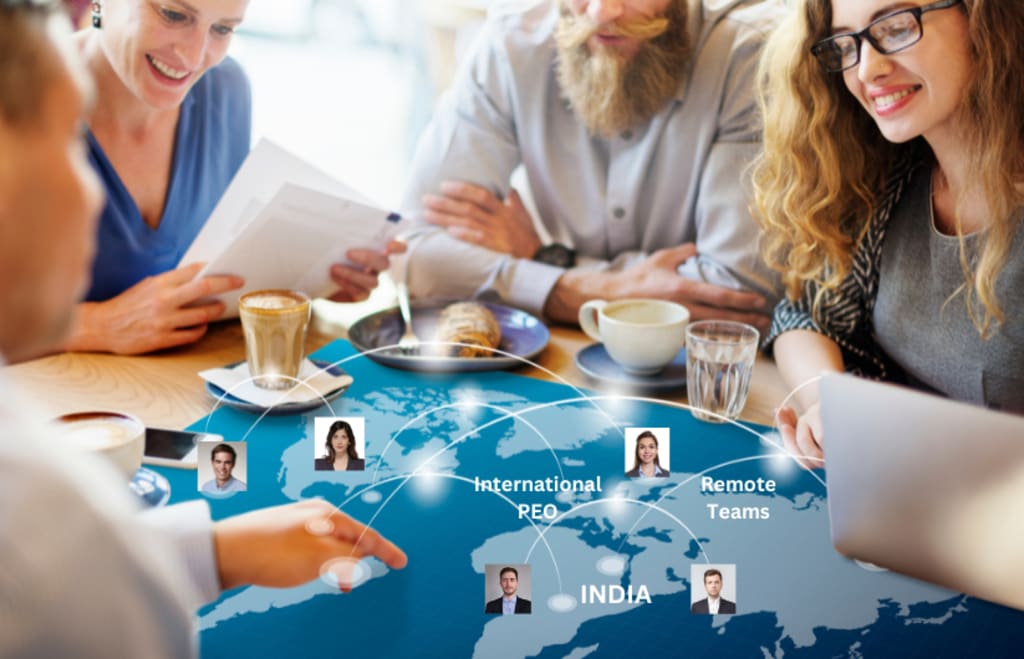 Building diverse business teams outside your home is a strategic move. In the global corporate world, It's no secret that Small and Medium-sized Enterprises (SMEs) establish offshore teams in countries such as India, where skills, talent, and expertise are available in abundance at lower labor costs. With project, operations, and business needs in mind, outsourcing human resources and expanding business outside the country becomes a cost-effective and efficient solution.
Thanks to advancements in science, technology, and the global economy, companies can expand their operations in various locations by building remote teams. With remote teams any business can run its operations and services around the clock, thereby boosting productivity and growth. By building remote teams in a destination of your choice, a company can test its services, without going through the hassle of setting up an entity or forming a subsidiary company.
As an organization grows internationally it often faces managing remote team challenges and hurdles around handling human resources (HR) functions. Is your HR team equipped to hire internationally? Are you aware of all the local legal compliance? Do you have a remote work strategy in place to handle all the remote employees? All these challenges of managing remote teams can put limitations on your business expansion plans if not handled properly.
How to manage remote teams effectively?
An employer cannot directly walk up to the employee, or there are differences in work timings when working with remote teams overseas. Hence, managing remote teams outside your organization requires a specialized equipped team. A team that has local expertise for hiring and managing, at the same time, can guide the remote teams toward achieving company goals and overall organizational productivity. This is where outsourcing human resources to an International PEO comes into the picture.
An International PEO (Professional Employer Organization) designs the right strategy to manage your offshore team. By handling all the HR activities, legal compliance, and other administrative activities, global or International PEO services accelerate international business expansion.
A PEO company streamlines your business which is especially important for startups and SMEs who wish to test their services outside their country. In short, by offering legal, HR, administrative, and infrastructure support along with effective management strategies a PEO can be your best-suited partner in building successful and productive remote teams outside your country.
So, if your vision is to grow your business overseas, consider managing remote teams with international PEO services. In this article, we'll highlight all the areas where a PEO helps in managing teams remotely. Through our curated tips you will understand how to manage your offshore teams with a PEO partner by your side
Define your vision
Setting clear expectations is extremely important for the offshore team to ensure everyone is on the same page. This includes setting service goals, deadlines, defining responsibilities, and establishing communication protocols. A PEO model or an EOR customizes its services as per your goals. It provides 360-degree support in understanding the local business market, networking, and other non-core business activities.
If your goals require an experienced skillset, infrastructure, or administration support then an international PEO can appoint the necessary talent and other resources to develop your desired remote team. For example, in India, there is a large pool of talent for fulfilling your employment requirements. Through precise recruitment channels and HR experts, PEO in India can procure the right talent and skillset for you and simplify your recruitment process.
Focus on Administrative support
Whether your team is working remotely or in a global office overseas, effective communication is essential. Considering remote teams and employers working in different time zones, a point of contact taking care of all the administrative needs of the remote teams becomes mandatory for managing teams remotely.
As your local partner, a PEO focuses on effective communication and connectivity between remote teams and the parent company overseas. By outsourcing human resources to a Professional Employer Organization, you do not have to worry about administrative tasks such as payroll, administration, and employee onboarding. It effectively manages your remote workforce environment, freeing up your time to focus on your business goals.
Take note of the cultural differences
An International PEO is a better alternative if you are new to operating in a specific country and require assistance comprehending different cultural norms and business practices. It deciphers varied work methods, communication preferences, and cultural standards while managing remote employees. PEO services can help you mitigate cultural barriers and develop solid relationships with your remote workforce by providing local expertise and cultural support. It inculcates values of inclusion and diversity and develops an effective remote workforce environment. For instance, PEO in India guarantee leaves for various festivals in India. Public holidays are taken note of while developing policies for your remote teams in India. They focus on the cultural aspect of India and help your remote teams abide by Indian Employment laws.
Focus on legal compliance
Legal compliance is an important factor to take care of while managing your offshore remote teams. If you work with freelancers or contractors, you must ensure that you follow all local labor laws and regulations. Also, you will be in charge of ensuring compliance. When partnered with an International PEO, you receive an expert team that provides a more thorough approach to legal compliance. A PEO or EOR service company ensures that all local labor rules and regulations are followed without any hassle or legal complexities.
Provide the right technology and infrastructure support
Working with remote teams outside your country through virtual tools has got commonplace in the IT industry. There are a plethora of technologies available to facilitate the desired communication and connectivity. Investing in collaborative tools such as GitHub, Slack, and Microsoft Azure can aid file sharing, managing documents and team activities, and video conferencing. This help builds connectivity for improved coordination and faster problem-solving and is essential for managing remote teams. An International PEO provides the required infrastructure support and technology. A PEO company ensures your remote team has everything it needs to complete deliverables and work deadlines.
By following these tips, you can employ an International PEO company and manage an overseas team remotely and achieve success in the business world.
International PEO: Your one-stop solution for business expansion
Appointing PEO or EOR services is a good option as compared to freelancing or contractors. An International PEO equips the remote teams outside your country with the right technology, reliable internet, appropriate software, and hardware. It ensures your remote team has everything it needs to complete deliverables, work deadlines and enhance organizational productivity.
A strategic plan developed by a PEO partner focuses on hiring internationally, and getting the right skills, infrastructure support, and technology for your remote teams. It pays attention to cultural differences, takes care of all the legal compliances, and manages your remote teams efficiently.
These unique services and local support prove to be instrumental in countries such as India which have large talent pools and vast cultural diversity. You can take advantage of India's resources, monitor the performance of your employees, be compliant, and manage your team from wherever you are. With a PEO in India as your guide, managing remote teams outside your country will be a cakewalk!
About the Creator
Looking to expand your business globally? You would need the help of an international Employer of Record (EOR) services in India. EOR also takes care of all compliances of the team, payroll processes, and tax computations
Reader insights
Be the first to share your insights about this piece.
Add your insights