3 Father's Day Gifts you Wouldn't Want to Miss !
Unforgettable Gifts for the Unforgettable Dad: Discover 3 Father's Day Gems
Father's Day is a cherished occasion that provides an opportunity to honor and appreciate the fathers in our lives. It's a time to express our love and gratitude for their unwavering support and guidance. As Father's Day approaches, the search for the perfect gift begins, as we strive to find something that truly reflects our appreciation. This year, consider stepping beyond traditional gifts and explore the realm of men's grooming kits, whiskey glass sets, and grilling tools. These unique and practical gifts offer a touch of elegance, sophistication, and indulgence that will make Father's Day truly memorable.
In this article, we will explore the world of men's grooming kits, whiskey glass sets, and grilling tools. We will provide insights into their appeal, features, and benefits, along with recommendations for top-rated products. It's time to go beyond conventional gifts and discover the joy of giving something unique and meaningful. Let's make this Father's Day a celebration to remember, as we express our love and appreciation with these exceptional gifts that cater to different interests and passions.
Men's grooming kits have experienced a surge in popularity, as men embrace self-care and take pride in their appearance. These kits bring together an array of grooming essentials, including shaving essentials, beard grooming products, and skincare items. They provide a comprehensive solution for maintaining a well-groomed look, elevating the daily grooming routine to a luxurious experience. With high-quality grooming products at their fingertips, fathers can effortlessly achieve a polished and refined appearance.
The men's grooming kit we will be exploring is the Brightup All-in-one Multi-Functional Grooming Kit. This professional precision shaving system is designed to cater to all your grooming needs. With its comprehensive set of features, it provides a versatile solution for achieving the desired look, whether it's shaping your beard, styling your hair, grooming your body, or trimming hard-to-reach areas.
The grooming kit includes six trimmer heads and a stand base for easy collection and organization, ensuring that you have all the necessary tools at your fingertips. It also comes with five hair trimmer combs, allowing you to precisely control the length of your hair and customize your grooming routine.
One notable feature of the Brightup grooming kit is its convenience when it comes to cleaning. The whole body is washable, making it easy to clean after use. The detachable blades can be cleaned with the brush included in the kit. To ensure optimal performance and longevity, it is recommended to let the kit dry naturally after cleaning.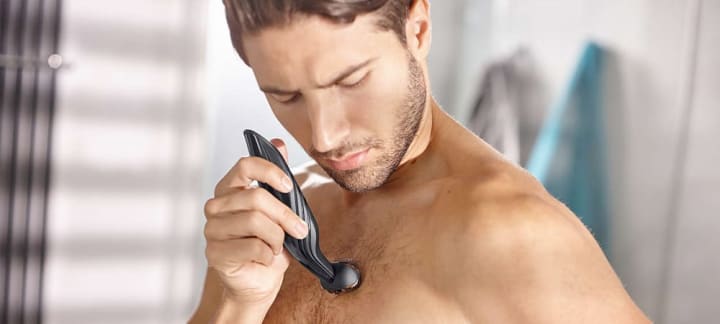 The LED display of the grooming kit serves as a handy indicator of battery power, reminding you when it's time to recharge. With its built-in rechargeable Lithium-ion battery, you can enjoy up to 90 minutes of runtime per charge, achieved through a quick 1.5-hour charging time. Its cordless design and compact size make it portable and suitable for grooming on the go.
The grooming kit is equipped with self-sharpening stainless steel blades, which maintain precision and close proximity to the skin for efficient trimming. The non-corrosive blades prevent rusting, ensuring a comfortable and irritation-free grooming experience.
Designed with user comfort and safety in mind, the grooming kit features an ergonomic design with a smooth curved handle, providing a comfortable grip during use. Additionally, it incorporates a child safety and travel lock, allowing for secure and hassle-free transportation.
With two speed modes available, the grooming kit offers versatility for different hair types and thicknesses. The 7300 RPM mode is suitable for daily use, while the 8800 RPM mode can easily handle thicker hair. The high-quality motor operates with low noise, ensuring a pleasant and peaceful grooming session.
This men's grooming kit is not only a practical tool but also makes for an excellent gift for fathers, husbands, boyfriends, and sons. It provides everything needed for a quality haircut and a great styling kit for a hassle-free grooming experience at home or while traveling. To further instill confidence in the product, Brightup offers a one-year warranty for their beard trimmer, ensuring customer satisfaction and peace of mind.
With its comprehensive functionality and the convenience it offers, this grooming kit is an ideal gift for your husband or dad seeking a versatile and efficient grooming solution.
Whiskey enthusiasts are sure to appreciate the allure of a whiskey glass set. Whiskey has emerged as more than just a beverage; it has become a symbol of sophistication and refinement. A whiskey glass set enhances the whiskey-tasting experience, allowing fathers to savour the complex flavors and aromas with elegance and style. From classic tumblers to sleek snifters, these sets offer a range of options to suit different preferences and elevate the whiskey-drinking ritual.
The whiskey glass set we will be exploring is a truly exceptional choice for whiskey enthusiasts. Crafted with excellent quality and attention to detail, this set offers a complete package for an enhanced whiskey tasting experience.
The set includes a collection of eight functional natural granite whiskey stones. These stones, made from the finest natural granite, provide an effective and fast way to cool your whiskey without diluting its flavor. Simply place the whisky stones in the fridge in advance, and when ready to enjoy your whisky, add 2 to 3 stones into your glass. Experience the delight of sipping your whisky at the perfect temperature, anytime and anywhere.
Packaged in an elegant wooden box, this whiskey glass set makes for an exceptional gift choice. Whether you're looking to surprise a friend, a relative, or celebrate a special occasion such as a birthday, holiday, or party, this set is sure to impress. The thoughtful and well-designed packaging adds an extra touch of sophistication to the gift-giving experience.
In addition to the whiskey stones, the set includes two large crystal whiskey shot glasses, measuring 2.8 inches by 3.2 inches. These glasses are crafted to enhance the visual appeal and aroma of your whiskey, allowing you to fully appreciate its nuances.
To facilitate the use and storage of the whiskey stones, the set also includes a tong and a black velvet bag. The tong ensures easy handling of the stones, while the velvet bag provides a safe and convenient storage solution. Additionally, the set includes a greeting card, allowing you to personalize the gift with heartfelt blessings, and a shopping bag for easy carrying and storage.
In summary, this whiskey glass set offers excellent quality and functionality. The natural granite whiskey stones provide an efficient cooling solution, while the crystal whiskey shot glasses enhance the overall whiskey tasting experience. With its elegant wooden box packaging and additional accessories like the tong, velvet bag, greeting card, and shopping bag, this set is truly a complete package. It's the perfect choice for whiskey enthusiasts and a remarkable gift option for any whiskey lover in your life.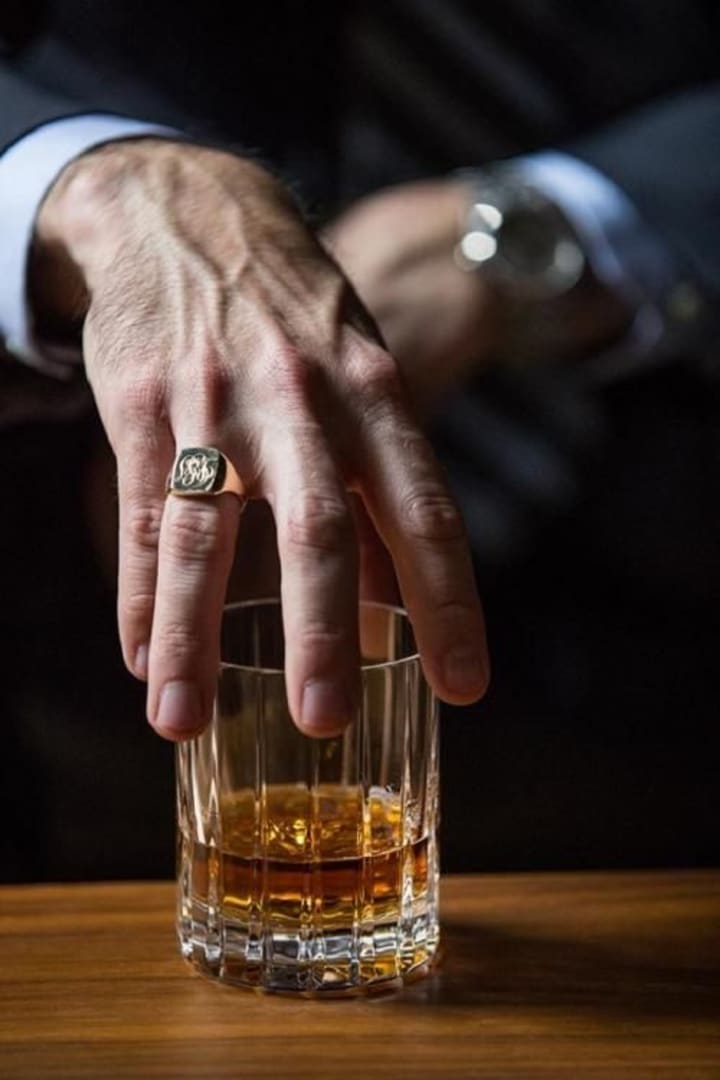 For fathers who enjoy grilling and outdoor cooking, a set of premium grilling tools is an ideal gift. There's something inherently special about firing up the grill and creating mouthwatering dishes. A well-equipped grill master needs reliable tools, such as spatulas, tongs, brushes, and thermometers, to ensure culinary success. By gifting a high-quality grilling tool set, you provide the tools for culinary exploration and the opportunity to create delicious meals for family and friends.
When it comes to grilling, having the right tools is essential for a successful and enjoyable cooking experience. This comprehensive grilling tool set we're discussing offers everything you need to become a grilling master.
Consisting of 26 practical and professional-grade barbecue accessories, this set covers all your grilling needs. No more worrying about choosing the right tools - this collection has it all. The set includes a barbecue spatula, barbeque fork, bbq tongs, meat knife, basting brush, grill cleaning brush, replacement brush head, silicone glove, meat thermometer, 4 steak knives, 8 corn holders, 4 kabab skewers, and a portable zipper bag.
Crafted from superior stainless steel, these grilling tools are of exceptional quality. Unlike other bbq accessories that may crack or melt over time, these tools are designed to be durable and safe for extended use. With their perfect heft and excellent construction, each essential tool in this set will perform remarkably well during your grilling sessions. Plus, they are resistant to rust, ensuring they stay in pristine condition for years to come.
Convenience and easy storage are key features of this grilling tool set. The hanging loops on the barbecue accessories allow for space-saving and organized storage, keeping your tools within easy reach. Additionally, the set comes with a stylish carrying case, providing a neat and protected storage solution at home or when you're on the go. Cleaning the tools is a breeze as well, as they can be easily washed with warm, soapy water or even placed in the dishwasher (excluding the thermometer).
Not only is this grilling tool set practical, but it also makes for a perfect gift for grilling enthusiasts and masters. Whether it's for a special anniversary, birthday, housewarming, Christmas, or Father's Day, this deluxe stainless steel bbq grill set, beautifully packaged, is an ideal choice. It's a thoughtful and impressive gift that will be appreciated by fathers, husbands, grandpas and more.
This grilling tool set provides the most complete and professional assortment of tools for all your grilling needs. With its superior stainless steel construction, convenient storage options, and easy cleaning process, it's a reliable and long-lasting companion for every grilling adventure. Whether you're a seasoned grilling expert or just starting out, this set will elevate your grilling game and make every barbecue a memorable experience.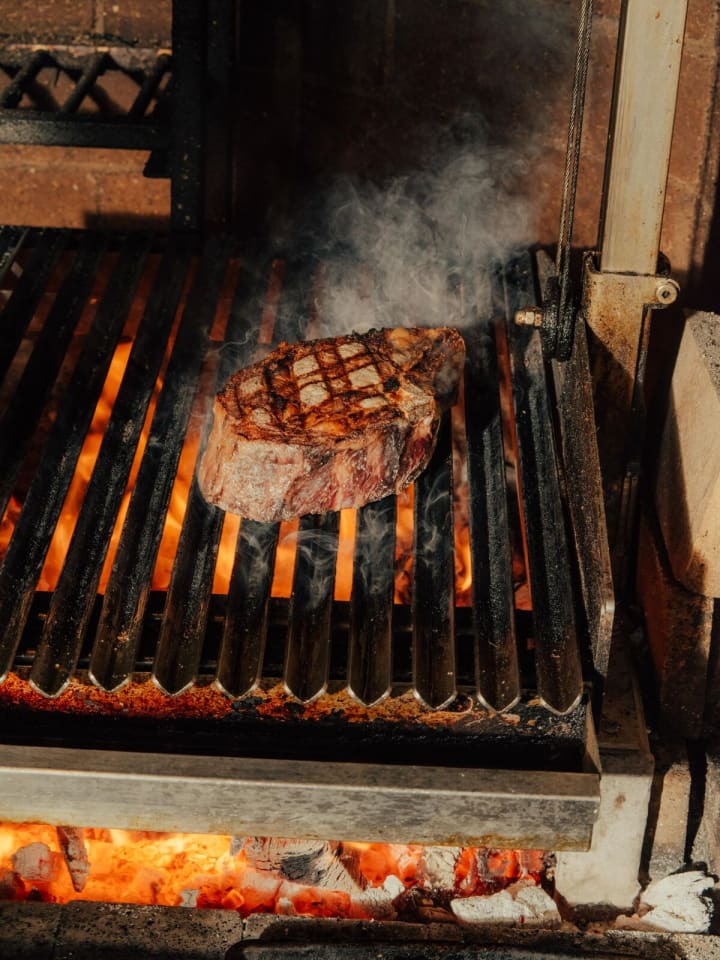 As Father's Day approaches, take a moment to reflect on the invaluable role fathers play in our lives. Let's honor them with gifts that enhance their self-care routines, add elegance to their whisky indulgence, or elevate their grilling adventures. Join us on this journey of finding the perfect gift, as we embrace the spirit of Father's Day and celebrate the remarkable fathers who have shaped our lives.
About the Creator
Where topics collide, and curiosity thrives! I'm your guide through the kaleidoscope of seasons, events, and random wonders. Join me on this whimsical journey as we explore the ever-changing tapestry of life.
Reader insights
Be the first to share your insights about this piece.
Add your insights