10 Reasons Why Being Childfree Doesn't Mean You Have No Family
No matter what some say, being childfree doesn't mean you have no family. Here are some reasons why.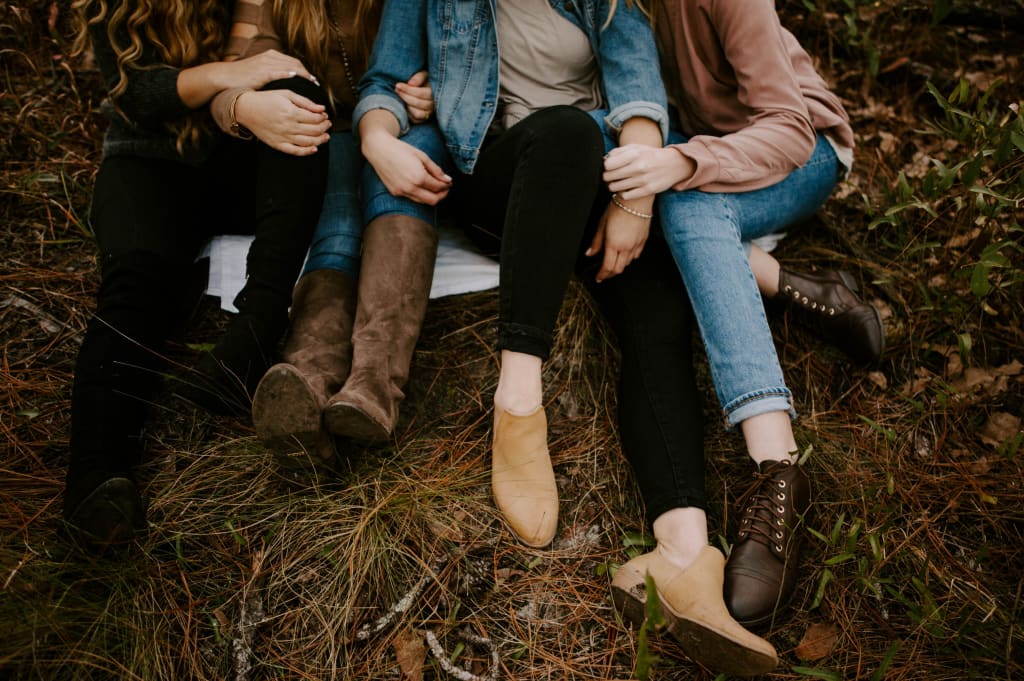 Having a family isn't always achieved strictly by becoming a parent. For many people who don't have children, the meaning of family becomes understood in a whole different perspective.
Even for those who plan on becoming a parent eventually, they can live a life full of family, whether it be rich with nieces and nephews, other extended family, pets, or close friends.
Being childfree doesn't mean you have no family. Having children is a highly personal decision, and is just one component of the broader concept of family. No matter if the closest people in your life are blood related or not, what makes a family is the shared love and respect people have for each other.
Need more proof? Here are some of the top reasons being childfree doesn't mean you don't have a family.
Old friends make the best family.
As we move through different phases of our lives, sometimes there's one person who seems to stay connected with you as other friends and acquaintances come and go.
That friend is the one person you can talk to, share your honest feelings with, and know that they won't leave your side, even when times are rough. They are the person you can go six months not talking to, then reconnect with instantly with just one phone call.
Oftentimes those one or two lifelong friends are the ones who are the closest to us, closer than our blood family. You may feel you can talk about anything with your oldest friend, but not as much with a sister or a brother.
In this sense, your oldest, dearest friends are your family. For childfree people sometimes, their family becomes your family. Just because you don't have children, it doesn't mean that you don't have a life full of family.
New friends make great family too.
The friends in your life now may not be as close to you as those lifelong friends, but wait just a bit because there's plenty of time for them to become that way. Most people's life paths take them on a journey where meeting new people is inevitable. As old friends fade away, new friends and new opportunities appear.
Taking the time to get to know new friends is important because you may find that you will feel incredibly close to one of them in no time. These are the friends you can talk to on a regular basis about what's going on in your day to day life. You can share your joys, struggles, happiness, and frustrations with them, continuing to learn more about each other and grow a solid friendship.
Those friends fill a great day to day role in feeling socially and emotionally connected to a network of support. That's what many of us need family for. You don't need blood relatives for that.
A niece or nephew, or many nieces and nephews, is enough.
Wanting children but being unable to have them is unfortunate. One of the things that no one will tell you about infertility is that those of you who are not capable of having their own, yet enjoy the youth and laughter of a child's company, may find being around nieces and nephews is enough to fill that role.
Many women choose not to have children for some time because of career concerns. There's a lot to be said about not having to go on maternity leave, worrying about childcare, or making other tough choices between career and home life.
Yet often, families feel full and more well-rounded when there are children about. They provide instant entertainment and unconditional love for those adults who are nearest and dearest to them. You don't have to have to be the kind of person that has children to feel the same kind of love they are willing to offer.
Whether time is spent with a niece or nephew, a younger cousin, a best friend's child or children, or children one volunteers with, childfree people can feel a strong sense of family by investing time, energy, and regard for the little half-pints.
Other people's children can be more than enough.
There's no reason to feel pressured to raise a child just to feel like you have a family. Family is all around you. There are usually enough children you can connect with on a daily basis in your network of friends to fill that need if you have it.
The best thing about other people's children is that you can get your kid fix in, and hand them back to the parents to do the rest of the work.
People at work are your family.
Work may be dull and monotonous to some people. On the other hand, you may be one of the lucky ones where your work is your passion. If you work on a team, then most likely the same work is the passion of all of your teammates too. Working day in and day out for a common purpose has a wonderful side benefit of forming strong, long-lasting bonds that allow work colleagues to become very dear friends.
If you're the kind of person who spends a long time in a career with other like-minded individuals you have a history with and feel strongly for, there's no reason not to regard these individuals as family. You may not have time to raise a child, but that doesn't mean you don't have time to build lasting family bonds.
This is especially true if you have formed strong bonds with a particular coworker and his/her family. If you find yourself spending as many holidays with them as you do your own family, then you can easily consider them family too.
You have a broader sense of family.
Whether you spend the majority of your time with old friends, new friends, or work friends, there is no reason to say that having no children means you have no family.
Family comes in all shapes and sizes. Family can be your dearest neighbor whom you've known for twenty years and you hang out with every weekend. Your children can be the four-legged friends in your home that you adore. Family can be your church community.
Family isn't about what people you share blood with. After all, there are plenty of families out there who are not close to each other in the least bit. There are families who only share a biological connection, and nothing else. Family is about love, respect, and feelings of mutual responsibility for each other's well being.
Make your family be whatever you choose it to be. Surround yourself with people (or critters) you love. Share with each other, care for each other, and you are certain to feel just as fulfilled as anyone with a house full of children. Being childfree doesn't mean you have no family, it just means that you always have the option to have your family grow.
The power of social media gives you a familial connection.
Social media has the power to isolate you or bring you closer together with family and friends. Watching the feed roll out with picture after picture of your friends' children may increase the pressure you feel to have your own.
There is no reason why you should feel this way, though. It's absolutely okay not to be the kind of person who must have children of their own. Instead, you can use social media to grow closer to the children already in your family, and to all the other family members you may have had a more distant connection to in the past.
Being childfree means a different experience.
The world is in desperate need of different perspectives. A big reason why some of us choose not to have children is to contribute to the world in different ways.
That doesn't mean your choice to not raise a child equals being without family. Life can be full of love and close relationships without any children being involved.
You're still waiting for the right moment.
You may be just waiting for the right moment to have children. Family doesn't just disappear and reappear until the moment you or your partner gives birth or adopts a child.
Family can be with you as you grow up and grow old, whether you wait to have children of your own, decide not to commit to the adoption process, or simply never have children of your own at all.
Your partner is all the family you want and need.
Sometimes all the family you need is your partner, especially if you've found a deep connection in that one person you spend the majority of your life with. You don't need to have children with your partner to fill some kind of expectation to have a family. Your partner can be all the family you need.

Staying at home each & every day to be there with your children as they learn and grow sounds absolutely amazing in hindsight, right? Absolutely! Who wouldn't think that it's just living the dream?! But what the world fails to disclose is the truth behind being a stay at home mom..

11/18/2020 So, grandma (81 this year) has been up my ass about keeping a journal of everything that is going on right now so here goes. Amelia is 9 and in 4th grade, Raynen is 5 and is in kindergarten and Rj is 3 and is home with me. We live in fort lee right now and my husband, Bobby (30 this year) has just had his 3rd spine surgery and now awaiting the promotion board (he is in the army) and finding out when we will be moving. I am 26 credits away from my BA in history. The coronavirus pandemic has been a pain in the ass and the 2020 presidential election was a complete dumpster fire. Yay 2020 and the best part was carol baskin and the memes from that world.

It was early October, and it was finally time for my long-awaited moose hunt. I had waited ever since I was a little girl for this opportunity, and it was finally here. So, my father, the one that looks after me, and I packed up our stuff and left our city in Alaska. We were heading to a place called Bethel, AK. After a six-hour long drive, we made it to our hunting unit. It did not feel like home to us but it was warm and cozy, like my bed at home.

As your parents age, you're probably spending more and more time caring for them. Even if they're still in good health, you may need to help them live a healthy lifestyle. Your parents may need help with everything from their health insurance to their diet. To avoid caregiver stress, taking care of yourself is also essential.

Staying home, reducing stress, and taking care of ourselves, both mind and body are more important than ever. That's why from beauty and personal care to everyday essentials and home cleaning – we've got you covered. "Avon"

Growing up, I loved the Wizard of Oz. There was something magical and timeless about the Yellow Brick Road and the passion of Dorothy to find her way home, Scarecrow to find his brain, Tin Man to find his heart, and the Lion to find his courage. All to find out that the man behind the curtain was just a man, whose hope and wisdom fulfilled all desires by encouraging everyone by exploring their own virtues.