10 Essential Baby Products Every New Parent Needs
A comprehensive guide to building a safe and comfortable environment for your newborn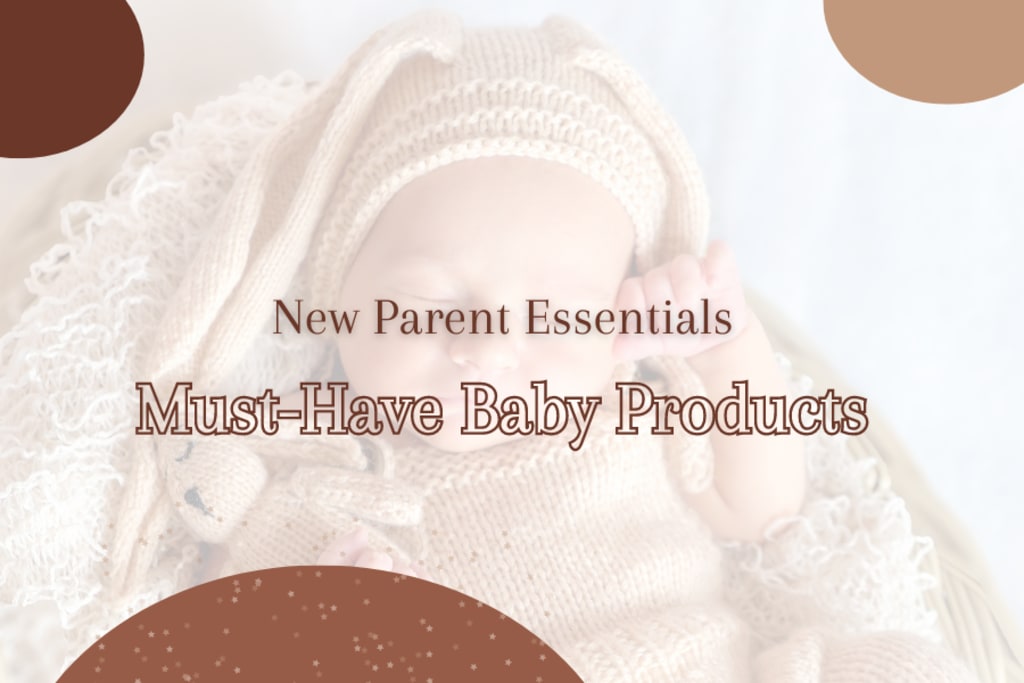 Welcoming a new baby into the world is an exhilarating experience filled with joy and excitement. As new parents, ensuring your little one's safety and comfort is of utmost importance. With a wide array of baby products available, it can be overwhelming to determine which ones are essential. In this article, we will explore a comprehensive list of must-have baby products that will help you build a safe and nurturing haven for your precious bundle of joy.
1. Crib or Bassinet
A crib or bassinet is the centerpiece of your baby's sleep area. Look for a sturdy and JPMA-certified crib that adheres to safety standards. Consider the spacing between slats, mattress firmness, and adjustable height features. For the early months, a bassinet provides a cozy and secure sleeping space.
2. Baby Monitor
Investing in a reliable baby monitor allows you to keep a watchful eye on your baby from anywhere in your home. Choose a monitor with video capabilities, night vision, and two-way audio to ensure you can monitor your baby's safety and communicate with them when needed.
3. Baby Carrier or Sling
A baby carrier or sling is a valuable tool for keeping your baby close while having your hands free. Look for carriers that provide proper ergonomic support for your baby's hips and spine. Consider the ease of use, adjustability, and comfort for both you and your baby.
4. Stroller
A good-quality stroller is essential for your baby's outdoor adventures. Look for a lightweight and durable stroller with a comfortable seat, adjustable handles, and smooth maneuverability. Consider additional features such as ample storage space, a sunshade, and a reclining seat for your baby's comfort.
5. Car Seat
A car seat is a non-negotiable item for your baby's safety during travel. Ensure you choose a car seat that meets safety regulations and is appropriate for your baby's age and weight. Properly install the car seat in your vehicle and use it consistently for every car ride.
6. Baby Swing
A baby swing provides a soothing and comforting motion that can help calm fussy babies and lull them to sleep. Look for a swing with adjustable speed settings, comfortable seating, and safety features such as a secure harness. Consider additional features like music, nature sounds, and removable toy bars for entertainment.
7. Nursing Supplies or Bottles
If you plan to breastfeed, essential nursing supplies such as breast pumps, nursing bras, nursing pads, and lanolin cream can support your breastfeeding journey. For bottle-feeding parents, ensure you have a sufficient supply of bottles, nipples, and bottle brushes to cater to your baby's feeding needs.
8. Baby Bathtub
Bathing your baby requires a safe and comfortable environment. Look for a baby bathtub with a contoured design and a slip-resistant surface to ensure your baby's safety. Consider features like temperature indicators and a gentle water-flow system for an enjoyable bathing experience.
9. Diaper Bag
A well-equipped diaper bag keeps all your baby essentials organized and accessible when you're on the go. Look for a spacious bag with multiple compartments, insulated bottle holders, and a changing pad. Choose a style that suits your preference, whether it's a backpack, tote, or messenger bag.
10. Baby Clothes and Swaddles
Stock up on soft and comfortable baby clothes, including onesies, sleepers, socks, and hats. Swaddles are also essential for creating a snug and secure environment for your newborn. Look for breathable and hypoallergenic fabrics to keep your baby cozy and happy.
As new parents, investing in the right baby products is crucial for creating a safe and nurturing environment for your little one. From the essential crib to diapers, baby monitors, and beyond, these products will help you navigate the early stages of parenthood with confidence. Remember to prioritize safety, comfort, and quality when selecting these essential items. With the right baby products, you can build a secure haven that promotes your baby's well-being and happiness.
Reader insights
Be the first to share your insights about this piece.
Add your insights