Top Adventure Travel Destinations and Activities to Try
Hayden Vonbargen | Travel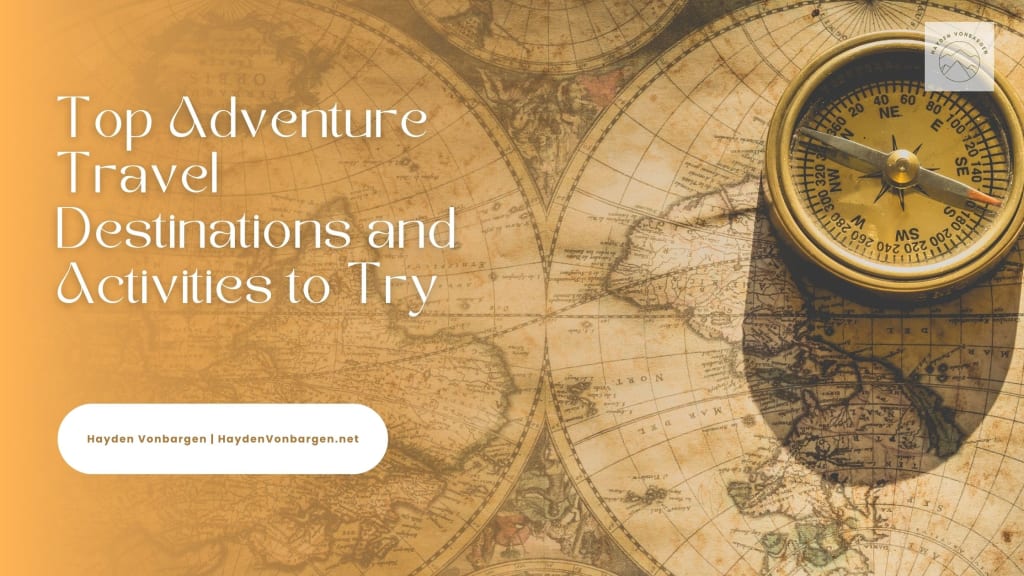 Do you crave thrilling experiences that push your limits and take you off the beaten path? Adventure travel is the perfect way to satisfy your wanderlust and satiate your appetite for excitement. Let's explore some top adventure travel destinations worldwide and adrenaline-pumping activities that will leave you with unforgettable memories.
Queenstown, New Zealand
Bungee Jumping and Jet Boating: Nestled amidst the majestic Southern Alps, Queenstown is a haven for adrenaline junkies. Bungee jumping enthusiasts flock here to leap off the iconic Kawarau Bridge or the daunting Nevis Highwire. For those seeking a wild ride on the water, jet boating on the Shotover or Dart River offers heart-pounding thrills as you navigate through narrow canyons at high speeds.
Moab, Utah, USA
Mountain Biking and Rock Climbing: Moab, a desert paradise in Utah, is a playground for outdoor enthusiasts. The area is famous for its world-class mountain biking trails, such as the Slickrock Trail and Porcupine Rim. With its dramatic sandstone cliffs and towering red rocks, Moab is also a mecca for rock climbers of all levels. Test your skills on routes like the classic Castleton Tower or opt for exhilarating multi-pitch adventures in the iconic Fisher Towers.
Interlaken, Switzerland
Paragliding and Canyoning: Surrounded by the stunning Swiss Alps, Interlaken offers numerous adventure activities. Try flying with a tandem paragliding flight and soar above the picturesque landscapes, gazing at the snow-capped peaks and turquoise lakes below. If you prefer water-based adventures, canyoning through the gushing rivers and plunging waterfalls is an absolute thrill. Interlaken's diverse terrain provides the perfect playground for these adrenaline-pumping experiences.
Costa Rica
Zip-lining and Whitewater Rafting: Known for its lush rainforests and incredible biodiversity, Costa Rica is a tropical paradise for adventure seekers. Zip-lining through the forest canopy provides an exhilarating way to explore the vibrant ecosystem from a bird's-eye view. Whitewater rafting on the Pacuare or Sarapiquí River rapids is an absolute must for those craving a wet and wild adventure. The combination of adrenaline and natural beauty in Costa Rica is unmatched.
Iceland
Glacier Hiking and Snorkeling in Silfra: Iceland, the land of fire and ice, offers a unique array of adventures. Strap on crampons and explore the otherworldly landscapes of Vatnajökull or Sólheimajökull glacier. As you trek across these frozen giants, marvel at the breathtaking ice formations and translucent blue ice caves. If you're feeling particularly daring, snorkel in the crystal-clear waters of Silfra, located between the tectonic plates of North America and Eurasia. This mesmerizing experience lets you float between two continents, immersed in the frigid but stunningly beautiful underwater world.
Embarking on an adventure travel journey allows you to break free from your comfort zone and create memories that will last a lifetime. Whether you're seeking adrenaline-pumping activities or immersing yourself in awe-inspiring landscapes, these top adventure travel destinations offer an unparalleled thrill for all adventure enthusiasts. Pack your bags, embrace the unknown, and let the adventure begin!
This blog was previously published on August 9, 2023 at HaydenVonbargen.org
Outdoors enthusiast and athlete with a strong work ethic in Chehalis, WA
Hayden Vonbargen is a dedicated, hardworking individual from Chehalis, WA, who prioritizes staying active and helping others. His passion for sports, the outdoors, and giving back to his community has led him to pursue various activities and opportunities that allow him to make a difference in the world. Since graduating from Adna High School in 2017, Hayden has embraced a diverse range of hobbies, interests, and responsibilities that keep him busy and help him find purpose and fulfillment in life.
Currently, Hayden Vonbargen works as a Truck Loader at UPS, where he helps load packages of various sizes for drivers heading out on their deliveries. This fast-paced and physically demanding job requires him to stay focused and use his strength and endurance to do the job efficiently while working well as part of a team. Prior to this role, Hayden worked as a UPS Driver Helper during the holiday season in 2021, where he worked alongside various drivers to deliver packages. In his years at UPS, Hayden has learned a lot about the shipping industry and has enjoyed getting to learn different facets of how the company operates.
Beyond his professional endeavors, sports have always been a significant part of Hayden Vonbargen's life, and he has always enjoyed the outdoors. His love for running started in high school, where he competed in track and cross country. This passion has continued into adulthood, where he regularly participates in running events such as half-marathons and 10Ks. Some of his favorite races include the Great Olympic Adventure Trail Races in Port Angeles and Run the Ridge in Shelton. In the winter, Hayden can often be found on the slopes, snowboarding and enjoying the beauty of the snow-capped mountains. He also enjoys hiking and exploring the beautiful natural areas in the state of Washington.
About the Creator
Hayden Vonbargen loves to hike, run, and snowboard. He lives in Chehalis, WA, where he keeps active while working for UPS and regularly volunteering for the Washington Trails Association.
Reader insights
Be the first to share your insights about this piece.
Add your insights