Part V : Snippets of Somers Teachers
Mr. Gnida, Miss Eichler and Miss Fisher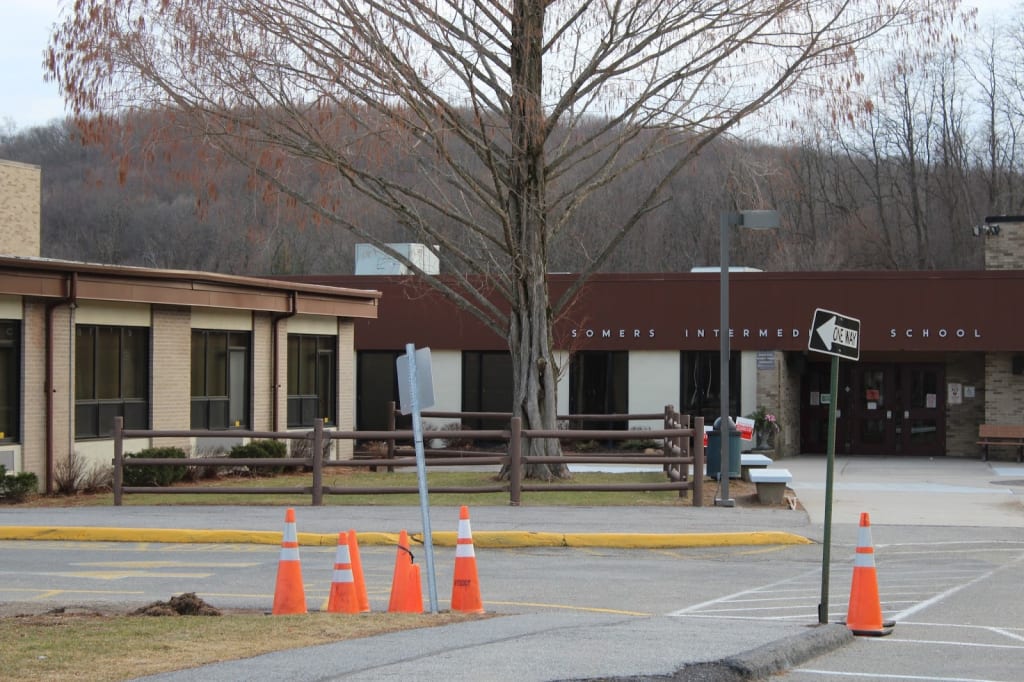 Hello Somers, here's another round of snippet
Miss Eichler - Miss Fisher
At SIS, 1974 began an experiment where they combined fifth and sixth graders into a single class and covered with two teachers. Miss Eichler and Miss Fisher were our two teachers and an unintentional experiment emerged. This especially in regard to the time in question. You see our two middle aged teachers lived together, and we jumped to a conclusion that probably was accurate. They were lesbians. The fact that Mrs. Fisher was a former drill sergeant only added to our conclusion. But many years later I wonder how Somers arrived at a scenario that was pretty far ahead of its time. I mean, it had only been a year since the Diagnostic and Statistical Manual of Mental Disorders declared that homosexuality wasn't a psychological illness. Either way, I have no idea if there were any discussions or concerns raised in the community or on school board. The fact that none of us kids were aware of such conversations is a credit to the town too. Of course, that could be for a really good reason. We were wrong. Still, the consensus was pretty unanimous among the kids, and the perception lends itself to the real story. As you might imagine, there was a fair amount of student snickering - especially among a bunch of ten and 11 year old boys. Even so, we always came back to what really mattered. They were great teachers and their skills, caring and tough love approach to the profession always took precedence. I guess as kids, we were ahead of our time too.
Unnamed 2nd Grade Teacher
I'm sorry, I can't remember her name. It doesn't really matter because the the teaching snippet isn't anything out of the ordinary. But this tidbit was completely lost to me, and only came to light when a very pertinent classmate sparked my memory. I was in the Katonah Grill about 15 years ago, and Tom Gallagher walked in. He sat down and the recall came rushing back. Recollecting together, Tom was the class clown that was causing plenty of teacher duress, and the same goes for the the kid next him. So what you do is obvious. You banish one kid to the other end of the room and move someone else in. An easy decision and a very quiet little boy was an obvious choice. One Rich Monetti but there was a brief hesitation between the teacher and her aide. What if Tom simply turns Rich into a recruit, and we have yet another problem. I guess they figured they'd worry about that scenerio when it arose. The best laid plans, that's exactly what happened, and I went from being a shy introvert to Tom's protege. They still haven't shut me up, and I owe you a lot Tom.
Mr. Gnida
Our Junior High Gym Teacher and High School wresting coach, Rich Gnida was always angling for me to join the wrestling team at the lower ranks. "Do you ever put that basketball down," he would frequently lament to me. So I'm playing goalie one gym class in seventh grade, and big Charlie Michael was bearing down on the crease. My eyes literally bigger than my stomach, I tried to smother the free ball like a grenade. Ouch, the eighth grader launched the ball and his kick at the same moment of my smother. The wind was whisked away from me and stayed down in a heap. I did snuff out the attempt, though, and Gnida came running over to pay heed to my efforts "Wow, anyone who has the guts to make a play like that - I want on my wrestling team," he beamed. Yeah, that sounded pretty good, but unfortunately the praise took a while to sink in. Better late than never, and I certainly remembered the moment I finally strapped on the head gear in ninth grade.
Please Like Somers Sports