My Experience with MasterClass 2021 - Part 1
"It was such a gratifying feeling once I finished the poem because it felt truly expressive of my emotions and like I had found my voice through writing it"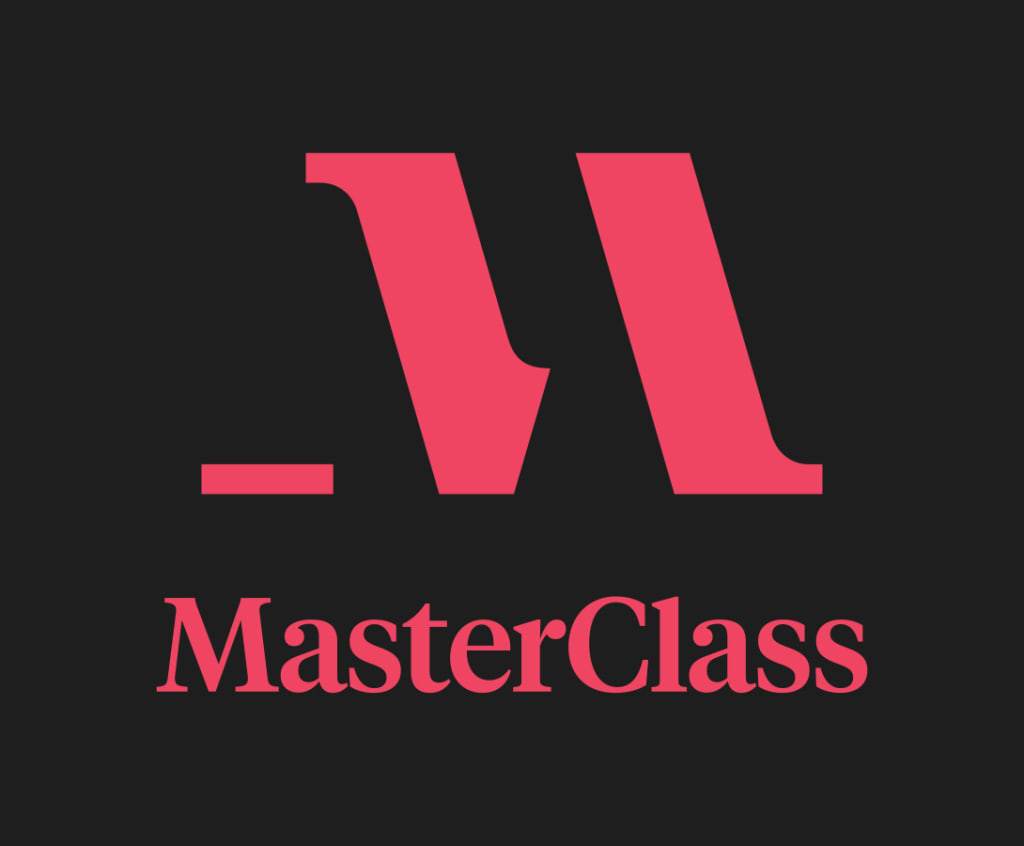 One of my goals for 2021 is to continue working on and improving my writing skills and one way I was planning on doing that was by taking classes at a local community college, however, COVID has made that a lot more difficult. Also, not having a steady job would mean that paying for classes would feel a lot more expensive. So, what's a guy to do?
Thankfully I found MasterClass, a skill sharing, streaming platform where individuals interested in learning new skills could do so through courses taught by professionals from that field. Although I may be using MasterClass mostly for their writing courses, there is a wide range of topics covered from business to acting.
Essentially, MasterClass offers an annual membership which is $180 per year and the membership includes access to all courses, videos, workbooks, interactive assignments, and community sections where you can share your progress with other participants taking the same course. Every course is designed entirely by the instructor and take between 2-5+ hours to finish, but no worries, you can take as much time as you want to complete a class.
At first, I wasn't sure I could justify spending that much money on something like MasterClass, but my mind was decided when I saw an ad for a course centering around reading and writing poetry! And I figured this would be less of a financial strain than trying to plan out how to pay for college classes.
I thought it would be fun to document my experience with the website so that I can look back and see how it changes my writing (and any other skills I decide to work on) throughout 2021!
MasterClass has a huge selection of writing courses, but unfortunately only one course is dedicated to poetry – Billy Collins Teaches Reading and Writing Poetry. It's a little disappointing, however, I'm only a few videos in and I've already learned some helpful tips!
This class is led by Billy Collins, a professor and former United States Poet Laureate and his perspective on poetry has quickly taken effect on me; after just a lesson or two, I could feel my mind freeing itself of some of the constraints placed on it.
The class moves between discussion of how to read and understand poetry as well as Collins' own writing process and helpful tips that guide him. He has in depth discussions about specific poems with another author of poetry, Marie Howe, in which they dissect some of their own poems as well as older poems which give some nice insight into how expert poets read, analyze, and write poetry.
And as with every MasterClass course, there's a workbook PDF full of exercises to help students strengthen their poetic muscles. There are also lessons during the course in which Collins' discusses poetry written by his students, but I haven't made it that far yet.
Most notable lessons so far:
Don't be afraid of making your draft a little messy
You are not constrained by things like time and ability while writing poetry
Even the seemingly most boring topic can turn into a beautiful poem
You may not know how your poem ends right away and that's because the purpose of some poems is to discover that ending
During the time that I've taken part in this class, I've written one poem titled "The Flooded Path" and it was a very different writing process than previous poems. The idea came to me while I was on a run and saw part of my path obstructed by an overflowing creek. It seemed like such a simple idea, but Collins' class taught me that even simple things can be turned into a beautiful metaphor!
Beside my path, to the left, runs a creek.

And today, when I looked

I was surprised to see, the murky water

flowing so high and monstrously.
(Read the full poem by clicking here)
I had to hold onto the idea very tightly until I made it home where I sat for at least thirty minutes to write down all the words that popped into my head. Later in the day, I took more of Collins' advice and started making a mess out of my draft by marking it up with all sorts of possible changes. Then I kept that up for a few days until I had a poem I was happy with!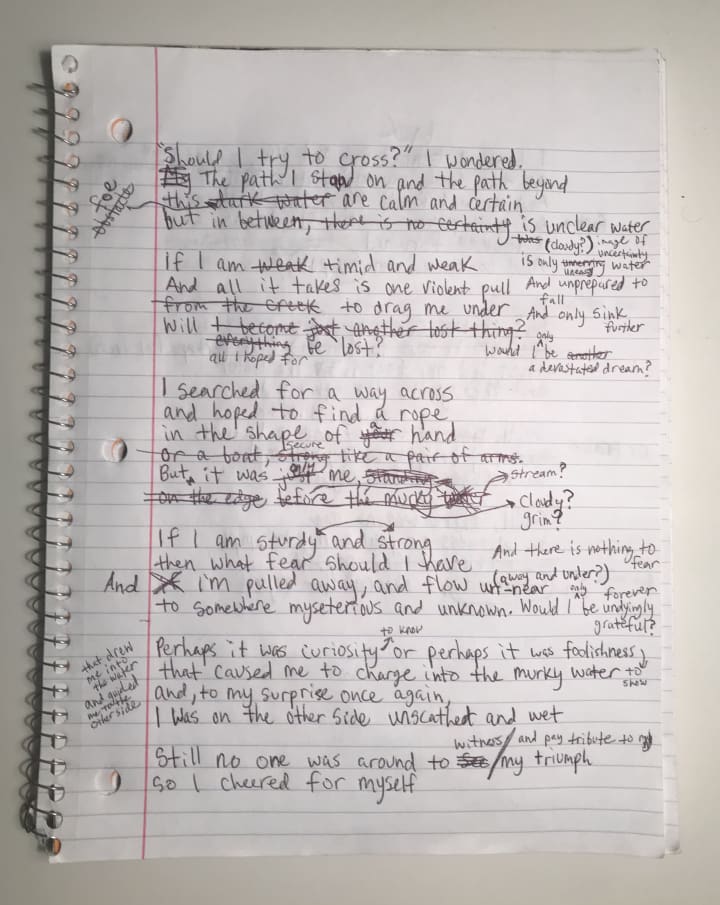 It was such a gratifying feeling once I finished the poem because it felt truly expressive of my emotions and like I had found my voice through writing it. So, it's clear to me that Collins' lessons are already paying off (though, I'm certainly far from being an expert)!
I have just a few more days until I finish Billy Collins' class, which is unfortunate but, I plan on taking other writing (and non-writing) classes so I'll be sure to share my experience with them as well. Until then, I'll learn as much as I can about poetry and continue to share my own writing!
*It should be emphasized that MasterClass is not a replacement for traditional schooling but could be a great supplemental resource for those looking to learn more about a topic from experts*
Thank you for reading! If you enjoyed, then please share, leave a like or a tip, or check out some of my other writing by clicking on my profile icon. Thank you for your support, I truly appreciate it!
Let me know your thoughts on Instagram/Twitter - @doitlikederk

Derek Evers
Hello! I'm Derek, a writer based in Portland, OR. Author of short stories, poetry, and blog posts about the things that interest me. Be kind to yourself and others, always.
IG: deverswriting
See all posts by Derek Evers →