Mastering Self-Discipline: 25 Profound and Powerful Bible Verses with Explanation to Empower Your Journey
Build Self-Discipline with God's Word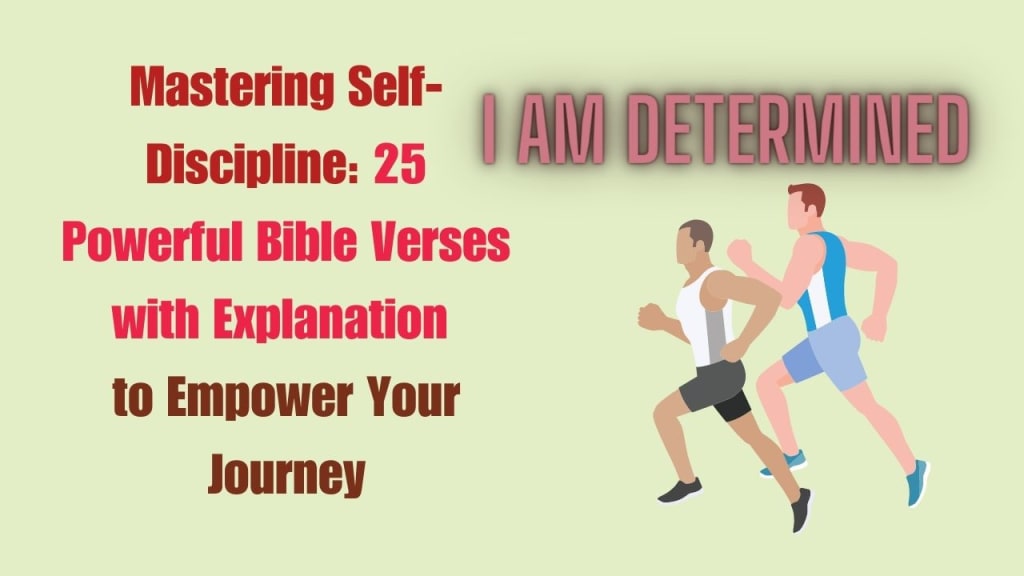 Introduction:
In a world full of distractions and temptations, developing self-discipline is vital for leading a purposeful and fulfilling life. The Bible, a precious source of divine wisdom, offers invaluable insights and guidance on cultivating discipline and self-control. In this article, we will explore 25 powerful Bible verses that throws light on the significance of discipline and self-control in our lives. Each verse will be accompanied by a thoughtful and engaging explanation, helping you delve deeper into their profound meanings and encouraging practical application.
So, let's embark on this transforming journey together as we uncover the power of discipline and self-control in shaping our lives.
Proverbs 25:28 KJV
"He that hath no rule over his own spirit is like a city that is broken down, and without walls."
Explanation: This verse vividly depicts the importance of self-control. Just as a city without walls is vulnerable to attacks, lack of self-control leaves us defenseless against the storms of life. Embracing discipline empowers us to protect our inner being and establish a firm foundation for a resilient and purpose-driven life.
1 Corinthians 9:24 KJV
"Know ye not that they which run in a race run all, but one receiveth the prize? So run, that ye may obtain."
Explanation: Like runners in a race, disciplined individuals fix their gaze on the prize and run with determination. This verse encourages us to approach life with focus and perseverance, striving for the ultimate reward of God's approval and the fulfillment of His purpose in our lives.
Proverbs 10:17 KJV
"He is in the way of life that keepeth instruction: but he that refuseth reproof erreth."
Explanation: Discipline involves humbly embracing instruction and correction. This verse highlights the significance of being receptive to guidance, recognizing that true wisdom comes from a teachable heart. By valuing discipline, we open doors to a path of life, growth, and understanding.
Proverbs 16:32 KJV
"He that is slow to anger is better than the mighty; and he that ruleth his spirit than he that taketh a city."
Explanation: True strength lies in exercising self-control, especially in managing our emotions. This verse beautifully captures the essence of mastering one's spirit, emphasizing that the ability to remain calm and composed surpasses physical might. By ruling our own spirits, we exhibit inner strength and godly character.
Galatians 5:22-23 KJV
"But the fruit of the Spirit is love, joy, peace, long-suffering, gentleness, goodness, faith, meekness, temperance: against such there is no law."
Explanation: Self-control is a fruit of the Holy Spirit working within us. This verse reminds us that as we allow the Spirit to guide our lives, self-control becomes a natural manifestation of God's work. It enables us to exhibit virtues that bring glory to God and bless those around us.
2 Timothy 1:7 KJV
"For God hath not given us the spirit of fear; but of power, and of love, and of a sound mind."
Explanation: Discipline and self-control empower us to overcome fear and embrace the fullness of God's power and love. This verse reassures us that through His Spirit, God equips us with the ability to make wise choices, exhibit self-discipline, and maintain a balanced and sound mind.
Proverbs 15:32 KJV
"He that refuseth instruction despiseth his own soul: but he that heareth reproof getteth understanding."
Explanation: Rejecting discipline and wise counsel leads to self-destruction. This verse emphasizes the intrinsic value of receiving instruction and correction. When we humbly listen and learn, we gain understanding and grow in wisdom, safeguarding our souls from the consequences of foolishness.
Titus 2:11-12 KJV
"For the grace of God that bringeth salvation hath appeared to all men, teaching us that, denying ungodliness and worldly lusts, we should live soberly, righteously, and godly, in this present world."
Explanation: God's grace enables us to live lives of self-control and discipline. This verse emphasizes the life transforming power of God's grace, guiding us to turn away from worldly desires and live in alignment with His righteous standards.
Proverbs 13:3 KJV
"He that keepeth his mouth keepeth his life: but he that openeth wide his lips shall have destruction."
Explanation: The discipline of controlling our words has far-reaching implications. This verse reminds us that exercising self-control in speech safeguards our lives from the destructive consequences of careless or hurtful words.
1 Peter 1:13 KJV
"Wherefore gird up the loins of your mind, be sober, and hope to the end for the grace that is to be brought unto you at the revelation of Jesus Christ."
Explanation: Girding up the loins of our minds refers to the discipline of mental preparedness and focus. This verse encourages us to be alert, sober-minded, and anchored in the hope of Christ's return, living with purpose and self-control.
Proverbs 25:16 KJV
"Hast thou found honey? eat so much as is sufficient for thee, lest thou be filled therewith, and vomit it."
Explanation: This verse warns against indulgence and excess. Practicing self-control involves enjoying God's blessings within healthy boundaries, avoiding the pitfalls of overindulgence that can lead to negative consequences.
1 Corinthians 6:12 KJV
"All things are lawful unto me, but all things are not expedient: all things are lawful for me, but I will not be brought under the power of any."
Explanation: While we have freedom in Christ, discipline and self-control require us to evaluate whether our actions are beneficial and whether they have a hold on us. This verse teaches us to make wise choices that do not enslave or compromise our devotion to God.
Proverbs 14:29 KJV
"He that is slow to wrath is of great understanding: but he that is hasty of spirit exalteth folly."
Explanation: The ability to control anger reveals wisdom and understanding. This verse encourages us to exercise self-control when faced with provocation, allowing us to respond with measured and thoughtful actions instead of impulsiveness.
Hebrews 12:11 KJV
"Now no chastening for the present seemeth to be joyous, but grievous: nevertheless afterward it yieldeth the peaceable fruit of righteousness unto them which are exercised thereby."
Explanation: Discipline is often accompanied by temporary discomfort, but it yields long-term benefits. This verse reminds us that the discipline of God, whether through correction or trials, ultimately produces righteousness and peace in our lives.
Proverbs 23:12 KJV
"Apply thine heart unto instruction, and thine ears to the words of knowledge."
Explanation: Discipline requires a teachable heart and a willingness to learn. This verse encourages us to actively seek wisdom and knowledge, attentively listening to instruction in order to grow in discipline and understanding.
James 1:19-20 KJV
"Wherefore, my beloved brethren, let every man be swift to hear, slow to speak, slow to wrath: for the wrath of man worketh not the righteousness of God."
Explanation: Self-control involves restraining our speech and temper. This verse advises us to be quick to listen, slow to speak, and slow to anger, recognizing that acting out of anger hinders the righteousness that God desires.
2 Peter 3:14 KJV
"Wherefore, beloved, seeing that ye look for such things, be diligent that ye may be found of him in peace, without spot, and blameless."
Explanation: Diligence in spiritual matters leads to a life of peace and righteousness. This verse urges us to exercise discipline in our pursuit of godliness, striving to be found blameless and at peace with God when Christ returns.
Proverbs 4:23 KJV
"Keep thy heart with all diligence; for out of it are the issues of life."
Explanation: The discipline of guarding our hearts is crucial, as it impacts every aspect of our lives. This verse emphasizes the need to protect our hearts from negative influences, cultivating a heart that is aligned with God's will and purposes.
Romans 12:2 KJV
"And be not conformed to this world: but be ye transformed by the renewing of your mind, that ye may prove what is that good, and acceptable, and perfect, will of God."
Explanation: Discipline involves renewing our minds and resisting conformity to worldly patterns. This verse encourages us to transform our thinking through the power of God's Word, enabling us to discern and pursue His perfect will.
Galatians 5:16 KJV
"This I say then, Walk in the Spirit, and ye shall not fulfill the lust of the flesh."
Explanation: Walking in the Spirit requires discipline and self-control to resist the desires of the flesh. This verse assures us that as we yield to the Holy Spirit, His power enables us to overcome the temptations that hinder our spiritual growth.
1 Timothy 4:7-8 KJV
"But refuse profane and old wives' fables, and exercise thyself rather unto godliness. For bodily exercise profiteth little: but godliness is profitable unto all things, having promise of the life that now is, and of that which is to come."
Explanation: Just as physical exercise improves our physical well-being, the discipline of godliness has eternal value. This verse encourages us to prioritize spiritual growth over worldly distractions, recognizing the significance of disciplined spiritual practices.
2 Peter 1:5-7 KJV
"And beside this, giving all diligence, add to your faith virtue; and to virtue knowledge; and to knowledge temperance; and to temperance patience; and to patience godliness; and to godliness brotherly kindness; and to brotherly kindness charity."
Explanation: Discipline involves intentionally cultivating virtuous qualities in our lives. This verse encourages us to diligently pursue a progression of virtues, culminating in the expression of God's love to others.
Proverbs 3:11-12 KJV
"My son, despise not the chastening of the LORD; neither be weary of his correction: for whom the LORD loveth he correcteth; even as a father the son in whom he delighteth."
Explanation: The discipline of the Lord demonstrates His love for us. This verse reminds us to embrace God's correction and learn from it, recognizing that His discipline is rooted in love and aimed at our growth and well-being.
1 Corinthians 10:13 KJV
"There hath no temptation taken you but such as is common to man: but God is faithful, who will not suffer you to be tempted above that ye are able; but will with the temptation also make a way to escape, that ye may be able to bear it."
Explanation: Self-control enables us to resist temptation and find the way out that God provides. This verse assures us of God's faithfulness in helping us exercise discipline, ensuring that we are never overwhelmed by temptation but equipped to withstand it.
Philippians 4:13 KJV
"I can do all things through Christ which strengtheneth me."
Explanation: The ultimate source of our discipline and self-control is Christ Himself. This verse reminds us that with His strength and empowering grace, we can successfully navigate every challenge and fulfill the call to live a disciplined and purposeful life.
Conclusion:
As we delve into these 25 profound Bible verses on discipline and self-control, we discover timeless wisdom that empowers us to live victoriously. Each verse reminds us of the importance of cultivating discipline in our thoughts, words, actions, and attitudes. Through the power of the Holy Spirit, we can develop self-control that enables us to align our lives with God's will, resist temptations, and pursue a life marked by righteousness and peace. May these verses inspire and guide you as you embark on a journey of discipline and self-control, experiencing the abundant life that God intends for His children.
About the Creator
Hello! I am an Online Entrepreneur, passionate about writing, designing and creating digital products that add value to people.
Reader insights
Be the first to share your insights about this piece.
Add your insights