Documentary Review: 'Accepted' is a Must See Documentary
T.M Landry College Prep Academy has quite a story to tell and director Dan Chen tells that story brilliantly in Accepted.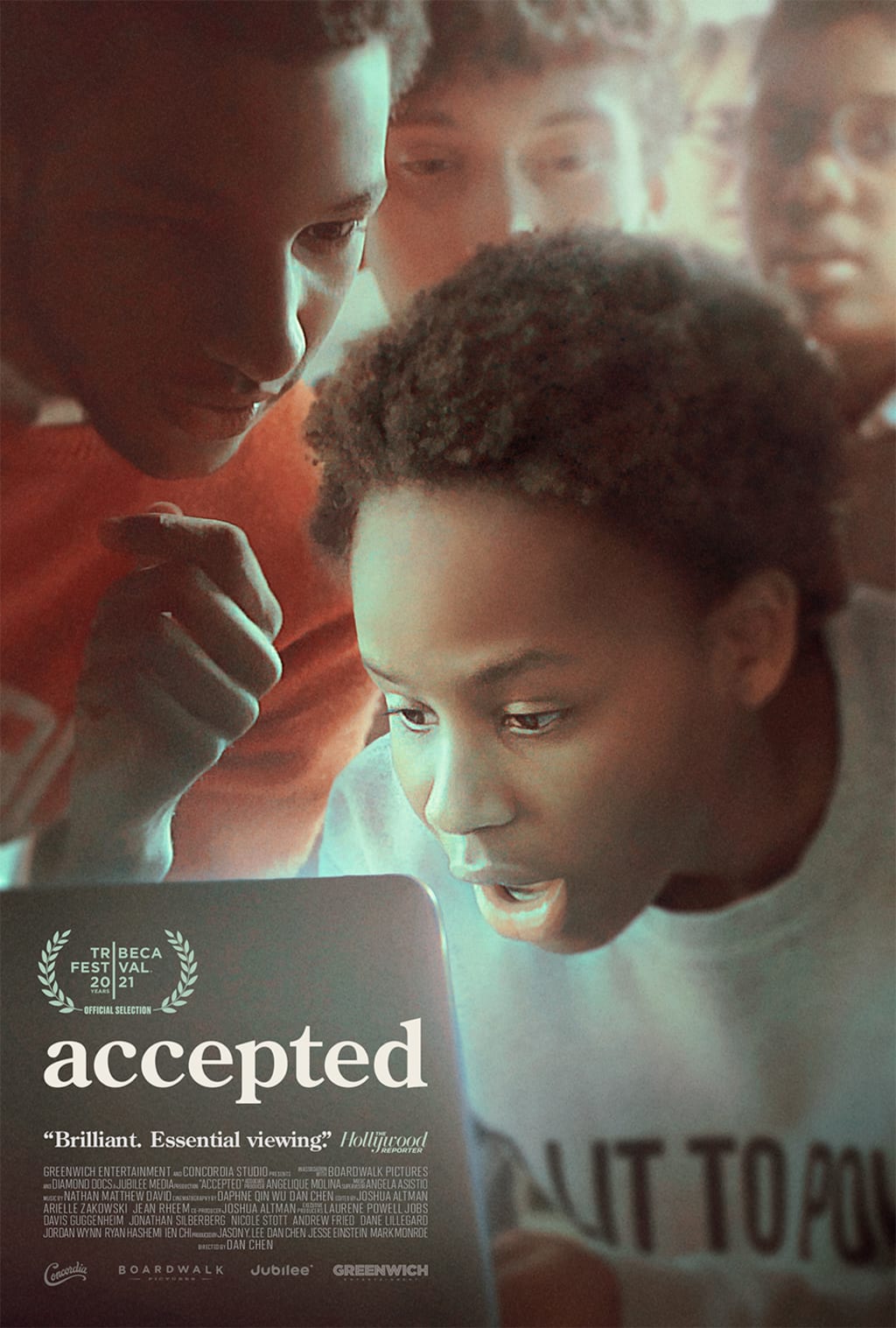 Accepted is a harrowing story, one that begins triumphantly and slowly devolves into an ambiguous sort of tragedy. Director Dan Chen endeavored to explore the incredible success that was T.M Landry College Prep in Louisiana. This factory school that sent low income kids to Ivy League schools was a viral sensation in 2017. That year, the school uploaded a series of videos showing their students reacting to getting into the college of their choice.
Every news outlet from Fox News to CNN to entertainment outlets such as The Today Show, The View, and Ellen, picked up the story of inner city kids blasting open the doors to the Ivy League. It indeed was a great story and with the charismatic showman Michael Landry at the helm, it appeared there could be an entirely new educational paradigm on the rise. T.M Landry, the T.M is for Tracy and Michael Landry, did not have textbooks or a set schedule or classrooms.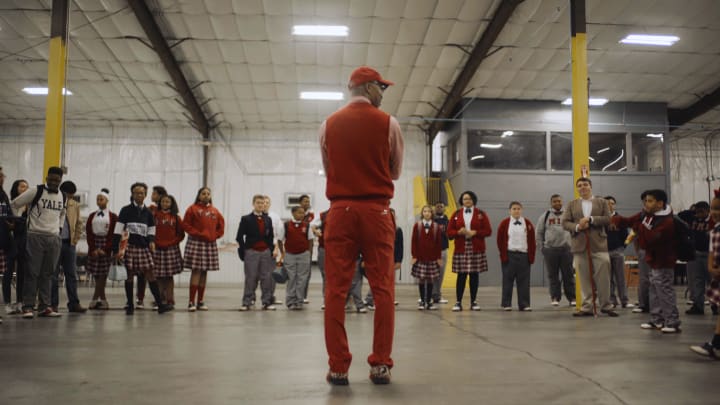 And yet, the kids at Landry were shown speaking multiple languages, performing complex mathematics, and, as the viral videos showed, getting into whichever college they chose. It seemed as if the sky were the limit at T.M Landry. But, as the saying goes, if something is too good to be true, it's probably not true. Eventually, the cracks in the walls of T.M Landry College Preparatory School began to show and as they did controversy followed.
Meanwhile, Accepted follows this story from the perspective of four students, each a Junior, and each hoping to have their own viral moment. Alicia Simon, Adia Sabatier, Isaac Smith and Cathy Bui, had big dreams when they were accepted to T.M Landry College Prep and all seemed to be going well. But each of these students were hiding the dark secrets of T.M Landry. Those dark secrets became the seeds of a New York Times cover story that would go nearly as viral as T.M Landry's YouTube posts.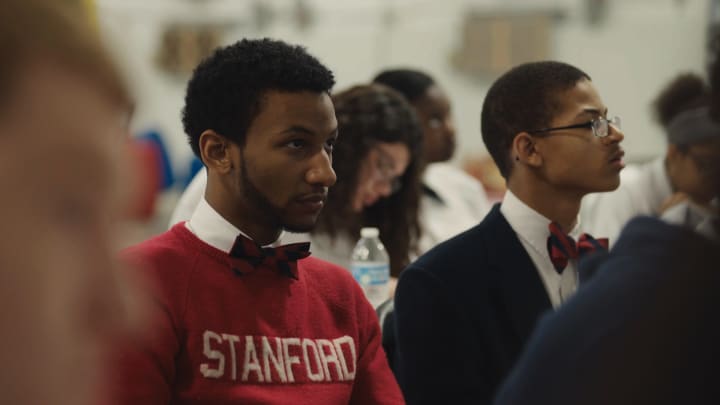 In November of 2018, following what seemed to be a very positive visit to T.M Landry, The New York Times published a front page expose. In the article, the paper of record laid out several destructive charges against Michael Landry specifically and his school in general. Among the many charges were that Michael Landry was verbally and physically abusive to students. Meanwhile, the story alleged that the school had falsified records, specifically transcripts that had been sent to several schools which went on to accept Landry students.
With the fallout of the story, several students, including each of the four Dan Chen and his documentary team were following, dropped out of Landry. The school lost a significant amount of students and were forced to move from a large warehouse facility to a much smaller building with less overhead. In the most striking scenes in the film several of the students revealed that they had not lied to Chen but had hidden some of the darker stories regarding Landry Prep. These interviews are powerful and provide quite a punch headed into the final act of Accepted.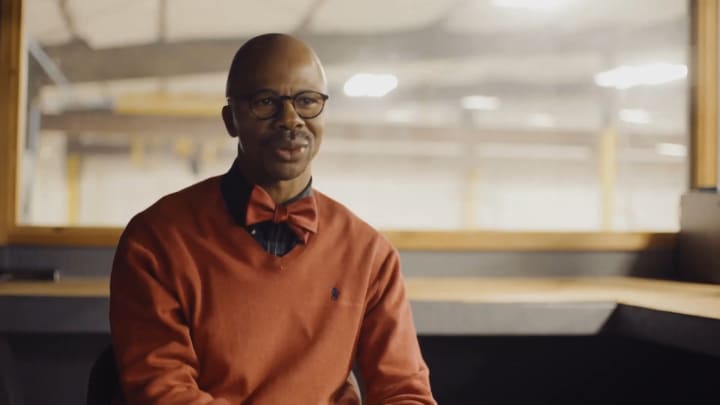 Now, being a documentary, Accepted doesn't exactly have a three act structure. However, the film is smartly assembled to maximize the dramatic effect, not unlike a great drama. Dan Chen and his team reveal information and assemble a linear narrative that is deeply compelling, fascinating and, ultimately, quite sad and unfortunate. For me, having mostly forgotten the brief national obsession with T.M Landry, I was excited about new ideas for reforming American education.
I found Michael Landry inspiring and invigorating with his big booming voice and infectious charisma. Then, as the movie reached its midpoint and the narrative began to shift and reveal Landry as less than virtuous, my stomach dropped. I felt not quite as betrayed as the students of Landry, but similarly dismayed at having been duped. But then, in the final act, we're left to wonder if indeed we were duped. Is Landry just a scam? Or, is the media simply blowing Landry's crimes out of proportion as Michael Landry argues?
The documentary appears to side against Landry, especially after a late in the film confrontation that leaves Chen and his crew to film the new Landry Prep from a safe distance. T.M Landry College Prep still exists today and many students and parents argue that the school is still turning out high end graduates. The end credits indeed, do show that all of the seniors in 2018 and 2019 that stuck it out at Landry did go on to College as Michael Landry had promised. That said, that added up to only 10 students in two years.
You must see Accepted for yourself to make up your own mind and to hear from these remarkable young people featured in the documentary. Accepted is vital, engrossing, infuriating and endlessly compelling. It's a documentary that is of the moment and on target with an incredibly important subject: getting lower income kids, specifically Black kids into college. It's not a racial thing, white kids also attend Landry but given where Landry is located, in the depths of Louisiana, in a mostly poor and mostly black neighborhood, that is a significant element of this story.
I don't feel that I am in a position to go in depth on the racial aspects of Accepted but they are prominent and an important part of the documentary. That's why I recommend the documentary so highly. It's a remarkably thoughtful and thought provoking documentary that invites you to be part of an important and vital conversation. Accepted will be opening in limited theatrical release as well as for online streaming rental on Friday, July 1st, 2022.
About the Creator
Hello, my name is Sean Patrick He/Him, and I am a film critic and podcast host for Everyone's a Critic Movie Review Podcast. I am a voting member of the Broadcast Film Critics Association, the group behind the annual Critics Choice Awards.
Reader insights
Outstanding
Excellent work. Looking forward to reading more!
Add your insights