Braille Transcription using WYSIWYG
How Braille2000 became more accessible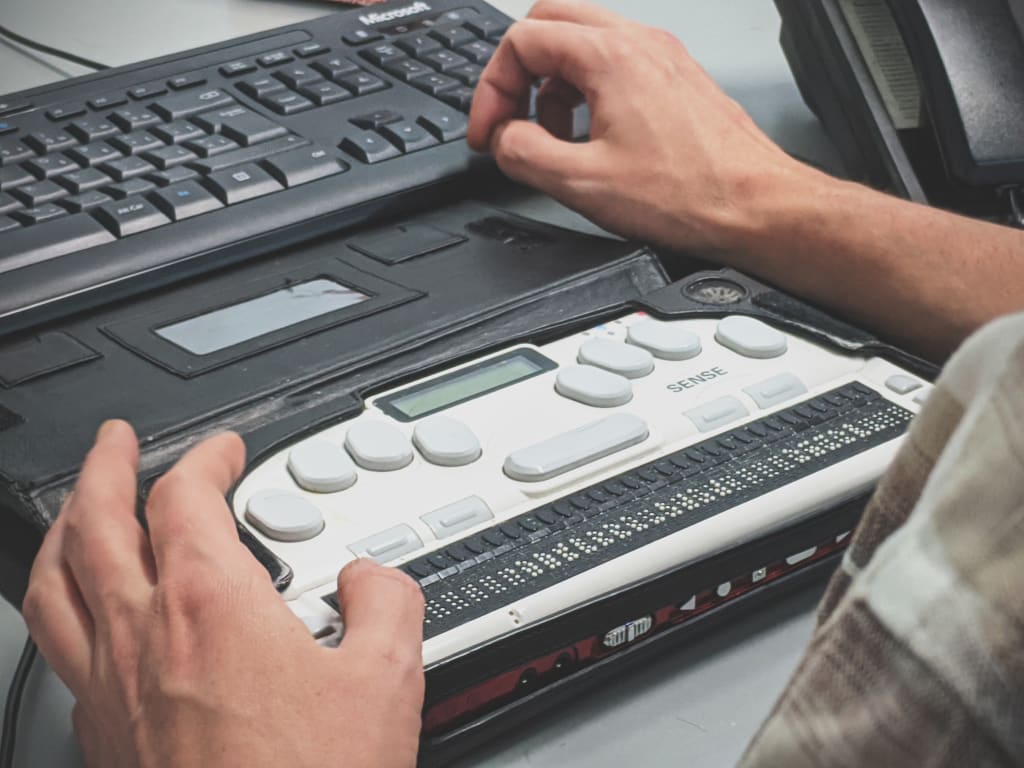 This is a story on how Braille2000 became more accessible for the blind transcriber such as myself.
Hello Everyone, welcome to another article here on Vocal. In my previous article on braille transcription I showed you how braille is done using simple formulas. Plus, in a different article, I discuss this concept in the music code; but, how does all of this work?
Some of the braille transcription software packages linked within my last article (first link above) work based on the print page, while others may work with no concept of pagination at all.
To my knowledge, only one piece of software today in this field will work in true WYSIWYG format--meaning that what you see on the screen is what you get when the project is finally put to paper.
I've discussed my taking of the braille transcription course, and it is moving along; but, I also worked with a company to develop their software to give the blind transcriber a leg up on editing, checking format, and correcting mistakes. That's what I want to talk to you about today.
Braille2000 is a piece of software that shows the braille as print material and in braille as though you were using a piece of paper. The format is 40 cells by 25 lines, which is a standard sheet of paper today. The program has many options that can change this behavior, including the size of the margins and even the size of the paper itself from 25 lines to something else.
To my knowledge, Duxbury, Braille Blaster, and Perky Duck do not work this way. Duxbury, for example, will work on a 60 line print page with 80 cells and, to my knowledge, only produces braille based on tables with no way to correct discrepancies. I'm not familiar with the others; although, Perky Duck only works in 6-key mode--which is simulating a braille writer.
My work with Braille2000 went beyond the lesson book of the transcription course. On my braille transcription as a blind person website, I talk about my struggles of taking the course and how Braille2000 worked for me through the first twelve lessons. Audio files are given to simulate, and even demo, the lesson material in a way that you can hear how difficult it was.
Also, on that website, I talk about how the blind can now take advantage of knowing exactly how the document is formatted, whether there are appropriate blank lines within formatting, and even what is emphasized. Through a dedicated hot key system and menu structure, the blind transcriber has just as much knowledge as the sighted transcriber when it comes to proofing their work. While I still get braille copies of my assignments, the latest assignment I've been working on was dedicated to checking the formatting using Braille2000 specifically. While the assignment is not graded yet, I'm getting closer to submitting. That being said, there are still a few things to fix.
The major programs, except for Perky Duck, utilize some sort of algorithm to do the backward and forward translation. Duxbury and Perky Duck come bundled with rule sets and translation tables which make the program quite large to download. These errors, if found, need to be fixed within the library and not the program itself.
The reason why I like Braille2000 is I can check my work as though I'm reading it from the embossed piece of paper. If there is an error that was disclosed to me through my mentor or instructor, it can be found exactly where it was on the paper like it was on the program itself.
While this is a plus, let me talk a little bit about Braille2000's capability of talking to the blind transcriber to give them the information they need.
According to the documentation found on both of our web sites, the "Talking Edition" can speak paragraph, line, cell position, dot patterns of words, the format of a section of braille, page numbering for print and braille page numbers, and more. This is done through the Windows Speech Application Programming Interface, or SAPI for short! This work started after I was struggling with the course. Some of the things that were marked wrong in my course were because of a lack of feedback.
I'm unclear at this time if other programs can give this level of detail in the way they work. After the course is done, I'll be evaluating one of these programs to see how it works; but, I'm set on Braille2000 because I can see exactly how the page is going to look.
Below, you'll find assignment 1's page of braille which almost takes a full page. On it, the assignment doesn't take a full page. I simulated the lesson, which is ungraded, by putting in the running head which is simply "assignment 1". As you'll learn in future assignments, they want a blank line between the running head and the first line of the text of the assignment. A running head is like the title of what you're doing appearing on every page--centered at the top of the page.
,,LESSON #A
JAZZ TUNES HE PRAYS DAILY FEIGNS
SURPRISE A FRISKY POODLE FIDGETY FILLY
#EIRAW RECRUITS QUIXOTIC EXPLOITS
ELECTRIC ELEVATOR QUEUE UP #FD ZANY
ZEBRAS BUILD A WIGWAM #I GITANTIC
PIRANHAS ATTRACTIVE TIE COMPANY VEHICLES
WRY WIT JUBILANT HALLELUJAHS GOOSENECK
LAMP OLIVES OR ONIONS VIVID PICTURES
ICICLES DRIP DULL ADJECTIVES BRIDLE A
PONY WISE PHILOSOPHY #ABF WET PETS SIX
TEXTBOOKS LOVELY VELVET YULETIDE JOY
PRETTY ANEMONE TRUE BLUE BLOOD
CIRCULATES MUTUAL RESPECT #HJ HOT DOGS A
BROOK MURMURS WEIRD SPECTACLE XIPHOID
PROCESS QUIZZES PUZZLE ME #C LABOR
BATTALIONS UNBELIEVABLY CALM HOME SWEET
HOME FIREFLIES FLIT BRASS KNUCKLES MIMIC
A MADMAN ANGRY GANGS PRETTY ROSEBUDS
PROMPT APPRAISAL BACON SMELLS SALTY #AJ
NOCTURNAL BIRDS EXTRA AXE BIG FELT YURT
#GH BRASS BASSOONS
This is exactly how the page looks if you decided to get the assignment brailed. I'm sure there may be a mistake within this sample, but the concept is there. I could check the format of the document to see if it is in paragraph form, just like the sighted transcriber can.
The sighted transcriber has access to a rich panel of options to help them format the document. Similar operations can be done via the keyboard and in the menus.
You can even speak words as cells, dots, and more. This is good to check to see if you've put in specific symbols like transcriber-defined material, checking for font attributes, and the like.
The speaking as exact or explicit came about after I struggled to fix something brought to my attention through a mentor, not the grader. Through this mode, you can hear specific details regarding capitalization, punctuation, and font attribute specific information.
While this is not a braille lesson per se, the simulated braille shown within this article shows you what one lesson may look like. If the format needed to be changed, Braille2000 can show you what it looks like. The simulated braille here is in paragraph format, but it could've been changed to list format or any other combination; although, some may not be a supplied format for braille.
I want to educate people on how I'm proceeding in this course because the breakthroughs I've experienced can help many. I could see someone utilize the talking edition to hear exactly what they've done so they can understand if it is done correctly. I don't think this should just be limited to the blind, but to both. Someone could be tired and they want to check the work. By hearing something they aren't clear on by speech, they can hear if it is done correctly. While they may not want to fix it, they can understand if a mistake was made and correct it later. They can jot down what line number the mistake was by just asking the program instead of using the panel to get that info.
If you have any questions, I'm just an email or a phone call away. We could definitely use more transcribers, but don't let that stop you if this is something that interests you.
Pricing for the talking edition is available on our respective web sites, and a demo can be had for free. I thank you for reading and having an interest in my work.
Reader insights
Be the first to share your insights about this piece.
Add your insights