Best Batteries Stocks In India To Buy
About battery stocks.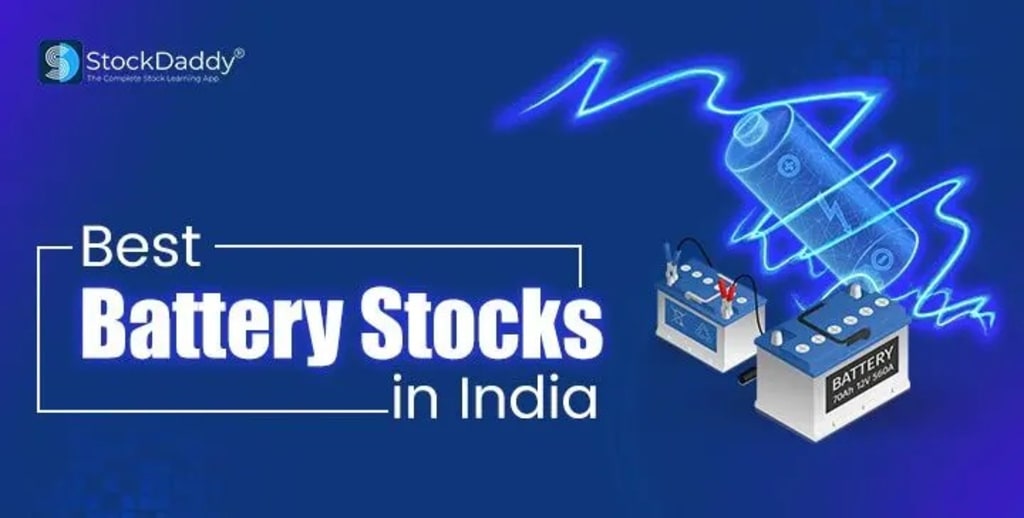 The future is electric vehicles, as seen by Tata's increasing rise in the Automotive Electric Vehicle segment. The EV Industry is still in its infancy, and petrol and diesel cars remain popular among people, but given the rapid depletion of natural resources such as petroleum and gas, a shift to alternative sources of energy for transportation is unavoidable, and Electric Vehicles are currently leading the way as a replacement for petrol and diesel engines.
Furthermore, India recently struck gold when it discovered 60 lakh tonnes of lithium in Jammu, boosting India's lithium requirement and making it self-sufficient for which India was previously dependant on imports from other nations, which will boost India's battery supplies. But the question here is whether India is ready for electric automobiles. Let's take a closer look.
Role of Government in the EV transformation drive
The government is aware of the EV's possibilities and recognises the enormous potential market in India for EVs, solar distributed renewable energy, energy telecommunications towers, and data centres.
As a result, they approved a budget of 18,000 crores for the production of Advanced Chemistry Cell (ACC) batteries. The government is also taking battery swapping seriously, and the Niti Ayog recently announced a long-awaited drafting policy on it that intends to boost EV adoption on a large scale by pushing electric vehicle tax benefits. Now let's discuss about best battery stocks in India.
Best Battery Stocks in India in 2023 for the future
1). Exide Industries
It is one of the largest players in all sorts of storage batteries, particularly in the automobile industry, with the automotive batteries division accounting for the majority of its sales. The company's principal product is the Exide battery.
They have also made great advances in the lithium-ion battery market and have begun lithium-ion battery manufacturing in India. It has formed a 75:25 joint venture with Leclanché SA to strengthen its lithium-ion business.
2). Amara Raja Batteries Limited
It is the largest producer of lead-acid batteries for use in cars and industrial applications in the Indian storage battery market. The company is well-known for its Amaron batteries, and it is also the favoured choice for major OEMs.
It also provides industrial battery solutions to numerous telecommunications firms, like Jio. It is also on the lookout for lithium-ion battery manufacturing technology.
3). Uno Minda Limited
Uno Minda is the Minda Group's premium company and a technical leader in the automotive components sector. It is also a leading provider of exclusive automotive solutions to OEMs.
Electronic Manufacturing Excellence (EME) and Spark Minda Green Mobility Company are the company's two divisions focused to solidifying their foothold in the EV industry. It has purchased a 26% stake in the charging solutions start-up EVQPOINT Solutions, and with this agreement, the company hopes to carve out a position in the EV charging solutions industry.
4). Tata Power
Tata Power is a company that generates, transmits, and distributes power. The corporation is committed to generating electricity from renewable sources and plans to create 1 lakh EV charging stations across India by 2025.
Being a Tata company provides it with the benefit of value chain presence, allowing it to grow its single business with the assistance of other Tata Group companies such as Tata Chemicals. It has also formed a strategic alliance with Marco Tech Developers to supply end-to-end EV charging stations in Mumbai and Pune.
5). Kabra Extrusion Technic Limited
It began as a plastic extrusion company, but has since grown into lithium-ion batteries. Under the brand name Battrixx, the company launched its new commercial production of lithium-ion batteries in 2020.
The company formed a strategic alliance with a major European operator, benefiting from their unique design and production skills. Because it is a small-cap company, it has the potential to provide exponential returns in the future if the firm grows.
About the Creator
StockDaddy is India's leading stock learning platform, making it possible for users around the nation to grasp the stock market skills with an ease of choices.
Reader insights
Be the first to share your insights about this piece.
Add your insights