Benefits of Effective Infusion of Instructional Technology
Differentiated Instruction Through Technology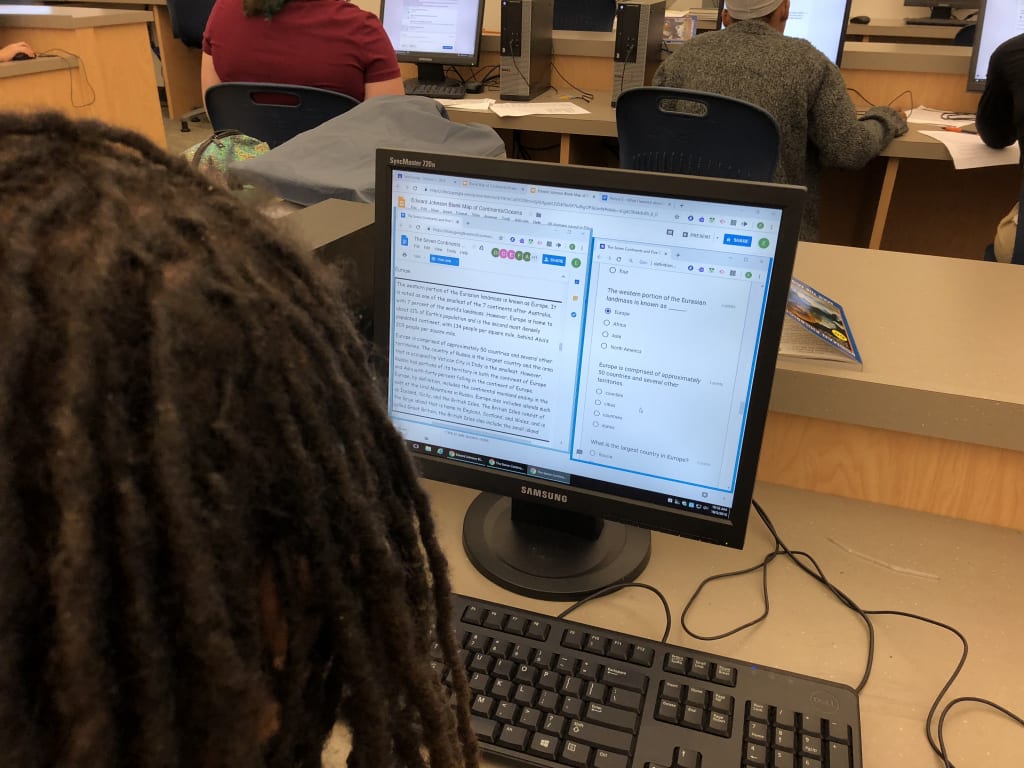 Effective infusion of technology benefits all students. Technology allows educators to meet the needs of all students no matter what the students' preferred learning modality. Visual, auditory, and second language learners can benefit from programs like EdPuzzle, YouTube, Discovery Education, Quizlet, GAFE, and Flocabulary that use videos to enhance the learning process. Tactile learners can use Google Draw to create pictorial demonstrations of proof of mastering content. ELL students benefit a great deal from any technology that immerses them in the new language they are trying to learn. The more ways they hear, see, and use new language the better chance they will have in learning to comprehend that language. Quizlet, Quizziz, Kahoot, and Socrative bring in the competitive component. Let's face it, we are all competitive in one way or another.
Technology allows teachers to enhance and enrich the education of all of our students. Background knowledge is critical in increasing comprehension. Obtaining the critical background information is more easily attainable through the use of technology.
Collaboration plays an important role in education. GAFE is a tremendous tool for implementing collaboration through Google docs and Google slides. Students can work on and collaborate on assignments in real time at home and at school. Google Classroom is also an effective tool for communication, collaboration, and dissemination of information to our students and their families. Curriculum is given to the students through Google Classroom. Parents can join and learn how their individual student is doing in class. Students also turn in their assignments through Google Classroom.
Technology allows for better organizational skills to be developed in our students, families, and teachers. Google drive allows students and teachers to create folders for each subject and each class and individual units. Google Sites allow for content to be collected and organized for students to use for studying, research, and class/homework assignments.
Technology allows for the teacher to become more of a facilitator. Students take a more active role in their education when the teacher becomes a facilitator instead of the one disseminating all the information the students are expected to learn. Technology allows students to take this more active role and become more responsible for their own learning.
Technology also allows for an increase in student paced lessons. All students do not learn at the same rate or at the same level and technology allows for these differences. Assignments given through HyperDocs, Edpuzzle, or Deck.toys allow for students to complete assignments at their own pace. Students who need to revisit assignments can do so in these programs.
Programs like YouTube Live allow for ways to communicate with parents and students who are unable to get to school for one reason or another. After school homework help and parent conferences are just two examples of how it can be used to benefit our students. YouTube is also an excellent avenue for teacher-directed videos. I have created professional development videos on my own YouTube channel for teachers to go to in order to learn new instructional technology strategies to use with their students. YouTube, when used appropriately, is also a great avenue for students to learn from. Teacher created videos help students review skills and concepts they learn in class. It is also a way for students to study for tests and reinforce concepts.
Technology also makes it possible for students who are absent from school for one reason or another to keep up with what's going on in school. Students have access to all assignments in Google Classroom and can complete them and turn them in from wherever they are at that time. Parents can see what is going on in their student's class by logging on to Google Classroom and looking at the day's assignments.
Technology closes the communication gap between home and school. Parents who can't get to the school for one reason or another can use Power School, Google Classroom, or YouTube to communicate with teachers and administration. All three tools help parents stay in contact with the school so their student will know that their parents, teachers, and administrators are all on the same page about educating them.
We are preparing our students for jobs that haven't been created yet. We are preparing them for a world we can't even imagine the possibilities that will be available to them. Technology, infused effectively, will prepare our students to be the best they can be!