Aixiqee Portable Wireless Printer
Unleash Your Creativity On-the-Go with this Mini Inkless Thermal Bluetooth Printer!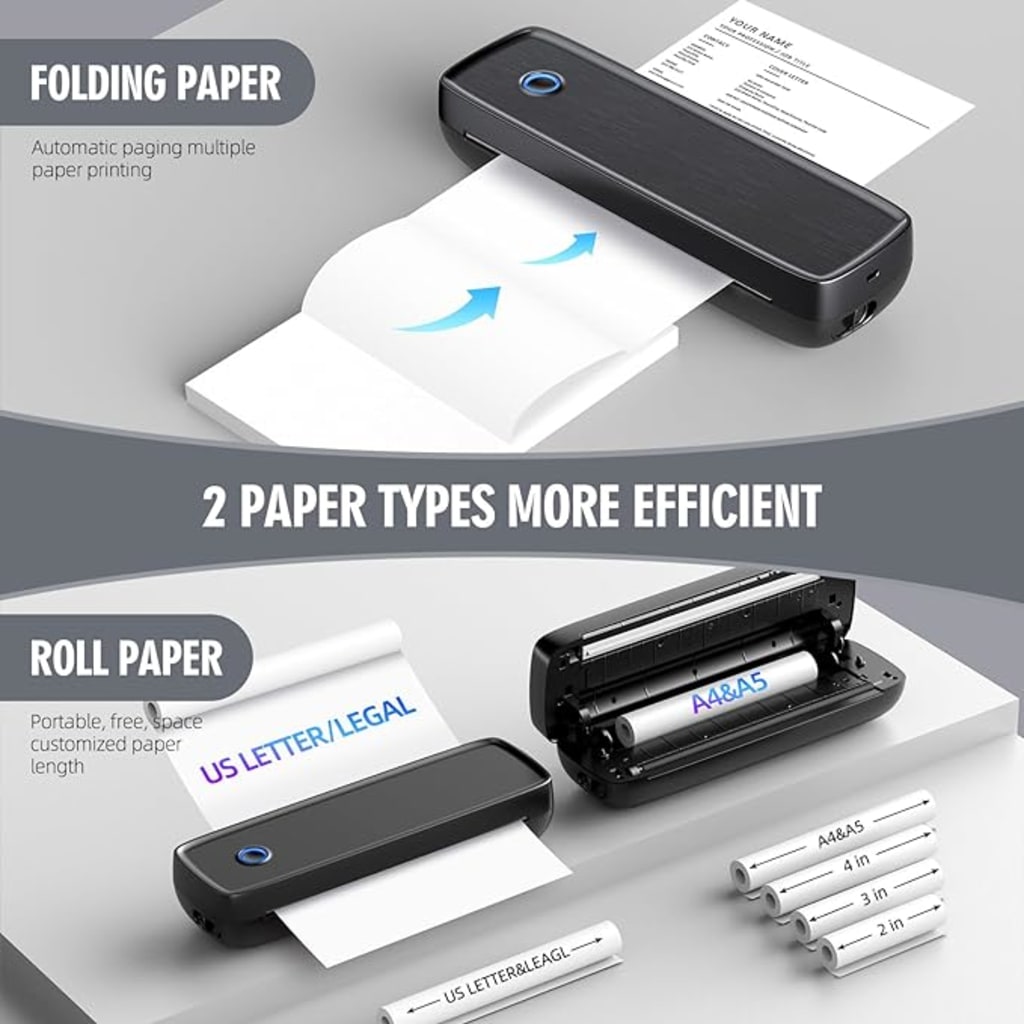 The Aixiqee Portable Wireless Printer emerges as a beacon of innovation. This compact marvel redefines the possibilities of on-the-go printing, which caters to the needs of travelers, professionals, and creators. Its ingenious thermal printing technology and seamless compatibility across Android and iOS devices, as well as laptops, the Aixiqee Printer stands as a testament to the fusion of portability, efficiency, and creativity.
Key Elements:
Unmatched Portability: At the heart of the Aixiqee Printer's design is unparalleled portability. The compact form factor ensures it effortlessly fits into your bag or pocket, enabling you to carry it with ease, wherever your journey shall take you. The days of being tethered to a desk for printing are a thing of the past.
Thermal Printing Technology: The most remarkable feature of the Aixiqee Printer is its use of thermal printing technology. This ensures no more messy ink cartridges or the hassle of replacing toners and ribbons. Instead, this printer utilizes heat to produce high-quality prints. This not only makes it convenience but also reflects a sustainable approach to printing, as it significantly reduces waste.
Versatile Paper Support: Need to print a standard US Letter and Legal documents or international A4 and A5 formats, the Aixiqee Printer is ready for the task. This versatility ensures that it adapts seamlessly to a wide range of printing needs, from professional documents to personal keepsakes like photographs and scrapbook pages.
Bluetooth Connectivity: The Aixiqee Printer's Bluetooth connectivity, allows you to effortlessly connect your Android or iOS devices, as well as laptops. The wireless capability eliminates the need for cables and ensures a hassle-free printing experience. Wherever you are your printer is always within reach.
Fast and Efficient Printing: The Aixiqee Printer understands that time is of the essence. It delivers impressive printing speeds to ensure that your creations come to life swiftly and with precision. Whether it's a last-minute presentation, a spontaneous snapshot, or a cherished memory, this printer delivers with efficiency.
High-Quality Output: The Aixiqee Printer produces prints with exceptional quality, capturing every detail with clarity and precision, don't let its small size fool you. Delivering a crisp document for a client presentation or a vibrant photograph to add to your personal collection, expect nothing but the best.
Intuitive Mobile App: The Aixiqee Printer has a user-friendly mobile app that empowers you to design and customize your prints. A numerous range of editing options at your fingertips, let's you ensure that your documents and photos are tailored to perfection before they hit the page.
Long-Lasting Battery Life: The Aixiqee Printer is equipped with a long-lasting, powerful battery that can keep up with printing demands throughout the day. With the Aixiqee Printer you can rely on it to perform when you need it most, without having to worry of running low or out of power at a critical moment.
Wide Application Range: The Aixiqee Printer's adaptability lends itself to a wide range of applications. From business professionals needing to print contracts on the go to travelers wanting to capture memories in tangible form, this printer serves as an indispensable tool in various scenarios.
Eco-Friendly Printing: Beyond it being convenient, the thermal printing technology employed by the Aixiqee Printer is eco-conscious. By eliminating the need for traditional ink cartridges, it significantly reduces waste, making it a sustainable choice.
The Aixiqee Portable Wireless Printer shifts into the realm of portable printing. Its cutting-edge technology, user-friendly design, and eco-conscious operation sets it apart as a reliable companion for those who demand flexibility and convenience. Whether you're a professional on the move or a creative spirit seeking to capture inspiration in real-time, the Aixiqee Printer ensures that your ideas are brought to life with efficiency, precision, and a touch of sustainability.
About the Creator
"Passionate Amazon explorer. Precision researcher. Finding the best, one click at a time."
Reader insights
Be the first to share your insights about this piece.
Add your insights