The Ronnie Belle
The Old Salt Returns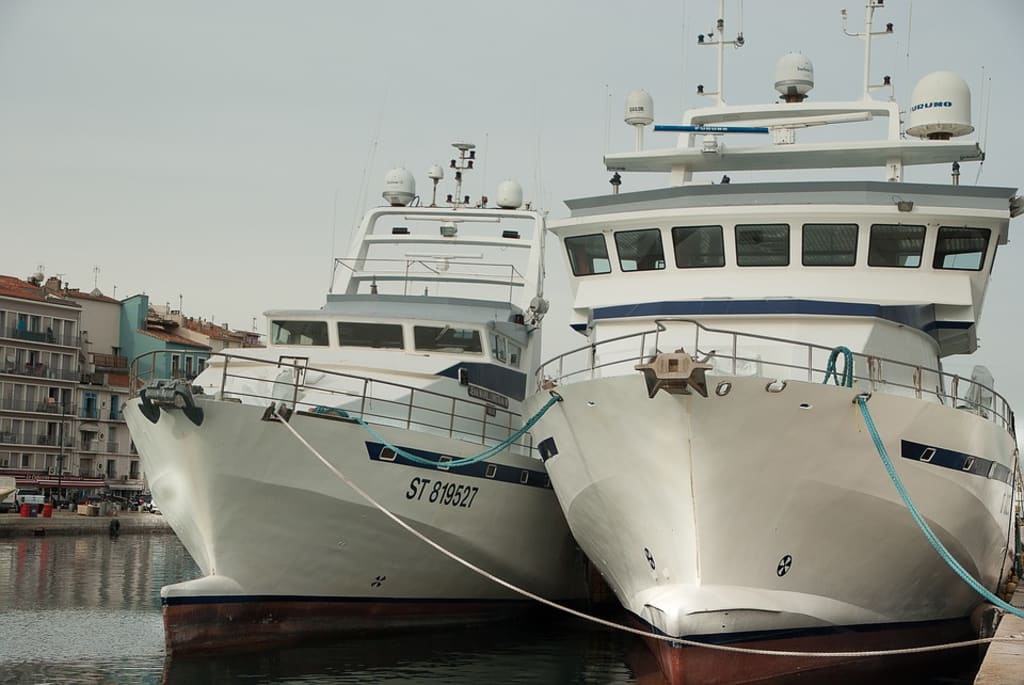 They called him Capt. Ron, a crusty old salt. He served in the Merchant marine after coming out of the Maritime Academy, class of '63. For over 30 years Capt. Ron has seen practically every port there is. Now, in the twilight of his years he still yearns for one last great voyage. A voyage of self discovery as he called it. To him it is part of who he is. The calling of the sea has always beckoned him back.
It was just two years ago that the Captain noticed a 70ft. Passage Maker being auctioned off. A twin diesel with a water maker. To augment her generator she had solar and wind electrical backup to recharge her batteries. All that was needed was a fresh coat of marine paint over her steel hull. At 70 years of age Ron felt it was about the right time to hoist anchor and set sail into the sunset. It had been 10 years of dry dock since his last stint aboard the cargo vessel, The Alverez. That time he sailed from Hong Kong to Las Angeles. Ron by then was First Officer in charge of communications. The Alverez was a massive ship that could transport over 600 cargo containers, all filled with consumer goods coming out of China.
Capt. Ron for most of his life was the quintessential traveling man. He made a hell of allot of stops all over the world. He always like to think that he had a theme song much like Bob Hope with his "Thanks for the Memories" but for him "Traveling Man" the old Ricky Nelson hit was more apropos. Soon the day came to take ownership of that Passage Maker. He still reminisces about the times that in every port there was always a lovely girl. For Ron married right after coming out of the academy but after his second voyage his wife could never understand his wanderlust. They were soon divorced and Ron went back to sea.
Now standing on the deck of his newly christened Ronnie Belle Captain Ron along with Scott Jenson a fellow retired merchant marine knew that by that evening they would be heading out to sea. For Captain Ron he felt at last he was where he always belonged, at the helm of his own ship, The Ronnie Belle. As Capt. Ron was stepping into the pilot house he thought back to that one summer of '64. It was June to be exact. The oil tanker he was on just made port in Singapore. He now realizes that for all those lovely girls in every port whose broken hearts never did recover Captain Ron has only the fondest memories of each lovely girl. The girl in Hong Kong still waits for his return. Even now at 70 Capt. Ron can still set the charm.
It was this past July on one summer eve where the sun was setting over the western sky of Tampa Bay Capt. Ron cast off the stern line first followed by Scott jettisoning the bow line. As the bow thrusters hummed they positioned the Ronnie Belle's heading out of the harbor. Soon Scott joined the Captain at the helm. A quiet understanding was always shared for they both knew they were embarking on the greatest adventure of their lives.
As the harbor lights faded away the sea beckoned. For Captain Ron the standard GPS system installed never did give it a second thought. To plot the course Ron used the tried and true sextant where navigation really began. This was the instrument that was handed down from another generation where Ron's own father first taught him how to use it and the stars to plot a course. Captain Ron had enough experience to respect the sea to rely not only on all that electronic navigation gadgetry. He knew the unexpected dangers the sea can bring. As the Ronnie Belle was past the last slow wake buoy marker Ron remembered one particular voyage coming out of Cartagena on one late August eve where a sudden squall sent a rouge wave in motion. A massive wall of water some 80 feet high. If it wasn't for Captain James steering the cargo ship at the precise angle to cut through that wave all would have been lost at sea. It is that kind of experience that can only come through hard knocks and real life experiences that now Capt. Ron possesses.
Alerting the Harbor Master and the Coast Guard two days ago of the Ronnie Belle's course upon leaving Tampa Harbor Capt. Ron was following the proper protocol. The first leg of their journey the Ronnie Belle would skirt the western coast of Florida heading toward Key West. Form there on to the Southern side of Cuba then head more easterly Island hopping along the way. Already a stickler for details it took Ron over six months to obtain all the necessary documents, visas, and vaccinations. With enough provisions and spare parts like in the game of chess Captain Ron was pretty sure to cover all the contingencies even in the case of white squalls or rouge waves.
What made the Ronnie Belle so special is the fact that Captain Ron being the old salt that he was outfitted her with two 40ft. masts capable of unfurling over 1800 square feet of sail. This so that when the winds were right on worse yet engine failure she could navigate anywhere around the globe. She is the only Passage Maker so outfitted. Captain Ron was proud of this so when the Ronnie Belle reached Key West the masts were up, sails unfurled and flags were flying. What a sight to see.
It has been over half a year now where the Ronnie Belle and Captain Ron are nobody knows for sure. They were last spotted leaving Cape Town still heading east. We can only surmise that with all the trouble in the Eastern Mediterranean Captain Ron followed his instinct and did not risk going through the Suez Cannel. Who's to say where he and the Ronnie Belle will turn up next. But, one thing is for sure for Captain Ron it could be that Polynesian women or that gal in Hong Kong that are still waiting for his return.