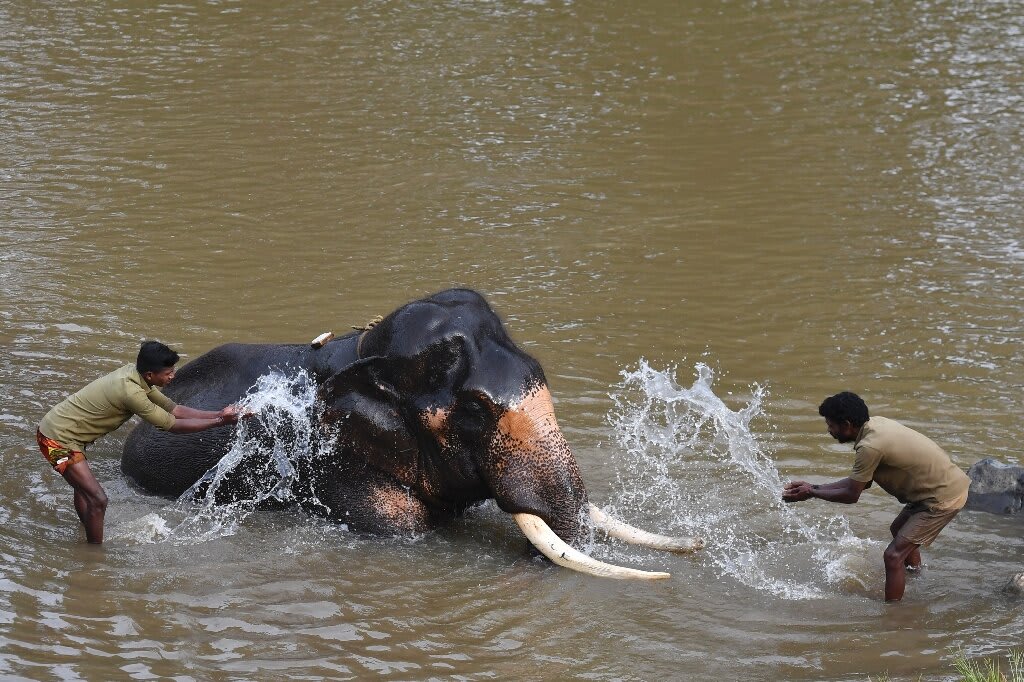 Theppakadu Elephant Camp is a training and rehabilitation facility for elephants that is situated in Tamil Nadu, India's Mudumalai Wildlife Sanctuary. One of the oldest elephant camps in the area, it was founded in 1972.
The camp's primary goals are to train captive elephants for forestry labour and to treat and rehabilitate sick or injured elephants. The camp also gives tourists elephant rides and gives guests a chance to see the elephants up close.
Theppakadu Elephant Camp uses positive reinforcement training methods, and the trainers collaborate closely with the elephants to develop trust and a close relationship. Elephants who are ill or hurt can be treated in the camp's veterinary centre.
Kumki is a term used in Tamil Nadu and other parts of India to refer to trained elephants used for a variety of purposes, such as patrolling forest areas and managing human-elephant conflicts. There have been several instances of Kumki elephants and their trainers working together to manage conflicts and protect both elephants and people.
STORY OF MARIAPPAN AND DHAMOTHIRAN..
One such story involves a Kumki elephant named 'Mariappan,' who was trained and cared for by his mahout, or trainer, named Damodaran. Mariappan and Damodaran were part of the elephant squad at the Top Slip Forest Range in Tamil Nadu, India, and their primary task was to prevent elephants from entering human settlements and causing damage.
One day, a wild elephant had strayed into a nearby village and was causing chaos and destruction. Mariappan and Damodaran were called in to help, and they managed to steer the wild elephant back into the forest using their experience and training. However, in the process, Mariappan sustained serious injuries and had to be taken to a veterinary hospital for treatment.
Damodaran stayed with Mariappan at the hospital and cared for him tirelessly, nursing him back to health. The bond between the two was so strong that Mariappan refused to eat or drink anything unless Damodaran was by his side. After several weeks of intensive care, Mariappan was finally well enough to return to the forest range and continue his work with Damodaran by his side.
The story of Mariappan and Damodaran is just one example of the deep bonds that can develop between Kumki elephants and their trainers. These elephants play a vital role in managing human-elephant conflicts and protecting both elephants and people, and their dedicated trainers are essential to their success.
STORY OF SIVASUNDAR AND UNNIKRISHNAN
the story of a trained elephant named Thiruvambadi Sivasundar and his mahout, or trainer, named Unnikrishnan.
Thiruvambadi Sivasundar is a temple elephant in Kerala, India, and is highly regarded in the local community. He is trained to participate in temple processions and other cultural events and is known for his gentle nature and calm demeanor.
Unnikrishnan, his mahout, has worked with Thiruvambadi Sivasundar for over 20 years and has developed a deep bond with him. Unnikrishnan understands the elephant's behavior and needs, and he takes great care to ensure that Thiruvambadi Sivasundar is well-cared for and comfortable.
One day, during a temple procession, Thiruvambadi Sivasundar suddenly collapsed on the road, unable to move. A large crowd had gathered, and everyone was concerned for the elephant's safety. Unnikrishnan, who was riding on the elephant's back at the time, immediately recognized that something was wrong and began to soothe and comfort Thiruvambadi Sivasundar.
Unnikrishnan stayed with the elephant for several hours, refusing to leave his side, and kept him calm until help arrived. With Unnikrishnan's help and the assistance of local veterinarians, Thiruvambadi Sivasundar was eventually able to stand up and return to his stable, where he was given proper medical attention and care.
The story of Thiruvambadi Sivasundar and Unnikrishnan is a testament to the deep bonds that can develop between trained elephants and their trainers. Through their years of work and dedication, they have built a relationship built on trust, mutual respect, and love.
About the Creator
HI THIS IS KARTHICK I AM NETWORK ENGINEER. I AM CREATING STORY ABOUT THE THINGS. CRICKET MOVIES CRIME CASES. PLEASE FOLLOW ME FOR KNOW MORE.
Reader insights
Be the first to share your insights about this piece.
Add your insights