For a Real Hoot, Owl See You In the Moonlight
Close encounters of the owl kind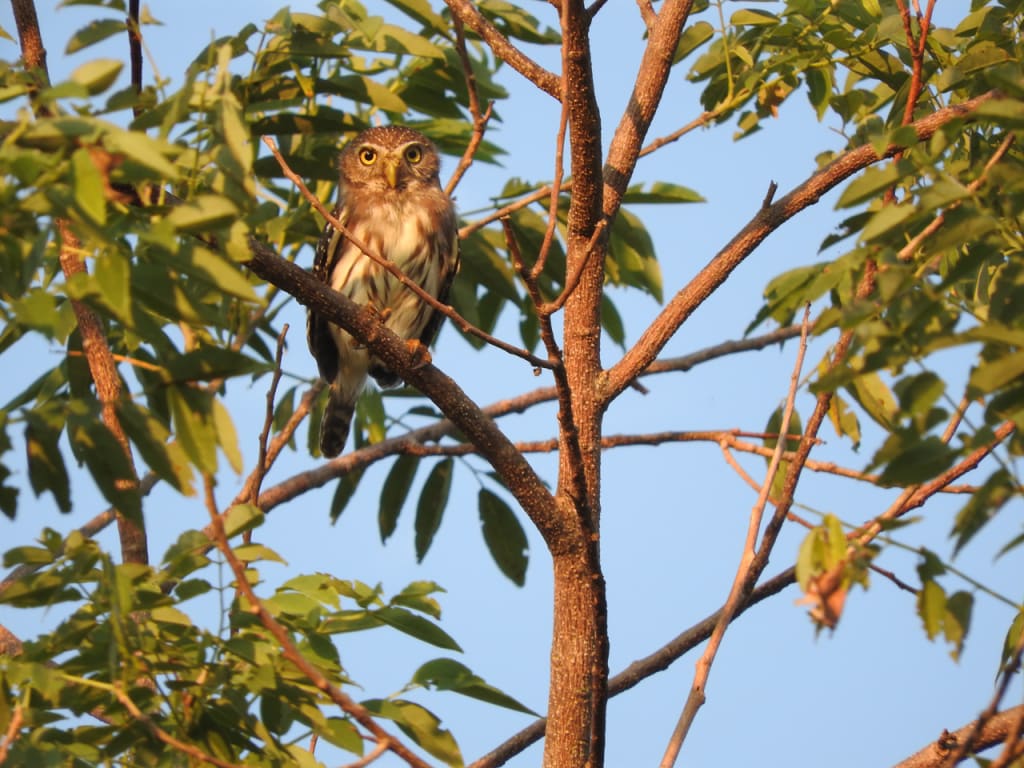 Ferruginous Pygmy-Owl, all photos by the author, full credits below
Owls, the symbol of wisdom in many ancient traditions, see right through us with their large all-seeing eyes. We may not always wish to be seen, but the owl sees us anyway.
Encounters with owls are magical microcosms of the whole birding experience. Who is watching you while you're watching them?
Consider two close encounters of the owl kind.
The Song of the Ferruginous Pygmy-Owl
On a high mountain overlook in Mexico, we stood gazing over the water in search of migrating birds of prey. For much of the trip, we were viewing the annual "River of Raptors" (a fall migration of millions of migrating birds of prey) from two traditional Veracruz count sites-- the roof of the hotel in Cardel or the Chichicaxtle soccer field with its nice viewing platform.
However, this particular viewing spot allowed us to walk past some very scenic archeological ruins.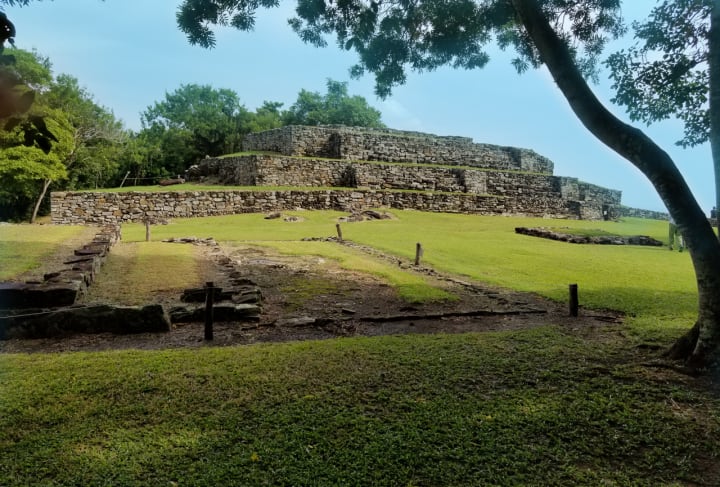 During a lull in the migration, I decided to take a stroll into the nearest forest to see if I could find any small stuff. (Most of the people on my tour were bird of prey specialists, so I drifted off alone.)
It was getting warm, and the action was slow.
You die-hard birdlet seekers know what comes next.
Don't even pretend you don't know what comes next.
Yep. I played the Ferruginous Pygmy-Owl song from my Merlin app. In some places, birdlets love nothing better than to come out and hit a napping Ferruginous Pygmy-Owl on the head. Why not here?
I was about to find out.
So I played this widespread owl's song once from the recording in my Merlin app. Talk about no waiting. I got an immediate response.
Not from birdlets zooming in to attack my phone.
Oh, no. That would be too easy.
I got my answer from a highly enthusiastic Ferruginous Pygmy-Owl who began to call. And call. And call.
It was so ridiculous I had to check my watch. This lusty bird kept singing for the next ninety minutes.
You may imagine my popularity with my fellow birders, who thought I was the one making all that racket during the ninety minutes I spent hiking back to join them.
Nope, guys. These owls do sing by day.
But perhaps not always quite so relentlessly.
Fortunately, the owl killed its own joke by continuing to sing down in the valley after I'd rejoined my group on the mountaintop. Practical jokers always get busted when they keep the gag running a little too long.
Nothing Impresses Big, Bad Baby Great Horned Owls
The Great Horned Owl is one of the most widespread and adaptable owls of the western hemisphere. In southeast Louisiana, they breed in winter. I photographed this young Great Horned Owl in Fontainebleau State Park in March 2012 when the bird was taking its first steps into moving away from the nest.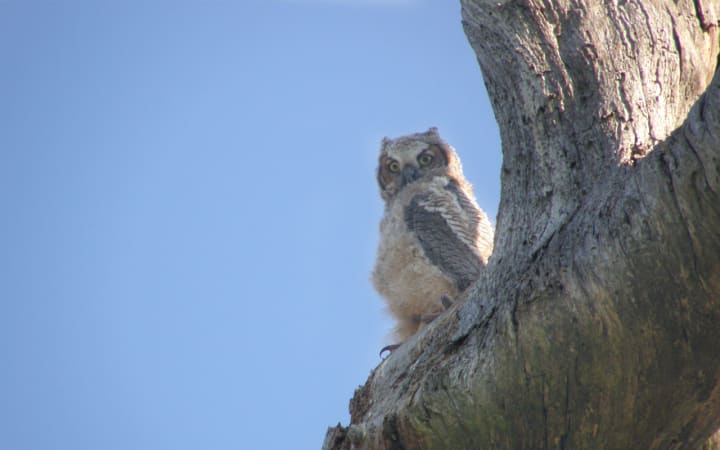 Most years, our local owls nest in dense, green trees where the nest is not so easily found, much less photographed. Watching the adults fly out of such trees is an eerie experience because their wings are utterly silent.
Great Horned Owls are keenly aware that nobody in the forest — least of all the noisy, quick-to-mob-up American and Fish Crows — appreciate a resident owl. So the adults take great care not to be seen.
While this dead tree might seem like a bad choice, the location isn't as exposed as you might think from this photo. The actual nest was a dip large enough to let an entire adult Great Horned Owl sit low enough on the egg or baby that she was completely invisible once she was in place.
Sometimes, I thought I could see a tuft of "ear" poking up. Other times, I figured it was just my imagination.
To show you what I was dealing with here, check out this image of the same baby earlier in the cycle. Here, the baby owl is sitting high enough on the nest to be seen: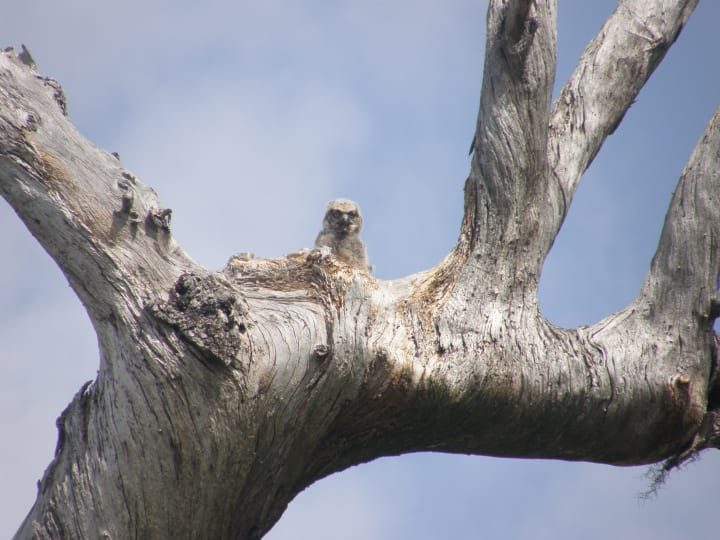 I never once caught one of the parents sitting like that.
It was amazing to see how elusive an adult bird of such size could be. In fact, although I returned several times, I never did get a decent image of either of the adults.
And yet I was always aware of their presence. One of them was always likely to be lurking in deep shade within the foliage of a nearby live oak.
The baby could gaze down on me in utter confidence, knowing I wouldn't dare move too close to the nest tree. After all, like every other creature in the forest, I was well aware that adult Great Horned Owls can strike soundlessly and without warning.
Mama Great Horned Owl's talons puncturing your neck and shoulders could spoil your whole afternoon.
Author's Note
This story was originally published on Nov. 6, 2022, in Weeds & Wildflowers, a Medium publication. If you enjoyed this story, you might also enjoy this one about baby Eagles:
About the Creator
Seeker, traveler, birder, crystal collector, photographer. I sometimes visit the mysterious side of life. Author of "The Moldavite Message" and "Crystal Magick, Meditation, and Manifestation."
https://linktr.ee/amethystqu
Reader insights
Be the first to share your insights about this piece.
Add your insights