Zodiac Killer case no: V-25564
David Faraday and Betty Lou Jensen
On the 20th of December 1968 at around 11.15pm an unknown man who would eventually appoint himself the nickname Zodiac Killer, committed his first two recorded murders, when he shot and killed two young teenagers out on their first date.
Betty Lou Jensen was just 16, a popular girl and rumoured to be a very talented artist. This was the first date she had been allowed to go on, it sadly turned out to also be her last.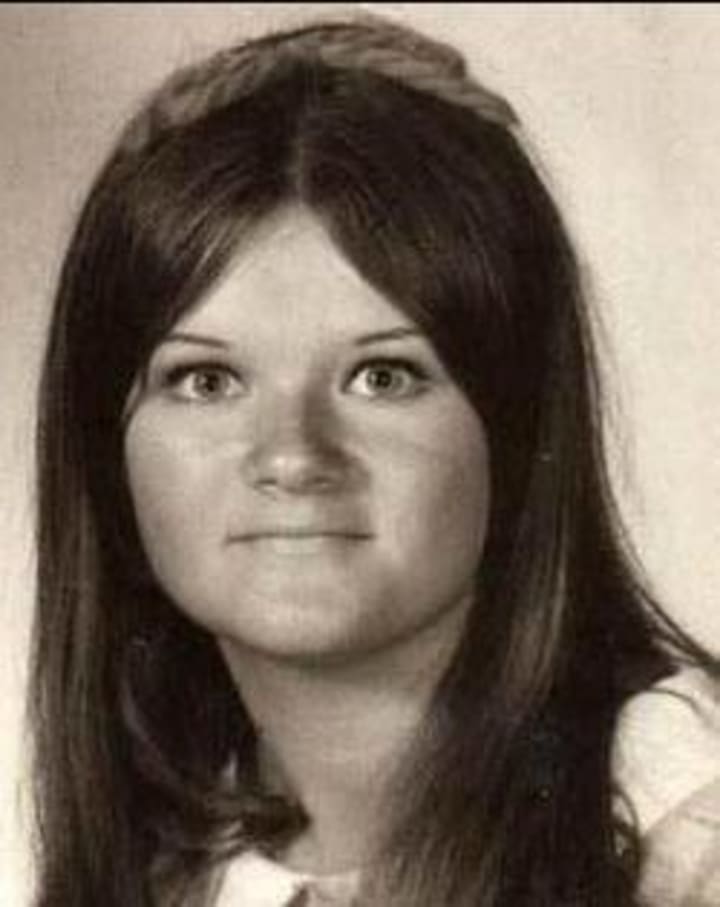 Her date, handsome 17 year old David Faraday, was said to be an intelligent and responsible young man. He had planned to take Betty Lou to a Christmas event and had promised to have her back home by 11pm, but for reasons known only to themselves, they decided instead to park up at a lovers lane spot on Lake Herman Road. A decision that sealed their fate in the worst way.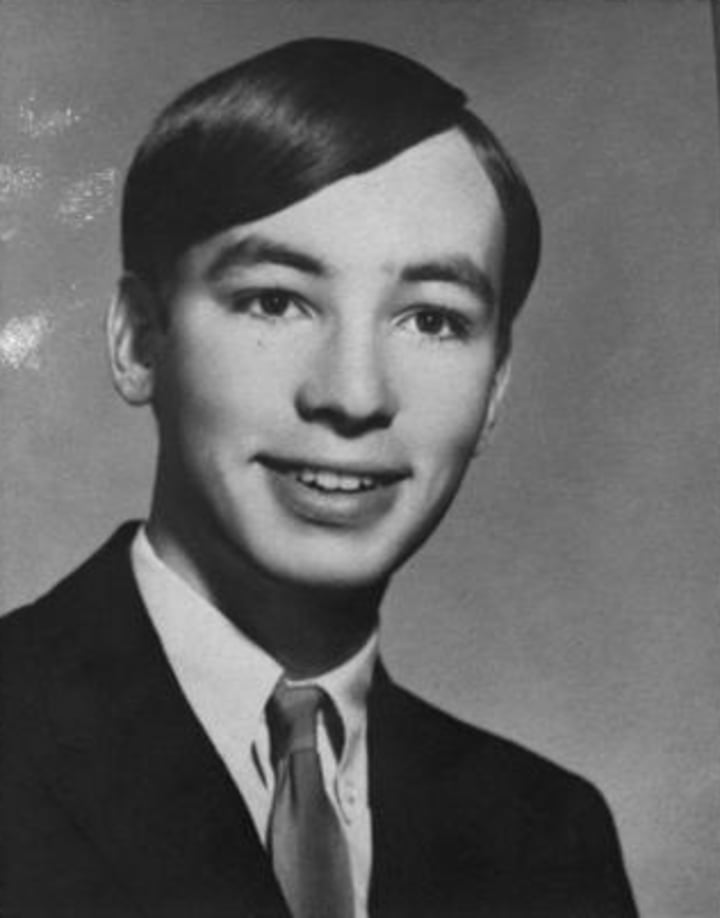 Unfortunately we'll probably never know exactly what occurred in those final moments of their young lives, but after the stranger pulled over and got out of his car, evidence seems to indicate that armed with a semi automatic handgun the killer started shooting from the rear of the car, hitting the right rear window, then firing again through the roof and finally walking round to the front left of the vehicle. The two teens appear to have exited through the passenger's side door. David was shot once in the head, just behind his left ear. Betty Lou it seems attempted to run, as her body was lying less than thirty feet away from the vehicle, shot five times in the back. When emergency services arrived, Betty Lou was found face down on the ground and pronounced dead at the scene. David was still alive but died before they managed to get him to the hospital 35 minutes later.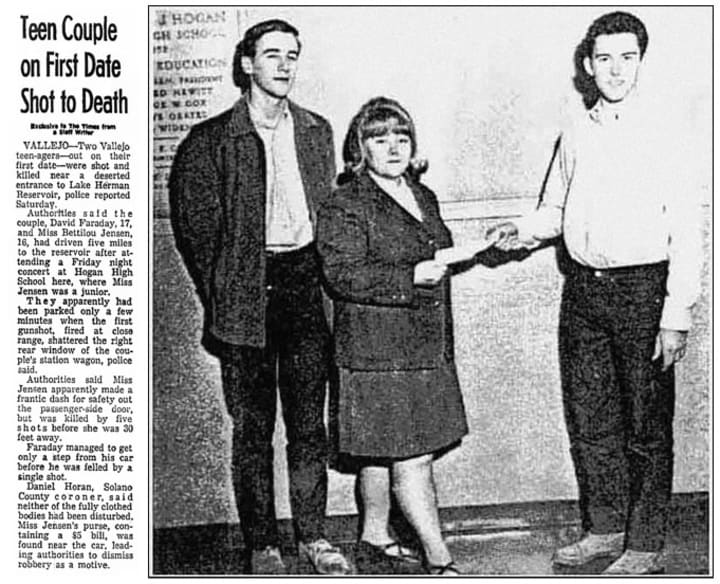 Despite investigations the murders remained unsolved with no major breakthroughs, a young man who had argued with David prior to the murders was at first under suspicion, his alibi however proved to be genuine and he was later cleared of involvement. And so there was no real progress until 12:40am on July 5th 1969 when a man called in to the Vallejo Police Department, claiming he had committed a murder at Blue Rock Springs Park a few hours earlier and was also responsible for the murders of the young couple at Lake Herman Road.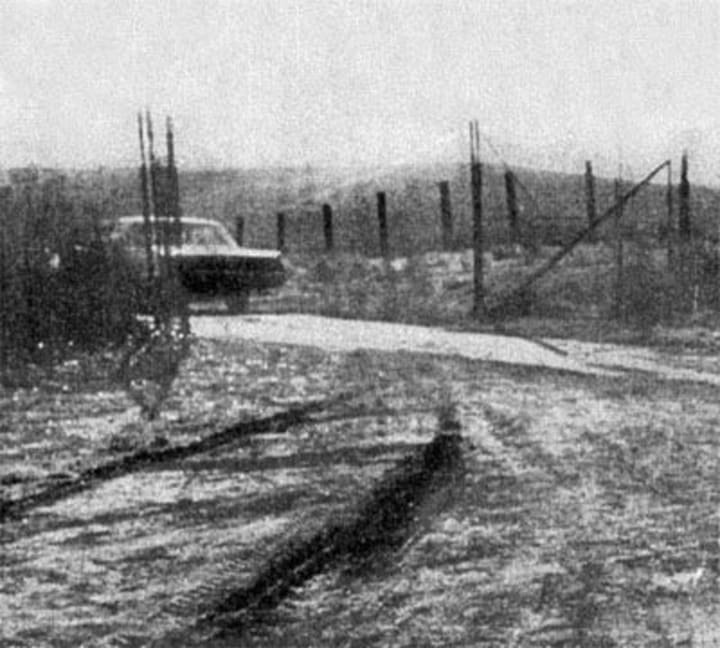 The Zodiac Killer would go on to claim he had killed up to 37 people over the next 5 years. However the only confirmed victims were four men and three women between the ages of 16 and 29.
David Faraday, Betty Lou Jensen, Darlene Ferrin, Cecelia Shepard and Paul Stine were all confirmed to have died at the hands of The Zodiac, two more victims, Mike Mageau and Bryan Hartnell both survived their attacks.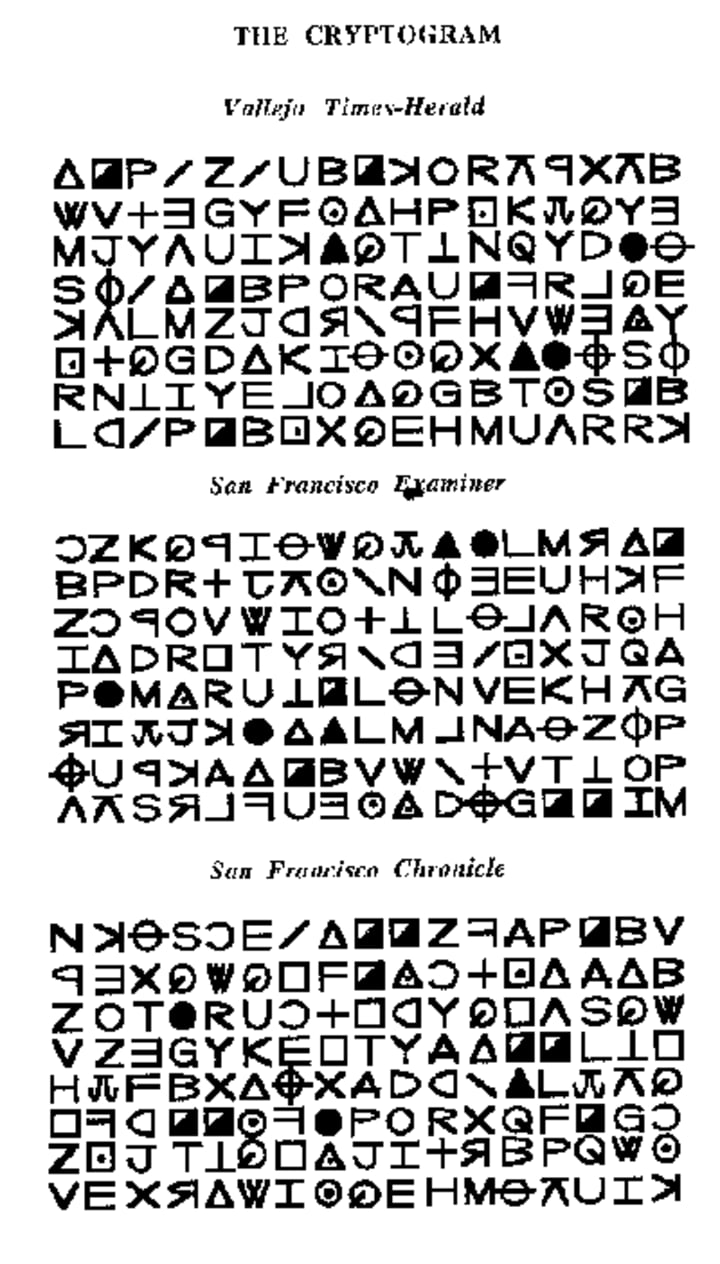 After a killing The Zodiac would often send letters to the local press, demanding they be published or there would be more killings. He sometimes included evidence from a crime scene or a cryptogram. Only two of the four cryptograms sent were ever decoded. The contents were disturbing, but unfortunately did not reveal the killer's identity. Below is what experts believe one of the decoded messages to say;
"I LIKE KILLING PEOPLE BECAUSE IT IS SO MUCH FUN IT IS MORE
FUN THAN KILLING WILD GAME IN THE FORREST BECAUSE MAN IS
THE MOST DANGEROUE ANAMAL OF ALL TO KILL SOMETHING
GIVES ME THE MOST THRILLING EXPERENCE IT IS EVEN BETTER
THAN GETTING YOUR ROCKS OFF WITH A GIRL THE BEST PART OF
IT IS THAE WHEN I DIE I WILL BE REBORN IN PARADICE AND THEI
HAVE KILLED WILL BECOME MY SLAVES I WILL NOT GIVE YOU MY
NAME BECAUSE YOU WILL TRY TO SLOI DOWN OR ATOP MY
COLLECTIOG OF SLAVES FOR MY AFTERLIFE
EBEORIETEMETHHPITI"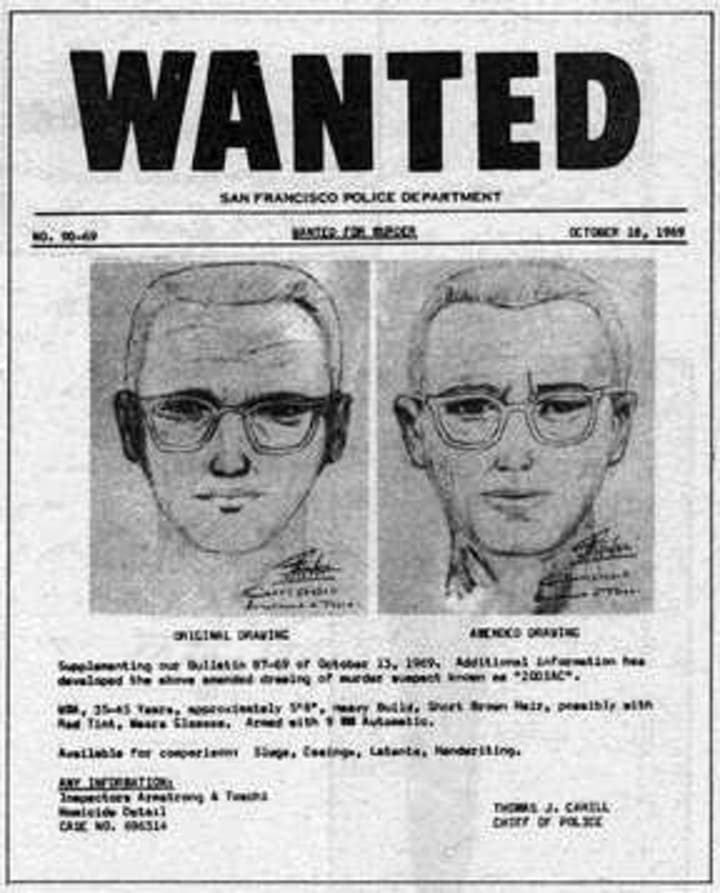 Since 1968 thousands of people have been suspected of being The Zodiac Killer but as yet his true identity still remains unknown.