Wild Bill: Gunned down with aces and eights
It's 144 years since Hickok's hand made poker history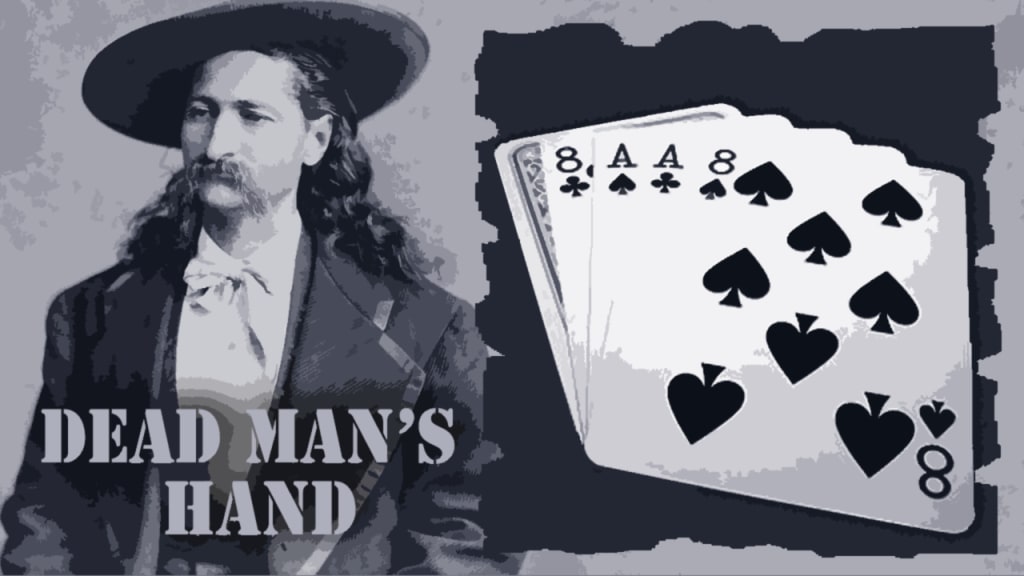 Just about every poker player on the planet knows that a pair of black aces and eights are "dead man's hand" and that the reason harks back to when Wild Bill Hickok was shot in the back of the head while holding them in a game of five-card stud in Deadwood, South Dakota.
But the date of that card game? It was 2 August 1876… 144 years ago today in the Nuttal & Mann's Saloon.
The shooting, when Jack McCall pulled the trigger, made Hickok Deadwood's most famous resident even though he'd only been in the town a few weeks after arriving with Colorado Charlie Utter and Calamity Jane the previous month.
He was a renowned gambler and gunslinger before turning up in Deadwood at the age of 39 and spending eternity at Mount Moriah Cemetery… although much of the Hickok legend was nothing more than myth.
He lay claim to having been responsible for the deaths of hundreds of men, but in truth many of his tales were simply bravado.
Born on 27 May 1837, James Butler Hickok was raised on a farm in Troy Grove, northern Illinois, and headed west at the age of 18 as a fugitive from justice, working as a stagecoach driver and later a lawman in the frontier territories of Kansas and Nebraska.
He fought and spied for the Union Army during the American Civil War and gained publicity after it as a scout, marksman, actor and professional gambler.
During his life he was involved in some notable shoot-outs but his reputation hinged on just two, which led to an article published in an 1867 issue of Harper's New Monthly Magazine.
Shortly before the Civil War broke out and Hickok joined up with the Union and acted as a teamster and spy, he was mauled by a bear on a hunting expedition and sat out the start of the conflict in Rock Creek, Nebraska.
During his recuperation Hickok was employed briefly by the Pony Express and cared for the stock at the Rock Creek Station, where in 1861 his legend was born.
Pony Express had built the stagecoach stop on the Oregon Trail, near Fairbury, on land purchased from a notorious character named David McCanles.
Alleged leader of the McCanles Gang, he went to the station office on 12 July 1861 to demand an overdue property payment from Horace Wellman, the station manager.
McCanles reportedly threatened him and at some point in the confrontation referred to Hickok as "Duck Bill" because of his pointy nose and protruding lips.
The argument escalated into violence, shots were fired, and McCanles and two of his men lay dead… with either Wellman or Hickok having fired the deadly shots.
Hickok, Wellman, and another employee J W Brink, were tried for the killings but were found to have acted in self-defence.
It's possible McCanles was the first man Hickok killed and he subsequently visited his widow and apologised for the killing, giving her US$35 in restitution... all the money he had with him at the time.
To the people of Rock Creek there had been no Wild Bill, just a rather soft-voiced bloke called James Hickok, but the events at the stagecoach stop changed him and, according to one observer, he became "a drunken, swaggering fellow, who delighted when 'on a spree' to frighten nervous men and timid women".
Soon after the shootings Hickok joined up with Jim Lane's Free State Army (the Jayhawkers), an anti-slavery vigilante group, until the war ended, at which point the restless marksman picked up a nasty habit for gambling.
His passion for cards soon led to a duel in the centre of Springfield, Missouri, after Wild Bill had taken a disliking to a fellow gambler known as Davis Tutt, who was flaunting a gold watch he'd won off Hickok.
The watch had great sentimental value to Wild Bill, who'd asked Tutt not to wear it in public. Having initially agreed not to fight over it, Hickok saw Tutt wearing it on 21 July 1865 and this led to the pair facing off in Springfield's town square.
Their quick-draw duel was later recorded as the first of its kind, with Tutt's shot missing its target, while Hickok's pierced Tutt's heart from about 75 yards. Tutt called out: "Boys, I'm killed." Then collapsed and died.
Two days later Hickok was arrested for murder, although the charge was later reduced to manslaughter. He was released on $2,000 bail and stood trial on 3 August 1865 when the jury cleared him, resulting in a public backlash and criticism of the verdict.
Soon reporters rolled into town and Hickok was interviewed by George Ward Nichols, who'd heard of the quick-draw duel and its fast-fingered champion.
Nichols wasn't planning on writing anything more than a short piece on a strange jury ruling, but when he sat down with Wild Bill and listened to his stories he became enthralled by the man. He knew he could make Wild Bill into a sensation… regardless of whether it was fact or fiction.
And he was right, the article turned Hickok into a household name and he became a symbol of the Wild West, a man so feared that people shook when he came into town.
But there was more to his story than meets the eye. His parents, William Alonzo Hickok and Polly Butler, were Quaker-based abolitionists and his father had taken part in the Underground Railroad, using the family's home as a station stop on the network of secret routes and safe houses established to assist enslaved African-Americans to escape into free states and Canada.
Hickok's father died when he was just 15 and to provide for his large family the teenager hunted, becoming a meticulous shot.
In 1855 he fled Illinois following a fight with Charles Hudson, during which both men fell into a canal. They both mistakenly thought the other had died, leading to Wild Bill eventually joining the Jayhawkers when he became friendly with a 12-year-old William Cody, later to be known as "Buffalo Bill".
Following the Springfield gunfight, Hickok failed in a bid to become city marshal and left the town in 1865. For a time he and Buffalo Bill put on outdoor gunslinging shows that featured Native Americans, buffaloes and sometimes monkeys. The shows were ultimately a failure, but they helped to contribute to Wild Bill's growing reputation.
He then became deputy federal marshal at Fort Riley, Kansas, during the time of the Indian Wars and sometimes served as a scout for General George Custer's 7th Cavalry.
But by December 1867 he'd moved on to Hays City to become a deputy US marshal, where he remained until September 1868 when he was hired as a scout by the 10th Cavalry, a segregated African-American unit, based in Lincoln County.
In July 1869 Hickok returned to Hays and soon became city marshal and sheriff of Ellis County, Kansas. Three sheriffs had quit during the previous 18 months and in his first month in charge Hickok killed two men.
The first, Bill Mulvey, had threatened to kill Wild Bill while riding drunk through town. The second was gunned down by the quick-handed sheriff also for talking trash. It's said that in his 10 months as sheriff Wild Bill killed four men before he was finally asked to leave.
He fired his gun in anger for the last time in Abilene, Kansas, while serving as the town's marshal.
During a dispute with saloon owner Phil Coe, Hickok was called to intervene when a group of drunk cowboys spilled out of Coe's saloon and into the street on 5 October 1871.
During the incident Hickok saw Coe brandishing a gun which he ordered him to hand over. Coe tried to pull the gun on him, but as soon as the it started to spin Wild Bill shot him dead. A figure rushed towards him and the marshal turned his weapon and fired.
It was the last bullet Hickok would ever shoot in anger. For the rest of his life, he would be tortured by the memory of making his way through the crowd to see the man he'd just killed was his deputy Mike Williams, who'd been running over to assist him.
Five years later Wild Bill met his end in Deadwood the day after McCall had lost every penny he owned to him. McCall stormed into the Nuttal & Mann's Saloon and shot Hickok in the back of the head… in his hands were a pair of aces and eights!
About the Creator
From Covid to the Ukraine and Gaza... nothing is as it seems in the world. Don't just accept the mainstream brainwashing, open your eyes to the bigger picture at the heart of these globalist agendas.
JOIN THE DOTS: http://wildaboutit.com
Reader insights
Be the first to share your insights about this piece.
Add your insights