What does a killer look like?
My feelings about Lucy Letby, the British serial killer of premature babies as a mum of a premature baby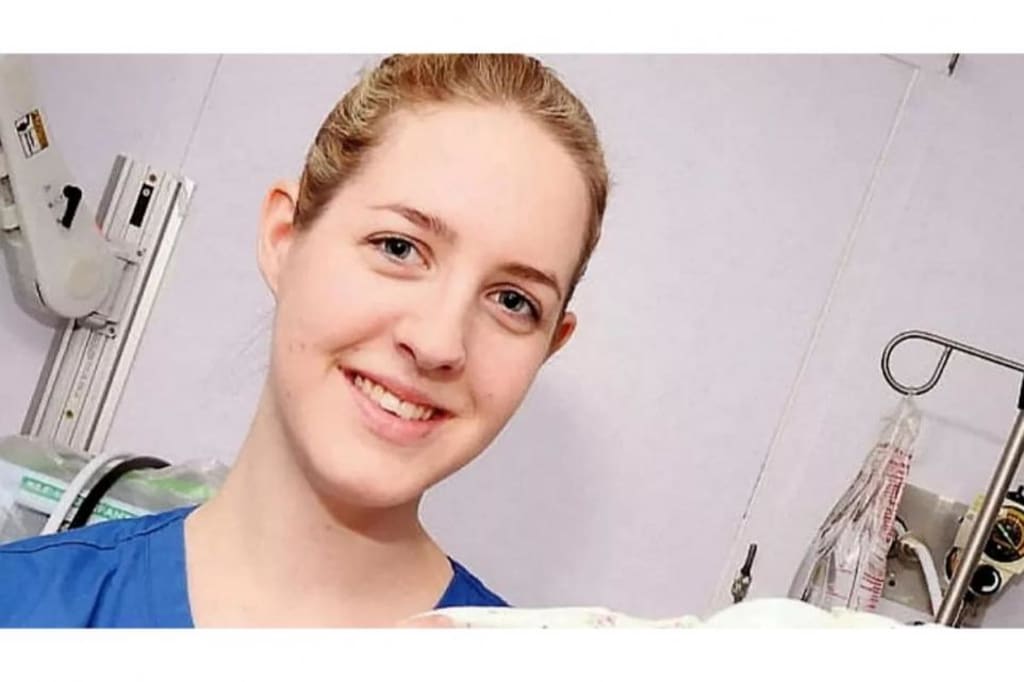 Lucy Letby
My eldest son was born three months early at 28 weeks. He weighed 3 lbs 1oz. He was in the neonatal unit for 10 weeks before he was big enough and strong enough for us to bring him home. In those 10 weeks, I visited him every day, stayed with him and then, left him every night. Every morning, as soon as I awoke, I would call the nurses to see what sort of night he had. My slumber, if it came, was always restless. Nurses administered treatments to him while I was there and while I was not. I trusted them implicitly because I had to. It was incredibly hard to have my fragile baby boy cared for by strangers. But I had to believe that those nurses had his best interests at heart and would administer care with attention and forethought.
It was hard, I'm not going to lie.
We had some close calls, one where he turned blue in front of me and was coaxed from his death with oxygen wafted under his nose. By nurses. Sometimes, he had had a bad night. The nurses didn't expand on that and I didn't ask. "Bad night" was enough detail for me without specifics.
I think back to those days of uncertainty often. So emotional. They dominated my life in every way. When I watch hospital programmes now, the beeping of monitors is all I need to hear to be transported back.
"Just rub his back, mum," the ICU nurse would say, because he'd stopped breathing due to the acid reflux he suffered from an underdeveloped digestive system. I'd reach into his incubator, gently rub him and the monitor's beeping would stop. For a bit.
I was lucky and so was he, because he is now a strapping 16 year old, celebrating exam results that he has worked hard to achieve.
I can't imagine him not being here.
At all the times that he was in the hospital, there were nurses. Of course. They changed from shift to shift and we had our favourites (I remember Mary most of all), the ones that we felt administered greater care. But they were all professional and looked after my boy.
So, to think that a nurse could turn from carer to killer is terrifying.
This week in Britain has seen the culmination of the trial and sentencing of Lucy Letby, a nurse charged with killing premature babies. Her motivation for this is unclear but she was, it is believed, responsible for the deaths of seven children and attempting to kill six others.
13 babies.
It has taken me time to get over the shock of this. It seems so heinous in every way. To target the most vulnerable of human life and subject them to anything other than the most intensive care just seems beyond comprehension to me and I know that virtually any other person would agree with this view. You'd have to be a monster not to.
When I first heard about Lucy, I imagined how I would feel if that had been my son, if he had been one of her victims and I am not ashamed to admit that I am filled with a rage, a hot redness, that frightens me a little. I find that my jaw clenches and my teeth clamp and I am tense, coiled - a defence born of a maternal instinct to protect and shield. I have unbidden violent thoughts and I want to strike out. This is unprecedented for me.
And I feel such sadness too. I think of the loss of something so precious and I reel.
I have cried.
The time that I spent in that hospital was hard, because every day I had to confront the precariousness of my baby's health and swallow my fear that that visit might be the last. I just had to hope that he would be alright and that the day would end well.
To think that he could have been in a place where his life could have been threatened is unthinkable.
I didn't see her straight away, Nurse Letby. I recoiled from it for a while. But I sought out her face because I wanted to see what she looked like.
I wanted to look into the face of a killer.
Do you know what I saw? I saw a young woman with blonde hair and blue eyes. Her mugshot holds a certain awareness of her situation but that's all I can glean from it. And yet, I know that I am looking into the eyes of a woman who injected air into babies to see if they'd die.
When my son was born, he was skinny and bony and tiny. He had to wear goggles in his first hours to protect his eyes from the heat lamp to which he was exposed because he was yellow and the lamp was needed to raise his bilirubin levels. The goggles looked huge on him, dominating his little face. I have them still and they are tiny too.
He was weak and defenceless. Why would anyone want to do anything but see him thrive? Why would anyone want to harm a baby like that?
But, as I look at her, I think, and I am struck hard by this, why can't I see it in her face? And it is this which I find incredibly disturbing. I look at her and I see nothing other than a normal person. I have seen photos of her smiling and she looks pleasant, the sort of woman you could have a drink with and a chat. There is nothing untoward there, no indication of abnormality or malice - no visual indicators.
How would you know, as a mother, as a doctor, as a colleague, that she, the person next to you, is a compulsive serial killer?
The families have demanded justice for the loss of their babies and attended court this week in order to testify and confront Lucy Letby (this woman is no nurse), but she did not attend court for sentencing.
I spoke about rage and an internal redness earlier in this piece that I can feel emanating from me in sympathy for the families of those little ones. But this is nothing compared to the incandescence I feel about her not attending court.
How dare she not attend!
How dare she not confront what she's done!
How dare she not look into the eyes of the people she has robbed and feel their wrath!
How dare she be allowed to cop out of her accountability!
I am outraged.
I am appalled that Lucy Letby has not been brought to face the people who she has wrecked with her madness, her cruelty, her murderous intent.
How can this be? I shook my head in disbelief that she had been given an out because to me, and I am sure that this will be true of those poor families, accountability matters. I'm not sure that Lucy would feel shame for what she's done. Perhaps she does, perhaps she's not capable. I don't know.
But, more than anything, I think that she should have been made to look into the eyes of her victims and that this should have been made part of her punishment, her sentence. She should have been made to listen to the testaments of loss, about how she tore their worlds to pieces by removing one fragile piece of their lives. She should have been made to watch the heaving shoulders of grief, the manifestation of pain and the uncontrollable tears of those relatives in their stooped posture, contorting and lining and defining them because of her act.
It is reprehensible to me that she should be given a choice to stay away, to not attend and confront her actions. Her choices should have been taken away from her the minute she chose to take a helpless life.
She should not have had the ability to decide and her facing up to her victims should have been a compulsory part of her punishment, as well as being locked away.
I am hoping that this will lead to more vigilance and that the concerns of the observant will be listened to with more credence to avoid anything like this happening again.
Because I don't want any parent to ever feel distrust towards nurses. Letby's legacy is bound to taint our perception and Britain has had other killers in the medical profession. Letby was only one nurse but her actions will have an effect and will send out ripples into a community that should never fear the nursing contingent.
They are the backbone of any hospital and should be applauded and praised for their dutiful care.
But if there is one thing that I have learnt from looking at pictures of Lucy Letby, it is to never trust someone on face value.
Because it can hide something lurking underneath.
About the Creator
Mum, blogger, crafter, reviewer, writer, traveller: I love to write and I am not limited by form. Here, you will find stories, articles, opinion pieces, poems, all of which reflect me: who I am, what I love, what I feel, how I view things.
Reader insights
Be the first to share your insights about this piece.
Add your insights