West Memphis Three
The Child Murders at Robin Hood Hills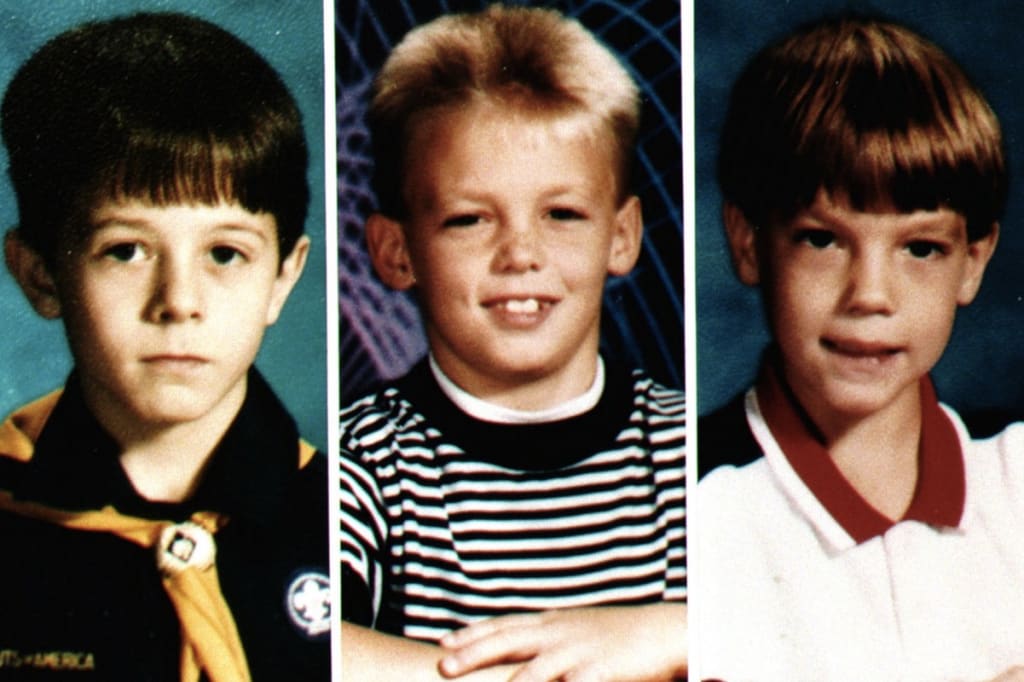 In 1993, in West Memphis, Arkansas, three young boys were murdered. Steve Branch (8), Michael Moore (8) and Christopher Byers (7) were beaten, choked, drowned and their naked bodies were hog tied with their own shoelaces. The boys were out playing that day and decided to play in a place called Robin Hood Woods, which is where most of the kids played in those days.
When it was discovered that the boys were missing, the entire neighborhood was a search party. But the boys were nowhere to be found. The next day, investigators found the bodies of the boys in the creek in Robin Hood Woods. Steve Branch's mother is seen collapsing to the ground when she is informed that her son's body has been recovered.
The search was now on to find the boys killer(s). In this day in West Memphis, it was a very Bible Belt, god-fearing town. Anyone who didn't fit in, who dressed different or listened to different music, was an outcast. Three teenage boys, Damien Echols, Jessie Misskelley and Jason Baldwin were soon suspects. They were worshipers of Satan who stuck out like a sore thumb in this town. They were soon arrested and sent to trial for the crime, due to the confession of Jessie Misskelley. It is believed that Misskelly falsely confessed due to having an extremely low IQ. But it didn't matter to the police, his confession was enough to arrest all three boys.
The boys were found guilty of the crime, even with no actual evidence to tie them to the crime scene or to the boys. Damien Echols was found guilty of capital murder of all three boys and was sentenced to death by lethal injection, he was suspected of being the ring leader. Jason Baldwin was found guilty of capital murder of all three boys and sentenced to life without the possibility of parole. Misskelley was found guilty of the capital murder of Steve Branch and Michael Moore and sentenced to life without the possibility of parole.
All three men were released from prison in 2011 due to the acceptance of an Alford Plea. An Alford Plea is when convicted felons can plead guilty to a crime while still maintaining their innocence. The boys all three pled guilty to the crime and were released with time served. They still maintain their innocence to this day.
Since the trial of the West Memphis Three, there have been several new developments in the case. A few years after the murders, Christopher Byers' mother, Melissa Byers, was found dead in her home due to unknown causes. It is speculated that John Mark Byers, Christopher's stepfather, had something to do with the murders and when his wife found out, she killed him.
Another key element to the case was Terry Hobbs, Steve's stepfather. He had a very violent and abusive past and had been to jail for domestic violence. It has since been found out that Steve Branch was TERRIFIED of his stepfather. It is even speculated that Terry was seen holding Steve off the ground by his hair. Another key element was when a hair was found in the shoelaces used to tie up Michael Moore. Later on, this hair was genetically matched to Terry Hobbs.
Pam Hobbs, Steve's mother, also found Steve's pocket knife in Terry's things shortly after the trial ended. Pam told police that Steve's grandfather gave him that knife and he never went anywhere without it. Ever. She strongly believes that Steve would have had it with him that day. If that is true, why would his stepfather have it now?
To this day it is still unknown about what actually happened to these boys. But if I had to guess, I'd say that Terry Hobbs and John Mark Byers definitely had something to do with it. Those three teenage boys were convicted with NO evidence to even connect them to the crime.