WATCH VIDEO HERE: Intentional Christmas Morning Bombing Rocked Nashville, Tennessee
Instead of Waking Up To Presents Under The Tree, Residents Awoke To Their Neighborhood Looking Like A War Zone.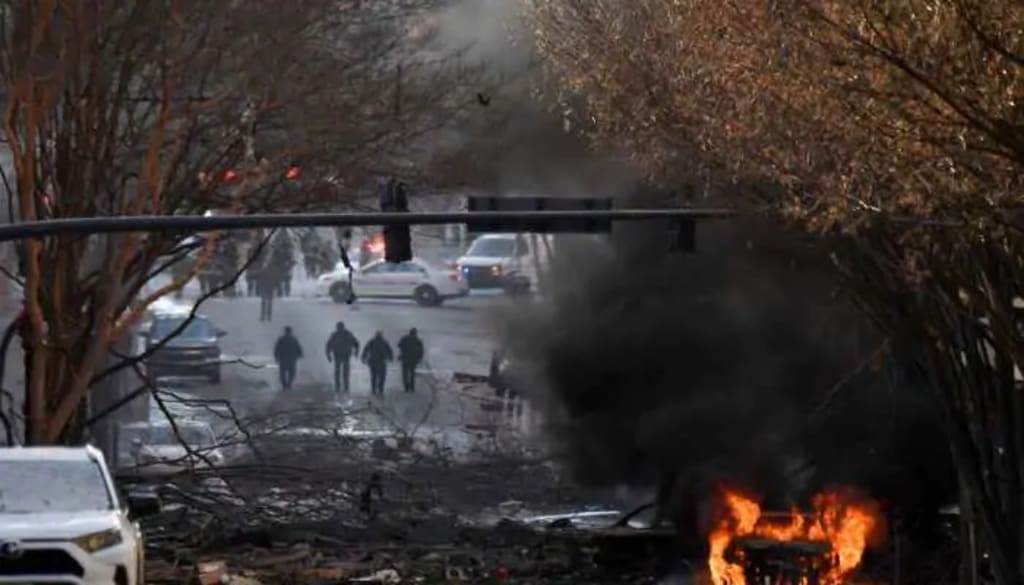 Destruction and chaos filled the streets of Nashville on Christmas morning, 2020. Families sleep quietly in their beds until they were awakened by police pounding on their door, telling them to leave their home behind; they are in danger.
In a hurry, residents loaded up their loved ones and fled the area following authorities' orders.
Just minutes before utter destruction happened, a blaring message came from a suspicious vehicle police had been investigating for the past hour.
Reports say one hour after the vehicle had been called in, it exploded.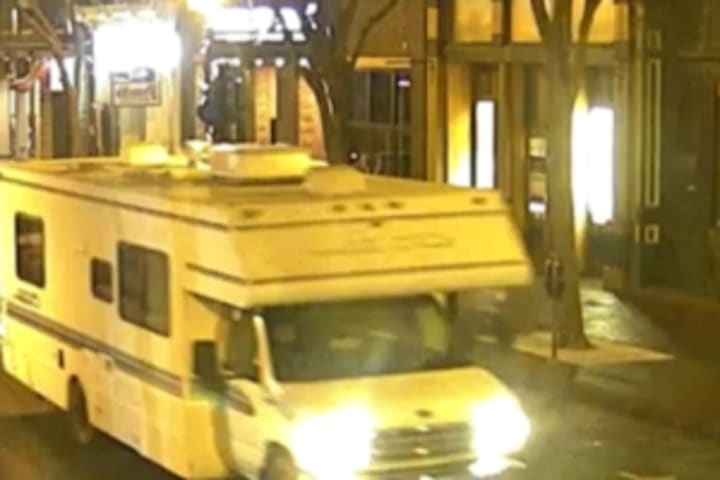 Nashville authorities state it all started around 1:22 A.m. when an RV arrived in the area. A surveillance video has recently been released, hoping someone can recognize the RV, giving the authorities more information to go on.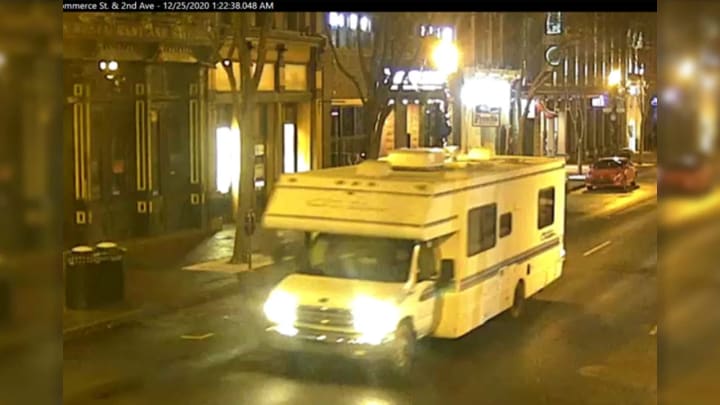 Nashville Mayor, John Cooper, has declared a State of Emergency until Sunday 12/27/2020.
I have signed Executive Order 12 to issue a State of Civil Emergency proclaimed within the area bounded by James Robertson Parkway, 4th Ave North, Broadway, and the Cumberland River. A curfew will start at 4:30pm, Thursday, Dec 25. and be lifted Sunday, December 27 at 4:30pm. pic.twitter.com/xmsSLbZk7l
— Mayor John Cooper (@JohnCooper4Nash) December 25, 2020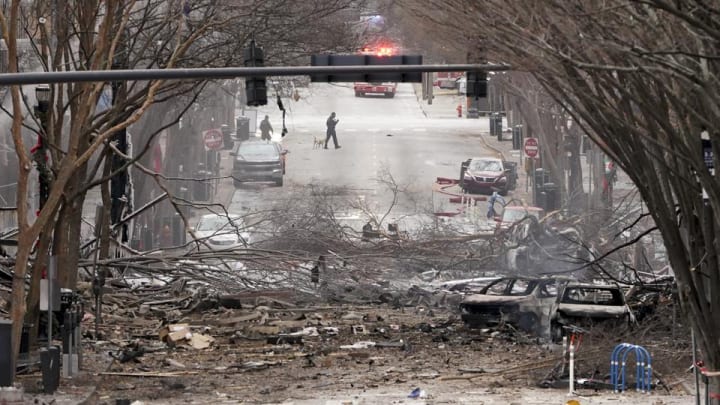 Combing the area, Authorities stated that human remains were found at the explosion site, but they can not be sure how the remains are related to the explosion.
Damages from the explosion include AT&T outages throughout the area. Flights outside of Nashville have been temporarily halted due to telecommunication issues.
FBI has taken the lead on the investigation. The explosion has left massive damage and left three people injured. All three people are in stable condition and will heal from their injuries.
Authorities notify the public that there is no more imminent danger to the public, but K-9s are sweeping the area.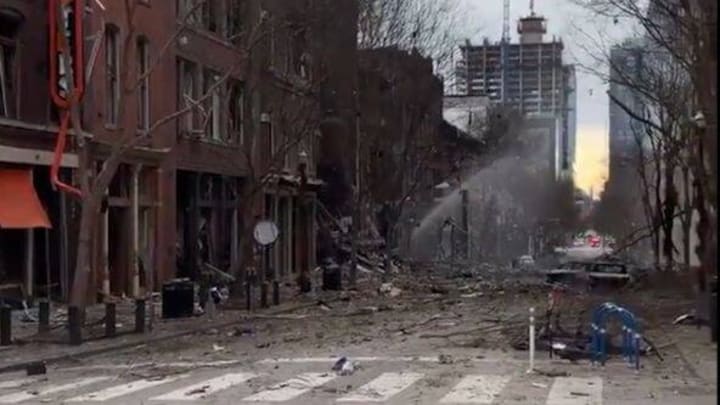 FBI has started an online tip line for anyone who knows any information leading to solving this disaster. The is a $25,500 reward.
Metro Police Spokesman Don Aaron stated that police received news of a suspicious vehicle outside of the AT&T Transmission Building. They called out the bomb squad. Authorities assisted in evacuating the area.
Six officers were commended for assisting at the scene. They likely saved many lives.
"[They] took swift action and directed people away from danger to save lives even at the time that their own lives would have been in peril. They are heroes, and I am grateful to them and all of our first responders."
-Nashville Mayor, John Cooper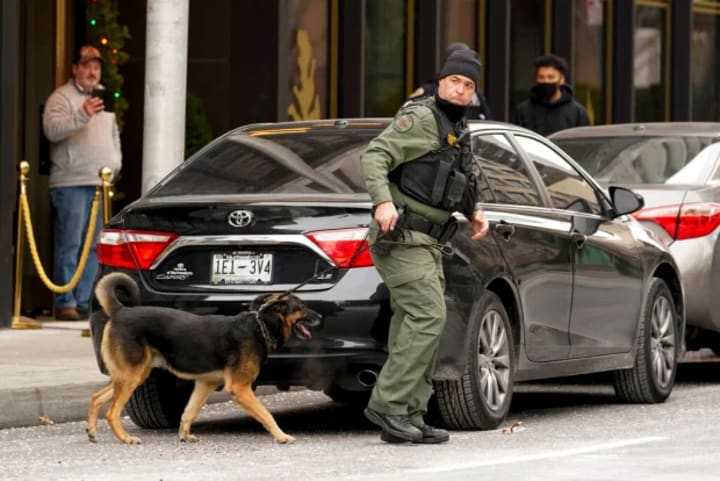 Reports state that before the explosion, a broadcasting message came from the suspicious R.V. that stated anyone in the area should evacuate before the countdown begins.
Mayor Cooper states 41 businesses were destroyed in the area and expect more as the search continues.
People inside and outside of Nashville wonder if it is an isolated incident or if the suspect fled the scene. If the suspect is still out there, where will he or she target next? Was this a terrorist attack? Are more in danger?
A video posted to youtube shows the message blaring from the suspicious vehicle minutes before the explosion. A white blast shows on the video, and all you hear are alarms and chaos. Three people were injured, and a police officer lost his hearing. Once the glare dissipates, you see the damage left behind. You hear sirens from all over as emergency vehicles sped to the site.
Watch The Explosion Video Below. View Discretion is Advised
Again, we thank the first responders. The police that helped evacuate the area. They saved many lives. The destruction in that area was vast, but we hope that they can rebuild and come back better than ever.
Video From Original Link:
https://www.youtube.com/channel/UCNzhdk3QE3fvjBeErPtBl-w
News Information From:
https://www.newschannel5.com/news/explosion-reported-downtown-nashville-police-investigating
Reader insights
Be the first to share your insights about this piece.
Add your insights