USA Gymnastics Faces a Long Road Ahead Amid Sex Abuse Fallout
USA Gymnastics needs to find a way to regain the trust of the public.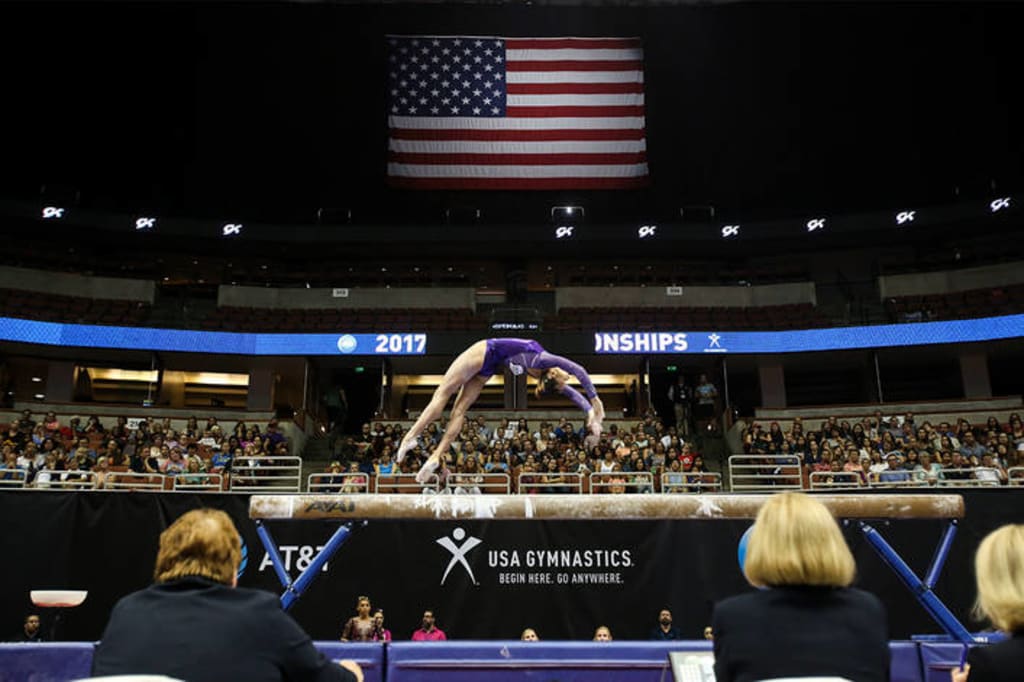 The USA Gymnastics organization is undergoing a massive shakeup after The Indianapolis Star uncovered a massive sex abuse scandal, resulting in team doctor Larry Nassar receiving 150 years in prison for abuse. Now, the organization is on life support.
USAG sponsors are jumping ship, athletes are pointing fingers and demanding change. US Olympic Committee officials are demanding resignations. Criminal charges could come at anytime. The Indianapolis based USA Gymnastics was once the crown jewel of the US Olympic movement. It's now wedged between a public relations nightmare and dozens of lawsuits that could financially cripple it for years.
The only way for USA Gymnastics to recover and gain the public's trust is to be completely transparent moving forward. The USA Gymnastics organization is attempting to weather a week of disasters. The public relations nightmare came during the sentencing hearing of Larry Nassar, who pleaded guilty to sexually assaulting seven young girls.
USA Gymnastics is now dealing with lawsuits in Georgia, California, and Michigan. They all stem from claims that they failed to stop coaches and others from sexually abusing athletes. The first suit to go to trial will be in April.
Just last week, the U.S. Olympic Committee demanded that all USAG board of directors resign or be stripped of their role in the Olympic national governing body. The USOC stopped short of implying that USA Gymnastics was guilty of putting young athletes at risk.
USOC CEO Scott Blackmun said that USAG needs a massive rebuilding. USA Gymnastics complied with USOC's demands, which means the organization will battle the storm with a new board of directors.
Prior to the USOC's demands, three top executives stepped down from the board during the Nassar hearing. Last week Steve Penny resigned last year amid the abuse fallout.
USAG can use this turnover as an opportunity to rebuild itself and tackle the issues that led to this sickening crisis. The USAG board is tasked with determining the mission, vision, values, and goals for the organization. The vision is what is coming under fire from athletes. Some are saying that USA Gymnastics puts medals before athlete safety.
Some athletes are skeptical of Scott Blackmun's actions, saying it's just an attempt to cover up his previous inaction. They say it's not about getting new people on the USAG board, it's about listening to and giving athletes a voice.
The USAG must enact child protection rules, just like what every other organization is doing. Other athletes are also saying that administrators and coaches have too much power over athletes and should be less relevant to advancement.
If higher up executives are serious about cleaning up the sport, there are two things that need to happen. First, new leadership in the United States Olympic Committee, and second, a unionization of athletes.
Athletes need to be heard and need to be at the table. Olympian Aly Raisman is one of the most vocal who is calling for serious change and has said that USA Gymnastics is "rotting from the inside."
Congress is now calling for a probe, and the Texas Rangers' investigation involving Larry Nassar at the USAG training camp in Texas has been sent to the FBI. The Karolyi Ranch has been the crown jewel for USAG as a top-tier national training center.
While all this unfolds, the USA Gymnastics is faced with sponsors leaving. USAG is left having to do everything on their own. They have to weather the crisis storm and plan and run all the scheduled competitions. How they will handle that is still unclear. Moving forward, USAG will need to show a strong commitment to changing the way the organization works.
About the Creator
Alaska born and bred, Washington DC is my home. I'm also a freelance writer. Love politics and history.
Reader insights
Be the first to share your insights about this piece.
Add your insights