The Zodiac Killer: Famous Suspects
Who do you think did it?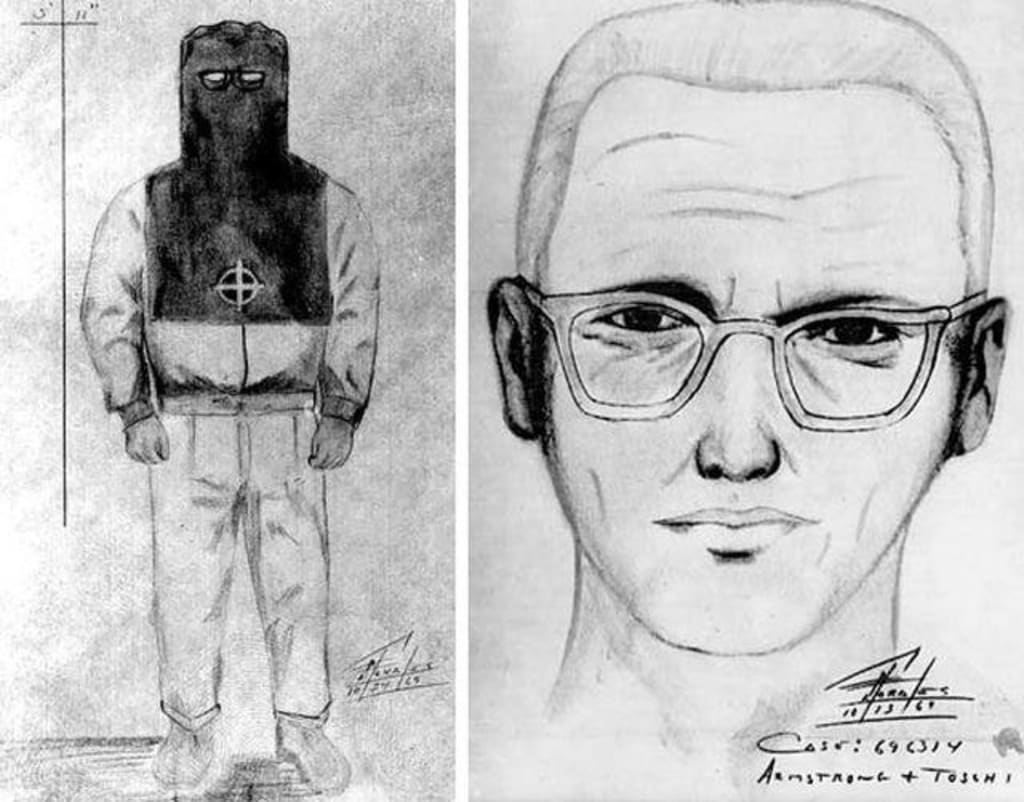 Well, it has been many years, five decades in fact, since the Zodiac Killer last struck, it is still a great mystery as to who he truly was. There have been many shows and movies that reference the killings, most recently, American Horror Story claiming the killings were done by women.
The mystery doesn't begin with the murders themselves but actually, the people thought to have committed the crimes and were eventually dismissed. Conspiracy theorists have pointed to the Unabomber, the BTK killer, and even members of the Manson family. So let's go over our "suspects," people who have been accused repeatedly online, even though there was no true evidence.
1. Lawrence Kane
Why was he suspected?
There is not much background information on Kane, however, most of the evidence that proves him guilty comes from the Zodiac Ciphers. He worked in the same Lake Tahoe hotel as Donna Lass, who disappeared in 1970 and may have been another one of the Zodiac's victim.
There have been claims that Kane's name was even embedded into one of the ciphers sent to the police as well as that Kane was one of the individuals who had bothered Darlene at the restaurant. In fact, Kathleen Johns who escaped from a man who is believed to be the Zodiac Killer in 1970, also identified Kane as her abductor.
Once the Zodiac became more violent in 1969, Kane was diagnosed with brain damage that had caused him to lose the ability to control self-gratification. Police took this information and arrested Kane, however, the Zodiac struck again and they had to release Kane.
2. Arthur Leigh Allen
Why was he suspected?
Portrayed in the famous book Zodiac, which later became a movie, as the prime suspect. Allen was not only questioned in 1969 but again in 1971 after a friend of Allen even claimed that at one point he wanted to call himself Zodiac and kill couples randomly. He became a prime suspect in the murder of Cheri Jo Bates.
Not only did Allen wear a Zodiac brand watch, but he owned the same caliber gun that was used in one of the Zodiac shootings.The fact that he was ambidextrous could have helped to disguise his handwriting in the Zodiac ciphers. However, after police made him take handwriting tests it was found that his handwriting did not match.
Even after the failure to match handwriting or fingerprints, the police could never dismiss Allen as a suspect. Not even after his death, since detectives were 95 percent that Allen was the Zodiac due to there being multitudes of circumstantial evidence that pointed to him.
3. Earl Van Best Jr.
Why was he suspected?
In the 2014 book, The Most Dangerous Animal of All, the author, Gary Stewart, claims that his biological father was, in fact, the Zodiac Killer. Out of all of the suspects, Earl Van Best Jr. has the closest facial structure to the sketch that was done. Stewart also claimed to have found Best's initials in the ciphers and had a document examiner look at the handwriting on Best's marriage certificate and found that the handwriting matched.
Gary Stewart is currently waiting to see if there is a match between the DNA from his father and that of what was found at multiple crime scenes.
4. Jack Tarrance
Why was he suspected?
Dennis Kaufman claimed his late stepfather Jack Tarrance was the Zodiac Killer. Kaufman claimed Tarrance to be a dead-ringer for the composite sketch and even claimed to have incriminating evidence, such as a roll of film depicting possible victims and a bizarre hooded costume like the one the Zodiac wore during the Lake Berryessa stabbings.
5. Donald Lee Bujok
Bryan Hartnell who survived the Lake Berryessa stabbings said that the Zodiac was a man who had just escaped from a prison in Montana. After a lengthy case, Donald Lee Bujok was released in 1968 after serving only 11 years of his life sentence for killing a sheriff's deputy.
According to fellow inmates, Bujok had apparently talked about killing people in order to enslave them in the afterlife, just as one of the Zodiac letters had. It was also speculated that the Zodiac's signature crossed circle was inspired by the helicopter landing pad at Fort Ord, California where he had been stationed.
6. Richard Gaikowski
Richard Gaikowski was a member of an anti-police, pro-violence counterculture newspaper in which violent works of fiction were being printed. These works just happen to nearly be a blueprint for the Zodiac's future crimes. Wednesday was considered a "production day" at the newspaper Gaikowski worked at and it should be noted that out of the 15 letters sent by the Zodiac, never was one sent on a Wednesday.
7. Gareth Penn
Why was he suspected?
Claiming that it was, in fact, his professor, Micheal O'hare, the focus turned back onto Penn himself. Penn became obsessed with the Zodiac and his coding used in the cipher. The Mt. Diablo map left by the Zodiac was easily deciphered by Penn. Police still hold Penn as a prime suspect, while others suspect that he was simply trying to help the police with the case.
investigation
Just trying to survive the world and write some things.