The woman without a face
A vicious killer attempted to desecrate a woman's body hoping she wouldn't be identified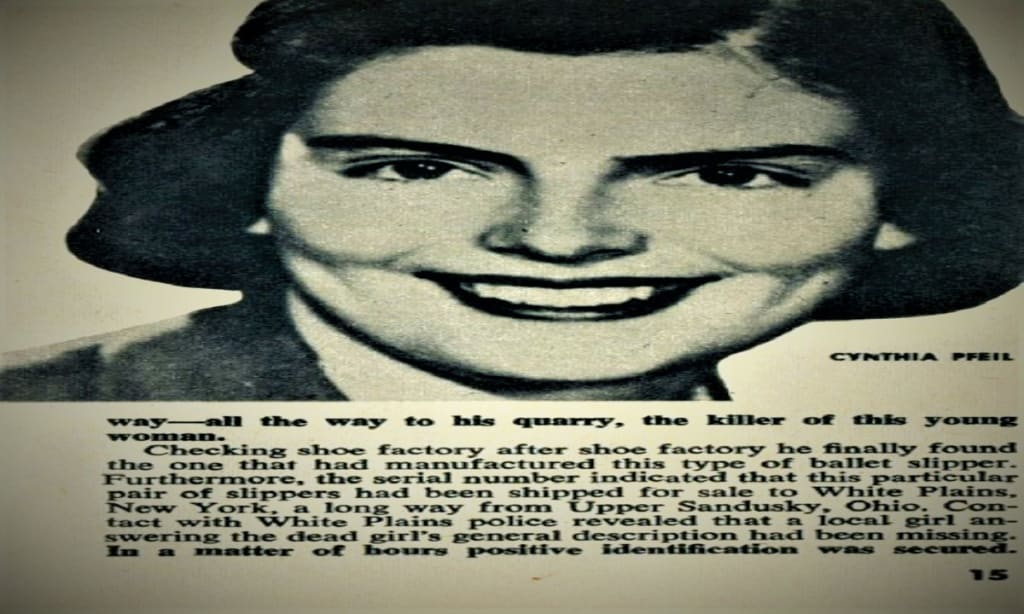 Cynthia Pfeil
Wyandot County is located in the northwest part of Ohio and has a population of just over 21,000 people. Formerly inhabited by the Wyandot Indians, the area is named after them. It doesn't have a lot of high-profile crimes or scandals. A county worker found a dead woman in September 1953, making the county newsworthy. Her killer savagely strangled, beaten, and stabbed the woman to death. The media called her "the faceless beauty." Her killer likely destroyed her body to prevent identification. But she wore a pair of red slippers.
A police investigation was immediately launched to identify the young woman. Their first step was to contact local shoe stores to find out who made the slippers. The slippers were traced to a manufacturer in Columbus, Ohio. After the slippers were made, they were shipped to White Plains, New York.
The police became aware that a woman from White Plains had been missing for two weeks. Cynthia Pfeil, 19, had owned the red slippers. Police began investigating Cynthia's background. She had attended Ohio Wesleyan University in 1952. While there, she met and fell in love with another student named Roy R. Schinagle Jr., who was from Mayfield Heights, Ohio. There was an immediate attraction between the couple.
Cynthia and Roy both came from respectful families. Their families supported the relationship. The couple's problems arose when they decided to get married. The families didn't support the young couple getting married. Perhaps they thought they were either too young or they should wait until after they earned their degrees.
The couple decided to have a child. They assumed if Cynthia got pregnant, then the families would have to support the marriage. Nevertheless, they would learn a harsh lesson from reality, as all young couples do. They weren't prepared for marriage or having a child. Studies became less relevant as the couple focused more on their relationship.
Roy maintained his grades and remained in school. However, Cynthia's grades plummeted. She would leave school and return to New York. On September 15, 1953, Cynthia traveled to Delaware, Ohio to visit Roy.
As a precaution, she stayed in a shack to avoid getting noticed. Roy and Cynthia got into a heated argument on September 16, 1953. He accused Cynthia of being with someone else. In response, she slapped Roy. After becoming enraged, he strangled her. Her body was placed in the back of his car, driven to Upper Sandusky, and dumped in the woods.
The next day, a county worker discovered her body.
Of course, the significant other is always the primary suspect. Law enforcement officers visited the Ohio Wesleyan campus on September 22, 1953, to question Schinagle. He confessed to killing Cynthia and beating her with a steel rod. By beating her beyond recognition, he thought he could get away with murder.
If her slippers had been removed, he probably would have gotten away with murder. After accepting an agreement, Schinagle pled guilty to second-degree murder.
On December 3, 1963, he was paroled after serving ten years of his life sentence. However, this isn't the end of the story. The Littick Baseball Field stands at 199 S Henry St, Delaware, OH 43015. It's believed this is the vicinity of where Cynthia was killed. People have reported seeing a lady dressed in 1950s clothing walking near the field over the years. Also, the unidentified woman has no face. Ghostly screams have also been heard in the area. If this is true, why would Cynthia stay behind? Was she disappointed that her killer only spent ten years in prison? Obviously, this is a rhetorical question, but the murder of the faceless beauty in the red slippers will live long in the memory of people in northwestern Ohio.
Marc is a longtime resident of Clermont County and an avid reader. Contact him through his website at www.themarcabe.com or through Facebook: www.Facebook.com/themarcabe or his twitter account @themarcabe. Marc also has a podcast called Catch my Killer where he interviews family members seeking justice for their murdered loved ones. You can listen at www.catchmykiller.com.