The Unsolved Murders of Four Children by the Oakland County Child Killer
The clue the police have missed.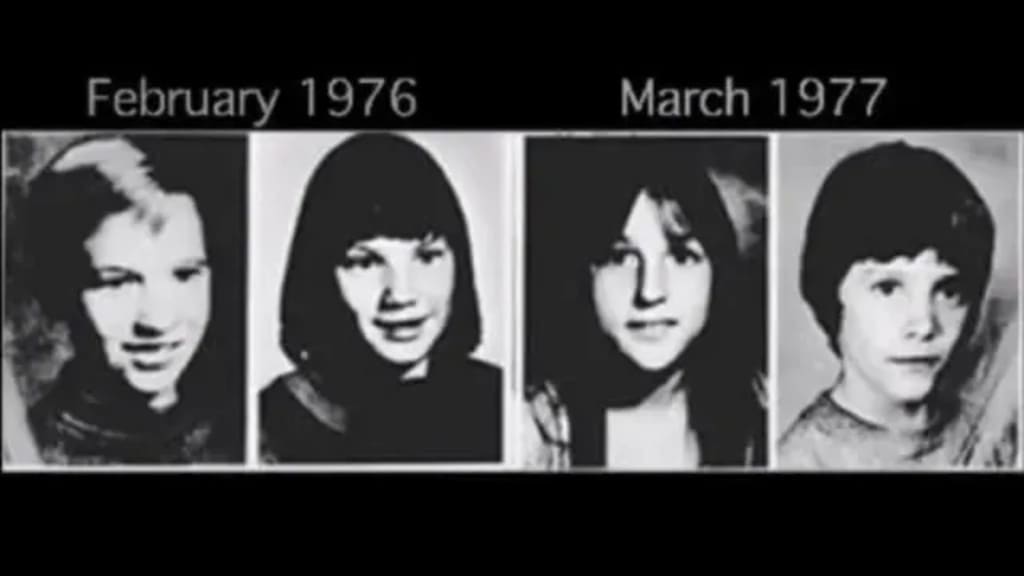 An unknown assailant killed four children in Oakland County between 1976 and 77, earning him the nickname of the Oakland County Child Killer and the Babysitter Killer.
For decades investigators have been working on trying to identify this serial killer; it is unknown whether he is even alive.
Between February 76 and March 77, four children were abducted and murdered; their bodies were left in various locations across the county. Each of the murders occurred during the snow.
Two other murder cases have been connected to the killer, but never conclusively.
Mark Stebbins
Mark was twelve years old when he was taken. He was last seen on 15th February 1976 and was found four days later. His cause of death was suffocation; he had also been sexually assaulted.
At 1330, Mark spoke to his mother on the phone and told her he was leaving to head home now. He never made it back; at 2300, his mother phoned the Ferndale Police Department to report him missing.
His body was discovered in a New Orleans mall. Witnesses revealed that the body must have been left between 930 and 1145. A mistake during the autopsy meant the body was washed, removing any fingerprints.
Jill Robinson
Jill was also twelve when she went missing on 22nd December 76; her body was found four days later. In contrast, she had been shot in the head with no evidence of a sexual assault.
On the 22nd December, Jill and her mother argued, causing Jill to run away. It was presumed she was making her way to her father's house.
Jill's father, Thomas Robinson, would report his daughter missing at 2330 on the day she walked out. He had recently separated from her mother.
When she was found, it appeared that she had been fed and kept for three days before death. Then, finally, she was driven to the location and shot.
Kristine Mihelich
Kristine was younger than the other two victims at ten years old. She was last seen on 2nd January 77 and found nineteen days later on the 21st.
Her death was suffocation; again, there was no sign of sexual assault. Police stated that there was no sign of violence; she was in the same clothes she was last seen in.
With thirty-five officers across nine departments, it was the largest task force in the county's history. The incident caused widespread panic; parents would line up outside the school to pick up their children.
When the body was found, it was so frozen that officials needed to wait to perform the autopsy. However, no evidence connected her murder with that of Mark.
Timothy King
Timothy was eleven when he was last seen on 16th March 77. He was found a week later, on 23rd March. His cause of death was suffocation; like Mark, he had been sexually assaulted.
Timothy left his home with 30 cents he had borrowed from his sister to go to the corner store. He wanted candy which wasn't rare for him, so he walked the three blocks to the store.
A clerk at the store remembered selling Tim candy; he then left through the back door into the parking lot at 2030. The police state whatever happened to him happened as he left the store before he returned home.
At home, his sister had left for the night; he should have been home alone. When his parents returned at 2100 to find the door ajar and Tim missing. The family searched everywhere. The task force was alerted to another missing boy by the following day.
A witness said she had seen Tim talking to a man; she could describe the man and his car, a dark-blue AMC Gremlin. As a result, many now consider that searching for the car used resources that could have been used elsewhere.
He was found on 23rd March, a short distance from a busy intersection. He was wearing the same clothes as he had on when he was last seen. His skateboard lay fifteen feet away from him.
Autopsy results showed that again Tim had been fed and taken care of.
Suspects
Until Timothy was killed, the police were unsure they had a serial killer operating in their area. However, when his body was found, all the dots connected sufficiently to say that a serial killer had killed the four children.
The police had three gentlemen that they were very interested in. The first name of significance was Archibald Edward Sloan.
Sloan was a paedophile who had victimised young boys in his neighbourhood when the killings transpired. He was first identified as a suspect when hair samples from his Pontiac matched that found on one of the victims.
The DNA, however, did not match Sloan. He always lent his car to friends, so the hair could have come from anywhere.
The second suspect that Timothy King's father suggested was Chris Busch. Busch had been in custody just before King's abduction for suspected involvement in child pornography.
In November 78, he allegedly committed suicide; however, no gunshot residue was found on his body, no blood splatter, and the shell cases were never found. A drawing was discovered in his room of a child screaming.
Family would later identify that the drawing had a remarkable resemblance to Mark Stebbins. After this suicide, there was little activity from the task force; by 79, there was only one man, the others all being reassigned.
The last suspect was Theodore Lamborgine. Lamborgine was approached about the killings during a trial for fifteen sex-related crimes involving young boys. Rather than take a plea bargain which required him to take a polygraph concerning the Oakland County Murders, he chose to take the full sentence pleading guilty.
The Missing Clue
At the start of this article, I mentioned that the victims were killed during the snow. Unfortunately, this fact has had little impact on the investigation. However, it is not this fact that I believe the police have overlooked.
As I studied this case, I wondered why no one has ever considered the possibility that the Oakland County Child Killer could be female. Society is less likely to believe female serial killers are operating, but Aileen Wuornos and Joanne Dennehy would dispel this myth.
All four murders mention that the children went with the assailant willingly. Some point to the fact he must have been a well-dressed, intelligent man for the children to trust him. But, children would also trust a woman.
As was demonstrated with The Moors Murders, women make better abductors. Although Ian Brady took part in the killing of the children, it was Myra Hindley that abducted them. She used rouses such as asking them to help find a glove she had lost on the Moors.
The children came willingly with her; she was a mother figure. It was only when they reached the Moors that Brady would show up and kill. Could this have been a similar method of killing?
Timothy King's father has never given up hope of finding the killer and has initiated his own investigations. The police appear to have presented many suspects for the case, but with no success.
Originally published at https://www.murdermayhem.uk on October 28, 2022.
investigation
About the author
I know where the bodies are buried and I'm not afraid to tell you - author of True Crime, History and Fiction. Find me on Twitter [email protected]
Or find my crime magazine here - https://www.murdermayhem.uk
Reader insights
Be the first to share your insights about this piece.
Add your insights