The Unsolved Axe Murder of Daniel Morgan
'If you, haven't heard this story, ask yourself why?'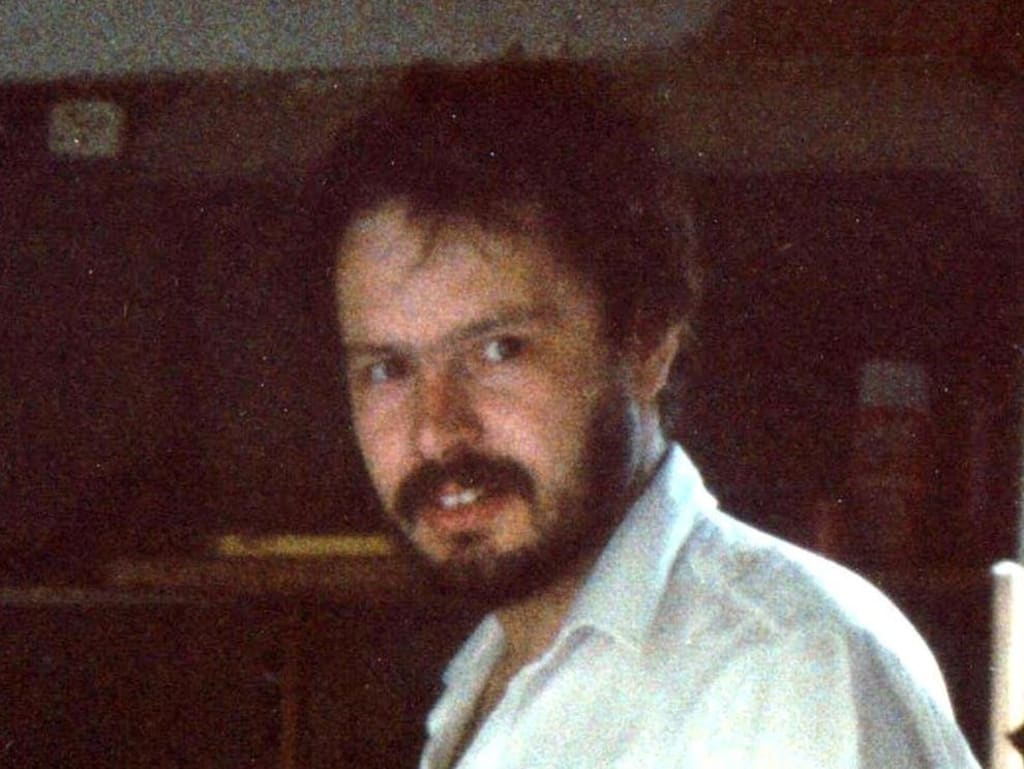 Daniel John Morgan (3 November 1949 – 10 March 1987)
Just after 9pm on the 10th March 1987, 37 year old Daniel Morgan a private detective, after having a drink with Jonathan Rees his business partner at the Golden Lion pub in Sydenham, walked to his BMW in the car park. He was found dead at 9.40pm by the side of his car next to two packets of Golden Wonder crisps he had brought for his children. He had been struck three times in the back of the head with an axe, killing him instantly. Lying prone dead on the floor, a fourth blow was struck embedding the axe in his face and severing his brain stem. A truly horrific personal murder. This unsolved case is the most investigated murder case in British Criminal History. Strangely hardly anyone is aware of the case and the extraordinary story of what may have happened defies belief.
So who was Daniel Morgan?
Daniel Morgan was born in 1949 in Singapore, he was the son of an army officer. He grew up Monmouthshire, Wales, where he attended agricultural college. Morgan had an exceptional memory and in 1984 he set up a detective agency, Southern Investigations, in Thornton Heath, London. He married in his late twenties and and had two children.
1st Impressions - Motives
Robbery?
Daniel Morgan had an expensive Rolex watch that the police reported was missing.
Maybe Not!
Daniel Morgan also had £1000 (the equivalent of £2880 today) in his possession in a jacket pocket which was not stolen.
Maybe a different type of Robbery?
Daniel Morgan's pocket was ripped and some handwritten notes he had been seen writing inside the public house were missing.
Personal Attack?
Daniel Morgan was having an affair with a woman named Margaret Harrison, and had met her at 6:30pm at a wine bar in Thornton Heath shortly before the murder. The nature of the attack was extremely angry and vindictive.
Work Related?
The missing documents were more important than a large amount of cash. What was Daniel Morgan apparently investigating that could have been a motivation and endangered him?
Daniel Morgan was apparently investigating organised crime and the drugs trade.
So could his murder have been a hit carried out by an organised crime gang?
Daniel Morgan was also investigating Police Corruption for a story to be sold to a newspaper and possibly reported to be investigated by an outside police department. It has been suggested he was investigating collusion between the police, organised crime and the illegal cocaine trade in London.
Falling Down the Rabbit Hole
Incredible Fact 1- To understand more about this story I should tell you this investigation currently has 750,000 documents attached to it, many of them not digitised and £140 million has been spent on investigating it.
The initial investigation
On the night of the murder Detective Superintendent Douglas Campbell, the officer in charge of the investigation, had been drinking. He turned up, and according to some witnesses was distressed and upset, allegedly the first thing he did on his arrival was to get the pub landlord to open a bottle of Scotch.
The crime scene was not appropriately sealed and secured until the following morning.
A briefcase full of documents was lost that was recovered out of the locked boot of Daniel Morgan's car.
A photographed fingerprint was missing off the car the following morning.
A scene of crime investigator believed he saw the missing watch on the wrist of Daniel Morgan after the murder.
The scene was chaotic with no exhibits officer present to log and catalogue evidence.
The Next Day
The following day Detective Sergeant Sid Fillery, a member of the Serious and Organised Crime squad based at Catford Police station, joined the investigation.
He was sent out to interview Jonathan Rees, Daniel Morgan's business partner who he was drinking with before the attack.
Three Weeks Later
Detective Superintendent Douglas Campbell arrested Detective Sergeant Sid Fillery and two other police officers Peter Foley and Alan Purvis from Catford police station for the murder of Daniel Morgan.
Interesting Fact 2 - Fillery was a close friend and regular drinking companion of Rees. Contrary to popular reports The Golden Lion Public House was not a police drinking hole. They drunk over the road in The Dolphin. It was only in the days immediately preceding the murder they started to drink there. The week of his murder Morgan got into a huge row with Fillery and Rees, the reports are hazy as the only witnesses are members of Fillery's police squad.
He also arrested Jonathan Rees and his two brother in laws, Glenn and Garry Vian.
Campbell decided there was not enough evidence to support a prosecution. All the suspects were released.
What was Southern Investigations investigating?
Southern Investigations was flexible in its approach to the law. Morgan had an illegal link into the Police National Computer, Rees operated at the darker end of the trade gaining information and services from corrupt policemen.
Morgan also collected debts as a bailiff and arranged transportation of cash for large businesses like auctions. They also provided security using off duty policeman and other associates with known criminal connections. Sometimes employing them at the same time.
They also sold stories through information gained from corrupt police officers to national newspapers, especially 'The News of the World'.
They were most definitely operating on the dark side of the street.
What did Morgan know?
A prominent member of the Brink's Matt Robbery, Kenneth Noye had a police handler called Ray Adams. Adams was also an investigator in the Stephen Lawrence murder.
Detective constable Alan 'Taffy' Holmes was his friend, colleague and golfing partner. Holmes was known to take money from south London gangsters.
Allegedly Holmes had been working with Daniel Morgan. They were about to expose claims of police corruption that involved passing information to the News of the World newspaper.
Holmes apparently killed himself in problematic circumstances on July 1987 during a corruption investigation into Adams. It was three months after the murder of Daniel Morgan.
Further Inquiries
Alastair Morgan the brother of Daniel Morgan has campaigned for justice for his brother for over three decades
Five police inquiries have been conducted. There have been allegations of police corruption, drug trafficking and robbery.
The 1st Inquiry
During an initial Metropolitan Police inquiry, Jonathan Rees and Sid Fillery were questioned, but both denied involvement in the murder.
The Second Inquiry
After the first inquiry Jonathan Rees and another man were charged again with murder. The charges were dropped again. The Hampshire inquiry's 1989 report to the Police Complaints Authority stated that "no evidence whatsoever" had been found of police involvement in the murder.
Interesting Fact 3 - At this inquest into Morgan's death in April 1988, it was alleged that Jonathan Rees, told Kevin Lennon (an accountant at Southern Investigations) that police officers at Catford police station who were either going to murder Morgan or would arrange it, and that Sid Fillery would replace Morgan at Southern Investigations. Rees denied murdering Daniel Morgan. Sid Fillery retired from the Metropolitan Police on medical grounds and did join Southern Investigations as Rees's business partner. It was also alleged by witnesses that he tampered with evidence and attempted to interfere with witnesses during the inquiry.
The Third Inquiry
In 1998, the Metropolitan Police Deputy Assistant Commissioner, Roy Clark, instructed a third inquiry into the murder to take place. This time in complete secret. In 1999, Southern Investigations' office was bugged by a known police informant.
This inquiry broke down when they recorded Lees plotting to plant cocaine on an innocent women to gain a favourable outcome in a custody battle for his client. In December 2000, Jonathan Rees was found guilty of this crime and sentenced to seven years imprisonment for attempting to pervert the course of justice.
The Morgan family demanded disclosure of the 1989 Hampshire police report, Deputy Assistant Commissioner Clark imposed very restrictive conditions.
Despite Lees receiving a seven‑year sentence for attempting to pervert the course of justice and UK newspapers refusing to work with him again; The News of the World rehired him in 2005. It also became common knowledge that Rupert Murdoch's news empire had been paying Southern Investigations approximately £150000 a year during the 1990s (£400000 in todays money) as a branch of their black ops news gathering.
Interesting Fact 4 - After leaving prison Lees brought a house in a plush gated community and cohabited with Margaret Harrison. Do you remember her? She was the married lady Morgan met before going to the Golden Lion and being murdered.
The Fourth Inquiry
Took place from 2002–2003, a suspect's car and Glenn Vian's house were bugged. Extensive recordings were made. The Metropolitan Police obtained evidence that linked a number of individuals to the murder. The Crown Prosecution Service decided that the evidence was insufficient to prosecute.
The Fifth Inquiry
Metropolitan Police Commissioner Sir Ian Blair declared that the first police inquiry involving Fillery was "compromised", a secret fifth inquiry began.
It did not stay secret for very long and using an investigative team from 'The News of the World', Southern Investigations started a surveillance operation on the lead investigator Detective Superintendent David Cook. This was all exposed in a separate inquiry called the Leveson Inquiry investigating criminal activities involving phone hacking by major newspapers. It paid particular attention to the activities of The News of the World.
Cook described the murder as "one of the worst-kept secrets in south-east London", claiming that "a whole cabal of people" knew the identity of at least some of those involved. He said that efforts had been made to blacken Morgan's character, and dismissed claims that Morgan might have been killed after an affair with a client or because of an involvement with Colombian drug dealers.
At the end of the inquiry police arrested Jonathan Rees and Sid Fillery, along with Glenn and Garry Vian, and a builder named James Cook, all on suspicion of murder, as well as a serving police officer suspected of leaking information. Fillery was arrested again on suspicion of attempting to pervert the course of justice.
The Trial and it's Collapse
In 2009 the trial of Rees, Fillery, the Vian brothers and Cook began at the Old Bailey.
Pre-trial legal arguments went on for eighteen months. This is a record in British judicial history. Before they were completed the trial collapsed in March 2011. Three "supergrass" witnesses were discredited and the Met claimed to have lost track of documents relative to the case; three crates of documents. How many documents are in a crate? There are currently 750000 documents currently connected to this case. The Metropolitian Police were blamed for these lost documents.
So in March 2011, Director of Public Prosecutions Sir Keir Starmer abandoned the case. The judge considered that the prosecution had been "principled" and "right" to drop the case, the judge also observed that the police had had "ample grounds to justify the arrest and prosecution of the defendants".
Nicholas Hilliard Queens Counsel for the Criminal Prosecution Service, acknowledged the police could not be relied upon to ensure access to documents that the defence might require and the prosecution was fatally undermined as a result.
Aftermath
The Metropolitan Police failed to investigate Rees's corrupt relationship with the News of the World over more than a decade. Despite this in 2006, the Metropolitan Police accepted the News of the World's disclaimer that Clive Goodman, who had been sent to prison in 2007 for intercepting the voicemail of the British royal family, had been operating alone.
They never once interviewed any other News of the World journalists or executives and did not seek a court order allowing them access to internal records.
The Guardian newspaper during the phone hacking scandal in 2011 questioned why the Metropolitan Police ignored the large quantity of material related to Southern Investigations as evidence into phone hacking. Rees's activities were described as a "devastating pattern of illegal behaviour", far exceeding those of the other investigators commissioned by News Corporation, who used illicit means to target prominent figures.
Independent inquiry
In May 2013, an independent inquiry into Morgan's death was announced. Mark Ellison Queens Counsel published a report on 6 March 2014 into alleged Metropolitan Police corruption in the murder of Stephen Lawrence. The report also commented that there was substantial evidence linking an alleged corrupt police officer with involvement in the murder of Morgan.
Baroness O'Loan took over chairing the inquiry in 2014, on the withdrawal of previous chairman Sir Stanley Burnton. The previous chairman felt unable to continue because of personal reasons. The inquiry was supposed to take a year but found the Metropolitan Police extremely uncooperative. The inquiry was due to publish its report on 17 May 2021, but was blocked by the UK government wanting to review it for national security and human rights issues. The 1200 page document is due to be released tomorrow, possibly redacted, hopefully unadulterated. The evening before the announcement the government announced a change to COVID restrictions which will undoubtable fill the headlines and keep the report's findings off the front page. The timing of the announcement was definitely curious as the information needed for it was in the governments hands last week.
Sadly I don't think we will get any answers.
The media collusion in this cover up is extraordinary. Even the most basic reports on this case are full of errors.
This is all about a detective who knew too much; the inspiration to a lot of the AC12 fictional scenarios in the BBC drama 'Line of Duty'. This is going to stay firmly in the dark. The conspiracy here reaches far beyond the immediate individuals involved. This involves organised crime, police, government and media. Every big decision maker involved in this catastrophe has quickly found promotion and higher office. Here I have barely scratched the surface there is a phenomenal podcast that sheds more on this story below.
Podcast
Morgan's murder became the subject of a 10-part podcast presented by Peter Jukes, Untold: The Daniel Morgan Murder which topped the UK iTunes podcast chart.
Thank you for reading my story.
I publish my stuff independently for no other reason that I would rather these strange ideas that rattle around my head from time to time have a place to go.
My reach is decided by you so if you enjoyed this and think it could reach a little further I would love for you to share it.
If not that is also cool.
I have more strange musings here, Enjoy.
If you are also interested in publishing your own ideas here on Vocal and getting paid for it, I can get you a cheaper introductory rate by clicking here. This gets me a small affiliate payment from the platform.

Tom ...
Raised in the UK by an Irish mother and Scouse father.
Now confined in France raising sheep.
Those who tell the stories rule society.
If a story I write makes you smile, laugh or cry I would be honoured if you shared it and passed it on..
See all posts by Tom ... →