The Tragedy of Pigeon Goldie
The 65-year-old was raped and murdered in the infamous Cecil Hotel, LA.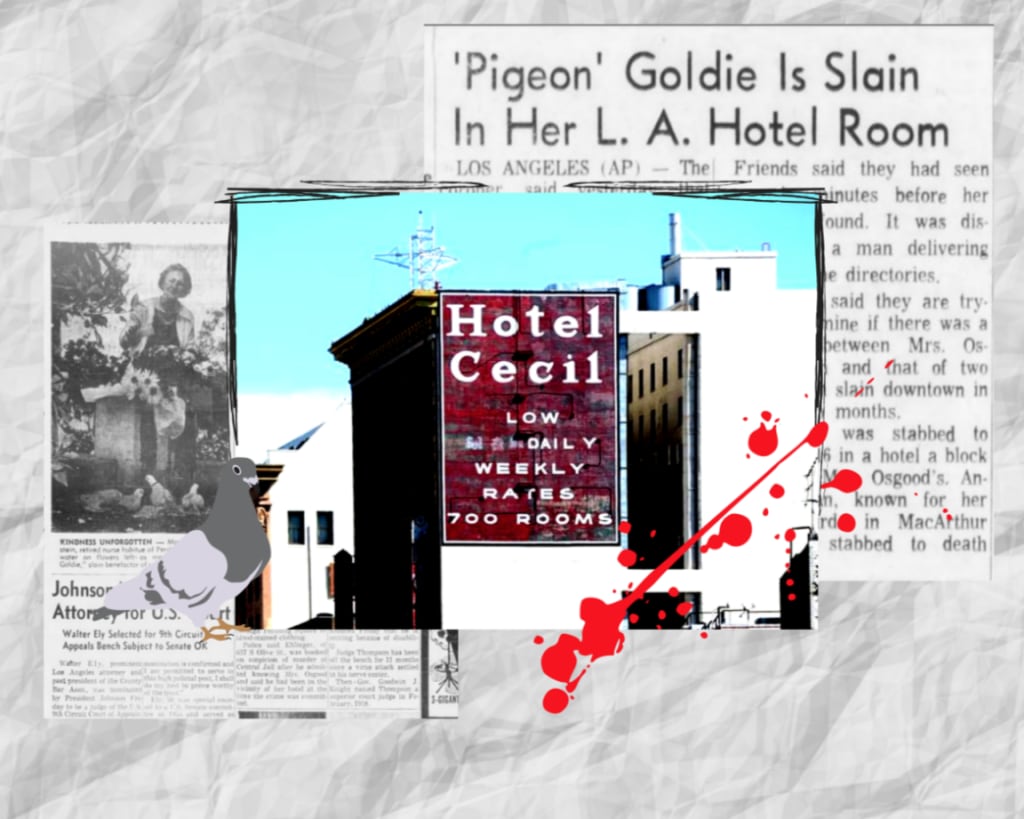 Graphic created by author and newspaper sources linked within the article.
The Cecil Hotel is now globally renowned, and for all of the wrong reasons.
The latest Netflix docu-series, Crime Scene: The Vanishing at the Cecil Hotel, highlights the hotel's disturbing past and present, through an exploration of the sad case of Elisa Lam.
Residents from across the decades have suffered enormously within the walls of the hotel. Some guests have terrorized the USA whilst enjoying the hospitality and relative anonymity offered by the establishment.
With serial killer 'tenants' such as 'The Night-Stalker' Richard Ramirez, and Jack Unterweger, notable (if tenusous) associations such as The Black Dahlia and high profile deaths like Elisa Lam, The Cecil Hotel isn't short of A-list criminals and victims. Films, documentaries, and books about all of these are readily available and regularly rehashed.
For tourists who happen to be visiting Los Angeles, you can take a dedicated tour around the outside of the building, and cruise the adjacent Skid Row streets as you listen to the stories of the killers and killed from an enthusiastic guide.
When The Cecil Hotel reopens, you can even enjoy the thrill of a night or two there, knowing that your room was almost certainly a death scene at some point.
But as with so many well-known stories, from Oliver Twist to Star Wars, it's often the case that the lesser-known, peripheral characters and sub-plots are just as intriguing as the leading-diegesis.
The story of The Cecil Hotel is no different.
One of the hotel's victims who is regularly glossed over or forgotten entirely was a wonderful, 65-year-old* lady who lost her life within the walls of the Cecil.
Her murder was horrific and truly disturbing, and unlike Netflix Number 1 Show — the Elisa Lam case, this cold-case will likely remain forever unsolved.
This is the tragic tale of Pigeon Goldie.
As with most ordinary citizens who grew up in a time without the internet, little information exists about Goldie Osgood before her death.
Goldie was a Telephone Operator — a job held by many women in early 1900s America. Goldie's day-to-day involved managing a switchboard and manually connecting telephone callers by plugging the ringing cable into the destination jack.
It's not known whether or not Goldie was married or had children. Most women in the early 1900s were married, but following the Great Depression in the 1930s, women could live independently of men for the first time.
Regardless of Goldie's family situation, when she arrived that The Cecil Hotel in 1958 (aged 59-years-old), she was alone in the world.
Exactly why Goldie moved into the hotel in her later years is unknown, but it wasn't uncommon for the elderly to be in such a position. Pensions were small, saving money at the time was difficult and Goldie's earnings would probably never have been sufficient to buy a home. Without a husband and family, Goldie would have struggled to support herself into her old age and the hotel offered the opportunity for guests to stay long-term and cheaply. Many other guests of the Cecil Hotel, became 'tenants' and lived there for years.
While Goldie was alone, that doesn't mean that she was lonely.
Quite the contrary. Goldie Osgood was popular, sociable, and well-liked. Within the community of the hotel and the neighborhood, Pigeon Goldie was a familiar face.
Each day, Goldie would walk to the nearby Pershing Square. Wearing her LA Dodgers baseball cap, a bag of birdseed at her feet, Goldie would stand for hours feeding the pigeons. Often, she'd chase away larger birds, ensuring that small, weak, or sickly animals got a meal. This simple act of kindness earned her the nickname, Pigeon Goldie.
A lot of locals knew her, chatted with her each day, and were proud to call her their friend.
After a day in the square, Goldie would return to the hotel and chat to fellow tenants before turning in for the evening…
The murder of Pigeon Goldie — The Cecil Hotel, 4th June 1964.
After a day spent just like any other, Goldie said goodnight to fellow tenants of the Cecil Hotel and walked into her room for the final time.
Only an hour later, Goldie's body would be discovered by a man distributing telephone books to hotel rooms.
Goldie, the kindly pensioner, was strangled with one of the hotel's hand-towels by an attacker who's never been caught to this day.
Harrowingly, as well as being murdered, Goldie had been badly beaten and raped.
Upon discovering the ransacked room, it was noted that the bags of birdseed and Dodgers cap were strewn on the floor close to Goldie's body. It's possible that her attacker had lain in wait for her return to the Cecil that day.
Friends also living in the hotel were stunned by how quickly the attack had happened; several told the police that they'd seen Goldie 'only moments' before her body was found. A trifling mercy that the attack was over quickly for such a gentle lady.
Who killed Pigeon Goldie?
That question is likely to remain unanswered for all time.
Goldie's killer will probably be 70 years old or more if they're still living — it seems unlikely that they will ever come forward or be found by law enforcement.
A man was arrested at the time —Jacques Ehlinger. The 29-year-old was discovered roaming streets close to the hotel, covered in blood. Later, he was ruled out as a suspect.
Goldie's death was connected to other crimes in the area, but the links seemed tenuous at best and never led anywhere.
Perhaps the most likely lead came from the connection made by a medical examiner between Goldie's death and the death of a woman called Mrs. Viva Brown. The second lady had been murdered a couple of months before Goldie; Mrs. Brown was 50-years-old and the manner of her killing had been similar in MO to Goldie's, including the fact that she was staying in a hotel in the same area.
Despite having two murders of older women, police identified no suspects at the time nor since.
Concerningly, it seems unlikely that the perpetrator was 'new' to killing — he was fast, efficient and no one in the busy hotels spotted him.
Even more worrying is the fact that it's highly unlikely that he simply gave up murdering after getting away with the attacks on Goldie Osgood and Viva Brown.
I would go so far as to venture that this was a serial killer targeting older women around the country, gaining access to them by staying in cheap hotels.
It seems improbable that we will ever know.
It seems improbable that Pigeon Goldie will ever receive justice.
Remembering Pigeon Goldie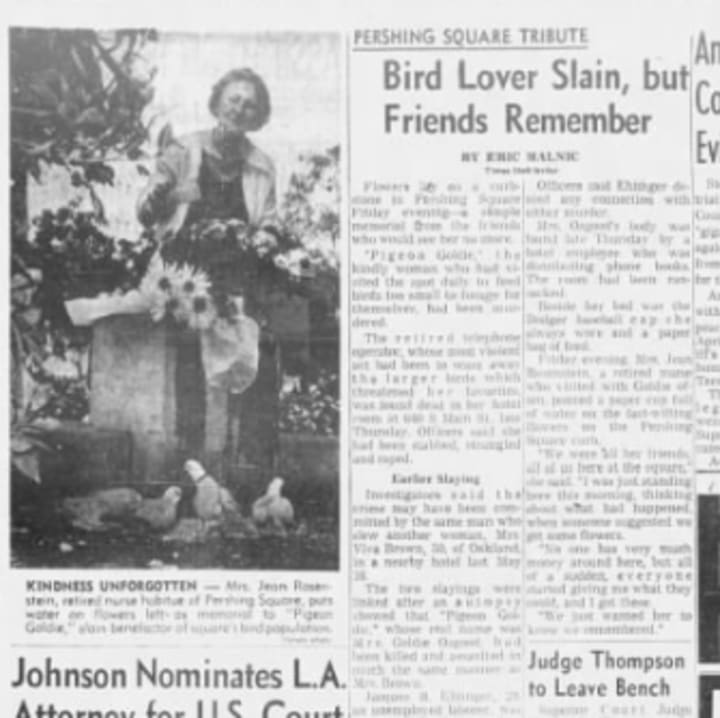 It's sad that no pictures of Goldie exist today — at least to my knowledge.
No newspaper articles from the time feature her face, and it seems likely that any photographs that did exist, never made it online. Some photographs are used in articles created nowadays about Goldie Osgood, but I can't find any evidence that these photographs are of the lady herself, so I chose not to use any in this piece.
Following Goldie's death, friends from the Cecil Hotel and the neighborhood came together to buy flowers which they planted around Pershing Square.
This was no small gesture from such a poor community.
That is how those that knew and loved her, chose to remember her.
Hopefully, anyone who's read this story, anyone who visits Pershing Square or the Cecil Hotel, will remember this kind lady, who loved birds and was gentle to the end.
I know that my own next trip to L.A. will involve a quiet moment in Pershing Square, and maybe some birdseed too.
Fin
*Goldie's age at the time of her death is unconfirmed. Several articles claim that she was 79, but others say 65 years of age. For the purpose of this piece, I have chosen 65-years as the most likely due to primary source information. I'm open to correction on this point.
All sources are linked within the article.
investigation
About the author
Lover of tea. Mother of two. Reader, writer & feminist. Interested in the wine, not the label. Former Tech CEO. Aspiring Crime Fiction author & MA student.
Writing passions include True Crime, Feminism, Social Commentary, Books & Wellbeing.