The Serial Killer And Rapist Who Stalked The Streets Of Los Angeles
The crimes and murders of John Floyd Thomas Jr.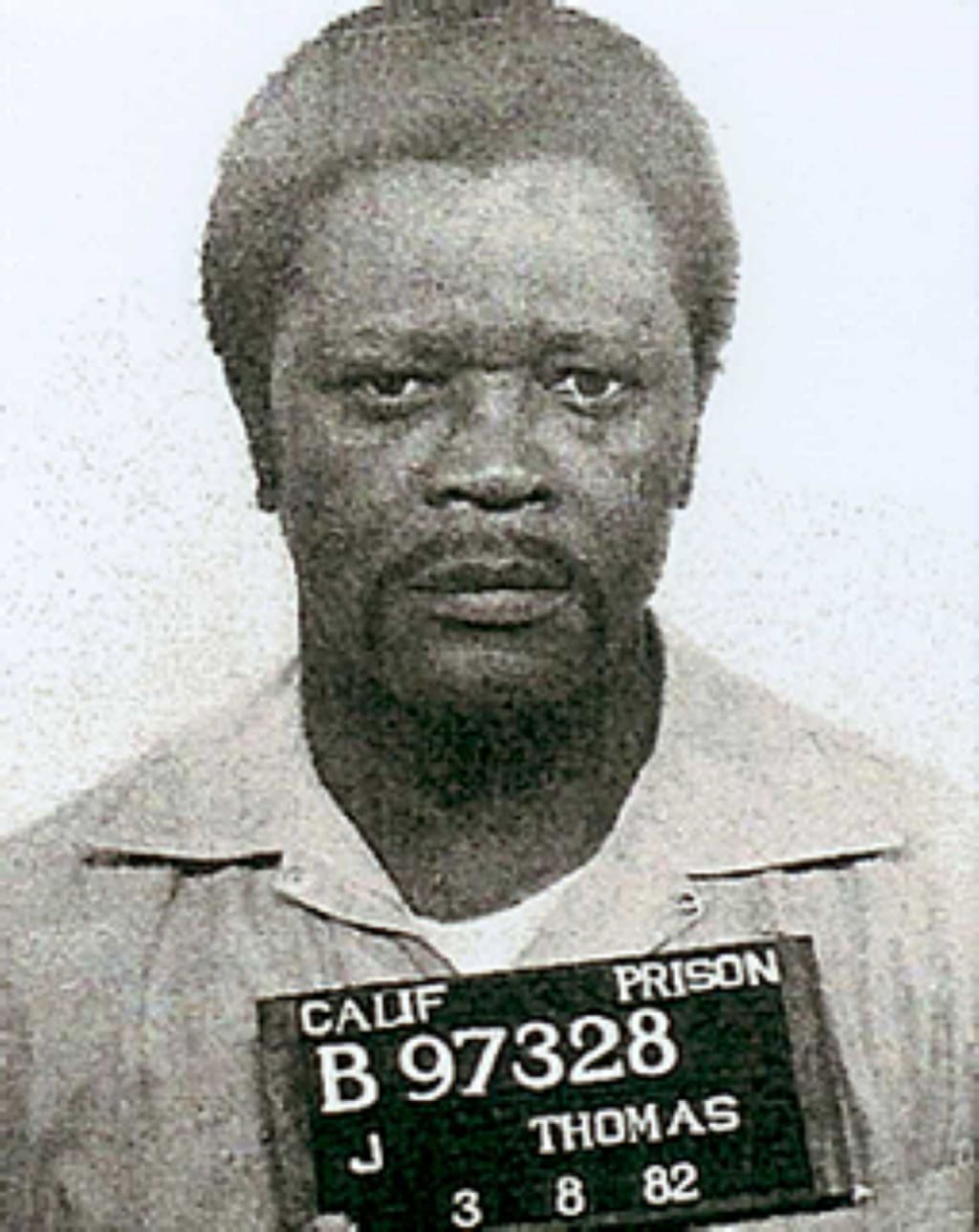 1982 mugshot of John Floyd Thomas Jr. by the LA Police Department, Public Domain, via Wiki Commons
The early years 
It all started relatively normal. Born on July 26, 1936, and raised in the vibrant city of Los Angeles, John Floyd Thomas Jr.'s life took a turn after the untimely demise of his mother when he was just 12 years old. His loving aunt and godmother raised him from that point on. Yet, amidst the darkness, his caring aunt and godmother would step up to raise him from that moment on.
In 1956, John's life took a turn when he joined the U.S. Air Force. Though he hoped for a fresh start, the structured military life at Nellis Air Force Base proved challenging for him.
Punctuality wasn't exactly John's strong suit, and his superiors were quick to criticize his untidy appearance. Eventually, his struggles led to a dishonorable discharge, leaving a permanent stain on his record.
The following year, John faced a six-year sentence for burglary and attempted rape in Los Angeles. A few parole violations extended his time behind bars, and he ended up serving nearly a decade.
Upon John's release, a chilling pattern emerged in the western districts of Los Angeles. A series of attacks on elderly white women sent shockwaves through the local communities. The mysterious culprit quickly gained notoriety in the local communities and became known as the dreaded "Westside Rapist."
The Westside Rapist 
In the shadows of the 1970s, John Floyd Thomas Jr. hunted for his prey along a stretch of Los Angeles spanning from Hollywood to Inglewood.
Each victim met their gruesome demise in a harrowing symphony of rape, suffocation, and strangulation. As the night swallowed the killer's presence, he meticulously concealed their faces beneath the suffocating weight of pillows and blankets, making sure no one could hear their lifeless screams.
Among the countless lives shattered by this merciless predator was Ethel Sokoloff, a respected 68-year-old retired school administrator. In 1972, her lifeless body was found partially unclothed, cruelly hidden in the confines of her vehicle's trunk, just a stone's throw away from the sanctuary of her own home.
But the horrors didn't stop there. 
Three years later, on the fateful night of September 20, 1975, a monstrous presence invaded the home of the unsuspecting 79-year-old Cora Perry. Authorities would discover her kitchen window stood wide open, the missing screen leaving an ominous trail to the beaten, raped, and strangled elderly lady.
In the twisted tapestry of crime, Elizabeth McKeown, 67, met a fate equally as chilling as Ethel's. Elizabeth vanished without a whisper on February 14, 1976. Her lifeless body was discovered only two horrifying days later. She had been raped and strangled before her body was callously discarded in her own car trunk.
The relentless wave of terror continued in 1976, moving to the town of Inglewood, California. In April of that year, Maybelle Hudson, 80, endured a savage and brutal ordeal. Her sanctuary was violated; she was beaten, raped, and cruelly strangled within the confines of her own garage. Just a couple of months later, in June, the echoes of horror reverberated once again as Miriam McKinley, 65, suffered a similarly twisted fate. Sexually assaulted and choked, her own garage also became the stage for a macabre dance of death.
And then came the chilling night of October 29, 1976. Evalyn Bunner, a 56-year-old woman, was discovered slumped behind the wheel of her car. Her dress had been unzipped and hiked up, exposing a disturbing array of bruises on her upper legs. She had suffered the same ending as the others.
In 1978, the unspeakable acts temporarily ceased. A courageous eyewitness managed to jot down John's car licence number after he brutally attacked a woman in Pasadena, leading to his imprisonment. His release in 1983, however, signalled the beginning of a terrifying new chapter.
In search of a fresh start, John decided to make Chino, a city in San Bernardino County, California, his new home. Little did anyone know that this move would spark a chilling chain of violent rapes and murders in neighbouring Claremont.
In the summer of 1986, Adrienne Askew became the last known victim of John Floyd Thomas Jr. The 56-year-old woman had been raped and mercilessly strangled, just three years after her mother, Isabel Askew, suffered the same gruesome fate in the very same apartment. 
As abruptly as the attacks began, they seemed to come to an end in 1989, the same year John transitioned into a job as an insurance claims adjuster at a Glendale state workers' compensation agency.
How was he caught?
As the years passed, the notorious Westside Rapist faded from public consciousness, and progress in solving the Claremont killings ground to a halt.
The investigations remained dormant until November 2001, when the Los Angeles Police Department launched the groundbreaking Cold Case Homicide Unit. With an arsenal of cutting-edge DNA techniques at their disposal, they embarked on a quest to solve the unsolved killings dating back to 1960.
The detectives assigned to the Cold Case Homicide Unit spent their days meticulously combing through unsolved files, including the mysterious murders of Ethel Sokoloff and Elizabeth McKeown. 
The team meticulously extracted male DNA profiles from both crime scenes, and in 2004, a case-to-case DNA match was revealed. A common perpetrator connected the Sokoloff and McKeown murders. However, amidst the excitement, they hit a roadblock: the suspect remained unidentified in the state database.
It would be another four years and a search for a different serial killer that would lead to the capture of John Floyd Thomas Jr.
In 2008, Los Angeles detectives were filled with frustration due to the elusive nature of the Grim Sleeper, another serial killer who had been active in the mid-1980s. The LAPD officers, determined to bring justice to the many victims of the Grim Sleeper, embarked on an audacious mission. They were going to collect DNA from the 92 registered L.A. sex offenders whose DNA had not yet been recorded in the state databank.
In the fall of 2008, the relentless pursuit of justice led police to track down John Floyd Thomas Jr. After substantial pressure, John finally consented to being tested. Clad in professional attire as an insurance adjuster, donning slacks and a sharp long-sleeved red dress shirt, he presented himself at LAPD's Southwest Community station. There, a sample of his DNA was meticulously collected from the inside of his cheek.
March 2009 brought a breakthrough. The Department of Justice's esteemed forensics lab, responsible for maintaining the state's DNA database, notified detectives in Los Angeles of a startling revelation: a DNA match between John and an array of unsolved murders.
To the detectives' surprise, John was not a match for the infamous Grim Sleeper cases they were so desperately seeking to resolve. Nope, they had caught a different serial killer, the Westside Rapist.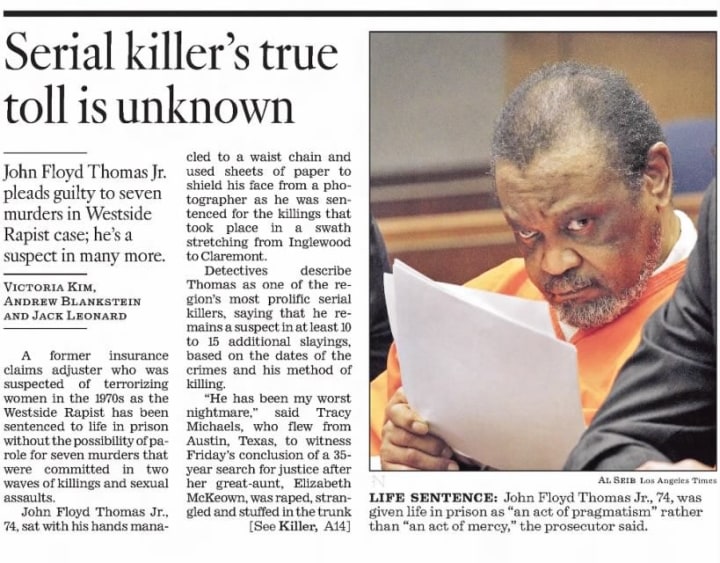 Following his arrest on March 31, 2009, John eventually confessed to his heinous crimes, revealing chilling details about the murders he committed, most of which occurred within walking distance of his victims' homes.
On April 1, 2011, Thomas entered a guilty plea for the seven murder charges to avoid the death sentence for the Adrian Askew murder, resulting in a life imprisonment sentence without the possibility of parole.
However, the horrifying truth remains that the extent of his crimes may reach far beyond what his conviction covers. Many strongly suspect that Thomas could be responsible for 10–15 additional murders and numerous unresolved cases of sexual assault.
Reader insights
Be the first to share your insights about this piece.
Add your insights