The Rape And Murder Of A 7-Year Old Girl
When a night at the casino turns deadly.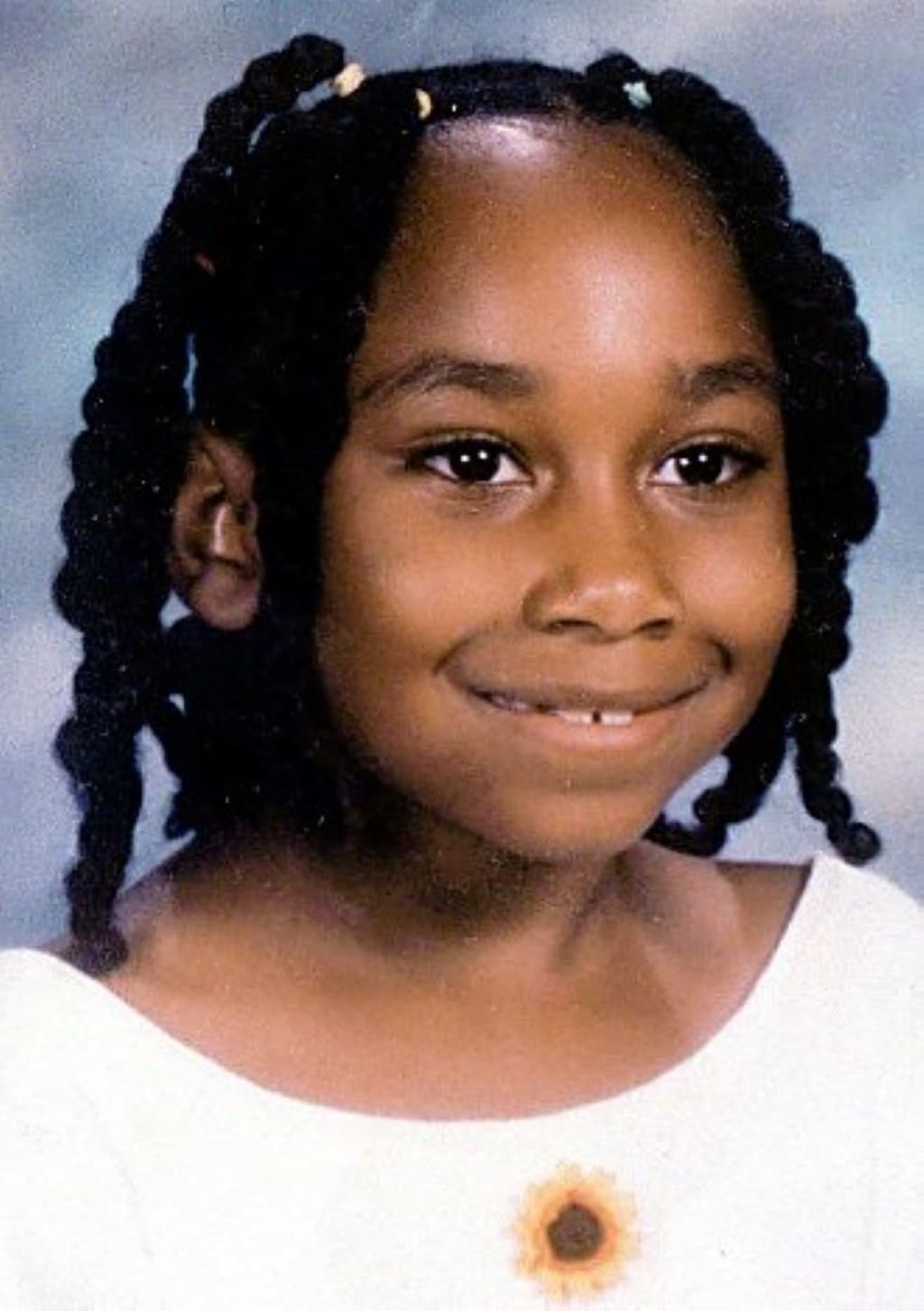 Photo of Sherrice Iverson, provided by the family
A night at the casino 
Leroy Iverson was wary about babysitters. So he always took his daughter, Sherrice, then age seven, and her then14-year-old half-brother Harold, with him when he went gambling just across the Nevada line. It had turned into somewhat of a family tradition. 
So, it was not unusual that the early morning hours of May 25, 1997, found the trio at The Primadonna Resort and Casino, a hotel and casino located in Primm, Nevada, a hot desert city about 40 miles from the glitz and glam of Las Vegas.
The night before, 57-year-old Leroy crammed the children into his '91 white Dodge van and departed Los Angeles at 8 p.m. on Memorial Day weekend to avoid traffic. Leroy arrived at the Primadonna's parking lot well past midnight and informed Harold that he was in charge of Sherrice and then gave both of them $5 to play arcade games. Leroy then proceeded to spend the evening gambling.
His brother said that Leroy Iverson had "gamblin' fever." Indeed, what a fever it was! Several times that night, a security guard had to inform Leroy that his children were wandering. Unfortunately, Leroy did not heed the warning. For twice that night, security guards had to physically escort the 7-year-old to her father, including once after she and Harold had strolled across the street to Buffalo Bill's casino.
Perhaps not surprisingly, Leroy grew angry at teenage Harold's inability to parent his sister throughout the night. Later, a security guard recalled Leroy clenching his fist and yelling, "I oughta murder you," at Harold near the gaming machines. Sherrice and her half-brother went downstairs to the Primadonna's video arcade after that.
While all of this was going on, two best friends, Jeremy Strohmeyer, 18, and David Cash, Jr., 17, were at the same casino, escorted by Cash's father. Like Sherrice's father, David Cash Sr. was also drawn to the lure of easy money. Thus, what was only supposed to be a brief stop at the Primadonna casino, quickly turned into one poker game, then another. By 3 a.m., Jeremy Strohmeyer and David Cash Jr. had grown bored of waiting for David's father.
Jeremy Strohmeyer and David Cash Jr. in Woodrow Wilson High School's senior class photoThe two students from Woodrow Wilson High School decided to pass the time by urinating on the arcade's coin-operated games to ease their boredom. Big Bertha, whose polka-dot outfit flared as players hurled balls into her gaping red mouth, was David's choice. Jeremy chose a helicopter game, and the next target of their juvenile urination game was a wall plug.
After draining their snakes, Jeremy started talking to a 16-year-old girl. He displayed the forged ID he had used to purchase alcohol, showed her his pierced tongue, and yanked up his oversized navy blue T-shirt, revealing his nipple rings. Jeremy asked her for her contact details; however, the girl thought Jeremy was creepy. She lied about her address and refused to give him her beeper number. 
The teenage girl was rescued from the conversation when a stray wadded-up wet paper towel landed on Jeremy.  
A deadly game of Hide-and-Seek
It was 3:30 a.m., and an unattended Sherrice Iverson was understandably restless and tired. Her 14-year-old brother was elsewhere in the casino, and her father was playing slot machines upstairs.
Sherrice was playfully throwing wet, wadded paper towels with another young boy when an errant wad hit Jeremy Strohmeyer. Jeremy scooped up the wet paper wad that had fallen on the ground and flung it towards Sherrice. She rushed away, her blue sailor dress flapping and her black cowboy boots padding along the carpet as he pursued her.
For the next 11 minutes, Sherrice and Jeremy childishly ran around the arcade, playing a game of Hide-and-Seek. 
During his interrogation, Strohmeyer confessed to Las Vegas Homicide Detective Phil Ramos that he told Sherrice the ladies' restroom in the arcade was the only location she could hide from him.
At 3:48 a.m., Sherrice can be seen entering the restroom on the security tape. A few moments later, Jeremy can be seen looking around to ensure no one is looking before following the little girl into the bathroom.
Best friend David stepped in to see what Jeremy was doing after seeing him enter the women's toilets. David watched as Jeremy continued to toss wadded paper towels at a young girl, who appeared to be enjoying the attention at first. Then the scene turned deadly when Sherrice allegedly threw a "Wet Floor" sign at Jeremy. 
This alleged act enraged Jeremy. 
Standing near the sinks, David Cash Jr. watched Jeremy hoist Sherrice with one arm between her legs and a palm over her mouth. He carried her into the handicapped stall and locked the door. David went into a nearby stall and mounted the toilet edge, allowing him to gaze down and see Jeremy continuing to stifle the girl's screams and hearing as he threatened to murder her if she didn't keep silent.
Then, according to a taped statement he later gave police, Jeremy stated he removed Sherrice's boots and underwear and began sexually assaulting the young child with his fingers. 
At this point, David Cash Jr. went back to playing video games, later saying he hadn't wanted to become involved. He made no effort to prevent Jeremy from assaulting the young girl. David did not seek assistance or contact law enforcement. He calmly played games while waiting for Jeremy to return.
Jeremy reappeared 24 minutes later, claiming to have raped and strangled Sherrice. According to his recollection, David's only question was to ask Jeremy if Sherrice had become sexually aroused.
Soon after, the two buddies spent the rest of the night at other local casinos, where they rode mechanical rides and played electronic games until it was time to return home.
Sherrice's body was discovered in the casino arcade restroom around 5:00 a.m. Her body was found in a sitting position on the toilet with her feet in the bowl, she had been stripped naked, and her neck snapped. Sherrice's father and a security officer tried to revive her, but tragically, she had already passed away.
Jeremy Strohmeyer was arrested three days later at his home after security footage obtained by cameras at the casino was released by Nevada police and broadcast on television news. Two of his classmates had recognized him.
When he was arrested for Sherrice's murder, Jeremy had files of child pornography on his computer and other extreme sex acts. He later confessed to police that he wanted "to experience death" and admitted to fantasizing about sex with young girls.
The aftermath 
Jeremy Strohmeyer was charged with murder in the first degree, kidnapping in the first degree, and sexual assault of a juvenile. He was sentenced to life in prison without parole. 
Sherrice Iverson's mother urged that David Cash Jr. be charged as an accomplice to murder as well. However, investigators said there was insufficient evidence linking him to the crime, and since inaction was not a crime in Nevada at the time, David Cash Jr. was never charged with anything related to the murder.
David Cash Jr. told the Los Angeles Times that he didn't think about Sherrice Iverson's murder in the weeks after Jeremy Strohmeyer's arrest. 
'I'm not going to get upset over somebody else's life. I just worry about myself first. I'm not going to lose sleep over somebody else's problems.'
He reportedly told the newspaper that the case's attention had made it easier for him to 'score with women.' 
In 2000, the Nevada State Assembly Bill 267 was signed into law, mandating citizens to report to authorities if they have reasonable concerns that a child under 18 is being sexually abused or violently treated. The bill was sparked by Cash's inaction while the crime was being committed.