The O. J. Simpson Case - Nicole Brown and Ron Goldman
Is the Hall of Fame running back to blame for the murders, or an unknown assailant?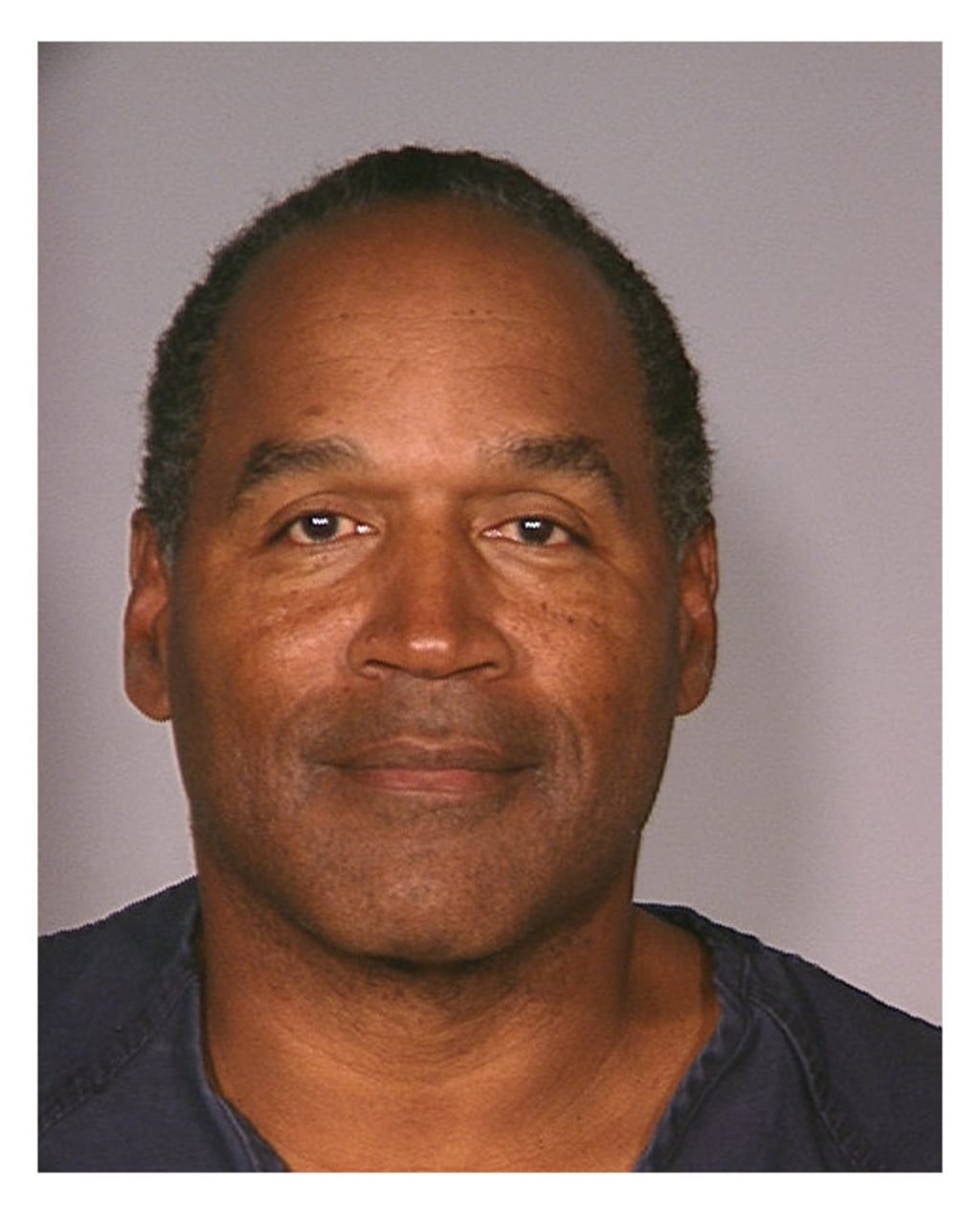 O. J. Simpson's Mugshot from the Las Vegas Incident 
Some may remember the 1994 case in which O. J. Simpson was accused of the murder of Nicole Brown and Ron Goldman at Brown's Brentwood, California house. This case is one that has many different turns, including the acquittal of O. J. Simpson. But the question still remains: who killed Brown and Goldman on the 12th of June 1994?
Who is O. J. Simpson?
O. J. Simpson, or "The Juice," was born on the 9th of July in 1947 in San Francisco to Eunice and Jimmy Lee Simpson. When he was two, he contracted rickets, making Simpson bowlegged and pigeon toed. He wore correctors for a few hours everyday until he was five-years-old.
In 1957, Simpson's parents were divorced, and Simpson and his siblings lived with their mother in a largely black neighbourhood. Simpson would join a gang three years later, which landed him in counselling and got him into football. His poor grades were originally going to keep him out of the college teams, but he made the USC team as a halfback on the team.
On the 24th of June in 1967, Simpson married Marguerite L. Whitley. Simpson had three of his children with Whitley—Arnelle, Jason, and Aaren. They would get a divorce in March of 1979, but their daughter, Aaren, would tragically die on 26th of August 1979, a month before her second birthday, after drowning in the family pool.
O. J. Simpson and Nicole Brown Relationship
O. J. Simpson and Nicole Brown met while Brown was a teenager and Simpson was still married to his first wife, but still started dating. Brown was working as a waitress, and they got married on the 2nd of February in 1985. At the time of their marriage, Simpson was elected into the Pro Football Hall of Fame.
Throughout their marriage, Brown would complain that Simpson was abusive towards her. One such event was at a New Year's Eve Party, where Brown stated that Simpson threatened to murder her. Simpson denied this and brushed it off at an interview later that year with ESPN, although there were times that Simpson would say that he was guilty of spousal abuse in court.
During their marriage, Simpson and Brown had two children together—Sydney Brooke Simpson and Justin Ryan Simpson. Brown would file for divorce in 1992.
12th of June 1994
For everyone else that day, it was an average day that was to be expected. However, on the morning of 13th of July, the general public would find out that Nicole Brown and Ron Goldman were found murdered in the early hours of the morning, exactly at 12:10 AM, at Brown's Brentwood house.
For Goldman, Brown, and Simpson, the day seemed to be relatively normal—Goldman got ready for work, Simpson went to the clubhouse to play some golf, and Brown went shopping for toys. Simpson and Brown were both getting ready to see their daughter, Sydney Simpson, perform in a recital that night.
That night, Simpson sits behind the Brown family at Sydney Simpson's recital and ends up laughing and having fun with the Brown family after the recital was finished. However, the Browns went to Mezzaluna's, not inviting Simpson to come along, which caused Simpson to complain that Brown's dress was too tight and that Brown wouldn't let him go to the restaurant.
While the Browns are at Mezzaluna's, Simpson and his house mate, Kato Kaelin, went to McDonald's, where Kaelin paid for the meal and Simpson ate on the way home as he drove.
At 8:30 PM, the Browns left Mezzaluna's, but Brown's sister called Mezzaluna's to see if her glasses were at the restaurant at 9 PM. By 9:45, Goldman goes to Mezzaluna's and picks up the glasses before going home to change then go to Brown's house.
Around 10:15 PM, Brown's neighbours hear her dog barking, which is the time that the People claimed was when Brown and Goldman were murdered. At about 10:30 PM, Allen Park, Simpson's limo driver, called into the house to take Simpson to the airport to go Chicago. He got no reply.Between 10:40 and 10:45 PM, Kaelin heard a thump from behind the guest house at Simpson's estate, where he lived at the time. Kaelin started to look for an intruder until he saw Park and let Park on the estate. Simpson loaded the limo and then helped Kaelin look around the estate for any sign of an intruder.
About 11:10 and 11:15 PM, Park and Simpson headed to the airport and, fifteen minutes before midnight, Simpson took off to go to Chicago. At 12:10 AM, Brown and Goldman were found by the Rasmussens when they took their dog for a walk, which led them to the bodies.
After Simpson lands in Chicago, Detective Ron Phillips contacted Simpson in order to inform him that Brown was murdered at her Brentwood house. According to Phillips, Simpson responded with "Who killed her?" which to this day is considered very suspicious since he didn't ask any other questions about the murder. Upon his return to LA, the LAPD interrogated Simpson for three hours, but he was later released.
The White Branco Chase
By the 17th of June in 1994, the Los Angeles Police had no idea where Simpson was, so the Los Angeles Police claimed that he was a fugitive, since the LAPD had charged him with two counts of murder. At 6 PM that day, Los Angeles Police, along with over 90 million people, knew exactly where Simpson was—the Southern California highways in one of the slowest, and one of the most famous, car chases in history.
The nation saw that the white bronco was followed by many police cars and helicopters. The nation was also informed that the driver of the car was Simpson's friend and a former football player himself, Al Cowlings. According to reports, Simpson was in the back of the Branco with a gun to his head.
During the chase, Detective Tom Lange was on the phone with Simpson and the dialogue that they had is slightly unnerving since it shows Simpson's mental state at the time.
Simpson: This is not to keep you guys away from me. This is for me.
Lange: I know that. Nobody's going to hurt you.
Lange also tried to convince Simpson by talking to Simpson about his children.
Lange: Think of your kids.
Simpson: No.
Simpson did hang up on Lange several times and Lange continued to try to convince Simpson to throw the gun out of the car since people were worried about him. Simpson also talked about Brown to Lange.
Simpson: I just want to be with Nicole.
Lange: You don't need to be with Nicole. You need to be with your family and with your kids. You don't need to be with Nicole.
By 8 PM that night, Simpson and Cowlings return back to Simpson's house and the police started talking to Simpson about surrendering. Cowlings would argue that he did not pull over for the officers since Simpson had the gun to his head and feared Simpson would pull the trigger if Cowlings had stopped the car. Simpson would surrender to LAPD at 8:51 that night and be taken to the station.
When LAPD examined the car later, they did find make up adhesive, fake mustaches and goatees, Simpson's passport, and a gun. Some do admit that it does seem pretty funny that those items were found, considering Simpson was a popular face and it would have been near impossible for him to get through TSA and an airport undetected, regardless of those items.
The Trial - The People
The People argue that Simpson's motive was the classic lover's triangle. With the divorce, Simpson and Brown had grown apart, while Goldman and Brown seemed to have gotten closer with one another to the point that some believed that they may have been romantically involved. Goldman did deny that fact, however.
If it is believed that Brown and Goldman were murdered at 10:15 that night, Simpson would have more than enough time to murder Brown and Goldman, clean himself up, and be at his house at 11 to meet the limo. It is made even more possible when considering that Simpson's estate was a mere six minute drive from Brown's house.
A bloody glove found at the murder scene also matched another glove that was found on Simpson's estate, behind the guest house where Kaelin had heard the loud thumps that night. Both gloves had blood from Simpson, Brown and Goldman on it. A black knitted hat also found at the scene did have hair that was a match for Simpson based on the FBI database. A bloody footprint found at Brown's house matched Simpson's size and a shoe that he owned at the time. Simpson also had a cut on one of his fingers the day after the murders when LAPD questioned him. Further investigation revealed that Simpson had bought a knife that was similar to the knife that the coroner had determined was used to murder Brown and Goldman.
It is important to point out that the knife and shoes were never found.
The Trial - The Defense
Even with all the DNA evidence that was found, the defense was ruthless in pointing out errors that the LAPD forensic team made while collecting the evidence. Some of the points that they told the jury was that evidence was packaged improperly and left in a van to overheat, which can compromise DNA evidence on the items that were found.
Simpson did try on the glove that was found and it did not fit being too small for Simpson, which gave defense lawyer, Johnnie Cochran, the right to make the now infamous statement, "If it doesn't fit, you must acquit." The People did not want Simpson trying on the glove due to the fact that the glove was frozen and thawed several times which may have caused the glove to shrink.
Detective Mark Fuhrman was also hotly questioned. The defense played audio of Fuhrman using 40 slurs in a single sitting for the jury and the court to show that the lead detective was highly racist going into the investigation. The defence also placed the idea that Fuhrman, having jumped Simpson's fence and finding the matching glove on his own, may have planted evidence in order to arrest and put Simpson in jail, specifically the matching bloody glove. This tainted all evidence found at Simpson's estate.
Media Coverage
The way the media handled the case and other events in the decade may have caused the results to vary slightly on the ruling of the case, particularly on race. In 1992, the Los Angeles Race Riots happened, which was based on the fact that an African American male was beaten to death by LAPD officers and those officers were acquitted.
As Simpson returned home from Chicago, he was placed in handcuffs and that was aired which helped the defence's position on the racism of the LAPD at the time.
The Ruling
Despite the People's evidence, Simpson was found not guilty to all counts. All the talk of the racist intentions may have affected the ruling as the jury was made up of eight African Americans, one Latino, one white, and two biracial people. The jury's ruling of not guilty was reached in just under four hours.
Wrongful Death Lawsuit
Brown's and Goldman's families did file a wrong death lawsuit against Simpson later, in which Simpson did lose. Simpson was ordered to pay the Brown and Goldman families 33.5 million dollars in damages.
"If I Did It" by O. J. Simpson
Simpson later wrote and published a book about the murders and what he would have actually done if he had murdered Brown and Goldman. Reasonably, the book was not published at first due to the fact that the public was enraged that Simpson had written it. Later on, the book was published when it was determined that all profits would go to the Goldman family.
The Las Vegas Incident
On September 16, 2007, Simpson was connected to a robbery in Las Vegas Nevada. In 2008, Simpson was found guilty on twelve different counts that included, but are not limited to, armed robbery and kidnapping. He was sentenced to 33 years in prison.
On the 1st of October in 2017, Simpson was released on parole due to good behaviour.
Other Suspects?
The first suspect that is also considered is convicted serial killer, Glen Rogers. Roger's brother, Clay Rogers, stated for a documentary that while G. Rogers was on death row, G. Rogers admitted to murdering Brown and Goldman. It is important to point out that even if this is true, Simpson would still be guilty since G. Rogers told his brother that Simpson hired him to steal a pair of earrings from Brown's house and ordered him to murder Brown if she got in G. Rogers' way. However, G. Rogers's may have been serving time at the time of murders; hence, he may have been lying.
The second suspect is Simpson's son, Jason Simpson. The theory that J. Simpson was the murderer would come from private investigator, Bill Dear, one of the handful of PI's that is part of the Police Hall of Fame. The case is almost entirely circumstantial, but Dear accuses J. Simpson in a book called O.J. is Innocent and I Can Prove It. It is important to point out that at the time of the murders J. Simpson was on probation since he attacked his former boss with a knife, and was known to attack former girlfriends, cutting one's hair off with a knife. Dear impersonated a doctor for two weeks in order to get J. Simpson's medical records that revealed that J. Simpson had intermittent rage disorder and stopped taking his medicine around the time of the murders. J. Simpson says that he was working that night, but his time card was hand written although the clock in system was working. Dear states that Simpson was only at the scene in order to protect J. Simpson.
Conclusion
Simpson's estate would be demolished in 1998, possibly to wipe the memory from the city of Brentwood.
CNN reports that the percentage of Americans who think that Simpson did kill Brown and Goldman has increased 17 percent with 66 percent in 1994 to 83 percent in 2014.
Although there is much evidence against Simpson, and even with the other suspects, Simpson is suspected to still be at the scene regardless. The case of Brown and Goldman will remain unsolved and Simpson cannot be tried again for the same case.
Sources
Bergara, Ryan, & Madej, Shane. "Buzzfeed Unsolved: The Shocking Case of O.J. Simpson." Buzzfeed. 4 March 2017. YouTube. Web. <https://www.youtube.com/watch?v=YLmDE_JYUNU&list=PLVAvUrL_VQiNxhE8uD_y3bRt3sU92aulL&index=12&t=0s>
Frost, Natasha. "O.J. Simpson's Getaway Car: What Happened to the White Bronco?" History.com. 15 June 2018. Web. <https://www.history.com/news/oj-simpson-white-bronco-chase-where-now>
"Transcript of Simpson 'Bronco Chase' call release" CNN Interactive. 26 Nov. 1996. Web. <http://www.cnn.com/US/9611/27/simpson.chase/>
USA Today. "Timeline of June 12th, 1994: Murders of Nicole Brown and Ron Goldman." Courier Post. 4 March 2016. Web. <https://www.courierpostonline.com/story/news/nation/2014/06/11/timeline-of-june-121994-murders-of-nicole-brown-simpson-and-ron-goldman/10328983/>