The "Night Stalker:" A Story of Brutality, Murder, and Satanism
Richard Ramirez, Born to Murder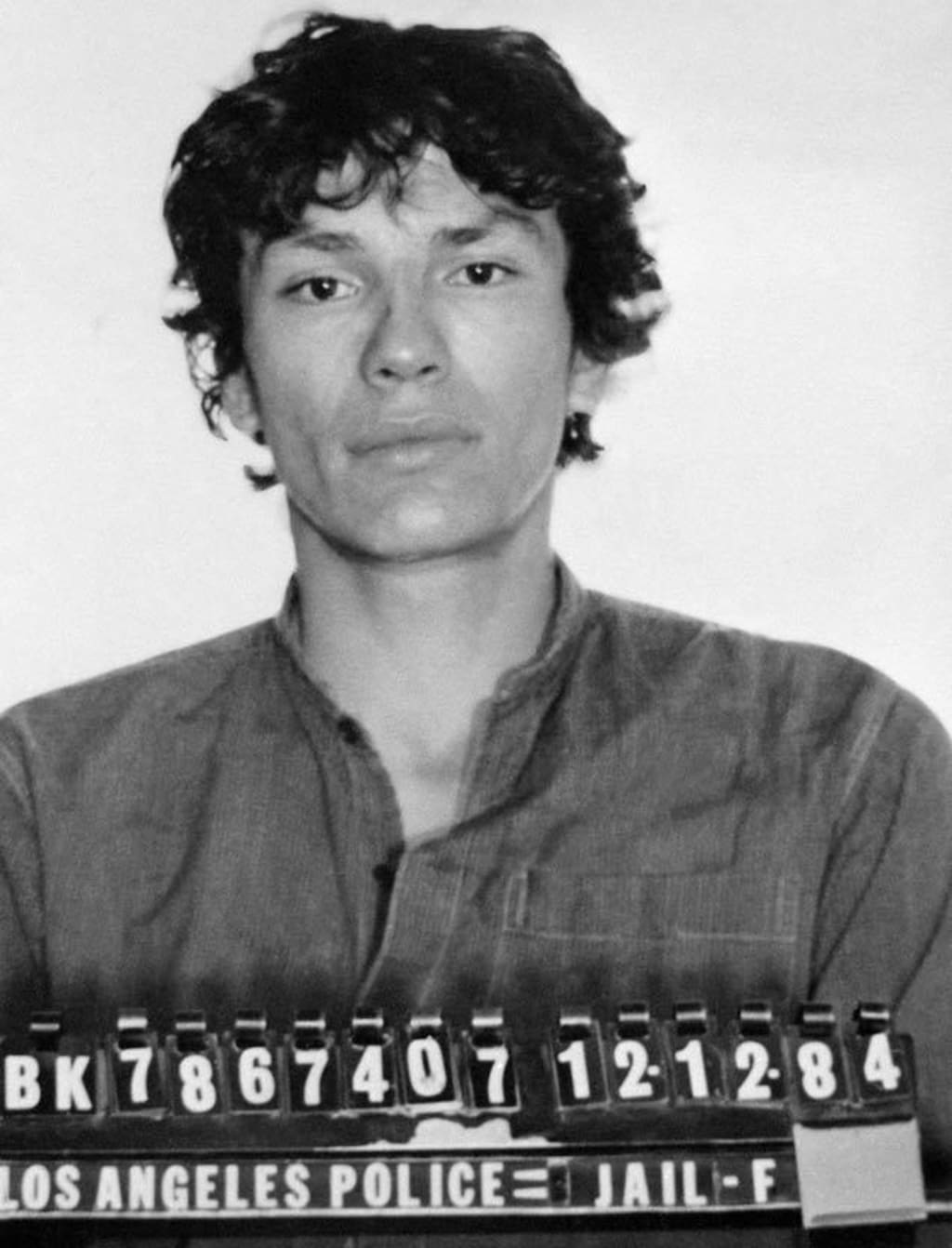 Richard Ramirez, aka the "Night Stalker" murdered at least 14 people and assaulted at least 2 dozen more in his lifetime.
Richard Ramirez was born February 29, 1960 in El Paso Texas to Julian Ramirez and Mercedes Ramirez. Richard was one of five children to Julian and Mercedes. When Ramirez was a child he developed epilepsy after sustaining multiple head injuries at an early age, at the hand of his father. To escape the abuse at home, Ramirez would sneak out of his house, and go to the Concordia Cemetery. Later in life, after Ramirez developed an interest in Satanism, he would practice his evil works in the Concordia Cemetery. It is said that even to this day, Satanists practice their evil works in Concordia because of Richard's ties to the cemetery.
When Ramirez was 13, he witnessed his cousin murder his wife. His cousin, Miguel, had fought in Vietnam and after his return, he and Ramirez spent a lot of time together, smoking pot and discussing the torture and mutilation Miguel has inflicted upon several Vietnamese women. Ramirez sat and soaked up every piece of information he could from Miguel, like a student would a teacher. Ramirez dropped out of school in the ninth grade. In 1977, Ramirez was arrested for the first time for possession of marijuana. After moving to California, he upgraded to using cocaine and performing burglaries. In 1981 and 1984 he was involved and arrested in auto theft incidents. Then Ramirez turned to violence and Satanism.
Richard Ramirez, committed his first known murder on June 28, 1984. The burglary of 79-year-old Jennie Vincow, lead to her being sexually assaulted, stabbed, and killed. After multiple murders, Ramirez developed his attack style, which would become his "pattern," when he killed Vincent and Maxine Zazzara on March 27, 1985. Ramirez shot Vincent first, then Maxine was brutally assaulted, stabbed to death, and finally her eyes were gouged out. Ramirez was on a murder spree, whose brutality would leave everyone shocked and mortified. In response, the L.A.P.D. put together a dedicated task force with the assistance of the F.B.I.
During the spring and summer of 1985, Richard Ramirez, an American serial killer, took the lives of at least 14 people and raped and tortured at least 12 more. Due to the pressure created by the media and the local police, Ramirez was pushed out of L.A. He ventured to the Bay area where he committed another two murders. This is when he began to slip. When attempting to commit an assault, a witness saw him, he left a foot print at the scene of a crime, an assault victim identified his vehicle and provided a license plate, and eventually he was beaten by East Los Angeles residents while attempting two carjackings, before police arrived and arrested Richard Ramirez on August 31, 1985.
After multiple delays of the court proceedings, Richard Ramirez was found unanimously guilty on 43 charges, including 13 counts of murder, 5 counts of attempted murder, 11 sexual assault charges and 14 burglary charges on September 20, 1989 and two weeks later the same jury recommended the death sentence on 19 counts. When leaving the court room, Ramirez was quoted as saying, "Hey, big deal, death always comes with the territory. I'll see you at Disneyland." On November 7, 1989, the convicted murderer was formally sentenced to death by gas chamber, and was sent to San Quentin Prison in California to live out the remainder of his days. During and after the court proceedings, Ramirez had numerous followers and supporters of his actions, many of them fellow Satanists cloaked in black during the proceedings. While incarcerated, Ramirez married one of his supporters, 41-year-old Doreen Lioy, in 1996 and they remained married until Richard's death in 2013. On June 7, 2013 Richard Ramirez died in Greenbrae California due to complications related to B-cell lymphoma, after spending 24-years on death row.
Considering the history of the "night stalker," Richard Ramirez, it is easy and quick to determine that abuse was apparent in Richard's youth and was a continuing theme throughout his life. When Ramirez was a boy, he was subjected to a lot of hate, violence, and death, all of which became normal to him. The abuse from his father was severe and regular. It was enough to induce the boy with epilepsy. To escape his pain, Richard was searching for answers and for something to make him feel alive and to feel good. This is how Richard came upon Satanism. Satanism and his criminal history, lead to the violent path of murder he ultimately took.
Richard Ramirez is another example of how parenting and treatment of our children is important to the upbringing of children. Children do not need endless amounts of money or material possessions, they simply need love and guidance in their life. Ramirez clearly, did not even have a chance. He was raised with hatred, abuse, murder, brutality, and evil from the moment he was brought into this world. Sometimes, we cannot foresee the beginnings of a serial killer/murder, with Richard Ramirez, that was not the case. With cases like Richard Ramirez, sometimes murders/serial killers are created.