The murder of David 'Stringbean' Akeman
'Stringbean' was a member of the Grand Ole Opry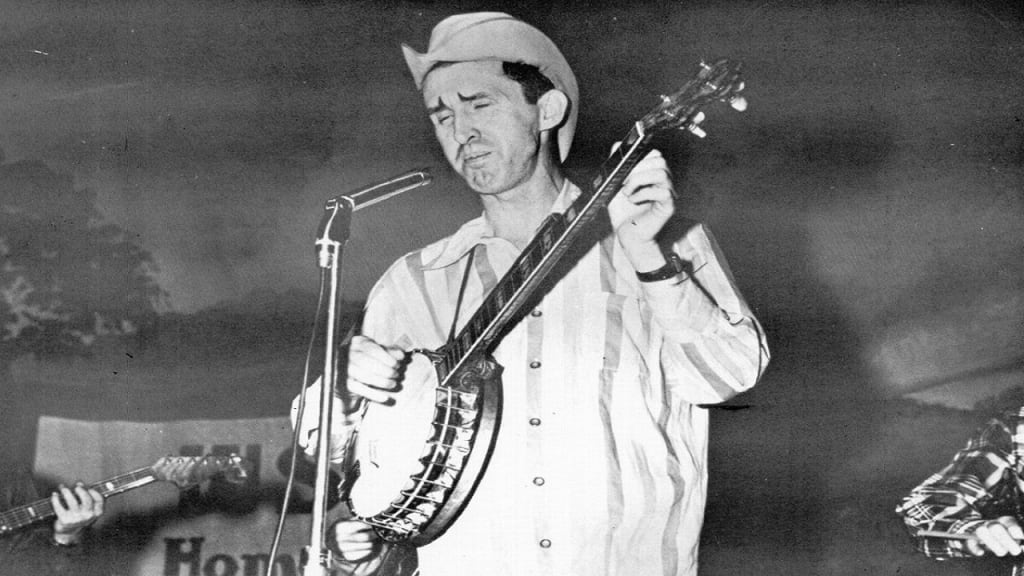 David 'Stringbean' Akeman
If you grew up during the 70s, you probably watched a program called Hee Haw. It had jokes, dancing and singing from many legendary country performers like Loretta Lynn, Buck Owens, Randy Travis, and countless other country stars. I have never been a fan of country music, but I enjoyed Hee Haw as a kid.
The show had a remarkable run and produced hundreds of episodes. Recently, I watched a few classic episodes on YouTube. I researched the biographies of several performers and cast members who once appeared on the show. Most of them lived to see old age.
But there are always exceptions.
One of the more popular characters on Hee Haw was a banjo player named David 'Stringbean' Akeman. Stringbean was born in 1915 in Kentucky. He came from a musical family. Once he received his first banjo, he never put it down.
'Stringbean' joined the Grand Ole Opry
He became a successful musician and semi-professional baseball player. If you look at Stringbean's physical appearance, you will understand his nickname. He was lanky and wore large shirts that he tucked into his jeans. It distorted his appearance, but he only dressed like this when performing.
Stringbean's musical career took off after he played his banjo in the Bill Monroe band for two years. In 1945, Stringbean married Estell Stanfill. He was then invited to play at the Grand Ole Opry. He then met another banjo player named Louis "Grandpa" Jones. The two quickly became close friends and worked together on the Grand Ole Opry. The men also joined the original cast of Hee Haw in 1969. Stringbean appeared on Hee Haw until his death. The two friends and their wives became the best of friends and neighbors in Goodlettsville, Tennessee.
Everyone who knew Stringbean loved him. He had no ego and loved to tell jokes, play his banjo and sing. Stringbean didn't drive, so Estell drove him around in their Cadillac. The frugal couple also didn't trust banks and lived in a modest cabin. They felt safe at home. Estell once said they could leave a bucket of money on the porch and it would still be there when they returned. Unfortunately, this naïve thinking would lead to the couple's murder.
Murder in Goodlettsville
On November 10, 1973, the couple returned home from a performance at the Grand Ole Opry. Unknown to Stringbean and Estell, two killers waited for them inside their home. Cousins John Brown and Marvin Douglas Brown, both 23, had broken into the cabin looking for valuables. Inside the cabin, they discovered no cash, but located several weapons. They waited for Stringbean to return home to rob him of his cash.
However, the robbery didn't go as planned. Once Stringbean and Estell had returned home, they realized someone had broken into their cabin. Stringbean drew his pistol before entering the cabin. He then shot at the Browns and missed. Stringbean was shot to death inside his cabin while one of the killers chased Estell down and shot her in the head. The Browns stole some weapons, a chainsaw and cash.
The next day, Grandpa Jones stopped by to meet with Stringbean for a planned hunting trip. Jones found Stringbean and Estell's bodies. He immediately called for help. Authorities eventually captured the Browns. Both men blamed each other for the homicides. They were both convicted of first-degree murder on November 2, 1974. While incarcerated, Marvin Brown died in 2003. After serving 41 years behind bars, John Brown was paroled on November 3, 2014.
Today, Hee Haw only exists on video and in syndication. Although the current generation of young adults have probably never heard of Hee Haw, it will always have its place in television history. After Stringbean and his wife were murdered, they were buried at Forest Lawn Memorial Gardens in Goodlettsville, Tennessee.