'The Hustle' (2019) Review
Rebel Wilson and Anne Hathaway, in a gender flipped re-imagining of 'Dirty Rotten Scoundrels,' try to take a tech billionaire for every penny he has.
In The Hustle, we find Penny Rust (Rebel Wilson) and Josephine Chesterfield (Anne Hathaway) playing their trade as scam artists and swindling naive men out of their money. While Penny doesn't have rent money, Josephine comes from a different echelon of society, but they both set their sights on the same mark. Consequently, they team up to take the tech prodigy for everything he has. Does this narrative sound at all familiar?
The Hustle,directed by Chris Addison, has a similar premise to Frank Oz's 1988 comedy Dirty Rotten Scoundrels. The 1988 film saw Freddy Benson (Steve Martin) and Lawrence Jamieson (Michael Caine) team up to con an heiress out of $50,000.
Before anyone tries to say no one should remake a classic, not that that isn't entirely true most of the time, one shouldn't forget Oz's film was not the original because it was a remake of Ralph Levy's 1964 Bedtime Story in which the characters played by Martin and Caine, respectively, were personified by Marlon Brando and David Niven. More accurately, Niven's plays Lawrence Jameson, but the similarity between the 1964 and 1988 characters is close enough to call them the same person. Like a lot of big-screen productions, these narratives have their origins in books and or stage plays.
The original Scoundrels can be found in the George Farquhar written 1707 stage play The Beaux' Stratagem. The play revolves around two young gentlemen, Archer and Aimwell, that had become financially embarrassed and had subsequently fallen on hard times. To right their metaphorical ships, they hit upon a scheme by which to swindle heiresses out of their money. Everything goes smoothly until Aimwell falls in love with their mark, Dorinda.
The latest reimagining of the narrative does a gender swap with the lead characters but pretty much leaves the premise intact. As we saw with The Beaux' Stratagem, Bedtime Story and Dirty Rotten Scoundrels, two con artists attempt to con each other before realising they would do significantly better if they team up. Naturally, because they're con artists, it doesn't take them long to figure out they can't trust each other. What a shocker, not!
When Thomas Westerburg (Alex Sharp) makes his appearance, the con artists soon devise a competition to see who can con the unsuspecting tech billionaire out of $500,000. The prize for winning the swindle is exclusivity to the French Riviera town of Beaumont-sur-Mer. Someone must swindle the tourists and gamblers out of their millions. The winning con artist gets to reap the rewards while the loser must leave town forever.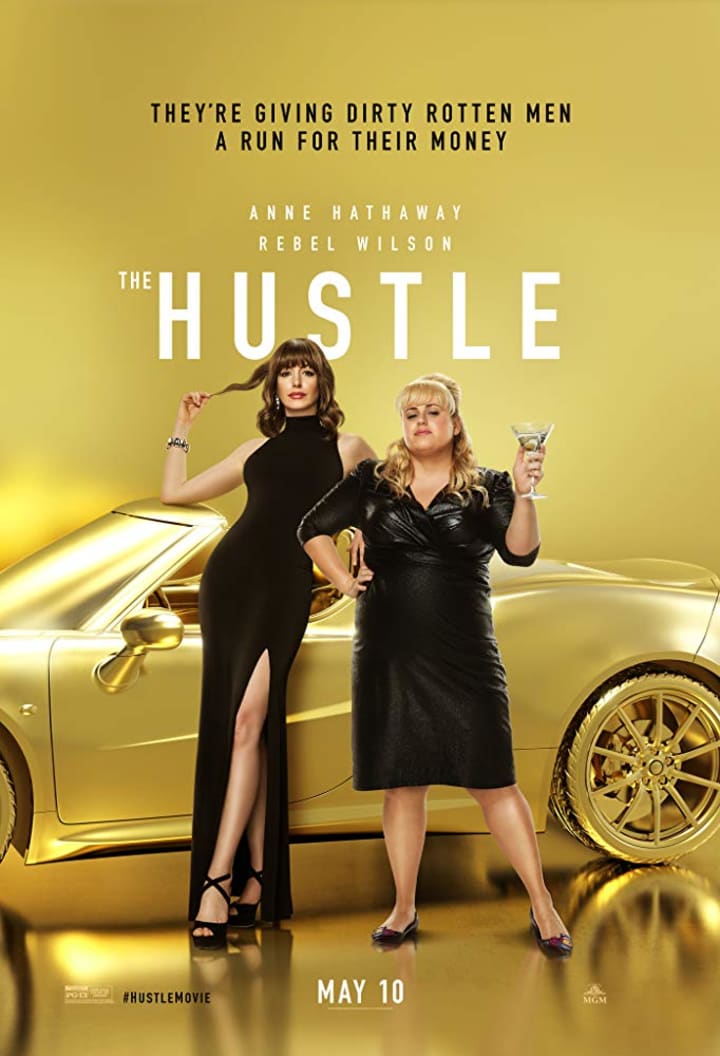 Josephine, with the assistance of police inspector Brigitte Desjardins (Ingrid Oliver), has ruled over Beaumont-sur-Mer for years. Brigitte's protection doesn't come without a cost. Josephine expertly takes the tourists and gamblers for every penny they possess. When Penny looks to get in on the action, Josephine sees in her a real threat to her domain.
Unlike the cons Josephine pulls on her marks, Penny is far more lowbrow. The stakes are consequently lower, but when the out-of -owner realises what she could be enjoying if she put her mind to it, Penny stays in the French Riviera town so that she can learn from Josephine's example.
Even though Wilson and Hathaway do a good job with the material, gender-swapping the lead characters is pretty much all the film creators do with the premise. The opportunity to make this film significantly different from the original film and the Oz remake was missed.
If you've seen either the 1964 or the 1988 films, you'll probably know how The Hustle ends. Why would we need to spoil the surprise?
movie review
About the author
I'm a freelance journalist. A member of both the NLGJA and SPJ, I currently write articles for Harsh Light News on Medium and HVY.Com. When I was a university student, I wrote articles for the NT Daily and TCU 360.
Reader insights
Be the first to share your insights about this piece.
Add your insights