The Heart Wants What The Heart Wants Even When Its' Wrong
As a 25-year veteran of Law Enforcement and Corrections, I'll share my insights on Vicky White's ill-fated love with accused murderer Casey White.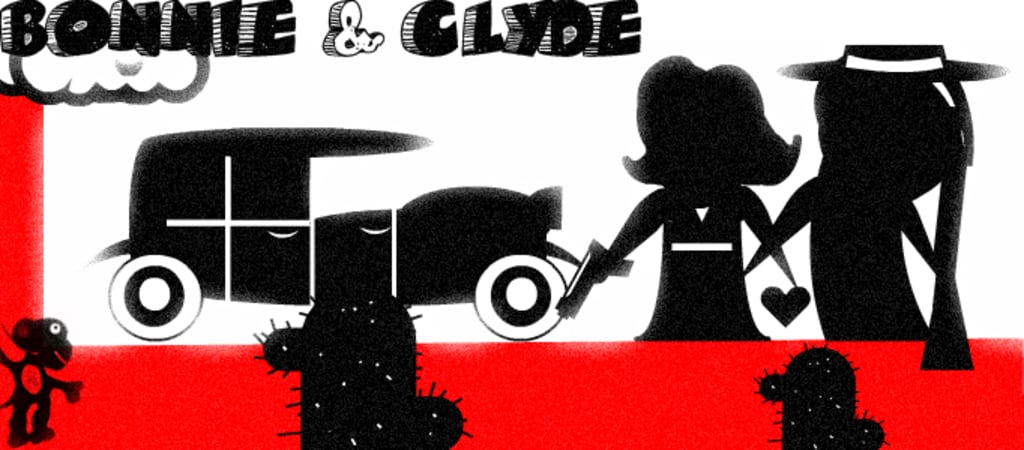 Unuplusunu, CC0, via Wikimedia Commons
Casey and Vicky White enjoyed a jailhouse romance that ended tragically for her and the family she leaves behind. What happens when an officer falls for the wrong person. It never ends in a fairy tale.
In the end, Vicky White chose to take her own life. Authorities released the information about her demise and that she died as a result of a self-inflicted gunshot wound. It's a sad outcome considering she spent 25yrs as a civil servant.
Facts About Vicky And Casey White
The newest Bonnie and Clyde story has come to a tragic conclusion after a nationwide hunt for the two ill-fated lovers.
On Friday, April 29, Casey White was taken out of the county jail by Assistant Director of corrections Vicky White. Vicky allegedly told a booking officer that Casey had a scheduled "mental health evaluation" at the nearby courthouse. She promised to drop him off before getting medical treatment for an unknown issue, claiming she wasn't feeling well.
By Friday afternoon, authorities were frantically trying to contact Vicky White. It wasn't long before officials determined that the mental health evaluation was a made-up story.
Authorities scoured phone records and canvassed a shopping center where someone spotted Vicky White's patrol car, hoping to find footage that might show them getting into a different vehicle. As Vicky White carried a gun, authorities believed Casey White was armed.
Were Vicky and Casey White Romantically Involved
Much like the famous Bonnie and Clyde, it now appears to authorities that Vicky and Casey White's relationship somehow became romantic. The tragedy of romance that starts like this is that they're doomed to be apart or die together. There are only two outcomes on the table in cases like this, and in this case, the Whites will spend many years apart.
Much like the famous Bonnie and Clyde, it now appears to authorities that Vicky and Casey White's relationship somehow became romantic. The tragedy of romance that starts like this is that they're doomed to be apart or die together. There are only two outcomes on the table in cases like this, and in this case, the Whites will spend many years apart.
What Happened To Vicky White
If Vicky White is involved romantically with Casey White, it's called hybristophilia. It is a poorly documented phenomenon, except in the United States, where it is punishable by law.
In 2006, there were 1.6 million known Americans in prison. There were 60,500 incidents of sexual misconduct and assault reported by authorities. In the United States, it is unlawful to have sexual relationships with people under your charge or incarcerated.
While it's mostly a female phenomenon, men and women alike can find themselves the victims of advances by inmates. Many of the reasons that corrections officers fall for such affections are
Mental health in corrections or law enforcement is important. People suffer from mental health conditions. Depression, isolation, loneliness, and feelings of being unappreciated, all contribute to occurrences of officers that succumb to advances and attentions by inmates.
Professional isolation. Professional isolation is a problem. When you're unable to talk about confusion in the workplace, to discuss when the lines are getting blurry, you're on your own to make those decisions.
Natural attraction. It goes without saying that at some point in a professional career you'll meet someone that you're attracted to and about who you'll have sexual or romantic thoughts.
How to Combat The Problem
As a corrections supervisor, this happened three times in my facility. According to Philippe Bensimon, Ph.D., these areas need working on in corrections to help deal with, combat, and address the phenomenon of staff romances with inmates.
Prison and jail officials should recognize the problem instead of ignoring it and review the quality of their recruitment. Facilities and agencies should be examining the training they provide to staff. To a point, this is correct. It isn't, however, the only thing that can be done.
While the physical and mental attraction of an employee toward an inmate may reflect an imbalance in the employee's personality, we have to remember that we're all human. On any given day, the person behind that door, or those bars, could be one of us. In my time, I saw three lieutenants, a Sheriff, and multiple officers locked up. Once upon a time, they had all been stable, well-rounded, individuals.
Isolation is the biggest thing that haunts law enforcement or correctional fields. There is an intrinsic expectation for law enforcement and corrections personnel to be perfect. It's enumerated within the guidelines of agencies, organizations, and training manuals. So, if you are one of the few brave enough to put the uniform on, and you slip, you may feel isolated and experience not having anyone to talk to.
Some examples of this isolation and what it can do to a human being are interesting.
'Ring, ring, ring.'
The phone rings and it's one of your guys that needs to talk. From the sound of his voice, he's going through something incredibly painful. So, schedule a meeting for as soon as possible. In this case, the officer that worked my shift was off and needed to be seen (counseled) immediately. He was confused, distraught, and didn't know where else to turn.
"What's going on?" I asked him.
"I'm struggling with some thoughts and I don't know how to control them," he tells me.
"What's going on?" I asked him.
"I'm thinking about doing something with a girl…you know…one of the girls in the girls' block," he described.
I'm sitting there with a happily married man, someone I know who loves his wife and children, and he's confessing that he's considering an action that will risk his marriage, his children's futures, and his freedom. It is a felony in the state of Illinois to have a sexual relationship or commit any sexual act with a prisoner, even if the prisoner is "willing."
"How do you say no? Have they ever asked you to do things, offered to do things to you…or stuff like that?"
In point of fact, yes. Yes, they had. If I had a dollar for every time one of the girls in custody said something inappropriate, made a sexual advance or offer or offered to trade favors for sexual gratification, I could buy a new Tesla.
My officer described how the "girl" in question would repeatedly come up to her door in a "wife-beater" and panties. The wife-beater is a slang term for a white tank top. So, on a chesty girl, this leaves little to the imagination. I'd seen this routine many times.
He went on to tell me what the girl was offering to do for him. I wasn't surprised as this is one of the most frequently offered favors. It's also one of those favors that guys just happen to love. To anyone that thinks that just because they're in jail they're stupid, or not figuring out people, I'll point out that they're mistaken. Prisoners in jails and prisons often have as much as 24hrs a day to sit around and plot, plan, and manipulate everything around them.
The officer was a nice guy, and likely too nice to be a correctional officer, to begin with. The job requires a degree of both physical and mental toughness. So, as easily as I could, I told him how I say no. It happens to a lot of officers, probably more than we will ever understand.
The entire time I was an officer, I never chose to report the advances because I would blow them off and remind the inmates who exactly I was. I was their jailor, not their friend, not their confidantes, and certainly not interested.
"No Pussy or dick is worth going to prison for."

— ME in 1994, the year I started as a volunteer
The fact that my officer felt comfortable enough to admit he was considering carrying out such an act was both good and bad. It left me with some tough choices to make and I was known for being fiercely loyal to my guys and gals. But, it meant that I had done a good enough job that the staff trusted me enough to talk. I'd been there for a lot of years. I'd seen most of the problems they would face. I'd seen this one, and been the "victim" of the girls' harassment.
The difference between me and my officer was that I was self-assured, cocky, and did not feel unloved. Even though I was single, I was able to talk to him long enough to understand that things at home were getting a little stale and he was in that place he was vulnerable. I was able to counsel him enough that he eventually could work around the female prisoners without being a risk to himself, his family, and our department.
Final Thoughts
Vicky White is an adult who had plenty of experience and knowledge to know what inmates were capable of doing and how manipulative they are. She made her choice and now she'll have to face the consequences. However, had she had the opportunity to speak openly about what was going on in her life, perhaps this wouldn't have happened.
For agencies to combat the scenarios of staff and inmate romances there are only two things that they can do. The first is to maintain communications with your people going down the line. Know what is going on in their lives and if they appear alright, or are doing alright.
The second is regularly available mental health personnel that operates on a confidential basis. Officers in any uniformed profession are going to see things that are traumatic, sacrifice time and energies that are better spent on self-care and developing relationships away from work, and will become vulnerable. Qualified mental health professionals should be made available to officers to help cope with the stresses of the job that are known to affect officers and their judgment.
incarceration
About the author
I have always enjoyed writing and exploring new ideas, new beliefs, and the dreams that rattle around inside my head. From the current state of the world to the fantastical ideas of science I've enjoyed exploring them. Time to share them.
Reader insights
Outstanding
Excellent work. Looking forward to reading more!
Top insight
Expert insights and opinions

Arguments were carefully researched and presented
Add your insights