The Girl Scout Murders
Still Unsolved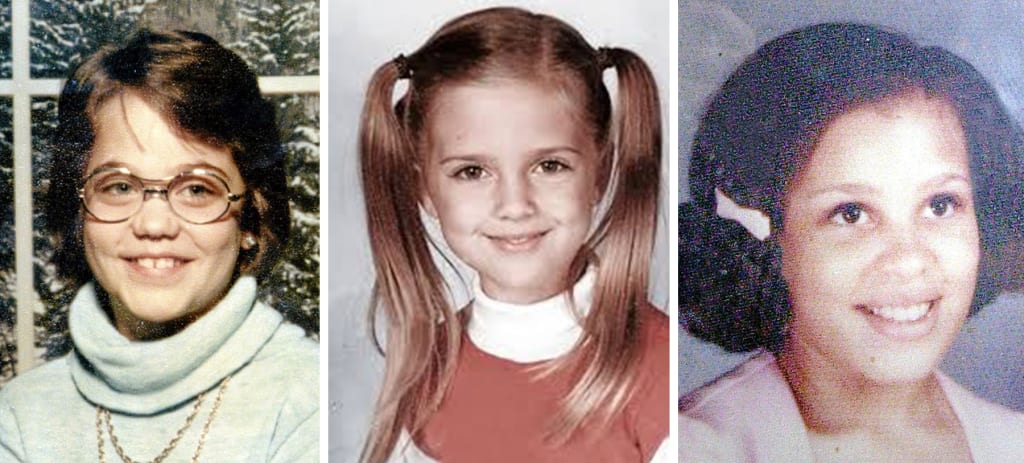 In 1977, about two months before a Girl Scout camping trip at Camp Scott in Mayes County, Oklahoma, there was an on-site training session for the counselors. One counselor found that someone had gone through her belongings and stolen her doughnuts. She found a handwritten note inside the doughnut box that read "We are on a mission to kill three girls in tent one." She went to the camp director with the note. The note was played off as a prank and thrown away.
On June 12, 1977, at around 7 pm, there was a thunderstorm. Eight-year-old Lori Lee Farmer, ten-year-old Doris Denise Milner, and nine-year-old Michele Heather Guse were huddled together in tent number 8 during the storm. All three girls lived outside of Tulsa in Broken Arrow, Oklahoma. Tent number 8 was in the camp's Kiowa unit which was the furthest from the counselor's tent and not fully visible due to the showers.
At around 6 am on June 13, a counselor was on her way to take a shower. She found a girl's body in a sleeping bag in the forest. All three girls in tent number 8 had been murdered. Their bodies were placed on the trail leading to the showers about 150 yards from their tent. The girls had been raped, beaten, and strangled. A red flashlight was found on top of one of the girls. There was a fingerprint on the lens, but it was never identified. A size 9.5 footprint was also found in blood in the tent. A local landowner told police that she had heard some traffic on a remote road near the camp between 2:30 and 3 on the morning of June 13. Camp Scott was evacuated and later shut down.
The suspect for the murders was Gene Leroy Hart. Hart was born on November 27, 1943, and was raised about a mile away from Camp Scott. Hart had escaped from Mayes County Jail in 1973 and was still at large. He had been convicted of kidnapping and raping two pregnant women. He also was convicted of four counts of first-degree burglary. Hart was arrested within a year of the Girl Scout murders. Hart, a Cherokee himself, was arrested at a Cherokee medicine man's house. He was tried in March of 1979. The local sheriff said that he was "one thousand percent" certain that Hart was guilty. However, a local jury acquitted him. Hart still had 305 years left to serve of his 308-year sentence in Oklahoma State Penitentiary though. On June 4, 1979, after about an hour of weightlifting and jogging in the prison's exercise yard, Hart collapsed and died of a heart attack at 35 years old.
In 1989, DNA evidence from the murders was tested. Three out of five probes came back as a match to Hart. According to statistics, DNA from 1 in 7,700 Native Americans would show those results. A new DNA test was done in 2008 on some stains from a pillowcase. The results came back inconclusive due to the samples being too deteriorated. In 2017, the sheriff raised $30,000 to do new DNA tests with the latest DNA technology.
Michele's father, Richard Guse, helped to pass the Oklahoma Victims' Bill of Rights. He also was involved in founding the Oklahoma Crime Victims Compensation Board. The Oklahoma Crime Victims Compensation program was founded in 1981. The program provides compensation to victims of violent crimes. The money comes from fines from federal and state offenders. Lori's parents, Charles and Sheri Farmer, founded a support group called the Oklahoma Parents of Murdered Children. The first meeting of the group was in June 1984 in Tulsa.
investigation
About the author
I post true crime stories. I also post poems and short stories written by my husband, Thomas Mormon.
Reader insights
Be the first to share your insights about this piece.
Add your insights