The Disappearance of Madeleine Mccann
And why her case is so famous.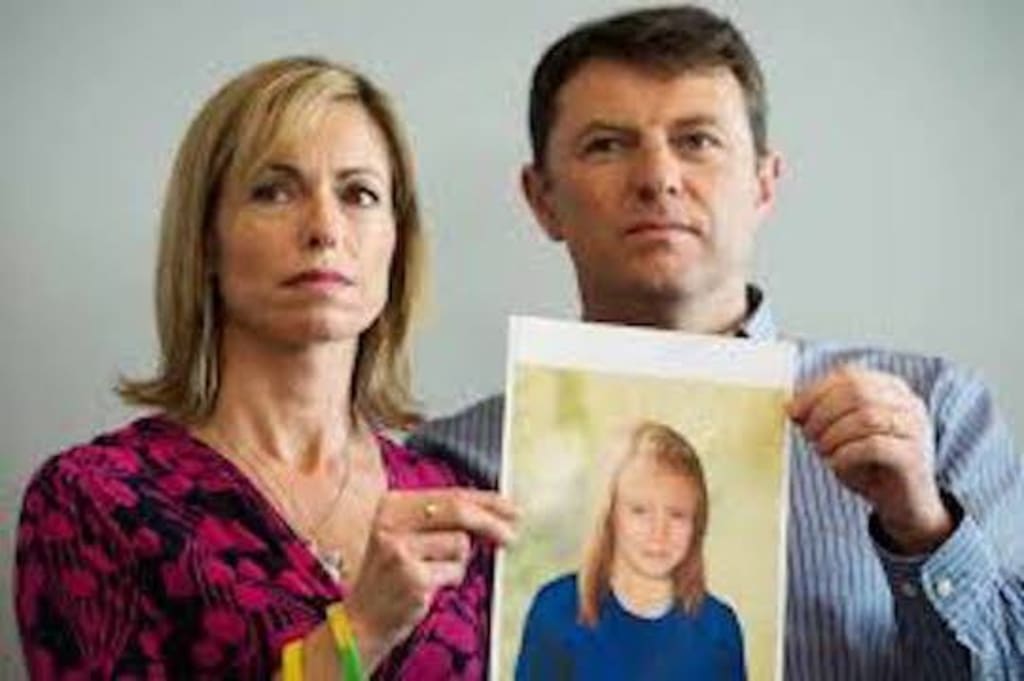 On the fateful day of May 3rd in 2007, young Madeleine went missing from her families apartment in Portugal. What started as a seemingly perfect family vacation ended in tragedy. The day Madeleine went missing had began as normal with the family spending the day at a pool, laughing and swimming. At the end of the night, the parents left their three children in the room while they went bar with friends. This was something that the adults did every night, and they would check in with their kids at least once an hour.
Just past 9 PM, Madeleine's father, Gerry, returned to the apartment. He had left the patio door unlocked so that he could check on his kids with ease. When he got to the patio door, he noticed that the door was not only unlocked, but open. Terrified, Gerry hurried inside, but only to find that all three kids were sleeping safely in their beds and walked back to the bar moments later. At around 10 PM, it was the mothers turn to check on the kids. Once inside the apartment, Kate Mccann reached for the bedroom door, which slammed shut as if blown by a gust of wind. Kate pushed her way inside to discover that the bedroom window of their first-floor apartment had been opened. The second thing that Kate noticed was that Madeleine was gone.
In her shock and confusion, Kate ran back to the bar and left the twins alone at the apartment. Once at the bar, Kate frantically yelled to her friends, "They have taken her!". Investigators later had a problem with the way Kate had proclaimed to her friends and husband that her child was not in her bed, because she did not say that Madeleine was missing or gone, she said "They have taken her". This statement later lead investigators to believe that Kate knew what happened to her daughter.
Gerry and Kate's friend Jane told them that she had seen a man carrying a small child in pink pajamas between 9 and 10 PM. This friend claimed that the little girl appeared to be sleeping or unconscious in the mans arms but had not thought much of it. The parents and friends went to the 24-hour reception desk and explained that a child had gone missing. The receptionist called the police and by 10:30 PM the police had arrived. A search was immediately conducted to help find Madeleine. The police, apartment staff and friends all helped in the search to find Madeleine.
Unfortunately, there were a few mistakes made that may have ruined Madeleine's chances of being found. The first mistake the police made was not sealing off the apartment as a crime scene. Many people walked through the apartment trying to help find Madeleine, contaminating any possible evidence that could have been recovered. Second, border patrol was not alerted of the incident until several hours later, which would have made is very easy for someone to take a helpless child out of the country. And finally, Interpol did not put out a global missing person alert until 5 days after Madeleine went missing. Despite the efforts of the police and family, 3 year old Madeleine was not found.
At this point you may be thinking to yourself, "kids go missing all the time" which is sadly true. So why is the disappearance and case of Madeleine Mccann so famous? The parents quickly became suspects in the investigation for a few reasons, which helped launch the case into the spotlight. In addition, new suspects were constantly popping up, keeping the attention of the media. The newest and most recent suspect was a known pedophile who was already behind bars and questioned in 2019. But just like the other suspects, nothing came of the questioning. Another reason this case has become so famous is the large amount of money spent in finding Madeleine. Over 11 million euros has been spent in total by the government and family to help bring her story to justice.
In 2008, Gerry and Kate Mccann were removed as suspects. Police had initially thought the couple may have accidentally killed their daughter by sedating her for crying. The couple were both doctors and had access to powerful sedatives. The police and investigators also speculated that the friends may have been in on the disappearance of Madeleine, and that the story Jane told of seeing a man carrying a small child that looked just like Madeleine was a lie. Now it is widely believed that Madeleine fell victim to a sex trafficking ring. Over 8,000 witnesses have reportedly seen Madeleine, and in different countries. This could be because people do not know what Madeleine looks like after all these years, but Portugal police speculate that it could be because she is still in the hands of a sex trafficking ring, which tend to move their victims frequently. Despite that fact that she would be about 16 years old and would be nearly unrecognizable since she vanished at the young age of 3, reports of sightings kept coming. Police have followed up with some of these reports but without any luck.
More information can be found regarding the case through the new Netflix documentary on Madeleine Mccann and her disappearance. This new 8 part series has already sparked a great deal of controversy, and the family has stated that they want no part of it. Even after 12 years, the parents and Portugal police are still searching for Madeleine in hopes that one day her or the truth will be found.