The disappearance of actress Jean Spangler
What happened to Jean Spangler in 1949?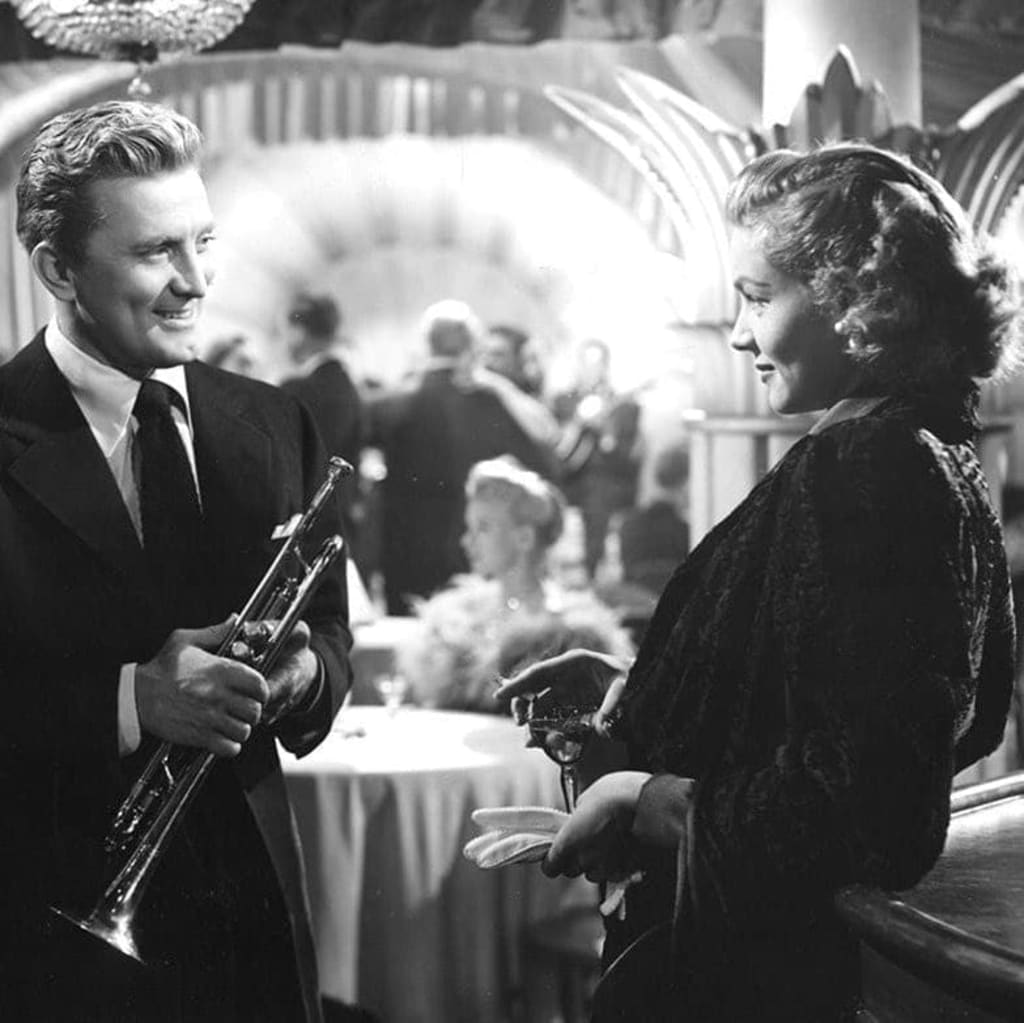 Actor Kirk Douglas and co-star Jean Spangler on the set of "Young Man with a Horn."
Jean Spangler, a single mother, strived to become a famous Hollywood actress. Like everyone else trying to make it in movies, Jean's acting career began as an extra in films like The Miracle of the Bells and Chicken Every Sunday. She appeared in seven films.
Although she became well known in Hollywood, it wouldn't be for her acting skills. On October 7, 1949, Jean kissed her five-year-old daughter Christine good night. Jean had told her sister-in-law she was meeting her ex-husband to discuss a late child support payment. Afterward, Jean claimed she was scheduled to work on a movie set.
Jean later called home and said she would be working late into the evening. After she didn't return home, her sister-in-law reported Jean missing. Authorities then launched an investigation into finding the missing mother. They spoke to Dexter Benner—Jean's ex-husband.
The couple had an acrimonious divorce leading to a bitter court battle over their daughter Christine. In 1948, Jean received full custody of Christine. When asked about meeting with Jean, Dexter denied meeting with his ex-wife. He claimed he hadn't spoken to her in weeks. His current wife confirmed Benner's alibi.
Jean Spangler goes missing
On October 9th, police found Jean's purse at nearby Griffith Park. Based on the damaged straps, it appeared as if someone had ripped her purse from one of her shoulders. The purse didn't contain any money, but it had a handwritten note stating: "Kirk: Can't wait any longer, going to see Dr. Scott. It will work best this way while mother is away." Jean may not have finished the note because it was unsigned and ended with a comma. Police searched for "Kirk" and "Dr. Scott."
During the investigation, authorities learned Jean was three months pregnant and planned on aborting the child. However, during the 1940s, abortion wasn't legal. Therefore, authorities assumed Dr. Scott performed illegal abortions.
So who was Kirk? Based on Jean's note, he may have been the baby's father. According to Jean's mother, a man named Kirk had shown up to pick up Jean, but he never came into the house. He waited outside for Jean. Her mother never saw him.
The police wondered if the note referred to famous actor Kirk Douglas. The two appeared together in a movie titled Young Man with a Horn. Jean appeared in the film as an extra. When questioned, Douglas said he barely knew Jean and never interacted with her outside the movie.
Police checked with local medical care providers and never located the mysterious Dr. Scott. His name may have been an alias. They also inquired about Jean's latest film project. Police contacted the studios associated with Jean. Police learned none of the studios were open on October 7, 1949. It seemed unlikely that Jean was working on a movie set. Did Jean lie to her family about working that evening? No one knows.
The police also inquired about Jean's personal life. One of Jean's actor friends mentioned she had a casual affair with an unidentified man. Police also received a tip that someone saw Jean with a man named Davy Ogul, who had mob connections. Spangler's sister claimed her sister didn't know him. Perhaps Ogul was with a woman who resembled Jean.
Who was Kirk?
After Jean's disappearance, Dexter Benner moved to Florida after receiving custody of their daughter. Jean Spangler left home over 70 years ago. What happened to her? Did her ex-husband harm her to gain custody of their daughter? Was actor Kirk Douglas the mysterious man named Kirk? Did Jean die during a failed abortion? So many questions without any answers.
Jean had several male suitors. Did one of them harm Jean? Today, Jean Spangler remains listed as a missing person by the Los Angeles Police Department (LAPD). Her disappearance remains one of Hollywood's oldest unsolved mysteries.