The Disappearance and Murder of Dorothy Jane Scott
Cold Case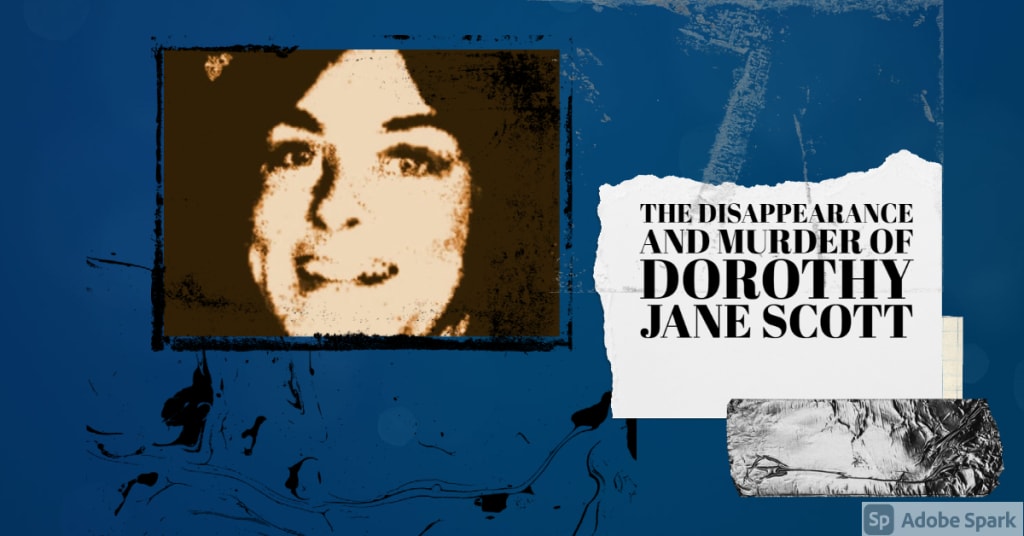 An Unexpected Find
On August 6, 1984, a partially charred adult human skeleton was discovered half a mile east of Eucalyptus Drive in northeast Anaheim, California. Jesse Loza, a Macco Construction Company foreman, stumbled upon the remains at around 7:15 a.m. as he and his crew readied to lay pipe for Pac Bell telephone lines. Loza discovered the bones minutes after joking with his crew to "watch out for dead bodies."
The remains were lying next to the partial skeleton of a dog. It was first speculated by Richard Rodriguez, Orange County Deputy Corner, that "he or she may have been hiking with their dog" when something befell them. The cause of death was listed as "questionable."
The remains were scattered over a 25-foot radius which points to animal activity. The burned nature of the bones occurred when a brush fire swept through the area in the fall of 1982. This led Rodriguez to estimate that the bones had been at the site for over two years.
Investigators collected a complete skull, two femurs, a pelvis, an arm, and dog bones. The area was encircled by housing tracts, overlook the Riverside (91) Freeway, and was about 30 feet from Santa Ana Canyon Road.
Condition of the Remains
The bones were bleached white from the sun, but the skull was complete and contained a full set of teeth littered with fillings. Rodriguez stated that the teeth would be run through the missing person's database in the hopes of identifying the body. Judy Suchey, an anthropologist from Cal State Fullerton, was brought in to help ascertain the age and sex of the remains.
Dorothy Jane Scott
The remains belonged to Dorothy Jane Scott, who had gone missing four years earlier. Dorothy was 32 at the time of her abduction and was a single mom to her four-year-old son. She was described by family and friends as a loving and giving person. She rarely dated and preferred to be home with her son. She loved her family, God, and her friends. She and her son lived with Dorothy's aunt, Shonti Jacob Scott, in Stanton, California, a 20-minute drive from Anaheim, where her parents lived and where she worked. Dorothy was a secretary for Swingers Psych Shop and Custom John's Head Shop. Swingers had been previously owned by Dorothy's father, Shawn Scott, but now both businesses were jointly owned by John Kocyla (Thornlow, 2017). Dorothy's father operated as a handyman for the businesses. Everyone who worked there knew him well.
The Stalking Begins
Sometime in early 1980, Dorothy began receiving distressing phone calls while at work. (In all the articles I read about Dorothy, the unknown man is always referred to as "the caller." I'm going to refer to him as what he really is, her stalker.) Dorothy's stalker would recount intimate details from her daily routine: what she'd been doing, who she'd spoken with, where she'd been with her son. At times her stalker would profess his love for her. In other calls, he was angry and vengeful. Once, he left a dead rose on the windshield of her car while she was at work. Dorothy confided in her mother, Vera Scott, that she recognized the man's voice but couldn't place it. Then Dorothy received a call that really freaked her out.
Her stalker stated, 'OK, now, you are going to come my way, and when I get you alone, I will cut you up into bits so no one will ever find you' (The Orlando Sentinel, 1984).
Shortly after this particular call, Dorothy kicked around the idea of getting a gun for protection. She instead opted for karate classes for self-defense.
The Night of Dorothy's Disappearance
On May 27, 1980 (Emmons), Dorothy dropped her son off at her parents' home to attend a work meeting. While at the meeting, she noticed her co-worker, Conrad Bostron, looked ill, and his hand was inflamed from a spider bite. Dorothy, along with another co-worker, Pam Head, offered to take Bostron to the hospital. He agreed, and the three drove off in Dorothy's white 1973 Toyota Station Wagon (Berry, 2018) to UCI Medical Center (Emmons, 1984). They quickly detoured to Dorothy's parent's place to let them know what she was doing. While there, Dorothy changed the headscarf she was wearing.
At the hospital, Conrad was treated for a black widow spider bite. Pam and Dorothy waited for him, watching TV and reading magazines (Kennedy, 1980). After his release at approximately 11 p.m. (Berry, 2018), Pam and Conrad headed to the hospital pharmacy to fill his prescription. Dorothy headed to the parking lot to retrieve the car as she didn't want Conrad walking that far. But Dorothy never returned.
Conrad and Pam headed to the hospital entrance with his prescription, where they thought they'd find Dorothy waiting with the car, but there was no sign of her. They decided to walk over to where the car was originally parked. As they made their way, they saw Dorothy's car racing towards them, its high beams blinding them from seeing who might be driving. The white Toyota Station Wagon didn't stop or slow down but instead entered the road and drove off.
Pam and Conrad waited a couple of hours for Dorothy, speculating that some emergency concerning her son must have come up. They contacted the hospital security, and they agreed that there was no reason for concern. During their time at the hospital, Pam and Dorothy were in each other's company except for Dorothy using the restroom right before heading to the parking lot. When Dorothy didn't return, Conrad and Pam called her parents. They, too, had had no word from their daughter, and Dorothy was reported missing.
Evidence of Foul Play
At 5:00 a.m. the following morning, Dorothy's car was found burning in an ally some 10 miles from the hospital.
About a week after Dorothy's abduction, her mother, Vera, began receiving calls from her daughter's stalker. "Are you related to Dorothy Scott?" the stalker asked. "Yes," replied Vera Scott. "I have her," the stalker said and hung up (Kennedy, 1980).
Dorothy's family informed the police of her stalker and the phone calls and threats she'd received. After a couple of weeks of fruitless searching, Vera and Jacob Scott took Dorothy's story to the local paper and offered a $25,000 reward for any leads regarding their daughter's case (Kennedy, 1980).
The Stalker Makes Another Call
On June 12th, 1980, Pat Riley, editorial manager for the Santa Ana Register, received a phone call from a man claiming to have killed Dorothy. The caller said, "I killed her. I killed Dorothy Scott. She was my love. I caught her cheating with another man. She denied having someone else. I killed her" (Kennedy, 1980).
The caller then revealed clues that had been withheld from the public about the night Dorothy was abducted. He knew about Conrad's spider bite and the color of Dorothy's headscarf (the one she'd changed this before heading to the hospital.)
The caller also claimed that Dorothy had called him from the hospital. This last detail is the only one that doesn't fit. Pam claimed to have been with Dorothy the whole night at the hospital and said she never made a phone call. Unless Dorothy made a call between using the bathroom and retrieving the car, it didn't happen outside of the mind of her abductor. He already felt like they were in a relationship and that her taking another man to the hospital was, in fact, an act of infidelity. We must also keep in mind that this is 1980. There are no cell phones or pagers. Any call Dorothy could have made would have been from one landline to another, most likely a home phone. It is doubtful that the stalker would have had time to make it to the hospital from wherever he received the call in such a short amount of time.
No Movement in the Case
For the next three years, Dorothy's stalker would call Dorothy's parent's sporadically. The police tapped the phone, hoping for the location of Dorothy's abductor, but he never stayed on the line long enough. Dorothy's stalker now seemed to be stalking her parents. He only ever called when Vera was home alone. Then one day, Shawn Scott came home early and answered the phone, and suddenly the calls stopped until the news that Dorothy's remains had been found, and the calls started again. "Is Dorothy home?" he'd ask before hanging up. The Scotts never changed their phone number, hoping that Dorothy's abductor would allow them to speak with their daughter (Emmons, 1984).
The Suspects
There's not much to go on here. Dorothy didn't go out much and didn't have a boyfriend. She spent most of her time at home with her son, with family, or at work. She went to church regularly.
Dorothy's ex-partner, the father to her son, was eliminated early on as a suspect because he was in Missouri at the time of her abduction.
However, one crime blogger had an interview with Shawn Scott, Dorothy's son, in 2017. He named the brother of a co-worker of Dorothy's. Apparently, those acquainted with the pair said he was obsessed with Dorothy. Shawn claims law enforcement had their eye on this guy but never had enough evidence to arrest or charge him. The alleged suspect died in 2014.
In 1994 on Dorothy's birthday, her father, Jacob Scott, passed away. Vera Scott passed away in 2002, 22 years after her daughter's abduction. They never discovered what happened to Dorothy or who was responsible. The case remains unsolved.
References
Emmons, Steve. 'Dorothy Lives.' The Los Angeles Times, August 23, 1984. https://www.newspapers.com/clip/9926681/the_los_angeles_times/
Kennedy, J. Michael. Hope Dims for Woman Who Vanished. The Los Angels Times, June 14, 1980. https://www.newspapers.com/clip/7896292/dorothy_jane_scott/
Kossen, Bill. Human, dog bones are found: Remains near Canyon Road in Anaheim, ID, cause of death sought. Satan Ana Orange County Register, August 7, 1984, https://newspaperarchive.com/murder-clipping-aug-07-1984-279718/
Killer calls, mom says. The Orlando Sentinel, August 20, 1984. https://www.newspapers.com/clip/10010932/dorothy_jane_scott/
Thornlow, Brenda. (2017). The Unsolved Murder of Dorothy Jane Scott. Medium: True Crime https://medium.com/@brenmar71/the-unsolved-murder-of-dorothy-jane-scott-11781be69d2f
More Unsolved Mysteries
If you enjoyed the unsolved murder of Dorthy Jane Scott, check out these other mysteries.
Vocal+ Membership
Kicking around the idea of sighing up for Vocal+? Why not get a discount on your first month? Follow the link below to learn more.
About the Creator
Aspiring novelist and award-winning short story writer. Hangs at Twtich & Patreon with All That Glitters is Prose. Writer and producer of the podcast, Demiworld. Cynthia resides in Portland, Oregon, with her husband, son, & kitties. She/Her
Reader insights
Be the first to share your insights about this piece.
Add your insights