The Dark Night Rider
Part 2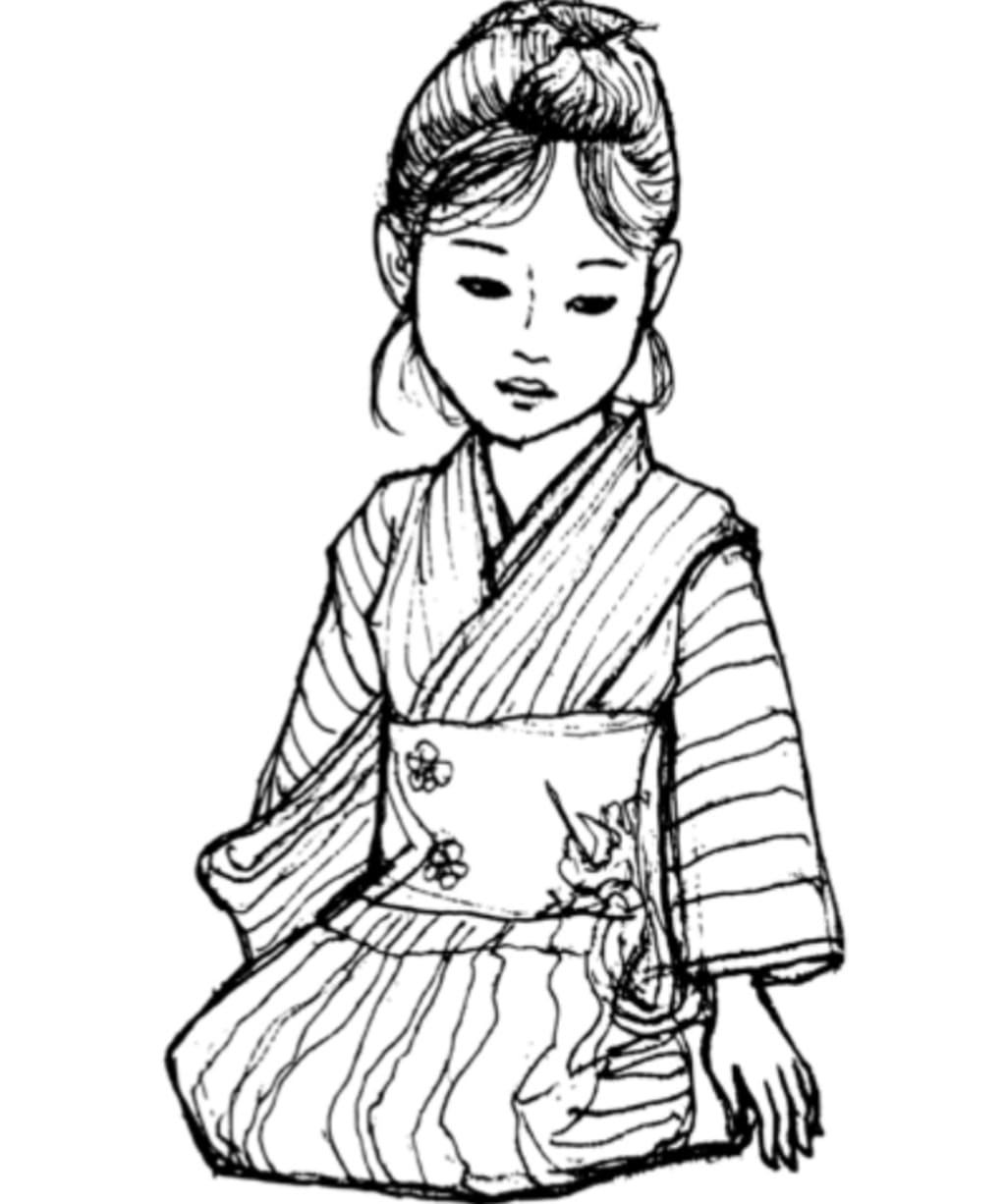 It's a quiet Sunday evening in Japan and a family are gathered around a table, singing "Happy Birthday" to their daughter. The cake in front of her is delicately layered with fudge and sat together in the very centre are two candles, a number "1" and "0". On the edge there is a rich cream swirled all around, with fresh sliced strawberries sitting perfectly on top. Everyone is cheering except the only eldest son "Katsumi" who staggers upstairs, unimpressed by it all.
Sara sitting in front of the cake, wore a simple but magnificent red kimono dress. Made from satin that her mother sewed for her as a gift. The floral design is subtle and brings out her profound features. Her grandfather bends over her, grabbing a hold of her cheeks. Teasing her as she tilts her head back giggling. Her parents scold her for being inappropriate at the table, which then her smile fades away. The day is done and as Sara is helping her mother clean up, her grandpa quietly beckons with a big grin of his face. She hesitates but quickly runs over.
"I waited to give you this present because we always leave best till last" as he winks jokingly.
Held out in front of her was a long but narrow box, it's beautiful dragon design was so mesmerising to observe she couldn't look away. Sara's eyes scan over it in excitement as her fingertips brush over the carved wood. She looks up at him for approval to open it. He slowly nods back at her.
There are two clasps that she flicks open on each side and as she opens the mysterious coffin shaped box, her eyes widened. In this moment she is curious yet completely oblivious to the fact that whatever is inside this box will forever set her fate in stone. It's something that will take her one step closer to womanhood, as well as new adventures waiting ahead. Laid before her is a Katana Samurai sword. There is a long pause of pure awe and wonder in the air.
"Grandpa! I love it!". She throws her arms around him in appreciation and excitement, he cackles and smiles back. As she pulls away, she asks "Do you think I'm ready?". Sara's sparkling eyes look up at him like a lost puppy.
"I think you'll soon know when you pick it up, it will feel right. Besides I have taught you more than enough." he responds.
"Now you must look after this with your life, the same way I did. This was handed down to me by my father shortly before he passed. I want you to keep this close to your heart. You must hide it from Katsumi and your parents, I will hold onto it for now so you don't get into trouble with it". As he raises his eyebrows.
"Now hurry to bed before your parents catch you". He continues softly but insistently.
He playfully pokes her stomach and she thanks him again with a warm smile. Sara obeys her grandfather and paces upstairs while he shuffles away into the dark corridor. As she reaches the hallway, she overhears a loud argument coming from Katsumi's room. She hears her father shouting "How dare you disrespect this family while you consistently bring me bad grades!" "Shame on you!". She creeps into her room, desperately hoping her steps aren't heard by the cracks in the floorboards. She then hears Katsumi swearing back which causes even more uproar. There is a silence before her father threatens Katsumi... "If you carry on this behaviour I will-". Which then the sound is cut off when Sara closes her bedroom door.
During that night Sara thinks about the sword and all the moves she wishes to try out with it. She smiles to herself as the love for her grandfather is beyond describable. Her mind dreams of the pretty jewels sitting on the hilt of the sword. She dreams of becoming a powerful fighter, like the ones she sees in the movies. She dreams of it the way a girl her age would dream about a Barbie doll.
fiction
I'm very much passionate about mental health but aim to branch out to other topics also, I hope you enjoy my content! (:
Receive stories by The Soul Whisperer in

your feed