The Case of the Grimes Sisters
An Unsolved Murder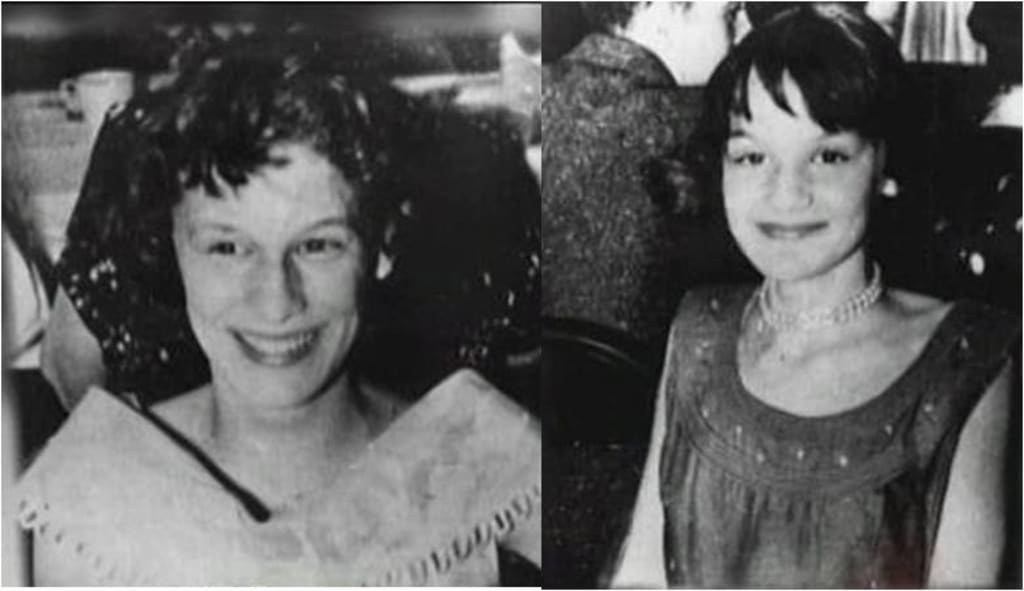 On December 28, 1956, Barbara and Patricia Grimes went to see the Elvis Presley film Love Me Tender at a theater in Brighton Park, a neighborhood in Chicago, Illinois. Barbara was 15 years old and Patricia was 12. Both girls were devoted fans of Elvis. This was the eleventh time they had seen this film. They left their house at around 7:30 pm. They promised their mom they would be home by midnight. The theater was about a mile and a half from their home in McKinley Park. They had about $2.50 when they left home, and Barbara was told to keep 50 cents in her wallet in case they decided to see the second screening of the movie. Dorothy Weinert, a friend of Patricia, told investigators that she sat behind the girls with her sister at the theater that night. Dorothy and her sister left the theater at 9:30 pm but Dorothy saw the sisters in line to buy popcorn at that time. Barbara and Patricia both stayed to watch the second showing of the movie.
Their mother, Lorretta, sent their older brother Joey and sister Theresa to wait by the bus stop for the girls when they did not return home by midnight. The older siblings went home after three buses passed the bus stop with no sign of the girls. Lorretta tried calling the girls' friends to see if they were at any of their houses while Theresa and Joey were at the bus stop. When the older children came home without their sisters, Lorretta filed missing person reports with the Chicago Police at 2:15 am. A citywide search for the girls was started and hundreds of cops were assigned to the search full time. Cops from surrounding suburbs assisted in the search as well. A task force dedicated to finding the girls was formed. 300,000 people were questioned, and 2,000 people were more thoroughly interrogated. Two arrests and charges of individuals who confessed fell through. One of the individuals who confessed, Edward Bedwell, stated that he was coerced into a confession after prolonged interrogation.
Edward Lee Bedwell was a 21-year-old drifter from Tennessee. He was evicted from his family's home in East Garfield Park in November 1956. In the weeks after the murders, he occasionally earned money as a part-time dishwasher in a restaurant on Chicago's skid row. He was tall and strongly resembled Elvis Presley. On January 24, the restaurant owners claimed that he and another man were at the restaurant with two girls who looked like the Grimes sisters in the early morning of December 30. Bedwell was arrested and interrogated for three days. He claimed that the restaurant owners and a restaurant patron who corroborated the owners' statements were mistaken about the identity of the girls he was with. He was formally charged with the murders on January 27, 1957. He signed a 14-page confession stating that he and 28-year-old William Cole Willingham had been with the Grimes sisters on December 30 and until January 7 drinking in many West Madison Street skid row bars. He claimed that after several days with the girls, he and his partner, after feeding the girls hot dogs, had beaten both girls before throwing them in a snow-filled ditch when the girls refused their sexual advances. After reading Bedwell's confession, Lorretta Grimes stated "It's a lie. My girls wouldn't be on West Madison Street. They didn't even know where it was." Willingham admitted to being with Bedwell and the girls on December 30 but denied that the girls were the Grimes sisters. Willingham also denied involvement in the murders. Bedwell later recanted the confession stating that he only confessed after being held in custody for four days and believing that if he confessed the police would release him. The autopsy reports supported Bedwell's recantation since no hot dogs or alcohol was found in either girl's blood or digestive system and the girls were not beaten to death. Bedwell was clocked in at his job at Ajax Consolidated Company from 4:19 pm on December 28 until 12:30 am on December 29 which also supported his recantation. Other records confirmed that Bedwell had been working in Cicero on the day he claimed to have murdered the girls. Bedwell was released on a $20,000 bond on February 6. That same year, he was tried and acquitted for the 1956 rape of a 13-year-old girl in Oak Hill, Florida. He died in November 1972.
Max Fleig was a 17-year-old suspect in the murders. He was considered one of the prime suspects due to his age. He was protected by an Illinois law that prevented juveniles from subjection to polygraph tests. Chicago Police Captain Ralph Petacque persuaded Fleig to submit to an unofficial polygraph test anyway. During the polygraph, Fleig confessed to the murders. Police were forced to release him due to no legal means of using the polygraph and lack of physical evidence. Fleig was later arrested for an unrelated murder of a young woman.
Walter Kranz was a 53-year-old steamfitter and self-proclaimed psychic. Kranz called a switchboard operator at Chicago's central police complaint room on January 15 to tell police that both sisters were deceased and that their bodies were in an unincorporated area of Lyons Township. Kranz would not give his name and only said that he saw this in a dream before hanging up. The operator was able to trace the call to an area near Kranz's home. The park Kranz mentioned was about a mile from where the girls' bodies were found. Kranz was questioned by the police. He told them that many of his family members and ancestors had psychic powers and that he saw his vision after heavily drinking one night. Kranz was initially considered to be the number one suspect in the case. Handwriting experts determined that he may have written a ransom note that was received by the girls' mother before the bodies were discovered. Kranz denied involvement in the abduction and murders. He was released after multiple interrogations.
Through police efforts and many reported sightings, there was not much hard evidence. Several teenagers who were at the theater told police that they had seen the girls talking to a man who looked like Elvis and got into the man's car which was described as a Mercury. Several investigators believed the girls had run away from home or were staying with boyfriends. At first, the case was only considered a missing persons case after a week of no contact from the girls. The media asked the sisters to return home and for any eyewitnesses to contact the police. This resulted in many alleged sightings of the girls. These sightings supported investigators' theories that the girls had run away. There were also theories that the girls may have gone to Nashville to see Elvis in concert or that they ran away to emulate Elvis' lifestyle. Lorretta publicly stated "If someone is holding them, please let the girls call me. I'll forgive them from the bottom of my heart." On January 19, 1957, an official statement reading "If you are good Presley fans, you'll go home and ease your mother's worries" was issued from Elvis' Graceland estate. Elvis also made a direct radio plea asking the girls to return home.
On January 22, 1957, a construction worker named Leonard Prescott saw what he described as "these flesh-colored things" behind a guard rail on a county road named German Church Road. Prescott was unsure of what he had seen and thought they may be mannequins. He later returned with his wife Marie to take a closer look. They discovered that it was really the naked, frozen bodies of the Grimes sisters. The Prescotts reported the discovery to the Willow Springs Police Department. The bodies were laying on a flat section of snow-covered ground behind the guard rail before the embankment of Devil's Creek. Barbara was on her left side with her legs slightly up toward her body. Patricia was on her back with her head turned to the right and her body covering Barbara's head. The cops believed the girls were driven to the location and placed or thrown behind the guardrail. Barbara had three wounds resembling stabs made by ice picks on her chest and injuries to her face and head that resembled blunt force trauma. Patricia had numerous bruises on her face and body. The girls' father, Joseph, was taken to the crime scene to identify the bodies. After Joseph's positive identification, more than 160 officers from several suburban Chicago departments searched the crime scene with help from the Forest Preserves. The search produced little to no real evidence related to the crime and was criticized due to untrained individuals being allowed in the crime scene. The girls' autopsies were done the day after they were found and were performed by three experienced forensic pathologists who could not agree on a date or cause of death. They determined that both girls most likely died within about five hours of the time they were last seen based on the girls' stomach contents. The cause of death for both girls was ruled as a combination of shock and exposure. The pathologists determined that many of the girls' wounds had likely been inflicted by rodents after death. No obvious fatal wounds were discovered on either girl and toxicology reports showed that neither of the girls was drunk, drugged, or poisoned. The girls' clothes were never found. It was found that Barbara had likely engaged in sexual intercourse around the time she died, either willingly or unwillingly. Both deaths were listed as murder on the official death certificates. Walter McCarron, one of the coroners who performed the autopsies, believed that the bodies had been in that spot undiscovered for more than three weeks. He believed that the preserved condition of the girls' bodies was due to the cold temperatures prior to their discovery.
The chief investigator for the Cook County Coroner's Office, Harry Glos, disagreed with the official time of death. He believed that a thin layer of ice found on the girls' bodies showed that they had most likely been alive until at least January 7 since before that date there was not sufficient snowfall to react with the girls' natural body temperatures and create the layer of ice. Glos also said that both girls had been sexually assaulted during their period of captivity and that Patricia's autopsy found semen in the vaginal fluid that was taken from her. He also said that curdled milk had been found in Barbara's stomach and that she had not been known to have drunk milk at home or at the theater. Glos believed that Edward Bedwell had committed the murders. He also believed that the wounds were evidence that the girls were beaten before their murders and that, along with the sexual assaults, corroborated Bedwell's statements during interrogation. Glos said that investigators refused to disclose this information to protect the girls' reputations and spare their mother's feelings. Others who claimed to have seen the original case files alleged that they interviewed many McKinley Park residents who said that both girls tended to spend time outside of bars and persuaded older men to buy them alcohol. Investigators on the case insisted that there was no evidence of Glos' claims. Glos was fired by McCarron on February 15 and was later deputized by Sheriff Joseph D. Lohman who agreed with Glos' claims. Glos continued to work on the case without pay.
In the time between the disappearance and the discovery of the girls, their mother was unable to work and earn money to raise her other children and pay the mortgage. Friends and neighbors held various fundraisers to help the family. Other funds were raised by the local press and council. These funds helped the family pay the remaining mortgage on their house and to bury the girls. A wake and Holy Mass were held at St. Maurice Church on January 25 and the girls were laid to rest at Holy Sepulchre Cemetery in Worth, Illinois, on January 28. Lorretta received an anonymous phone call in May 1957 from someone claiming to have killed her daughters. The Grimes had received many hoax phone calls after the girls' disappearance, but this caller ended the call with information indicating he may be involved. The caller said "I know something about your little girl that no one else knows, not even the police. The smallest girl's toes were crossed at the feet!" then he laughed and hung up. A year after the murders, Lorretta publicly stated that she believed that her daughters were murdered by someone they had known. She said that even though it had been cold that night, the girls would never have gotten into a car with a stranger. On the 18th anniversary of the disappearance, the detective who had been involved in the case, Ernest Spiotto, told the media again that there were no credible suspects in the case. The murders remain an open but unsolved case. In 2013, Raymond Johnson, a retired police officer, started a personal investigation on the case. He had been interested in the case since 2010 while researching for a book he was writing about the city's history. He believes the case is still solvable with public assistance and that the person who committed the murders was a 23-year-old child killer named Charles LeRoy Melquist. Melquist had been considered a suspect in the case in 1957 and was convicted of the murder of 15-year-old Bonnie Leigh Scott in September 1958. Bonnie's body was found decapitated two months after her disappearance less than 10 miles from where the Grimes sisters were found. Investigators noted the similarities in the murders but Melquist was never questioned in the Grimes murders. The day after Bonnie's body was found, Lorretta received a phone call from someone claiming to be responsible for Bonnie's murder. The caller said "I've committed another perfect crime … This is another one those cops won't solve and they're not going [to affix blame onto] Bedwell or Barry Cook." Lorretta believed this was the same person who had called her in May 1957 stating, "I will never forget that voice." Melquist was never charged in the Grimes case. He died in 2010.
About the Creator
I post true crime stories. I also post poems and short stories written by my husband, Thomas Mormon.
Reader insights
Be the first to share your insights about this piece.
Add your insights