The Bombing of Downtown St. Paul's Dayton's Department Store (August 22, 1970)
A night out that changed Roland and Mary Peek's lives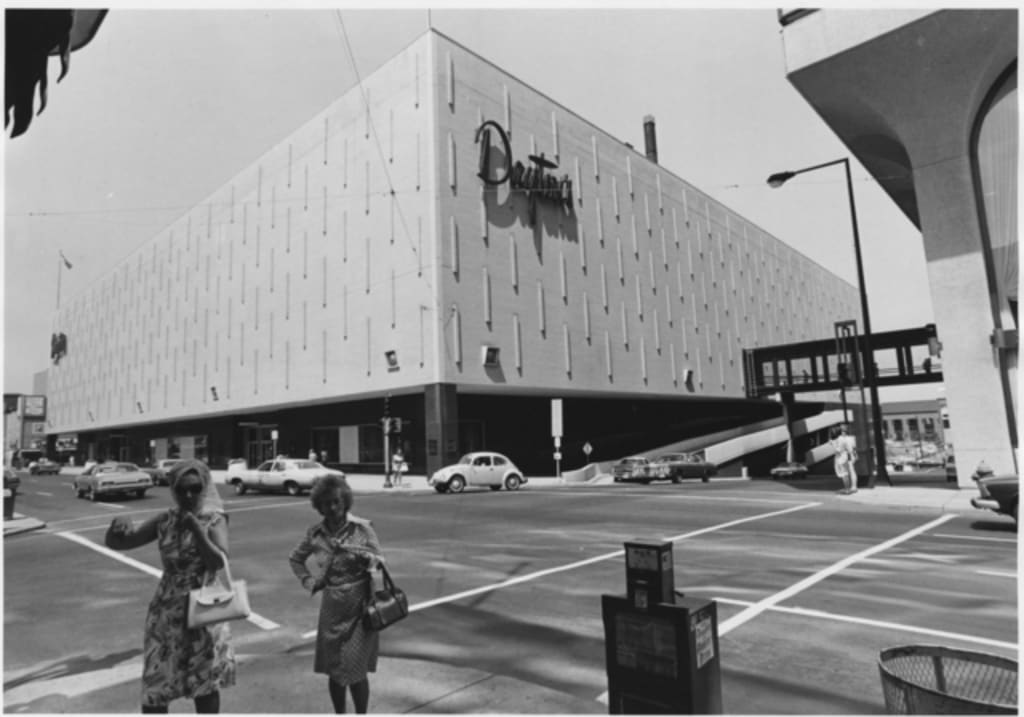 Dayton's Sixth and Wabasha, St. Paul (MNHS)
When Mary Peek and her husband Roland went to dinner at the downtown St. Paul Dayton's Department store restaurant on Saturday August 22, 1970, neither envisioned that the events of the day would forever change both of their lives.
The ongoing Vietnam War contributed to a change in the country's social attitude. Peace movements that ushered in the 1960s lost ground to significantly more militant movements by the end of the decade. An ongoing battle for civil rights exacerbated racial tensions throughout the country. Saint Paul was no different.
At 5:10 PM, as Mary combed her hair in front of a restroom mirror in the building's Cedar level, a two-pound stick of dynamite detonated near her. The blast destroyed two toilets, two sinks, and blew a hole in the wall.
Someone had placed a satchel containing the dynamite and a timer in a wastebasket not over ten feet from where Mary stood. Her lungs were seared, eardrums broken, and body was pierced with shrapnel and other remnants from the blast.
Her lower left side sustained most of the damage from the blast. Doctors removed nuts, bolts, sink and bomb fragments from her body in a subsequent five-hour emergency surgery at Ramsey Hospital. Mary spent the next three months in the hospital recovering and suffered from the blast for the rest of her life.
The bomber had set a second bomb to go off that evening. Investigators discovered another satchel at 7:05 PM in a locker room less than twenty-feet from the site of the first bombing. It contained 10 two-pound sticks of dynamite and was scheduled to detonate at 7:30 PM. An Army bomb crew disarmed it before it could.
A witness recalled seeing a "black youth" dressed in women's clothes, wearing a long dark wig, white pants, a beige jacket, and white tennis shoes, enter Dayton's shortly before the bombing. She was carrying a white, tan, and blue striped plastic bag.
Unfortunately, the police had little else to go on, and there were no immediate suspects.
Bomb scares had littered the weekend in St. Paul. The Hilton, Pioneer Press Building, Donaldson's and Montgomery Wards were among locations that received phoned-in threats. Dayton's employee Celeste Castillo spoke of a bomb threat to their store the Friday before the blast - but because nothing happened, the store thought nothing of it.
Ten days after the bombing at Dayton's, another exploded outdoors in St. Paul, and fifteen-year-old Gary Hogan was found injured nearby. Police later searched his home, discovering bomb-making instructions and a pamphlet on urban guerrilla warfare.
Hogan, a St. Paul Central High School student caught up in the seas of political polarization, planted the two bombs in the Dayton's Department store. The first one, the smaller of the two, was to act as a decoy to bring in the police and fire department. Later, while authorities investigated the scene, a second more powerful bomb would go off, killing everyone in the vicinity and destroying the store.
When the second bomb was discovered and defused, there were between forty and fifty police officers, firefighters, security employees, and reporters in the area. Police Chief Richard Rowan described the placement of the two bombs as a technique to kill as many police, firefighters, and press representatives as possible.
Mary, no longer able to perform her duties as a teacher at Hastings High School, became a political activist in Minnesota. She helped pioneer the state's women's movement of the 1970s. In 1980, she authored the book "The Awful Lightning." It described the events surrounding her evening at Dayton's. Mary understood that anger and a desire for revenge could not change what happened that evening and carried that same courageous understanding throughout her life.
She passed away on December 30, 2004, at eighty-two.
Hogan, convicted of his crime and required to serve a twenty-year sentence for his role in the bombing, was released from the St. Cloud Reformatory after serving for just over three years. While in prison, he changed his name to Kofi Yusef Owusu. After his release, he moved to Washington D.C. and became a political activist. He passed away on May 24, 2010, at fifty-five.
Sources
Cassano, Dennis, and Howard Erickson. "Woman Hurt By Blast in Rest Room." The Minneapolis Star Tribune, August 23, 1970, 1.
Kenney, Dave, and Thomas Saylor. Minnesota in the 70s. Minnesota Historical Society Press, 2013.
"Man Convicted of 1970 Terrorist Bombing at St. Paul Dayton's Store Dies in Washington, D.C." MinnPost. Last modified February 4, 2012. https://www.minnpost.com/politics-policy/2010/08/man-convicted-1970-terrorist-bombing-st-paul-daytons-store-dies-washington-d/.
"State V. Hogan." Justia Law. Last modified November 2, 1973. https://law.justia.com/cases/minnesota/supreme-court/1973/43032-1.html.
Vezner, Ted. "The 1970 Dayton's Bombing, Still Echoing." Twin Cities. Last modified August 15, 2019. https://www.twincities.com/2010/08/21/the-1970-daytons-bombing-still-echoing.
About the Creator
Historian for The Streets of St. Paul and Minnesota Then. I'm using this platform to share stories about Minnesota history and whatever else (or wherever else) I find interesting at the time.
Reader insights
Be the first to share your insights about this piece.
Add your insights