Teeth Marks in an Apple
The Murder of Harriet Buswell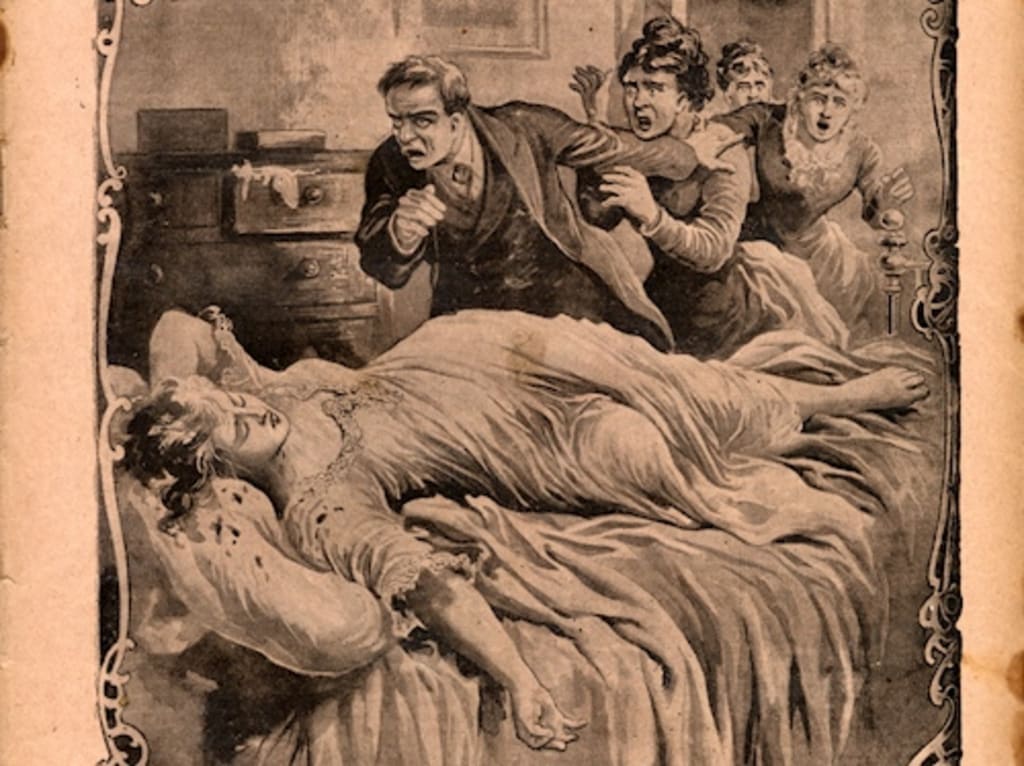 One of the strangest things that was supposed to be in Scotland Yard's Black Museum was the cast of a bite in an apple found in the room of murder victim, Harriet Buswell.Harriet Buswell came from a respectable working class family. She had been born in Wisbech, although there is some debate when she was born. Some say 1841, but she is described as 27 in 1872. Her mother died in 1857 and her father the following year. She worked as a servant in Finchley for three years between 1863 and 1866. During this time, she was seduced by a coachman, named Burton, by whom she had an illegitimate daughter, Katie. Burton died shortly afterwards. Later she became a mistress to Major Brown and gave birth to two stillborn children. It's unclear how long she remained in his household.
By 1870, she was heavily in debt and claiming that she was a ballet dancer at various London theatres, using the name Clara Burton. Given the low wages of dancers, most in this profession supplemented their income by prostitution. In her study of prostitution, Judith Walkowitz noted that prostitution often functioned as a temporary employment to women who had few alternatives. Harriet, who was short of money, began to prostitute herself. This was the year that she met William Kirby who sent her money and advice from Hong Kong. He begged her to stop prostituting herself. Harriet did escape London to live with her sister and daughter, Katie, in Sussex but returned to London later in 1871.
She lived with Emma Wilson of Argyle Street, at the rate of 30s a week for board and lodging. Emma said she and Harriet were on good terms and there were never any problems about rent being paid. However, when the police dug deeper, it was revealed that Harriet was £9 in debt to Emma when she left the house and the reason she left was because Emma accused her of not looking after Kate properly Harriet had had clients visit her, but they never caused any trouble and Harriet was rarely drunk. It was common for people to play down the faults of a murder victim but the truth was that her life seemed to be deteriorating in the months leading up to her death. She was still living at 27 Argyle Street with Emma Wilson but was asked to leave because of her drunken habits. This was only a few weeks before her death. She moved to 12 Great Coram Street where she quickly racked up debt to her new landlady, Mrs Harriet Wright.
On Christmas Eve 1872, Harriet borrowed a shilling from a friend, earrings from another friend since she'd pawned all her jewellery, and left her lodgings in Great Coram Street. She was seen at the Hotel Cavour by waiter William Stalker with a man before they went onto the Alhambra Theatre in Leicester Square, a notorious haunt for prostitutes. The grocer who sold them their fruit gave a similar description as Harriet Wright and Alice Nelson as William Stalker, a waiter at the Hotel Cavour, so it is likely that Harriet remained with the same man. She returned to her lodging house in the early hours of the morning about 12:30 AM, accompanied by a man. He had visited before since he went straight up to her room while Harriet remained talking to Alice Nelson and landlady, Mrs. Harriet Wright. She told them she had met a lovely German man. Before she joined her companion, she paid her week's rent with half a gold sovereign and received a shilling change. This was the last time she was seen alive.
It was Christmas Day and, although Harriet was usually a late riser, her fellow lodgers began to worry when she was not up by noon, despite having heard her companion leave around 7 AM. Concerned about her welfare, they broke open the door, which had been locked from the outside. Harriet was lying on her bed, quite dead.
Dr Murphy, of 43 Great Coram Street, arrived shortly after and declared life extinct. Harriet's throat had been cut: one cut severed the jugular vein and another extending to the upper part of the left breast. Dr Murphy said Harriet looked like she had been murdered in her sleep. However, he also reported that one of her hands was raised as if she was trying to defend herself. She had also been grabbed by the chin since there was a bloody fingerprint on her forehead. She died, Murphy thought, 8-10 hours before he saw her in the early afternoon, placing death around 3-5 AM. He believed the knife used was probably a clasp knife.
Police were called out about 1 PM. The door had been locked from the outside and the key was missing. Her bedclothes, pillows, and mattresses were all saturated with blood but were relatively undisturbed. A jug full of bloodstained water indicated the killer had washed his hands before leaving. On a nearby towel, there was a mark as if a knife had been wiped on it.
An apple on the beside had a bite out of it. Since Harriet had no apple in her stomach and the bite marks on the apple did not match her dentition, her killer must have taken a bite from this apple. The detectives made a cast of this apple hoping it would help convict her killer. The police searched her room and found letters from her former lover, William Kirby, who wanted to stop her decline into prostitution. Other letters did not provide much information about anyone who may have wished her harm.
It was initially unclear whether she had committed suicide. But a quick investigation of her room revealed no weapon that could have been used to inflict these wounds. Besides, Dr. Murphy did not believe it was impossible for Harriet to have inflicted these wounds herself.
The motive for the murder was not immediately obvious to the detectives then and to modern commentators. Harriet's borrowed earrings and the shilling she'd received as change from Mrs Wright were missing. But neither of these items were worth much, the earrings were only worth about five shillings. It is possible that Harriet's killer thought that she, living in a relatively well-to-do area, would have possessions, or money, worth stealing. However, although some items and money were stolen, plunder does not seem to be the motive. It was suggested by the police that Harriet had used lemon juice locally to prevent VD and that this liquid entered the guest's urethra and the pain sending him into a murderous rage. This was ruled out since no freshly squeezed lemon was found in the room. It seemed rather as if the killer had decided to find a random prostitute and murder her just for fun. As Hargrave Adams said, "it was a case of pro-Ripperine bloodlust." (Bondeson, Ripper of the Ripper).
Superintendent Thomson, accompanied by a DS, had decided that they did not need to summon the detective force. They began to interview witnesses. It does not seem that the police suspected anyone in the house of the murder but they began to interview the residents to see if they could offer any insights into Harriet's murder.
Sometime between 6-7 AM, Mrs Wright thought she heard Harriet's companion trying to leave. He had some trouble opening the front door but eventually got out. Around 7:15 AM, Mary Nest, a servant at 51 Great Coram Street, saw a man leaving No 12. He had tried to hide his face from her but, nevertheless, she got a good view of him. She described him as c.25; "vaguely foreign-looking"; hadn't shaved; dark complexion; nasty blotches or pimples; dark overcoat, billycock hat, and heavy boots.
Two men, Fleck (a greengrocer) recalled seeing Harriet and her companion just after midnight when they purchased fruit from his shop. The man paid nine pence but refused Harriet's request to buy her some grapes. Flack thought the man sounded German.
Walter Darling, an omnibus conductor, remembered taking fares of a couple just after midnight on December 25th. They got on at Piccadilly Circus and alighted at Judd Street or so he believed. He could not be certain if the man was a foreigner or not but his description matched that of Fleck's so it is likely to be the same man.
The police circulated the description and were soon overrun by suggestions from the public. One man reported a sighting of a man at Epping Station and a tramp seen at Micheldever resembling the description of the killer. A landlady near Birmingham saw a German customer in her pub and thought he could have been the killer. The Metropolitan Police received letters from all across Europe, reporting strange and suspicious men. The police diligently followed up on all of these but they came to nothing.
There were several suspects for this murder, one of which actually went to trial. The initial suspect was Martin Janoska. On Boxing Day 1872, a woman named Louisa Janoska either fell or was thrown out of first floor window at 40 Bloomsbury Street. She died from her injuries later that day. Her common-law husband Martin Janoska and Charles Piker were both taken into custody. The Police seemed to seriously suspect Piker's involvement in Harriet's murder for an unknown reason. His room was searched but nothing suspicious was found. Also, George Fleck was confident that Piker was not the man he had seen with Harriet. The coroner's inquest returned open verdict in Janoska's case. The two men were released.
On January 16, 1873, a drunk man named Frederick George Williams gave himself up for murdering Harriet but retracted his confession when sober. Two days later, John King also gave himself up, but he did not resemble the man seen with Harriet.
The same day as King gave himself up, Superintendent Buss of Ramsgate Police received a tip that a party of Germans from the Wangerland travelled to London on 22 December, staying at the Kroll Hotel in America Square while their ship was undergoing repairs. One passenger, in particular, Karl Wohlebbe, an apothecary, roused the suspicions of the police. They arranged an identity parade, with another passenger Dr Hessel agreeing to make up numbers. Much to his horror and surprise, the witnesses, Fleck unhesitatingly picked Hessel out of the line up as the man they had seen with Harriet. He vehemently denied killing Harriet. Nevertheless, he was charged with her murder on January 21 1873 at Bow Street Police Station. There was much alarm among London's respectable German immigrant community that one of their own had been arrested. Despite this outcry, the police pushed on with their inquiries.
An investigation into Hessel's background revealed that he had apparently been forced to resign from a private school because of financial irregularities. He was also accused of keeping very low company.
His trial began on January 29th with Harry Poland prosecuting and Douglas Straight defending. Doubts about his guilt quickly emerged.
The hotelier, or the chambermaid, according to which report you read, had told the police that when Hessel returned to the hotel, he had asked for turpentine to clean his clothes and when the police searched his laundry, they claim they found a number of handkerchiefs stained with blood.
However, other staff at the hotel testified that Hessel had been ill over Christmas and had not left his room. His wife confirmed this.
Doubts were confounded when witnesses gave vague and conflicting evidence. Stalker was sure that Hessel was the man that they saw with Harriet. Mary Neston was also sure that Hessel was the man she saw leaving 12 Great Coram Street. Fleck was certain but his assistants were not so sure. Likewise, the barmaid at the Alhambra thought Hessel was the man she had seen but thought he was taller than Hessel. In the end, only three witnesses (of whom one thought he was taller) identified him but six or seven did not.
Douglas Straight argued that Harriet's murderer must have harboured a deep hatred or resentment for her and that she must have known him before the night of the murder because he knew where her room was. Hessel had no opportunity to have met her before the evening of her murder. Besides, he had no history of violence that the police could uncover.
The next day, all charges were dropped against Hessel. He was cheered as he left court. It smelled like a desperate set up. he received over £1000 in compensation for his week in prison and an apology from Queen Victoria and Prime Minister William Gladstone. He sailed for Brazil to complete his mission.
One theorist believes that he was guilty but the jury had been swayed by his being a priest and because he was German. At this time, Germans were highly respected. This theorist believes that he lied about his movements of the day of Harriet's murder, giving his movements from the day before. His motive, the theorist claims, was that, as a priest, he had a hatred for prostitution and could have been driven by religious or moral urges, or that it was simply a case of bloodlust.
It seems unlikely that Hessel was Harriet's killer. He had no real opportunity nor did he have a solid motive. But if Hessel didn't kill Harriet, who did?
The release of Hessel seemed to close the case for the public, although the murderer was never apprehended. To this day, we are still trying to solve this case. We no longer have the cast of the apple to peruse since it was lost from Scotland Yard's Black Museum some time ago. So it seems that they mystery of the murder of Harriet Buswell will remain a mystery. At least for now.
Sources:
Jan Bondeson, Rivals of the Ripper (History Press, 2016)
Jonathan Oates, Unsolved Murders in Victorian and Edwardian London (Wharncliffe Books, 2007)
Neil Bell, Trevor Bond, Kate Clarke and M W Oldridge, The A-Z of Victorian Crime (Amberley Publishing, 2016)