Teen Found Hanging From Persimmon Tree
According to his suicide note, he did not want to be identified.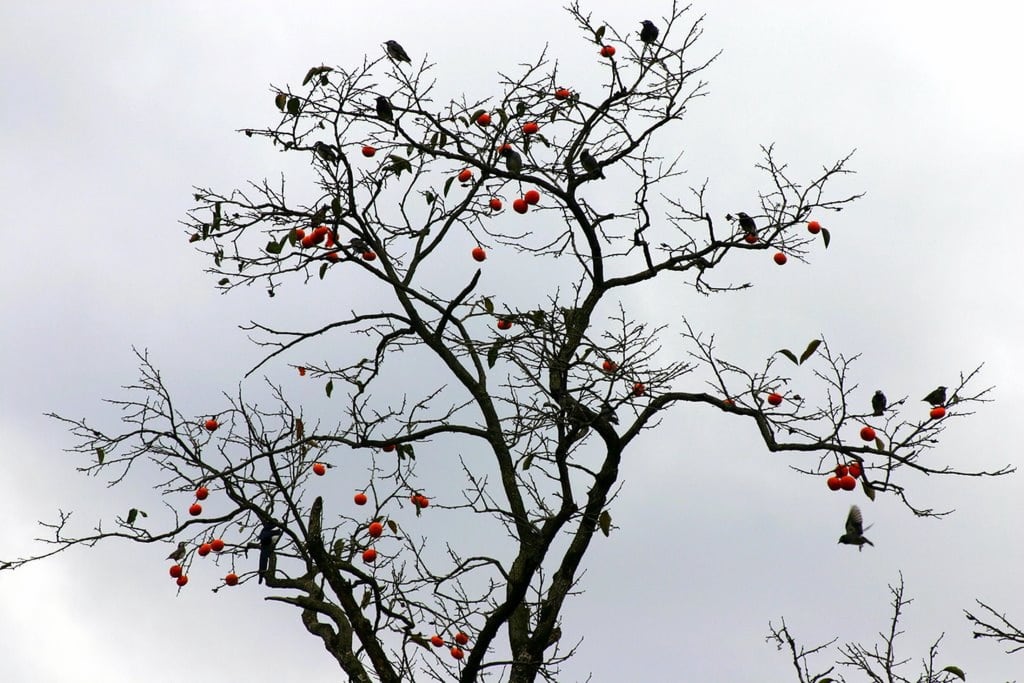 By Robert: commons.wikimedia.org/w/index.php?curid=7371037
On the night of February 14, 1975, a couple driving through Naomi, Plaquemines Parish, Louisiana, noticed something white shimmering through some trees in the distance. They walked over to the spot and discovered that it was a body, with a bedsheet around their neck, hanging from a persimmon tree.
The body was that of a white male, about 16 or 17-years-old. He was 6 feet tall, weighed 160 pounds, and had brown hair and eyes. The boy was wearing a yellow and maroon shirt with blue pants and mismatched socks. He did not have shoes. A sketch of the John Doe was created:
In a jar placed against the tree trunk, the boy had sealed a four-page letter addressed to 'Mom and Dad'.
"I have wanted to do this for over a year. I am not sad or see this as tragic. I feel a release. This is the only way I knew to attain harmony.

(…)

I am no longer interested in the world and know that it is not interested in me. When you stop growing you are dead. I stopped growing long ago. I never did develop into a real person and I cannot tolerate the false and empty existence I have created.

(…)

I feel I have acted very methodically and coolly in my action and my words. It is best if I cease to live, quietly, than risk that later I will break and shatter by violence or linger years under care.

I implore you to see a psychiatrist in order that you might understand my death and my life. Ask thoroughly about what I was and you will see that it is not tragic that I am gone but more natural than if I continued."
In another section of the letter, which the boy titled 'Why you should not feel responsible', he went on to explain his decision to end his life.
"I was born with a definite pervasive melancholy . . .what frustrated me most in the last year was that I had built no ties to family or friends. There was nothing of lasting worth and value. I led a detached existence and I was a parody of a person — literally and figuratively. I didn't tell jokes — I was a joke.

(…)

You have provided me with excellent advantages and privileges and experiences. I am extremely grateful for all of your sacrifices, time and support. I am now repaying you with an arrogant act. In this light, I do see it as criminal. I can only hope that you see that it was me who caused it."
He also quoted famed French sociologist Émile Durkheim, who defined suicide as "an inner direction of homicidal feelings against someone else."
Authorities launched a four-month-long nationwide search for the boy's family, despite him asking them not to in a section of his letter.
"You are bound to preserve domestic peace and order. If you pursue who I was (and spend hundreds of dollars) you will accomplish little. There are no legal consequences of my death or any kind of entanglements.

All that can happen is that you will shatter the domestic peace and order of two innocent lives. Do not deprive them of the hope that their 'missing' son will return…"
During the investigation, over 300 parents who had missing sons contacted the police. His fingerprints were not in any of the databases, meaning he had never been arrested or served time in the army.
It has been suggested that he escaped from some sort of institution, such as a psychiatric hospital: '… than risk that later I will break and shatter by violence or linger years under care'. This could explain why he had no shoes but had a bedsheet.
One of the most prominent theories is that he was homosexual: 'Ask thoroughly about what I was and you will see that it is not tragic that I am gone but more natural than if I continued.' Though he seemed to suggest his parents were supportive of his 'issue', he may have been sent to a psychiatrist for 'treatment' (possibly conversion therapy).
Nevertheless, one can presume from the suicide letter that the boy was fairly educated and mature.
A more recent theory suggests that the unidentified boy was Bayard Cousins. Bayard left his home in Virginia Beach on February 1, 1975, while his parents were out of town. When they returned, all they found was a note telling them not to worry about him.
Bayard was white, around 6' 2", and weighed 160 pounds. He had brown hair and hazel eyes. Bayard was an ecology activist and was fluent in Spanish.
Though Bayard was 22-years-old, people often thought he looked younger. John Doe's age estimate could easily be wrong.
Unfortunately, there is no way to prove or disprove this theory. John Doe's files were destroyed during Hurricane Katrina in 2005. As for his remains, there are conflicting reports — some say he was buried in an unmarked grave in Gretna while others claim he was cremated and buried in a paupers grave in Algiers. Nonetheless, his remains have been lost.
Independently of who the remains belong to, they inadvertently received their dying wish.
"Let me be, let it be as if I wasn't ever here. Simply cremate me as John Doe."