Romance Scam:
Honey-coated Crime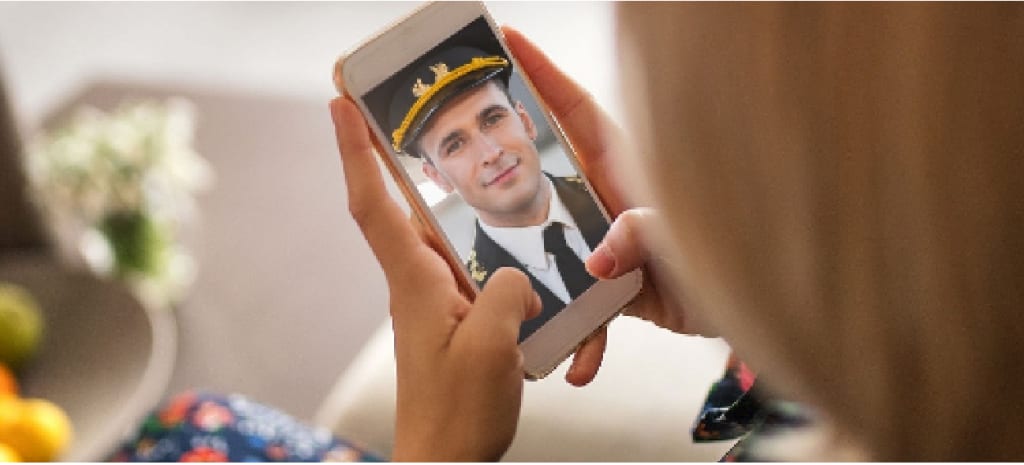 Should we talk about the online romance scammers or catfish, another name for online fraudsters? We should, we must…
We must talk about it, even if those who had lived through it and experienced unbearable pain from finding out that their true newly found love turned out to be a fraud, would not speak up. They consider the fact of being scammed as their own fault, ashamed to admit they were scammed. They are afraid they would be ridiculed and pointed fingers at.
We shall speak on their behalf then.
Scammers are everywhere: on dating sites, on world's social networks, on Instagram, on Facebook, even on LinkedIn. Using stolen from innocent people photos they open numerous fake profiles/accounts with fake names and fake personal details.

Once an account is created, the hunt begins: scammers search for potential victims. They go through numerous profiles, start following those who they assume could be a potential client, send messages. It's pretty hard for scammers nowadays to get an acceptance of their friend's request, a reply for their initial greeting. Many people are acquiring the knowledge, can recognize a fake profile as the helpful information about online romance scam is in abundance and easily available online. Many decline the friend request, block and report the uninvited visitors. But not all. Yet.
Who are the targets? We all are, male and female, old and young, alike. The majority of scam victims however is the older people though, mostly ladies. There are reasons for this pattern. Some of older ladies are not well informed and skilled with computers, so they would not search online for information. Some do not have close family and friends who might advise and warn about scammers. An older single lady might be charmed easier with compliments and sweet talks. As one victim confessed, she's never heard such words from her husband once in their long marriage. The women are more compassionate by nature; it's much easier to melt their hearts with sad stories that scammers feed to their victims. Therefore the older ladies are the prime target of online scammers.
Another category of people falling for scammers' lies are men looking for adventures online or just wishing to find an interesting girl. And they do find them, in fake profiles, with female photos, stolen from actresses, porno stars, military female personnel. Or, rather the scammers find the men, striking a conversation, fishing for a potential victim.

There are several scenarios widely used by scammers. They can pretend to be a doctor on contract with United Nations, a military man/woman on a peace keeping mission, an engineer working on a rig at sea on contract with oil company, an engineer contractor in States, a young lady stuck in unhappy marriage or in a dangerous place. Stories of their lives are similar in all scenarios. All are either divorced because wife cheated on him with his best friend or because wife was a drug addict; or a widower after wife died in a road accident or of cancer. Most are single parents with children in a boarding school or in a nanny's care.
Once the contact established with a victim, the request from scammer follows: to continue the communication on Hangouts, Whatsapp, or Messenger. It's safer there for scammers. On Instagram or Twitter the scam fighters might discover their profiles/accounts and report to site administration as fake.
The common opening line for all types of romance scam: he is looking for a lovely honest woman to fall in love with and spend the rest of their lives together. It won't take long, just in a couple of days of communication he "falls in love" with client. Compliments, pretty pictures and stickers, sweet good morning and lovely goodnights follow. Over and over he expresses the strong desire to finally be together. His goal at this stage is to gain trust and make sure the victim has developed strong feelings toward their correspondent. Steps are made to build that trust. A present can be send to a victim, phone calls made from a number that matches the country and area code of the place he says he lives. There might be video calls too, but those would be doctored, pre-recorded. All of these are with a purpose to convince the victim, this is a real person who writes to them.
Scammer works diligently, probing, assessing, and learning about his victim. He asks questions about clients' personal life, work. The interest is understandable as he needs to know how well off his victim is. He tries to get as much information as possible: home address, phone number, date of birth, ID or Social Security number or driver license number are highly desirable to obtain for scammer. If a victim would share details of a bank account the scammer would feel very lucky. Also, personal photos of victims, including nude photos that a victim might send will be later used to blackmail the victim.
Once scammer is certain, his client is completely overwhelmed with emotions and most importantly, the mutual trust is established, he moves on to the next and the most important stage: creating a situation when the help from the victim is needed. The situation would be according to the script that scammer works along.
If scammer plays a role of a military man here's a possible reason to ask for help: to be with his beloved person he needs a leave from service. The leave or retirement must be requested by future wife and a letter submitted by her to a commanding officer on behalf of her fiancé. There's a price to pay for that. The fiancée cannot pay himself, there's no access to bank account in combat zone. There would be unfailingly a promise to refund the money, once the beloved met in person.
In fact, no military personnel require anyone to apply for a leave on their behalf or pay for it. A bank account can be easily accessed provided there's a network connection. There are multiple posts on US Army website warning the public about romance scams.
Another possible reason to ask for help in military man scenario: while in combat zone, a treasure is found (a box with gold or a box with big amount of money). It would not be safe to keep it here, while the war is raging here. It needs to be sent out. The fiancée is the only person who can keep it safe until the future husband was out from there. There's a payment needed to cover the delivery by a courier company. Again, there's no access to bank account, future husband cannot pay himself for the delivery. Similar situation would be for an engineer who got his payout in the form of huge cash amount and needed to transfer it to a safe place. Also stated on US Army website, no military or any other personnel find any treasure while in combat zone. And no one gets salary in cash nowadays; it comes as a deposit to a bank account.
Next reason for monetary help: his child or other family member gets sick and requires an urgent care or an operation. He has some money, but more is needed. Would "his love" help, please? And be snappy with it? Fact is, military or civilians have the medical insurance for the whole family.
Next reason to ask for monetary help: the future husband is ready to fly out to meet the love of his life. The only problem, he doesn't have money to pay for tickets. Yes, correct, he cannot access his bank account. The beloved woman must help, and the money would be reimbursed with gratitude after they met.
This reason to ask for money is for a contract engineer scenario: the materials needed for project transported from a factory to the construction site had been seized by customs and a payment must be made for release them. Another version, an important machine had been spoilt and needs to be replaced. The contractor does not have the full amount to pay for it. "I am going crazy; my account is blocked by bank. To unblock it, I need to go to the bank headquarters".
Another reason to ask for money is also for a contract engineer scenario: to be with the love of his love, he is willing to break up the contract he currently is on. He will have to pay for his replacement: the hiring and transportation to the place of work for a new engineer. The amount would be in tens of thousands.
Here's the next known reason to ask for money: As his bank account is not accessible, he will send his paycheque to his honey, asking to deposit it to her account and then transfer it to his account. The cheque would be fraudulent and bank will reverse the deposit amount. But the love of his life already deposited it and transferred this amount to his account. Which will make her account to be overdraft.
Another reason: While flying to his beloved, he is stuck at airport's immigration checkpoint. There's a big amount of cash he has with him and he's been detained. A lawyer is required. He has one and already asked the lawyer to contact the fiancée. Of course, the lawyer must be paid.
Next reason: He is flying out to the place of current contract, but forgot to buy ITunes card to load on to the phone, to be able to use it in another country. Could honey please buy it and send the code on it to him? Amount might not be too big, but it's just a test. The next asks would follow and those would not be small amounts.
There's also a known "celebrity scam": he/she would ask for a donation to his charity organization or help with paying for this charity's paperwork as all his/her funds are tied up right now.
All of listed above scripts are most common and well used by romance scammers. The real people behind stolen pictures and with fake names could be anywhere: Africa, Asia, Europe, and America. They are mostly in their 20-40s, but there are some as young as 12. In African countries, where it's one of major sources of income, parents bring their children to scam camps and schools to be trained to scam. It's spreading in terrifying proportions. Millions in money are lost.
But what is not stressed out enough in most publications about romance online scams is the emotional and moral abuse the victims sustain that could lead to a psychological trauma. The money can be worked for and recovered. Invisible wounds would take a long time to heal, if they would heal ever.
Knowledge is the power. Share it. We will prevail. God keep you safe.
investigation
About the author
Be informed. Be aware. We can fight the online scam. Together.
Scam fighter//Souls rescuer//Thinker//Researcher
God bless my battle