Robert Ackermann the Cannibal of Vienna
When the Mind Goes Dark

When Robert Ackermann was 19, he left his native city of Cologne, Germany and by August of 2007, he was staying in Vienna, Austria in short-term housing for the mentally ill and homeless that was run by a private charity. At the facility, he shared a room with Josef Schweiger who was 49 and had been living at the facility since June. It was amazing that Ackermann's behavior and his feuds with his roommate didn't alarm weekly social workers, but the neighbors on the family-filled tenement block were certainly worried about Ackermann's behavior. They had argued with the disturbed Ackermann, had seen him crawling naked through the yard howling at the moon, or dumping what appeared to be blood from his window. They realized that this teen was quite dangerous.
Getting Diagnosed
Ackermann didn't start out this way. At one time he was a normal, friendly, intelligent boy. It was in early adolescence that problems began and it might also be that he was greatly affected by his father's abandonment of the family. Whatever the real reason, he changed drastically for the worst. Ackermann began hearing voices and having serious behavioral problems. Then came the experimenting with drugs such as methamphetamines, ecstasy, and others. He started stealing. Ackermann was diagnosed with schizoaffective psychosis. German authorities thought him too ill for prison, but not sick enough to be placed in a state hospital for his protection or for that of society. So his mother's desperate pleas to help her son fell on deaf ears and if left unsupervised, Ackermann would not take his medication. He finally ended up in Vienna where he was arrested at a local hospital for impersonating a doctor in 2007. He disguised himself as a doctor in the hopes of being able to sneak into an operating room and take part in surgery, which had been a boyhood dream of his.
Shocking Violence
On the night of August 26th, 2007, Ackermann and his roommate, Schweiger had a violent argument. Ackermann had discovered that he was missing a pornographic video cassette and a cigarette lighter. He confronted Schweiger who denied everything, however, he did have the tape. Ackermann then went through Schweiger's pockets to see what else he may have taken and a vicious fight broke out. Apparently, Ackermann's story was that he hit the older man, who fell upon his bed unconscious. Thinking nothing was seriously wrong, he went back to his own room, cooked dinner, read a book, and went to sleep. The police, however, said Ackermann bludgeoned Schweiger with a 22-pound dumbbell, cracking his skull.
The following day, Schweiger didn't get up, but because sleeping off a hangover was nothing unusual, Ackermann didn't check up on him. That night, he did check and found the older man in the same position as when he had fallen on the bed the previous night. Ackermann then checked for a pulse and heartbeat and discovered that Schweiger was dead. This did not upset Ackermann. He decided to discover what the inside of a human body looked like.
The Examination
Ackermann sliced open Schweiger, cut out his intestines, removed, his brain, and placed it on a plate. Later, he claimed not to have eaten any part of the man, just tasted the blood to see what it was like. On August 28th, the second day after the fight, Ackermann called in the homeless hostel's cleaning woman and showed her the body. He suggested that she should call the police. The police arrived at the blood-soaked first-floor apartment and were informed by Ackermann that the apartment's mice must be responsible for the mess.
Ackermann was standing there drooling and disorientated. He had blood smeared over his mouth and his clothes were soaked with the red liquid. He had already eaten some of Schweiger's brain, internal organs, and bicep tissues. He had kept the tongue and the rest of the brain for breakfast. Realizing he was caught, the teen confessed.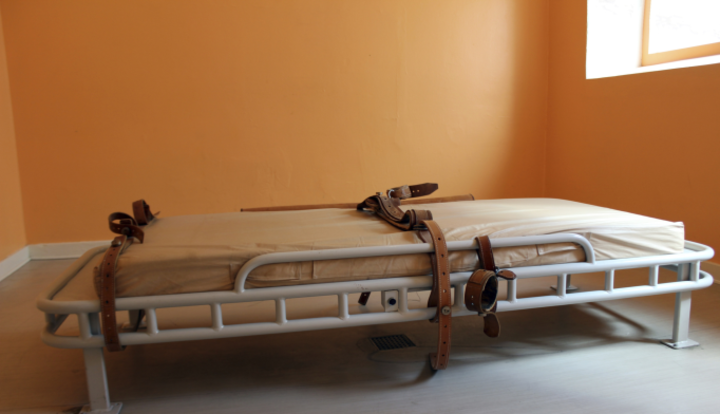 Since this time, Ackermann has been a model patient and prisoner. Medication returned the teen to the real world and he could speak about his crime. On September 4, 2008, an Austrian jury agreed that Ackermann was not able to stand trial, but that he would spend the rest of his life in Austria's Goellersdorf, a high-security mental hospital. Ackermann himself says that during this time he would study medicine so that if ever released, he could become a surgeon.
incarceration