Rey Rivera: an Unsolved Mystery
The first case from the Netflix revamp of Unsolved Mysteries.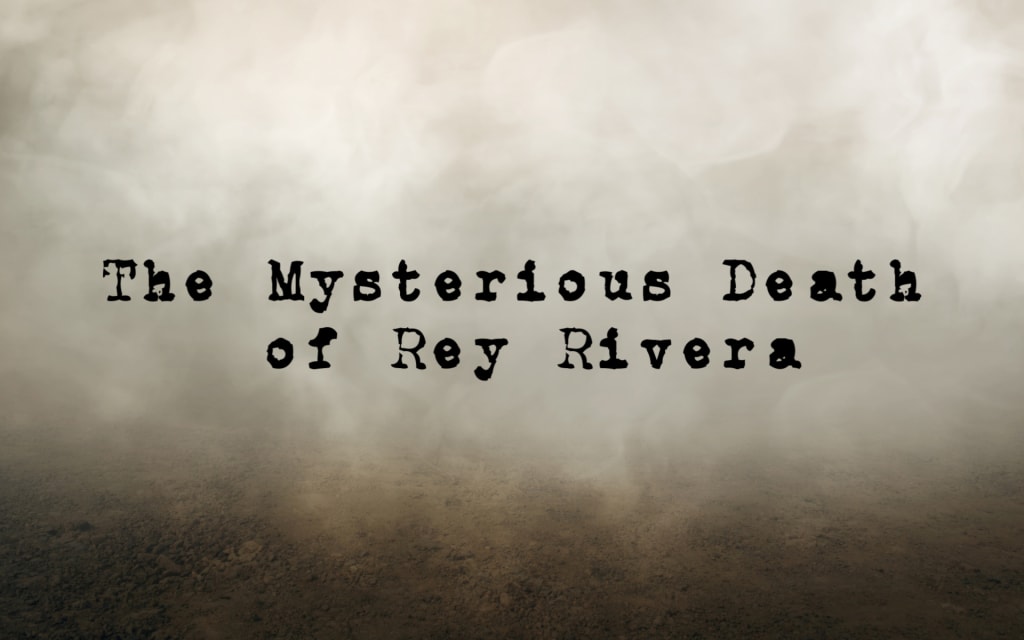 Netflix tends to put out some interesting originals. Unsolved Mysteries is no exception. I grew up watching this show, and it sucked when it got cancelled in 2010. Thankfully, Netflix has our backs and remade it with six new episodes. I plan on discussing all of these episodes so that maybe someone could come forward with information in any of these events.
In the first episode, we are shown the case of Rey Rivera. Rey was a family man. Even as a child, he was always close to his family. His father was in the Airforce, and from moving from posting to posting, their family was what felt like the only constant. Rey was head over heels in love with his wife, and they were ready to start their own family.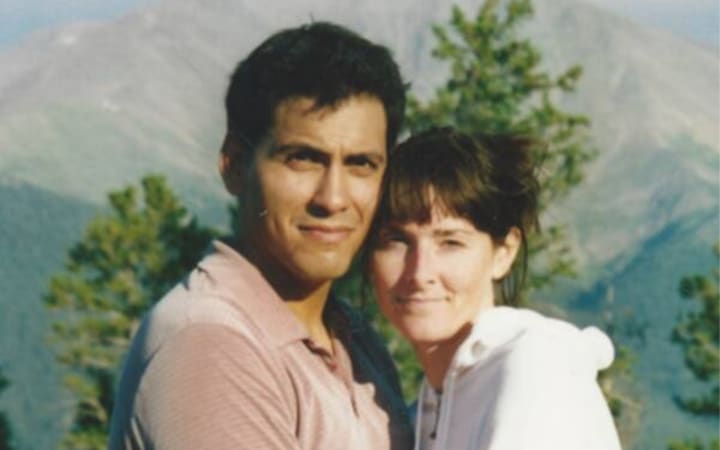 Rey had a passion for writing and loved movies, and he wanted to be a director and screenwriter. Unfortunately, Rey wasn't making a lot of money at the time, so both Rey and his wife, Allison, relocated from southern California to Baltimore for his new job.
His new job was writing financial newsletters at Stansberry and Associates (now known as Stansberry Research). The company was founded by Rey's long time friend, Porter Stansberry, who was insistent that Rey took this job, even though he had no background in the financial industry. The two had a long history together and had been best friends since high school.
Many people have put together information and theories surrounding Rey's death. Since there are so many, I'll link a couple at the end of this article.
I've created a summarized timeline of events and information gathered from the documentary to keep this as put together as possible.
December 2004:
Rey and Allison relocate to Baltimore for Rey's new job. The two made a deal that they would only stay there for 24 months before moving back home.
May 15, 2006, around 1:00 a.m.:
The security alarm goes off at the Rivera home. They went downstairs to investigate, and Rey had brought a bat with him. "The fear in this man's eyes scared me to death. That guy wasn't afraid of anything," recalled Allison. After calling the police, they were told that it was probably a squirrel that set it off. Even though someone had to tamper with the window to set off the alarm, Allison noted that this alarm had ever gone off since they moved in.
May 16, 2006 around 1:00 a.m.:
The alarm goes off again, jolting the couple out of bed. Later that morning, Allison had to attend an out of town conference that was roughly three hours away. Later that night, around 6:00 - 6:30 p.m., after checking into her hotel room, Allison tried to call Rey, but he didn't answer.
At the time, the Riveria's had a house guest staying with them named Claudia. Enough time had passed that she decided to check in with Claudia to see if perhaps she'd seen him. When the two spoke, Claudia told Allison that Rey received a brief phone call around 6:30, and ran out of the house in a hurry. We were later told that the call ended with an exclamation of "Oh!"
Police traced the phone call to Stansberry and Associates. However, they couldn't trace who made the call because it came through the switchboard.
It was at this point that Claudia offered to look through the house to see if he was home, but he wasn't.
May 17, 2006, around 5:30 a.m.:
Claudia called Allison and said that Rey still wasn't home. Allison immediately knew something was wrong, so she decided to go back home. During her drive, Mrs. Rivera called their family and friends.
When she arrived, she noticed that the light was still on in the kitchen. On the counter, there was an open can of pop, a bag of chips, and his Invisalign. She then went upstairs and noticed that the bedroom and office light were still on.
May 18, 2006:
Friends and family arrive at the Rivera house, and they converted the dining room into their office. They called hospitals looking for a John Doe, called morgues, businesses he frequented, organizing search parties, gave out his license plate number, etc.
Rey's longtime friend, Porter, put up a $1,000.00 reward. To bring more attention to the case and possibly find Rey, he also brought in the media. After looking, she discovered that Rey didn't use any of his credit cards, he didn't withdraw any money from their bank accounts, and his cellphone was going straight to voicemail.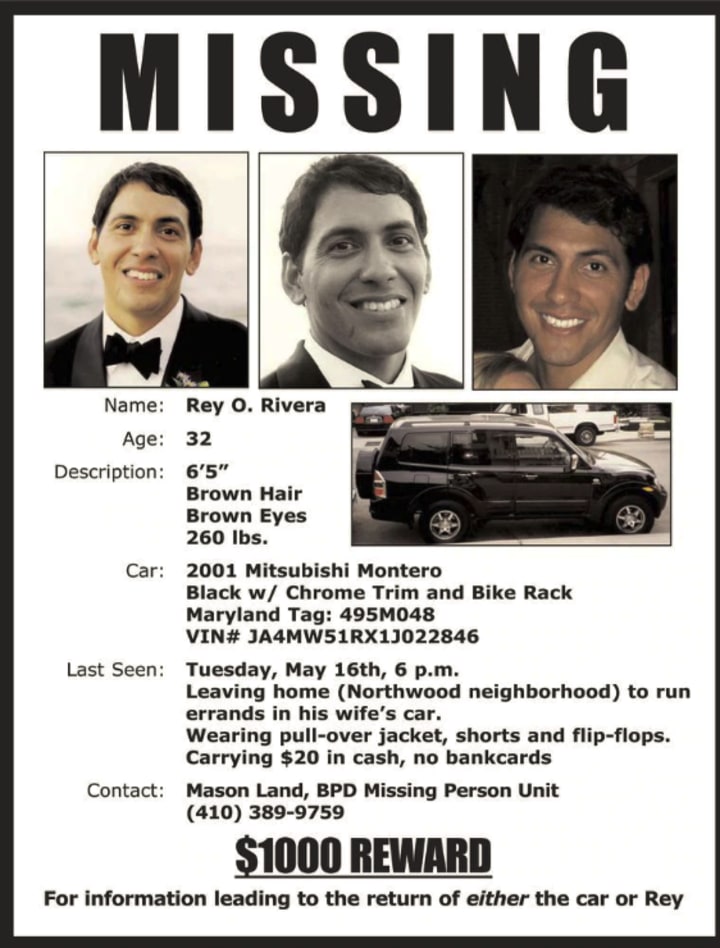 May 22, 2006:
Rey had been missing for six days. Allison's parents went out for a drive to see if they could find his car. While driving past a parking lot, Allison's Mom saw Rey's car. It was in a parking lot on St. Paul Street. They called Allison and the police right away. When she arrived at the parking lot, there were media and police everywhere.
A ticket was discovered under the windshield wiper of Rey's car, dated May 17, 2006, the morning after Rey went missing. There was no evidence found in/on/around the vehicle to indicate theft or assault.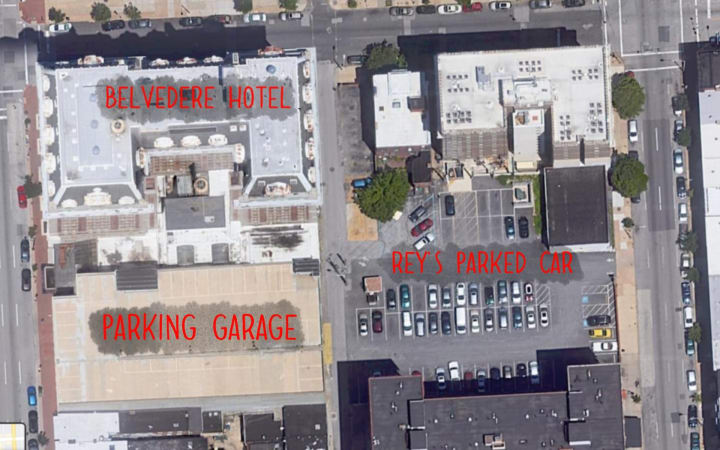 May 24, 2006:
A parking garage was located close to the parking lot where Rey's car had been discovered. A few members of the search party looked there to see if they could find anything useful. Once they reached the top floor, they looked over the side and found a hole in the Belvidere Hotel's lower roof with a pair of flip flops next to it. The police were immediately informed, and they went over to the hotel to investigate.
According to the Property Manager, Gary Shivers, the room had been previously used as a Racquetball Club. Upon entering the room, Rey's body was discovered underneath the hole. Rey had been missing eight days at this point, so his body had already started to decompose.
Within a day of discovering Rey's body, Stansberry and Associates put a gag order on their employees. Doing so forbids them to talk to anyone about Rey and his disappearance/death. Rey's friends and family were shocked and hurt by this, primarily because Porter declined all interviews and questions by the detectives.
He was supposed to be Rey's best friend, why wouldn't he want to help in any way possible?
After further investigation, Rey's glasses and cellphone were also discovered along with the flip flops. The flip flops had some drag marks/scuffs, and one of them had been completely torn. The glasses didn't have a scratch on them, and the phone hadn't shattered at all. It looked as if they were placed there instead of landing there when he fell—none of this made sense.
The roof was metal, and it was said that he went through the roof "like a projectile." Knowing that, he must have fallen from a great height for that to happen.
The most confusing part of Rey's death is how he got to the roof. Two theories were developed regarding the two potential locations where this could have happened. But neither make sense.
Theory #1 included the top level of the parking garage next to the Belvidere Hotel. It was about 20' from where the hole was, and the fall would have been roughly 20' as well. While this fall could have injured Rey, it wouldn't have given him the type of injuries that he sustained, and it wouldn't have been a fatal fall. He also wouldn't have been able to fall through a metal roof from that height. Because of this, this theory was quickly dismissed.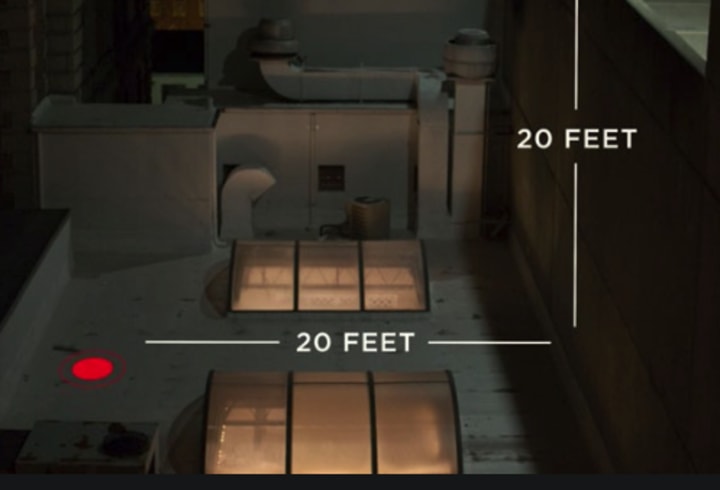 Theory #2 indicated that the fall could have been from the highest roof of the Belvedere Hotel. A fall from this height would explain his injuries and the hole in the ceiling/roof. However, there are many reasons why this would have been extremely difficult to pull off or wouldn't have been possible.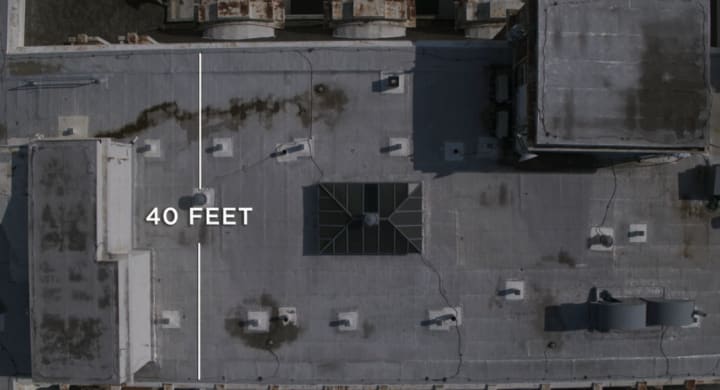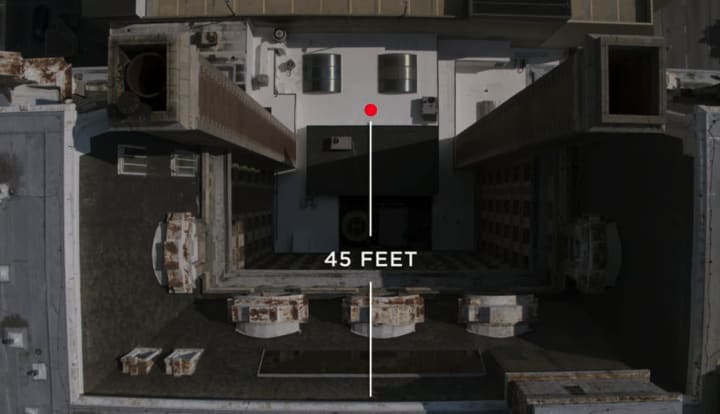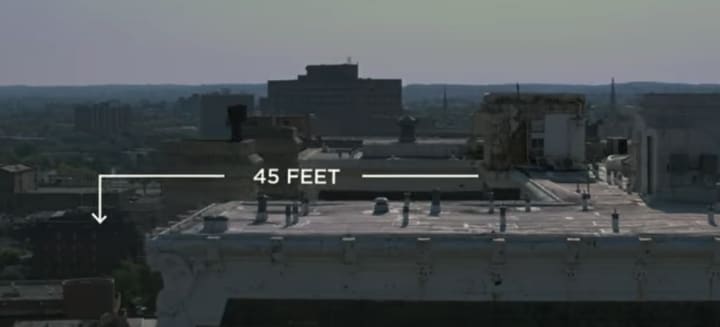 First of all, the rooftop of the hotel is inaccessible to the public. A series of hallways and stairwells (all of which were locked) could be taken to get to the roof. But a person would have to know precisely where they are going, and have the keys to get up there.
Secondly, police conducted interviews with anyone who could have been a witness, and not one person saw him walk in, or fall from the building. The hotel had a concierge and was equipped with security cameras. The employees working the concierge that night didn't see him enter the building, and none of the cameras captured him in or around the hotel. The only camera that would have been able to provide concrete proof of what happened on that rooftop, or if he was even there, was disconnected and not working at the time. Is this a coincidence, or was this done on purpose?
The roof wasn't just difficult to access, but the location where he landed didn't make sense. During the documentary, the specifics of the roof and where Rey landed was explained. The top of the roof itself was about 40' from edge to edge. In between each side, there were air ducts, air conditioning units, and other different small structures you'd expect to see on the roof of a hotel or building. The hole that Rey went through was 45' from the edge of the upper roof. He would have needed a running jump and fly in order to land that far away from the building's edge. Yes, he was a tall and athletic man, but keep in mind that he was also wearing flipflops, which would have significantly hindered an attempt such as this.
Some people believe that he could have fallen from the ledge on the building that was just below the roof, maybe a story or two below. However, this is also extremely difficult, if not impossible, to access. This ledge was very old and intricate, so the chances of falling off it were, admittedly, possible; but it still wouldn't explain how far away he landed. Where did he fall from? This is one of the biggest questions of the case.
The medical examiner (ME) reviewed his injuries extensively. Unfortunately, because of the decay of his body over the eight days, they were unable to see any evidence showing proof of any foul play. Because of this, the ME officially concluded that the cause of death was "Undetermined."
Desperate for answers, Allison searched the house top to bottom, looking for clues that could explain his death. She then found a note wrapped in plastic, taped to the side of his computer. She read the note, and it was very odd and disorganized.
The note listed names of friends and family members. Of the names listed, the name mentioned most in the letter was Porter Stansberry. He also wrote titles of movies, many of them by M. Night Shyamalan. He wrote about playing a game, congratulating those who won. None of it made sense. Many people believe that he coded the letter. If you look at the picture below, you can see one of the theories of how Rey coded the letter.
Some people think that Rey's initial purpose at Stansberry was to make Porter look good and clean up his reputation in the financial industry after being fined by the SEC.
Because of this, people think that Mr. Rivera had stumbled across some information he shouldn't have, whether he knew it or not. Could this be the reason why he fell/jumped/was pushed off of that roof?
The letter has never been officially released. However, there are many screenshots and attempted translations based on what was shown during the documentary. I will link to one at the end of this article.
Allison believes that the note was written the day he disappeared because there were scraps of paper in the nearby trash can. If you look at pictures of it, the letter appears to be weathered and worn down. The tape that held it to the computer seems to have collected some dust as well.
The police couldn't make sense of the note, so it was then sent to the FBI for further investigation. They were able to rule out the chances of it being a suicide note. A redacted memo from the FBI to the Baltimore PD contained suggestions on what they can do for further investigations. However, most, if not all, had been ignored.
After 7-10 days of investigating, the police ruled his death as a suicide due to the "hard evidence" obtained thus far. The only thing wrong with this is that there was no substantial evidence to prove this theory one way or another.
There are two things about the treatment of this case that disturb me:
The first is that the only detective that believed this case was more than a suicide got reassigned after only three weeks on the case. Why? I may get some hate for this, and I'm okay with that. I believe someone from Baltimore PD was paid off to rule that Rey's death was a suicide and not a homicide.
The second is the treatment of Rey's widow, Allison, by the police.
After some time passed from ruling his death as a suicide, Mrs. Rivera called the police to see if there was any new evidence in the case. They told her, "You need to get through your head that your husband committed suicide." This is disgusting. How could someone, especially in this line of work, talk to anyone like that? She is a grieving widow and deserves more respect than that.
The question I have is, who would have enough secrets that they want to remain hidden? And who has enough money to cover-up those secrets? Probably the same person who put a gag order on all of their employees, and declined police and media interviews. Someone who refused the opportunity to be interviewed for the documentary.
In my opinion, Porter Stansberry appears to be too disconnected/silent in this case not to have had any involvement in the events leading up to and the events that ultimately caused his "best friend", Rey's death.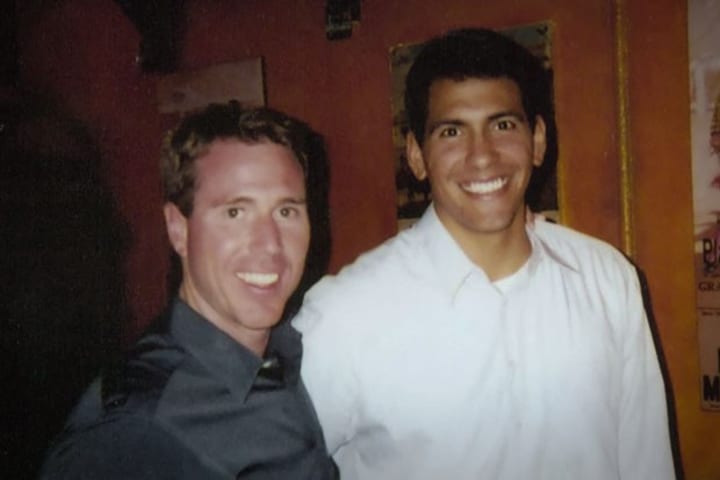 Someone somewhere has information regarding Rey Rivera's death. You can submit anonymous tips, and bring closure to the Rivera family.
Sources:
- Unsolved Mysteries - "Mystery on the Rooftop"
- Investigate the cases through Unsolved Mysteries
- "Rey Rivera, Foul Play, Note is a Code"
- Bizzare evidence that contradicts the suicide ruling
- Last person to speak with Rey
- "Where was Rey Rivera going that night?"
investigation
Writer and lover of food, animals, the paranormal, true crime and much, much more.
Instagram: my.instasam
Receive stories by Samantha Weathers in

your feed