Reason First: The BTK Strangler- Dennis Rader
How did a game allow a psychologist inside the mind of a murderer?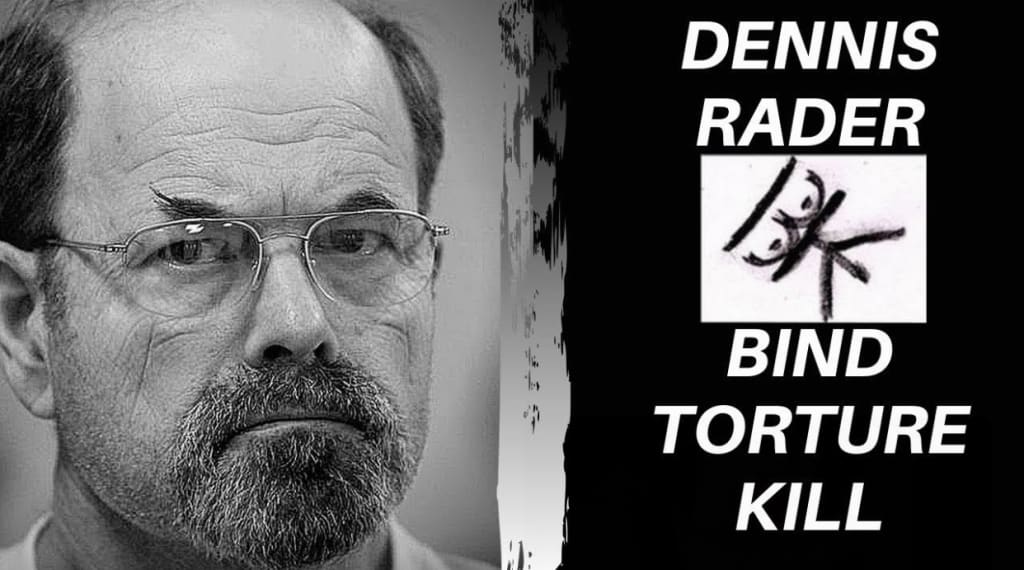 Binding, torturing, and killing were actions Lutheran church president Dennis Rader chose to spend his free time. For nearly two decades in Wichita, Kansas, this monster disguised as an upstanding member of the community, dedicated a portion of his life fetishizing and murdering ten people. His capture and arrest led to a prison sentence of ten consecutive life terms and a parole option available only after 175 years of imprisonment.
For years, prior to the murders, Rader visualized torturing defenseless women, tortured cats, dressed in women's clothing, engaged in voyeurism against female neighbors and pleasured himself via auto-erotic asphyxiation. His neighbors never knew; The Dennis Rader they knew was mild mannered and kind.
In the time that he would carry out his sadistic crimes, Rader still evaded the clutches of the law by showing himself to be a model citizen. He had, beforehand, earned degrees and found a wife named Paula Dietz. They had two kids. But something lurking in Rader's psyche said, "murder."
Even after he escalated from fantasizing about carrying out his sadistic crimes, Rader managed to evade detection by remaining a model citizen. He became increasingly active in the church. This of course didn't provide an answer to his wicked ways. His skill at maintaining this facade turned out fo be part of the thrill for him; he relished the fact that no one knew he was the one responsible for the horrific crimes.His mainstream appearance to the contrary, Rader's disturbing childhood did fit the profile of a future serial killer. It is alleged that he was dropped on his head as a child. Later, he found stray animals and hanged them.
Perhaps his childhood contributed to his desire to put on a happy face, and maintain the facade of outstanding father and husband, even while he was secretly strangling men, women and children just for a twisted sense of pleasure.
Supposedly, Rader experienced excitement in stabbing his victims with a knife after watching them writhe in pain. Then he would put on a mask so effective, he was able to work within the Lutheran church as head of the church body council. He even used their offices to write and send his letters taunting the authorities struggling to stop him.
Ironically, it was his intense desire to successfully maintain this double life, and fool everyone, that led to his downfall. Authorities were able finally to trace one of his letters to the church, and to a floppy disk he'd used.
Rader's behavior points to a possible chemical imbalance that could still be evaluated by specialists. As of this writing, he is still alive and serving the rest of his natural life in prison. Psychologists like Dr. Scott Bonn went so far as to play chess with Rader through the mail. This act is something that cops, investigators, and behavioral scientists and health professionals do. It is to loosen up the perpetrator and have him or her at ease. The suspect or prisoner then divulges information that they might not have stated prior to that burger, coffee, or cigarette. Or in Rader's case, the game of mail-chess. The psychologist pointed to his signature, better yet, trademark of his first name in the form of a shark baring razor sharp teeth. Dr. Bonn recognized that Rader has narcissistic personality disorder in his conversations with the murderer. Chess and illustrations weren't all the psychologist found. He stated how second-handed and self-absorbed Rader is. He dared the police to catch him For his selflessness, his deadly hedonism, and his desire for more attention. Rader displays his ugliness from a prison cell. For the future of forensics and criminal justice it is imperative that Rader remains locked up behind bars and for his wicked thoughts to be recorded by the best minds.
guilty
I am a forever young, ego-driven, radical hipster from Delaware. Investor. Objectivist for life. Instagram: @skylerized
Twitter: @SKYLERIZED
Receive stories by Skyler Saunders in

your feed