R. Kelly Charged with 10 Counts of Sexual Abuse Charges
What really happened?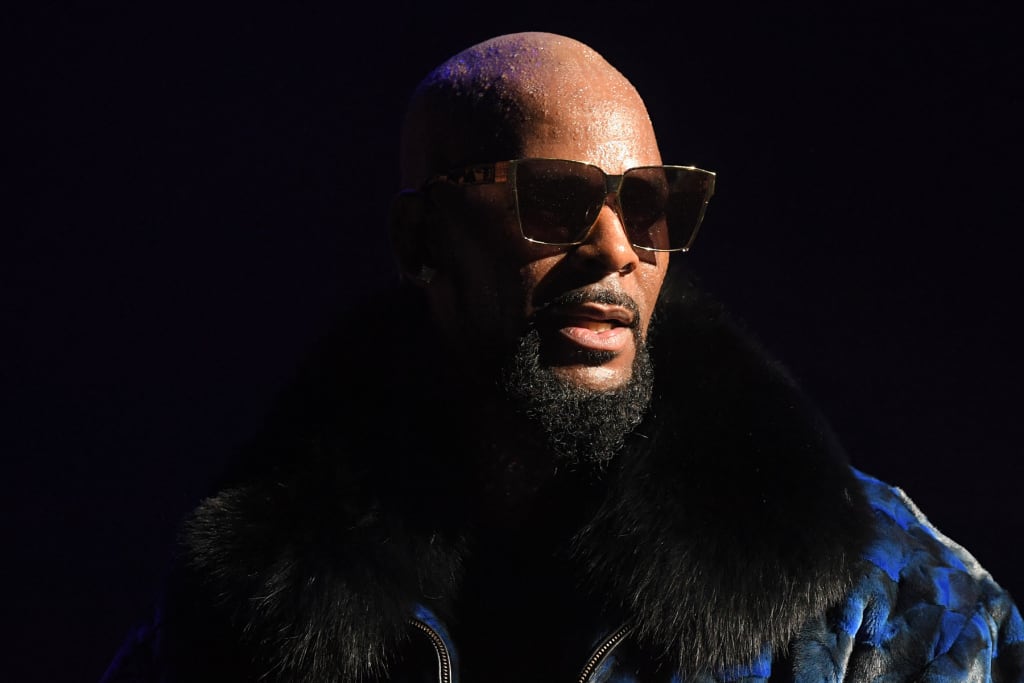 R. Kelly finally gets caught.
The soulful R&B singer is now accused of sexual abuse of four different women years ago. R. Kelly, now 52 years old, is famously known for his R&B hits "Ignition" and "I Believe I Can Fly." He won Grammy's for best R&B song and best R&B male vocal performer, both in 1998. He is also currently known for sexual abuse and now in trial, proving his innocence. The judge put him in jail Wednesday, for backed up child support for his ex-wife, Andrea Lee, who he has three children with. Child support that is up to $161,000 that he said he cannot afford at this moment. He had stated that he only has $350,000 left in his bank account. He then, accused someone of stealing all his money on CBS Morning Show. He states that he was, "tired of knowing where his money was." R. Kelly also stated that he told the bank teller to make him a new account, and the bank told him it needed a few days to clear. He also stated in his interview with CBS Morning Show that, the reason why he cannot work is because his wife is destroying his name.
He is found guilty for sexually abusing four women years ago, and he says that he is not guilty. He said he never sexually abused a minor under the age of 17 years. The authorities from the Detroit police department are now looking for a woman who claimed that R. Kelly had sexual relations with her when she was 13 years old. Detroit police officer, James Craig, stated to the press on Wednesday that they had just received information about a sexual assault of a woman, age 30, from a police officer in Chicago, just last month. Authorities are trying to get ahold of the woman, and her defense lawyer at this moment. They think the same woman who was assaulted by a police officer in Chicago was tied to the sexual abuse back in 2001. There were multiple other women who decided to speak out about the sexual abuse. According to Vulture, his hairdresser stated that he had forced her into oral sex. There was also a 16-year-old he met at her 16th birthday at a restaurant, and another 16-year-old who asked for Kelly's autograph. The youngest was a 14-year-old girl, who he had made an explicit sexual video.
Andrea Lee is abused by R. Kelly.
R. Kelly and Andrea Lee were married in 1996 and got divorced back in 2009. He had three children with her, and after the divorce had no relations with his children, but he claims they still love him dearly. Andrea Lee told TV One's Sister Circle daytime talk show that he had abused her in their 13 years of marriage. She also stated that he lied in his book that she was, "sick of being a stay at home mom," and that's the reason why they had divorced. That was not the truth at all. Lee had stated that the truth, she stated, "we got divorced because I was no longer going to sit and be violated. What he did was criminal." The details of the allegation against R. Kelly for abusing his wife remains a mystery because she doesn't want to talk about the details of the abuse from the past.
Nikki, say it now.
Everything that I have seen in my findings about the R. Kelly case does not amaze me at all. It may shock the public, who haven't heard of him, but for me it is not shocking at all that someone like him would do these things to underage girls. The high almighty R&B singer is charged with ten counts of sexual abuse is an applause for justice. Why does he deserve this tremendous charge on him? Because he is a sick monster who should be put in the confines of a prison cell. I understand that prison can be hard and rape charges doesn't go by in any kind of prison facility, but he has to deal with his consequences. He has to do time now because of what he did in the past is resurfacing before his eyes.
I believe that R. Kelly acts very repulsive and authoritative because, Ne-Yo, a well-known R&B singer, who made his debut as an artist with the single "So Sick," had told Tyra Banks on her show The Tyra Show, what had happened with him and R. Kelly. Basically, R. Kelly invited Ne-Yo, Keiysha Cole, and J. Holiday to be on tour with him. When Ne-Yo got to the tour, he had asked the workers if he can get a dressing room for his dancers and himself to get ready for the performance. He, then, asked R. Kelly and R. Kelly told him to go change on the bus. Ne-Yo was like "really? He had seven dressing rooms and we couldn't even get one." Ne-Yo eventually got that one dressing room, but it took a whole lot of arguing back and forth trying to get that one dressing room.
He then asked Tyra Banks if she heard about the code blue situation, she was not aware of the code blue. Ne-Yo said that, the code blue is when people hear someone shouting code blue everybody must go into the nearest door when R. Kelly is walking through the hallway and until he goes to his fitting room then it is clear for everyone to get out of the fitting room.
The lawsuit between him and R. Kelly was easy. During the tour, Ne-Yo told R. Kelly about him taking a little break off the tour to do the American Music Award with Rihanna at the time. When he came back to the tour he had found out he was kicked out. He was curious to why he was kicked out and he looked online for the reviews of the tour. He only had a 30-minute performance, R. Kelly had his two-hour performance. Based on the findings of Ne-Yo's research, Ne-Yo had a better review than R. Kelly did with his two hours. Ne-Yo thought R. Kelly kicked him out because of that. He sued R. Kelly for false advertisement because R. Kelly was advertising Ne-Yo's name for the tour when he had already been kicked out of the tour. He took it to court with R. Kelly's management and won. He won $700,000 from that case alone. The point of why I am talking about Ne-Yo's issue with R. Kelly is because Ne-Yo already knew how R. Kelly was. I watched this interview from 2011 in 2015, and I became dissatisfied with Kelly's character after what I heard he did with Ne-Yo. Everybody is saying that these girls who are coming forth wants a pay out, but why would they want a pay out when he only has $350,000 in his bank account, and he needs to pay $161,000 for child support. After he pays the child support, he would only have $126,000 in his account. That's not even enough to pay one girl to shut her mouth, so there is no reason for these girls to receive a pay out from R. Kelly. Based on my findings, some of the reports made was in the early 2000s, so that means they refused the pay out and seek justice instead. A pay out does not heal a traumatizing event. Countless of therapy sessions paid out by Kelly will not heal the trauma nor treat the integrity of a woman after a sexual abuse. Sorry not sorry.
To have Ne-Yo talk about Kelly's character on The Tyra Show shows that Kelly likes being in control. He thinks that the world is all his, that he could get away with sexually abusing these underage girls. I know that females tend to fabricate the stories about celebrities to receive handouts, I mean it is harsh to hear, but it is the truth. There were of countless incidents where a female lied about a male celebrity of touching her, but based on Ne-Yo's clear explanation about how Kelly acted with him, there is no shocker about the allegations made against him from any of those women who came forth. I do applaud the women for going back to the trauma and recanting the incident that happened either in the late 1990s until 2010. It takes bravery and they have that bravery in them. It takes a lot of bravery for them to step forth.
About the Creator
Hello my name is Nikki. I have two blog sites; one is my poetry blog site and the other is my news media blog site. My dreams is to be a journalist.
Youtube Channel:
https://www.youtube.com/channel/UC4YQ85bW9UJmV6XbHHeKkTA
Reader insights
Be the first to share your insights about this piece.
Add your insights