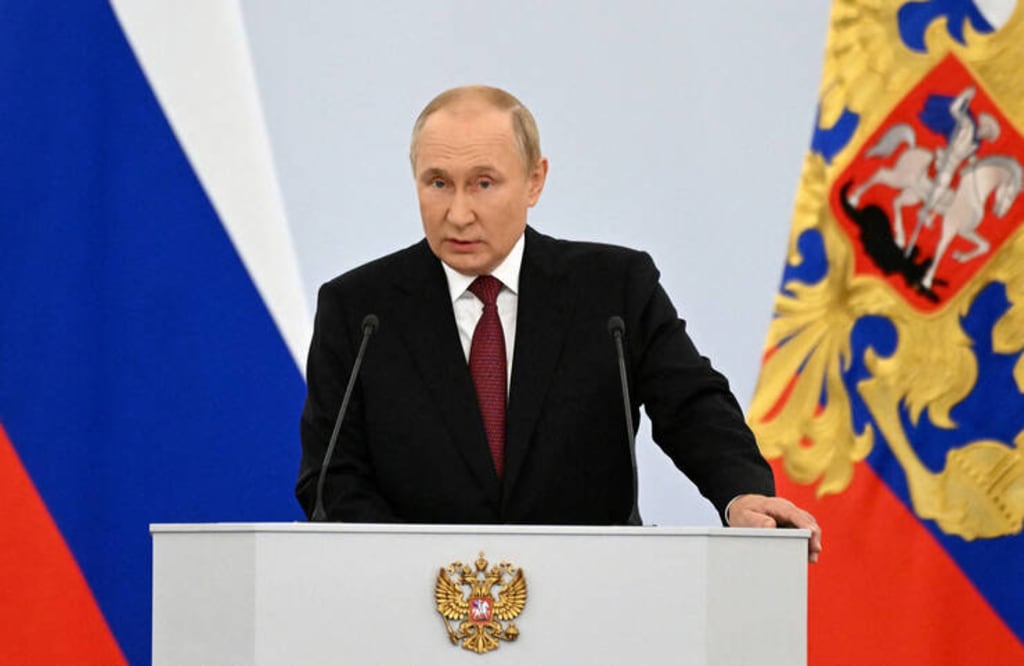 Russian President Vladimir Putin gives a speech during a ceremony formally annexing four regions of Ukraine Russian troops occupy, at the Kremlin in Moscow.
Russian President Vladimir Putin signed a decree Friday to illegally annex four occupied Ukrainian provinces, at an ceremony in Moscow, despite widespread international condemnation of the move which follows referendums in those territories that have been dismissed by observers as a sham.
KEY FACTS
Speaking at the event, Putin called the annexation the "will of millions of voters" as he pointed to the results of the orchestrated referendums.
The Russian president then directly addressed leaders in the West and Kyiv stating the residents of the four annexed provinces will become Russian citizens "forever," adding the Russia will use all means to "protect our lands."
Putin then offered a ceasefire to Kyiv, urging it to come to the negotiation table, but added that the status of the annexed provinces is not up for debate.
The remainder of Putin's speech was dedicated to Putin's rant against Western 'imperialism' and 'Russophobia' around the world.
NEWS PEG
Among the four annexed territories, only Luhansk is fully occupied by Moscow's forces, along with most of Kherson. However, nearly half of Donetsk and Zaporizhzhia provinces are under Ukrainian control, including several key cities in the region. Lyman, a crucial logistics hub for Russian forces occupying Donetsk, is reportedly on the verge of falling back into Ukrainian hands. The loss of Lyman—a railway junction used by Russia to resupply its troops—would be a severe blow to Russia's hopes of fully taking control of the province.
WHAT TO WATCH FOR
The annexation now allows Russia to claim the four provinces as its territory, allowing the Kremlin to dangerously escalate the conflict in the event of another successful Ukrainian counteroffensive like the rout of Russian forces in Kharkiv earlier this month. Ukraine's rapid advance to recapture the Kharkiv province earlier this month was Russia's most embarrassing battlefield defeat since the start of its invasion in February. Hoping to prevent more counter-offensives, the Kremlin says it will now treat any attack on the annexed regions as an act of aggression against Russia. Putin has previously signaled that Russia is prepared to use nuclear weapons to defend what it considers its territory.
CHIEF CRITIC
"Any decision to proceed with the annexation of Donetsk, Luhansk, Kherson and Zaporizhzhia regions of Ukraine would have no legal value and deserves to be condemned…It is a dangerous escalation. It has no place in the modern world. It must not be accepted." UN Secretary-General António Guterres said in a speech on Thursday.
KEY BACKGROUND
Last week, Moscow-installed officials orchestrated a referendum in the occupied Ukrainian territories that have largely been decried as a sham. Various reports suggest people were coerced to vote for the annexation either at gunpoint or under the threat of job loss and arrest. Earlier this week, Russia claimed 99% of all votes in Donetsk, 98% in Luhansk, 93% in Zaporizhzhia and 87% in Kherson were in favor of joining Russia. The Kremlin will be hopeful of gaining some public support in Russia with the annexation declaration as it comes after weeks of humiliating losses on the battlefield and growing opposition inside the country to Putin's military draft. Over the past week, tens of thousands of Russians have fled the country to avoid being drafted into Russia's war effort. Russia's neighbors—Kazakhstan, Mongolia and Georgia—have seen a massive influx of people crossing the land border, while flights to countries like Turkey, Armenia, Serbia and the UAE are sold out for several days.
The information has been taken from reliable sources, in order to inform you correctly!
Stay safe and inform yourself correctly! From reliable sources!
Have a nice day!
Reader insights
Be the first to share your insights about this piece.
Add your insights