Pogo the Clown - Gacy uncovered
John Wayne Gacy
This is John Gacy's sister that explains the horrified life that she lived, knowing who her brother was
Before I start writing anything, I just want to say thank you to the readers who read my last story. I wanted to start my first story with something meaningful proving to everyone I want to write.
Anyways, my next story, you read the title. I have always wanted to learn about different psychological disorders and this particular person has one that was quite interesting but very outrageous. I am going to say, that this person needed help but also was very awful with his actions and deserved his ending. If at any point, you need to stop reading do so, because this one is graphic. I will try to not make it too graphic. Anyways, here we go.
John Wayne Gacy. "Killer Clown". Victim No. 24?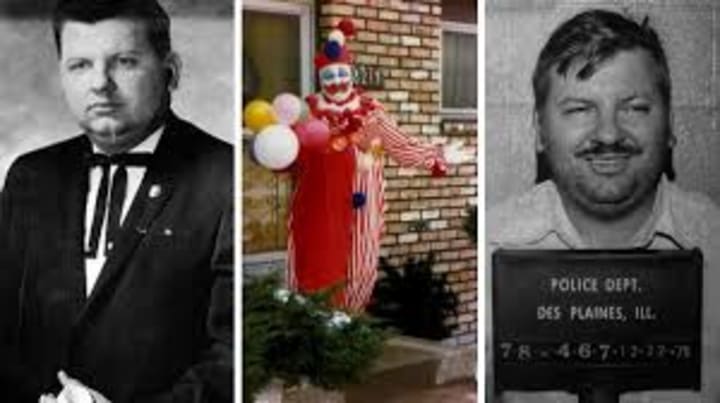 John Gacy was born in 1942 of March on the 17th. Gacy had a childhood that was no like other kids. His father was an alcoholic and Gacy was abused by with a razor strap, anytime he or his siblings were found to be not behaving properly. Gacy also had troubles and struggled with his homosexuality. He was also never able to ply with other children as a child, due to a heart condition.
When Gacy grew up he worked as a fast-food chain manager for a few different KFC's. Gacy also grew up to be well-liked in his community. He was also known to organize cultural gatherings and was active in political organizations and The Jaycees Civic group.
Time went by and Gacy had been married and divorced twice. He has two biological children and two step-children.
He then became a member of the "Jolly Joker club", to attend fundraisers and kids birthday parties. Which he dressed up as a clown, named "Pogo the clown". Whilst working for the club, he then developed his alter ego named "Patches the Clown".
After coming up with his alter ego, Gacy developed a psychological disorder called Sadism. But, it was never discovered this early.
Before I get more to Gacy, I will explain more of the disorder he developed. Be aware this is a very touchy disorder and I will be explaining some graphic facts.
Sadism is a psychological disorder that inflicts sexual pain on a victim/other person. This psychological disorder is often referred to masochisms; sexual arousal from pain. Part of this disorder also shows that when the victim has unwillingness to participate in such actions, the person gets excited and more so into it. The pain cam differ from a scale of mild pain (fooling around) to brutality pain (death).
Being well-liked in his community, Gacy was never overlooked as someone who would do such actions.
1968; after his first conviction of sexually assaulting a teenage boy, he then went to undergo a psychological evaluation in the Iowa State Men's Reformatory. That is when they diagnosed him with Sadism/Masochisms.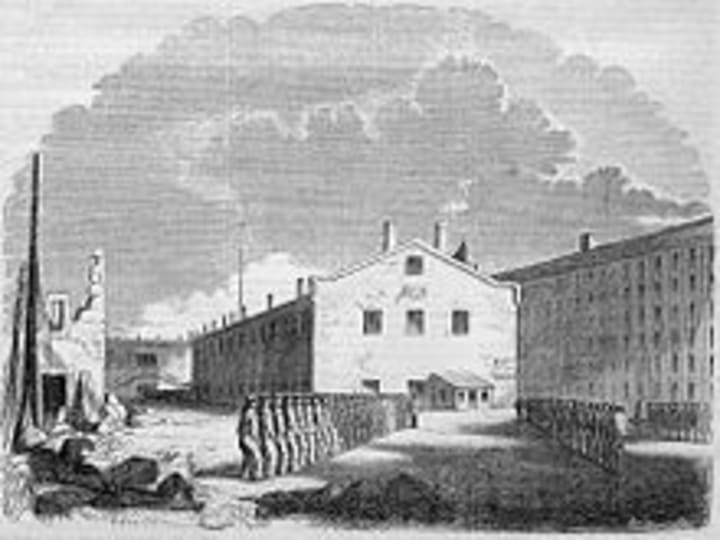 In 1970, he was then arrested again for a sexual assault trial but was later released because the boy did not show up to the trial. All the charges were then dropped. After being released, he then became a contractor and bought a house in Chicago.
Then came his first crime he committed in 1972, Timothy McCoy. A 16 year old boy who was lured to the car that Gacy was driving. He then took the boy to his house and stabbed him in the chest twice after sexually assaulting him. He then realized he was attracted to men.
In the middle of all the murders he was committing, his wife could always smell a foul odor. John always responded with "'it is just moisture buildup". When questioned by police o disappearances, he would always respond "those were my cruising years".
On December 11th 1978; Robert Piest was reported "Gone Missing" and the authorities knew that the last person to see him was John Gacy. 10 days later of the disappearance, a search warrant was in affect.
As the police were searching the house, they found that there were 26 bodies buried in the crawl space of his own home, 4 bodies were buried by/near his house and 4 other bodies were discovered in the Des Plaines River.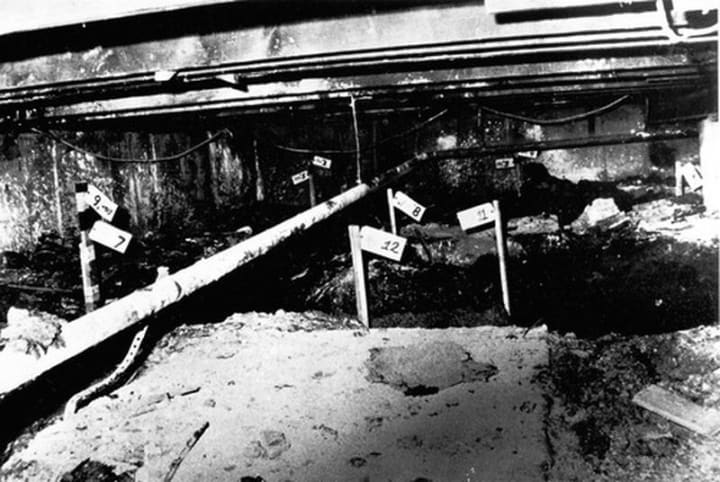 John Wayne Gacy was then known as the "Killer Clown" and to have killed 33 teenage boys and young men. All, except for 8 bodies, were identified. This Killer Clown character would lured young men/teenage boys and promise them with contracting work or some other ruse. Gacy was also known to murder his victims with either strangling of his hands around their neck or using rope.
February 6th of 1980 came and it was his trial. Gacy took a plea of innocence by reason of insanity and this plea was supported by many psychologists. They diagnosed him for trial, ass a schizophrenic. That was later looked an rejected by the court and he was sentenced to 12 death sentences and 21 natural life sentences. A decade and a half later, a phone call was made off a 900 number. Gacy then proceeded to give his confession. It was a set-up phone call that was a 12 minute recording.
He was then sentenced to the death penalty. On May 10th of 1994, he was then executed by lethal injection at Statesville Correctional Center in Cresthill, Illinois. The last thing Gacy ever said was "clowns get away with murder".
Before I get to explaining Victim No.24. I want to talk about the sexual assault claim that was filed against Gacy. A 27 year old boy named Jeff Rignall explained the traumatic event that had happened to him. He explained that he had got in the car after Gacy had offered him marijuana, before using chloroform to render him. Gacy then handcuffed Rignall and took him to his house, which was where he sexually attacked him before letting him go. He does have a written book about his experience if anyone is interested in reading it. It is called "29 Below".
Victim No.24. In 2017, Police finally identified one of the John Doe's as James "Jimmie" Byron Haakenson.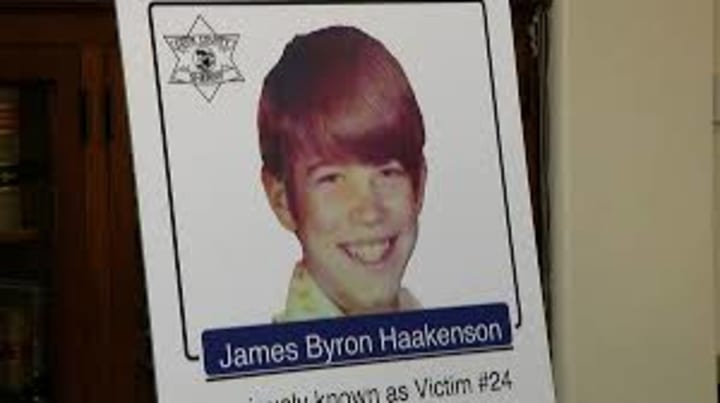 In 1976; Haakenson left Minnesota and came to Chicago to preferably start a new life. He called his mother on August 5th stating that he had arrived and was safe. Police then believe, that shortly thereafter, that he was murdered. In 1979, Haakenson's mother had then contacted authorities to see if one of the victims was her son. Although, unfortunately, she didn't have the records to provide and neither did the authorities. She later passed away in the 2000s and her DNA sample was then used to help confirm the murder of her son.
Whilst John was in prison, his house in Chicago was demolished for undergoing further investigation. One of the workers that were demolishing his house stated that "if the devil was alive, he lived in this house". A new house was then built over top the land.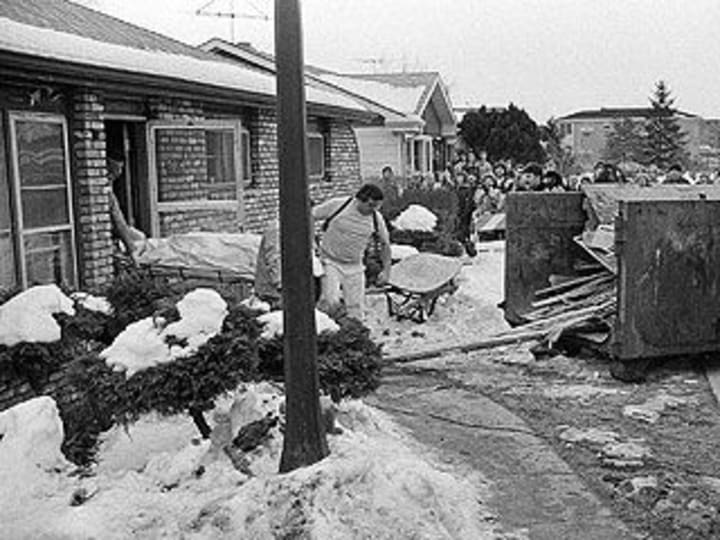 The Gacy house location was 8213 W. Summerdale Avenue in Norwood Park. Which is just east of the Chicago O'Hare International Airport.
If you would like more information about how Gacy was caught and the story about him, I recommend watching the movie called "To catch a killer".